Find out if maltodextrin is safe for a gluten-free diet and what you should know before buying anything with this ingredient.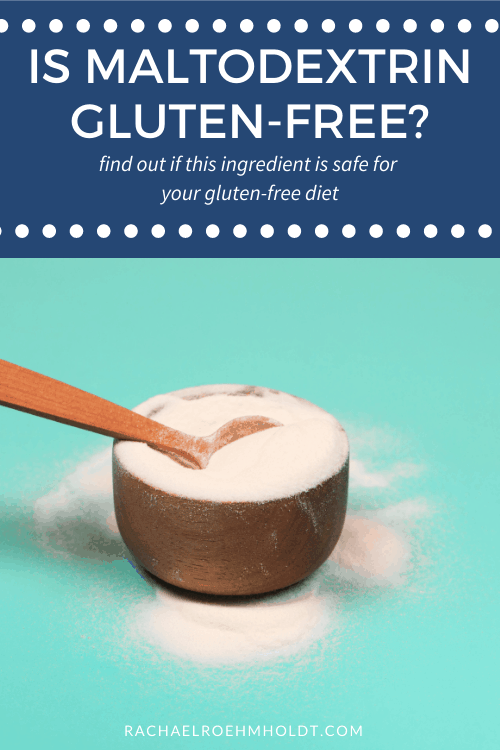 Note: I am a proud Amazon, Chomps, MunkPack, and Thrive Market affiliate and am happy to recommend their service and products to you. Please know that as an affiliate, I may receive a small commission on the products you purchase after clicking through my links. For more info, please see my disclosure policy here.
If you've gotten good at reading ingredients lists, you may have come across "maltodextrin" in many packaged and processed foods that you find at the grocery store. 
If you follow a gluten-free diet, you'll know that looking at every ingredient is important to avoiding gluten. It's a painstaking process sometimes, but it's good to do your research and due diligence to make sure you don't get sick.
You may be wondering if this ingredient is gluten-free, since it's pretty common in processed foods that you might pick up regularly from the store, like cookies, chips, bread, and loads of other food items from the store.
In this post, we'll talk about what maltodextrin is, what it's used for, if it's good for you, and most importantly if it's gluten-free.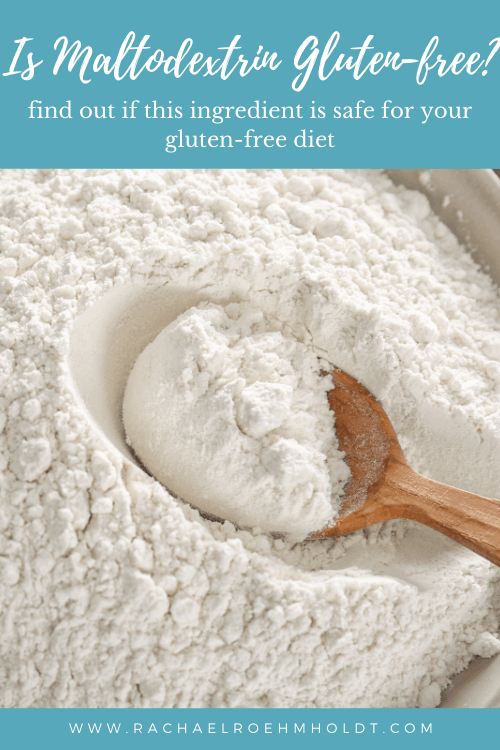 What is maltodextrin?
Maltodextrin is a food additive that's made of corn, rice, potato starch, or wheat. It is made by breaking the starches from one of these foods into sugar molecules through a process called hydrolysis.
It is a highly processed ingredient and used in many processed foods.
What is maltodextrin used for?
Maltodextrin is used as a thickening agent in many processed foods you'll find on grocery store shelves. You can find it in pasta, cookies, chips, bread, and many other foods.
According to Healthline, "Maltodextrin is generally used as a thickener or filler to increase the volume of a processed food. It's also a preservative that increases the shelf life of packaged foods."
Is maltodextrin good for you?
This ingredient isn't really great for you, as it is so heavily processed. It can spike your blood sugar levels and isn't necessarily an ingredient you'll want to keep on regular rotation in your diet, particularly if you have digestive issues.
According to the FDA, maltodextrin is generally recognized as safe. Even if it's not something you want in your diet regularly, when you do consume it, it won't harm you.
What is gluten?
Gluten is a protein found in most wheat products, and acts as the "glue" that helps to hold wheat, barley, kamut, spelt, farro, durum, bulgur, rye, and semolina together to maintain their shape.
Many processed foods have hidden gluten in them in the form or gluten or wheat derivatives. These are also in the form of flavorings, binders to keep ingredients together, or other additives.
There is no way to remove the gluten from a wheat product, as gluten is an integral part of wheat. 
Read on: What is Gluten? The Basis of a Gluten-free Diet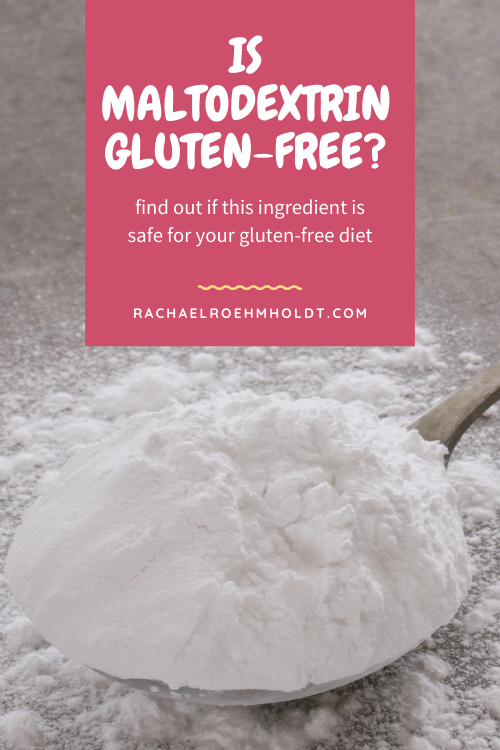 Is maltodextrin gluten-free?
You may be wondering if maltodextrin is gluten-free. After all, the name "malt" is usually a good sign of hidden gluten. 
Read on: Other Names of Gluten & Where They Hide the Most
Since maltodextrin can be made from a variety of carbohydrate sources, it's possible that it does contain gluten when it's derived from wheat and also doesn't when it is derived from other rice, corn, potatoes, or other starches.
As long as the maltodextrin is derived from a source other than wheat, you can be sure that this ingredient is gluten-free.
You'll know if the maltodextrin comes from wheat by either a note in parentheses in the ingredients lists (e.g., "maltodextrin (wheat)") or at the bottom of the ingredients lists will say "Contains: Wheat."
When you see "Contains: Wheat," you'll know that this product is not safe for a gluten-free diet and to avoid it.
You can read more about how the FDA labels maltodextrin on Beyond Celiac.
I hope if you've been looking for an answer as to whether maltodextrin is gluten-free, that this information has helped you. Know that as long as it is not derived from wheat that maltodextrin is completely safe to eat on a gluten-free diet.
f you loved this post, I hope that you'll share it with your friends on Facebook and pin it for future reference on Pinterest.
Love this post? You might also want to check out these!
Find out if your favorite foods and ingredients contain gluten with these posts!