Find out if white chocolate is dairy-free, plus get a list of dairy-free white chocolate brands to shop for and recipes to try at home!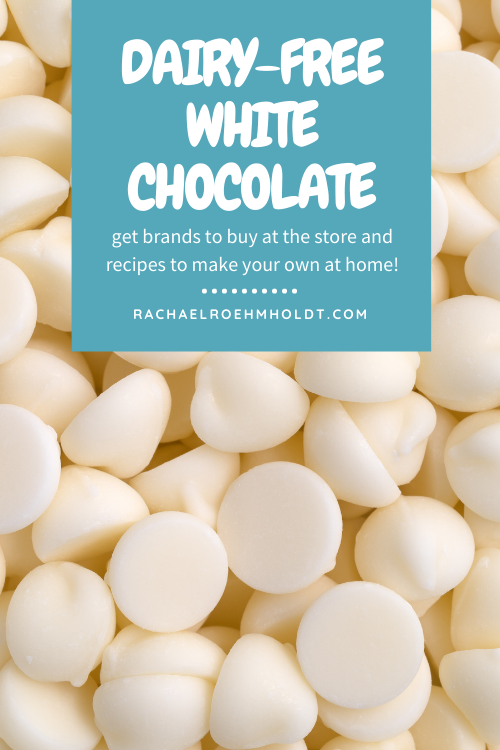 Note: I am a proud Amazon, Chomps, MunkPack, and Thrive Market affiliate and am happy to recommend their service and products to you. Please know that as an affiliate, I may receive a small commission on the products you purchase after clicking through my links. For more info, please see my disclosure policy here.
If you're a fan of white chocolate candy, in cookies, or in other desserts, you know that this milky and sweet candy is incredibly creamy and versatile. Like other types of chocolate, you can use it in so many different ways.
White chocolate has long been a favorite in cookies, as a syrup in coffee, or a sauce on ice cream. You can even find white chocolate flavored frosting, cheesecake, and of course enjoyed plain in candy bars.
If you're getting started with a dairy-free diet or have been at it for a while, you may have discovered that white chocolate may contain dairy and are on the hunt to do some research.
That's what this post is all about today – helping you get the answers you need as it relates to white chocolate and a dairy-free diet. In this post, find out what white chocolate is made of, if it's dairy-free, and what brands to shop for at the store.
If you're feeling adventurous, I've even included some recipes for you to try making your own dairy-free white chocolate at home.
Let's find out how white chocolate fits into your dairy-free diet and find ways to make sure you don't have to go without your favorite treat.
What is white chocolate made of?
White chocolate is most commonly made with sugar, cocoa butter, milk products, and vanilla.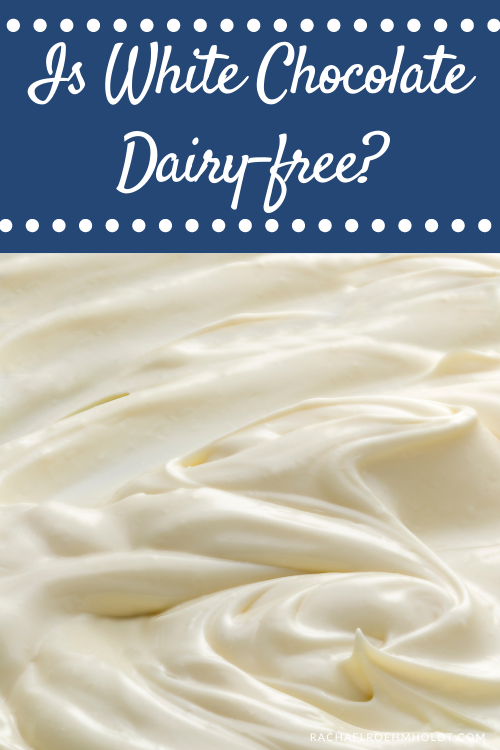 What is dairy?
Dairy is a general name for ANY food that is made from milk. Technically, this is any food made from cow's milk or goat's milk or sheep's milk. Any animal milk is dairy.
However, mostly when we're talking about dairy, we're talking about drinking cow's milk, because that's what is most popular here in the United States.
Is white chocolate dairy-free?
White chocolate almost always contains dairy in the form of milk or milk derivatives. When looking at ingredients lists, look for the terms "milk fat," "skim milk," or "dry milk" to identify the dairy in a white chocolate product. Seeing these terms will tell you to avoid them if you follow a dairy-free diet.
Did you know that white chocolate isn't actually considered chocolate? With no chocolate solids, it's not an 'official' or 'real' chocolate, even though most of us consider it to be. We call it chocolate, because we often use it in the same ways as normal chocolate, but it isn't truly a chocolate product.
Read on: Is white chocolate gluten-free?
Can I buy dairy-free white chocolate?
There are some brands of dairy-free white chocolate that you can buy at the store, however they aren't the easiest to come by.
For the most part, if you're looking for a dairy-free white chocolate, you'll most likely need to search for it online and purchase through the dedicated brand websites or larger sites like Amazon.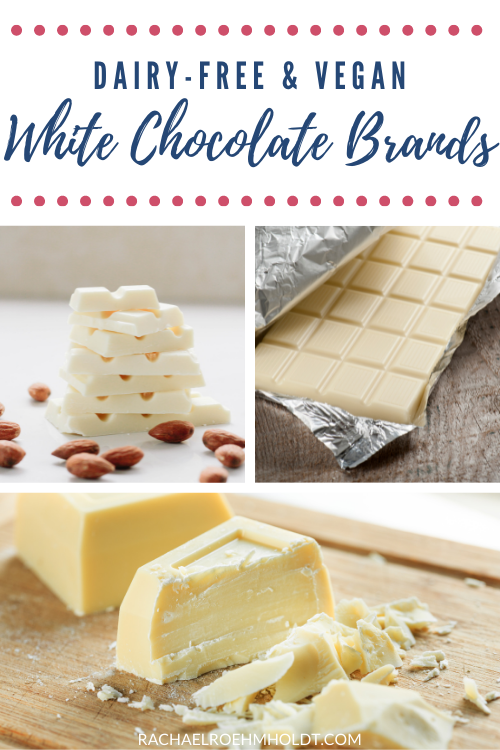 Dairy-free and Vegan White Chocolate Brands
The addition of milk fat, skim milk, or dry milk in most white chocolate ingredient lists means it's pretty tricky to find a dairy-free option. However, it's not impossible! Check out this list of white chocolate brands that are all dairy-free.
Dairy-free white chocolate bars
Dairy-free white chocolate chips
Read on: Dairy-free white chocolate chips
Dairy-free white chocolate syrup
Dairy-free white chocolate sauce
I was not able to find any brands that make dairy-free white chocolate sauce. However, you can easily make your own by melting some dairy-free white chocolate chips and adding it directly to your coffee or other recipes you plan to use it in.
You can also make your own at home using a recipe like this one.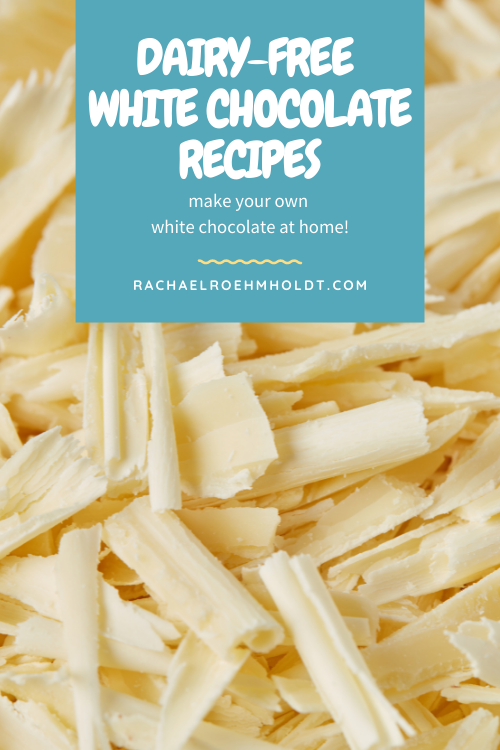 Dairy-free and Vegan White Chocolate Recipes
Since it's not incredibly easy to find dairy-free white chocolate, you may be interested in trying to make some for yourself at home.
Try one of these easy dairy-free white chocolate recipes and make your own bars, chips, and other white chocolate treats.
If you love white chocolate and are following a dairy-free diet, I hope that this post has given you the information you're looking for. Try one of the brands of dairy-free chocolate or try to make your own at home to use in all your favorite recipes!
If you loved this post, I hope that you'll share it with your friends on Facebook and pin it for future reference on Pinterest.
Looking for a few more dairy-free chocolate recipes? You'll love these posts!
Check out these gluten and dairy-free recipes and posts featuring chocolate.