Get 25 delicious gluten and dairy-free pasta recipes, including spaghetti, penne, mac and cheese, 20-minute, and pasta salad recipes!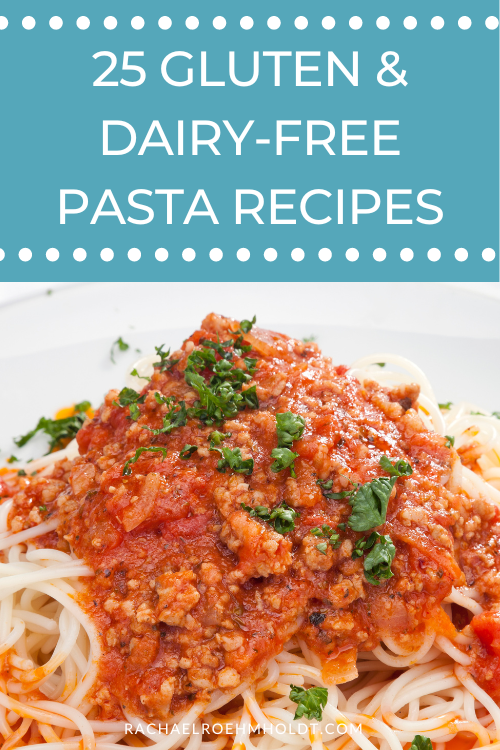 Note: I am a proud Amazon, Chomps, MunkPack, and Thrive Market affiliate and am happy to recommend their service and products to you. Please know that as an affiliate, I may receive a small commission on the products you purchase after clicking through my links. For more info, please see my disclosure policy here.
If you love a quick and simple dinner option, you're probably no stranger to picking up a box of pasta from the grocery store to make that happen.
What's great about making pasta is that it's extremely versatile. You can make it with a variety of sauces to get many different flavor profiles. You can add a protein like chicken, beef, or shrimp to fill you up and stretch the meal.
You can even combine all these ingredients, toss it in a casserole dish and bake it to meld flavors and create a super comforting pasta bake or pasta casserole.
If you're following a gluten-free diet, you know that you'll have to be a little more careful about what pasta you pick up for that quick fix meal.
And you also have to be careful about which pasta sauces and other ingredients go into your pasta dish.
You'll need gluten-free pasta, no butter, no cream, and be able to make swaps for those ingredients to still get that creamy, home cooked flavor most of us are after when we make pasta for dinner.
With all these substitutions, I know it's not always super straightforward on how to put a meal with pasta together. That's why I've decided to round up some pasta recipes that work for this diet. I've gathered up 25 recipes that are all gluten and dairy-free.
In this recipe roundup, there are recipes ranging from specific types of pasta (spaghetti and penne) to some popular recipes and different twists on it (mac and cheese plus pasta salad).
Finally, I've included a few 20-minute recipes for gluten and dairy-free pasta dishes, because I don't know about you, but I'm always looking for a quick win when dinner time comes around.
But before we get to the recipes, let's go over a few basics around pasta and what you'll want to know before you start heading out to the store looking for ingredients to make these dishes.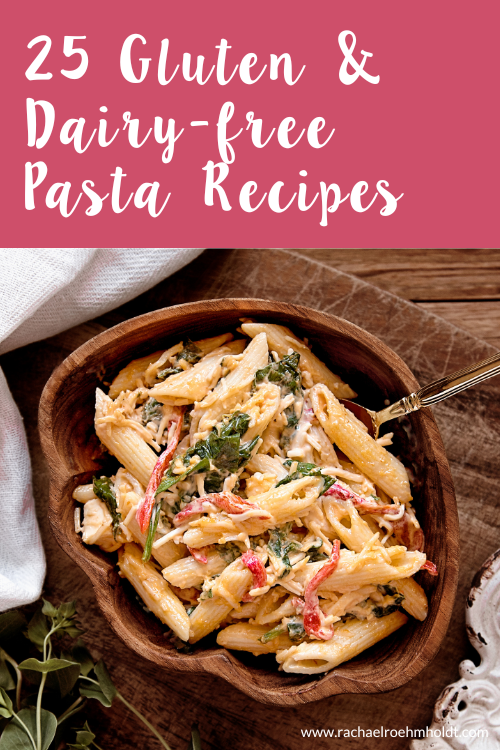 Is pasta gluten-free?
Most pasta made with semolina, durum wheat, or enriched wheat flour all contain gluten. Most major brands of pasta will contain gluten-containing ingredients.
That's why it's so important to look at ingredient lists before buying any pasta product. You can also look for a gluten-free label on the package. This will tell you if the product contains less than 20ppm of gluten and if the product you're looking at doesn't have that, it's worth reviewing ingredients for any hidden gluten names.
Not all pasta contains gluten though. Some major brands offer gluten-free varieties, while other brands make only gluten-free pasta options. These pasta brands will usually use one or more naturally gluten-free flours to make their pasta.
Some flours used in gluten-free pasta are brown rice flour, potato starch, tapioca starch, corn flour or cornstarch, almond flour, lentil flour, and chickpea flour.
Read on: Is pasta gluten-free?
What is gluten-free pasta made from?
What ingredients are included will vary from brand to brand as to what ingredients are used to make gluten-free pasta. Some brands try to make pasta taste and have a texture as close to semolina pasta as possible. In these pastas, you're most likely to find corn and rice as the main ingredients.
In other pasta options, you might find pasta noodles made from brown rice, white rice, quinoa, chickpeas, lentils, cassava, almond, buckwheat, black beans, amaranth, and millet flours.
Many of the gluten-free pastas you'll find have a mixture of one more or more of these types of flours to make a unique flavor and texture profile.
Which pasta should I use on a gluten-free diet?
There are so many different brands offering gluten-free pasta options these days. They're made form a variety of different gluten-free flours and grains.
Some of the more popular options are:
Ancient Harvest
Banza
Barilla
Bionaturae
Delallo
Jovial
Ronzoni
Tinyada
There are many more, but we'll keep this list on the shorter side for this post. For more brands and details on what types of gluten-free pasta they carry, be sure to read this post: Gluten-free pasta: brands & options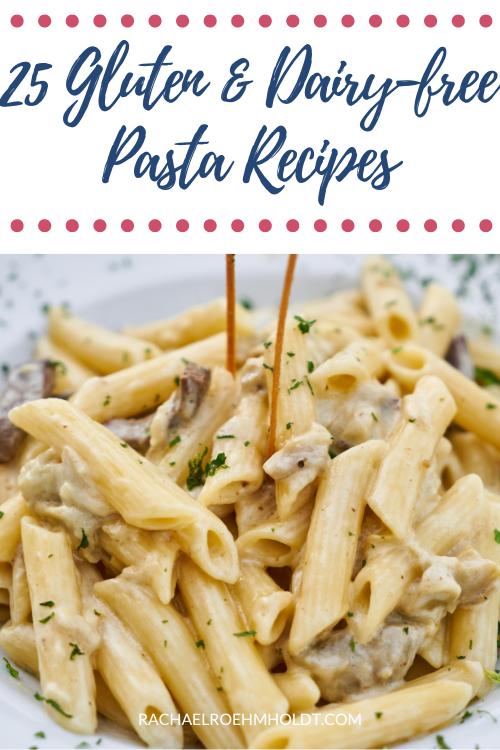 How do I make my pasta dish dairy-free? Dairy-free swaps & substitutions
Any dish can be made dairy-free by omitting the dairy ingredients or making easy substitutions. Here are a few swaps to try on your favorite pasta recipes that you're trying to convert to a dairy-free version.
Use dairy-free milk
Swap out cow's milk for a non-dairy alternative like almond milk, coconut milk, or oat milk. These alternatives can be used in creamy pasta sauces like alfredo or carbonara.
Nutritional yeast
Nutritional yeast has a cheesy, nutty flavor that can be used to add a cheesy flavor to pasta dishes. Sprinkle it on top of pasta or mix it into sauces.
Vegan cheese
There are a variety of vegan cheeses on the market that can be used in pasta dishes. Look for brands that melt well, like Daiya or Violife, and use them to top pasta bakes or mix them into sauces.
Coconut milk or coconut cream
Coconut cream is a dairy-free alternative to heavy cream that can be used in pasta sauces. It works well in dishes that you want to add a creamy element, like vodka sauce or alfredo.
Cashew cream
Soak cashews in water and blend until smooth to make a dairy-free cream that can be used in pasta dishes. Get my recipe for cashew cream (or cashew cheese) here: Dairy-free cashew cheese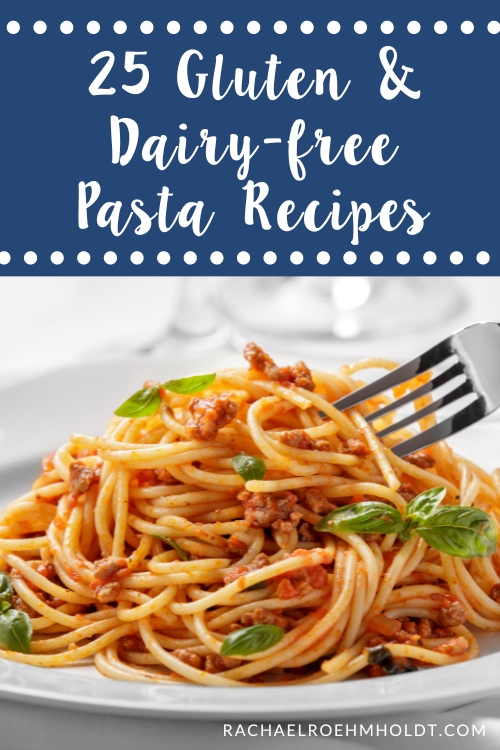 Gluten & Dairy-free Spaghetti Recipes
Looking for a way to get dinner to the table with a box of gluten-free spaghetti sitting in your pantry? Look no further! Try one of these five recipes ranging from traditional meat sauce, to lemon chicken, to a unique spaghetti pie.
Try this gluten-free spaghetti with a meat sauce loaded with veggies! It's also dairy-free and kid-approved. Perfect for a weeknight dinner!
If you're tired of the same old spaghetti and meat sauce, you'll love this chicken spaghetti recipe with gluten-free spaghetti, onion, broccoli, kale, chicken, and a homemade dairy-free cheese sauce.
It's great for dinner or for a meal prep option for cooking now and eating later.
For a simple but full-flavored dinner idea, try this one-pot lemon chicken pasta recipe.
It's made with gluten-free pasta, cooked chicken, chicken broth, lemon juice, and broccoli. So simple, so delicious – and perfect for a gluten and dairy-free diet!
If you're looking for a straightforward spaghetti sauce that's both gluten and dairy-free, you might want to give this one a try.
The sauce is loaded with ground beef, onion, bell peppers, onions, and a good amount of tomato sauce and dried herbs. Serve over your favorite gluten-free spaghetti noodles.
Enjoy turning your spaghetti dinner into a unique option that will have your family amazed at your creativity?
Try this spaghetti pie with gluten-free spaghetti, an egg replacer, a homemade cashew cream sauce, and a tasty tomato meat sauce. It's great to prep ahead and bake later!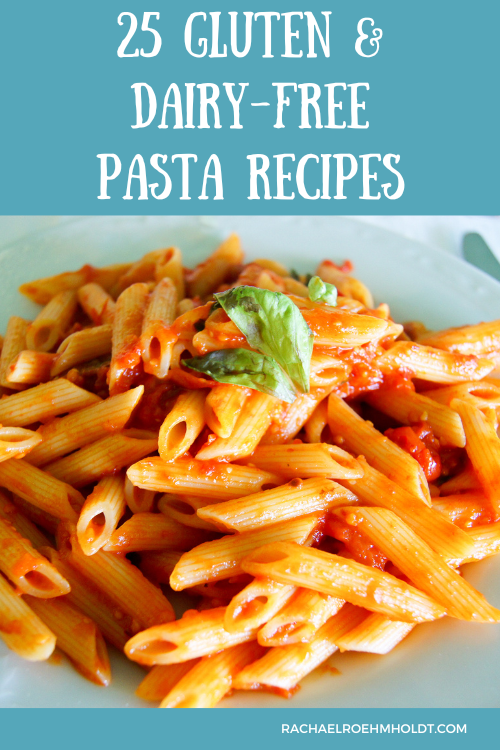 Gluten & Dairy-free Penne Recipes
It's pretty easy to find gluten-free penne pasta at most grocery stores these days I've found, which is why I decided to round up a few recipes and sauces that work well with this type of pasta.
Enjoy dairy-free alfredo, vegan vodka sauce, carrot sauce (yes, you read that right) and a few recipes for chicken penne dishes.
This dairy-free alfredo sauce comes together in just five minutes and is perfect for servng over your favorite penne or other gluten-free pasta.
Enjoy making a batch of this alfredo sauce that requires no cooking and is insanely flavorful!
Give this gluten-free and vegan vodka pasta sauce a try over your favorite brand of gluten-free penne pasta.
This sauce comes together with a homemade cashew cream base with loads of tomatoes and seasonings added for major flavor.
Try this dairy-free chicken broccoli alfredo bake with gluten-free penne pasta and a delicious dairy-free cashew-based sauce.
Everything is made separately then transferred to the oven to bake and combine flavors until everything is warm and gooey. A perfect gluten and dairy-free dinner idea!
Enjoy this creamy cajun chicken pasta dish that's full of flavor from a homemade cajun seasoning mix.
Combine that with gluten-free pasta, a cashew cream sauce, and some onions and bell peppers, and you have a delightfully full-flavored meal ready in about 35 minutes!
Have you ever been craving pasta but just couldn't do with another tomato-based sauce? You might want to experiment with this idea – a carrot cashew sauce that has totally piqued my interest.
Enjoy this sauce over gluten-free penne pasta and serve with a unique Italian chickpea breadcrumb.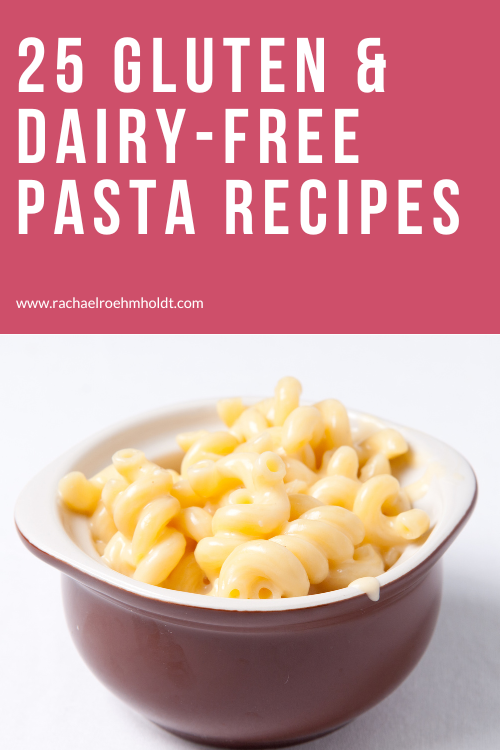 Gluten & Dairy-free Mac & Cheese Recipes
Mac and cheese is by for one of the most popular pasta dishes, so I've pulled together some gluten-free and dairy-free recipes so you can satisfy that that comfort food craving.
Try one of these homemade dairy-free cheese sauces, stovetop mac and cheese, and even a butternut squash mac and cheese to get some extra veggies.
This recipe claims to be the best vegan gluten-free mac and cheese out there, with simple ingredients and made in just one hour.
Give this one a try and you decide if it's really the best!
This dairy-free mac and cheese recipe definitely brings the healthy out in what could be a very heavy meal.
With butternut squash and cauliflower, you're definitely getting your veggies in disguise with this homemade dairy-free cheese sauce.
It's hard to get a great cheese sauce without any cheese! this recipe uses butternut squash, onion, and cashews as a base for this delicious mac and cheese recipe.
This recipe gets my praise for being only a few ingredients: gluten-free pasta, vegan butter, dairy-free cheddar cheese, dairy-free mozarella cheese, and salt and pepper.
With a few shortcuts with store-bought products, this mac and cheese isn't super cheap, but it does fulfill a mac and cheese craving.
I love this recipe because it promises to be done in 15 minutes – it's right in the name! This recipe is unique in that it calls for flaxseed meal to thicken it up and create that creamy texture that you can get from flaxseed when it gels with liquid.
It's something I haven't seen before! Be sure to use gluten-free macaroni noodles with this one.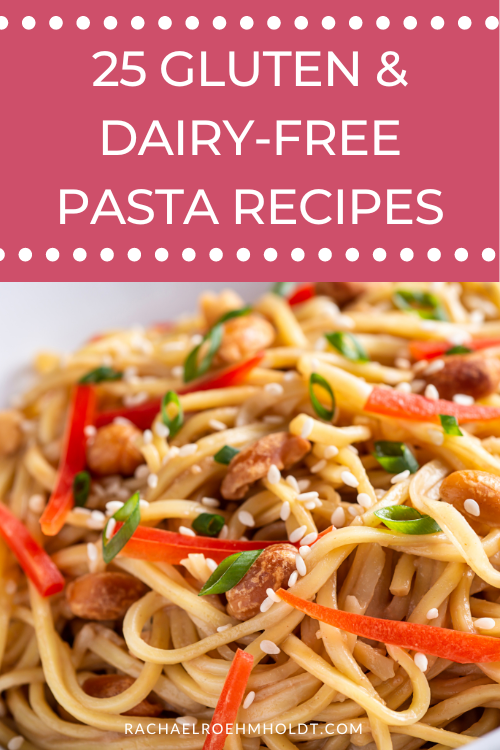 Gluten & Dairy-free 20-Minute Pasta Recipes
I love quick and easy dinner recipes – especially ones that taste good. Enjoy looking through some of these 20-minute gluten and dairy-free pasta recipes to get inspired for a healthy dinner tonight.
Find a one-pot pasta dish, a five ingredient recipe, and a spicy sausage pasta option in this list.
Enjoy this five-ingredient pasta with sausage and spinach recipe that takes only 20 minutes to whip up, is completely gluten and dairy-free, and is perfect for any busy weeknight!
Any dish that requires less dishes is a win in my book. That's why this recipe made it to the recipe roundup.
A one-pot pasta dish with gluten-free pasta, tomatoes, garlic, onion, zucchini, mushrooms, and a bit of your favorite pasta sauce – voila! Quick dinner, easy cleanup!
My husband and I love peanut noodles, so this recipe is a no-brainer to add to this recipe roundup.
Make your own peanut sauce with peanut butter, gluten-free tamari soy sauce, coconut sugar, sesame oil, sriracha, ground ginger, and garlic, then slather it on your favorite gluten-free noodles. Top with some lime, green onions, and peanuts – so yummy!
Enjoy this quick 20-minute dinner that's both gluten and dairy-free. Make a quick creamy meat sauce with ground beef, tomato sauce, paprika, onion powder, and full-fat coconut milk.
Serve over gluten-free pasta of your choice. Be sure to swap out the butter in this dish for vegan butter and omit the cheese.
This quick and simple sausage pasta dish is full of flavor and spice! Enjoy gluten-free pasta with chopped tomatoes, red peppers, spinach, onions, and spice from red chilis, chili powder, and chili flakes.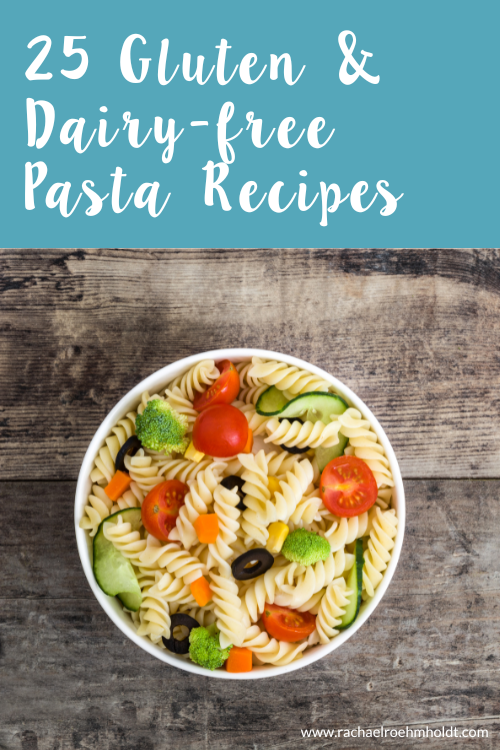 Gluten & Dairy-free Pasta Salad Recipes
Pasta salad is a no-brainer for a quick dinner or an option to bring with you to a summer barbecue or gathering.
Enjoy these five recipes to make sure you don't have. to go without pasta salad just because you're on a gluten and dairy-free diet. Try Italian, Greek, Veggie, and an Avocado BLT twist on pasta salad in this roundup.
This Italian pasta salad is made from gluten-free rotini pasta, bell pepper, cucumber, red onion, broccoli, pepperoni, black olives, and a homemade Italian dressing. With tons of fresh flavors, this is a real crowd pleaser!
Read on: Is pepperoni gluten-free?

This Greek pasta salad is made from lentil or chickpea pasta, cucumbers, red onion, grape tomatoes, fresh dill, kalamata olives, and a homemade dressing.
This salad is full of flavor from the fresh veggies and some great protein from the lentil or chickpea pasta.
Avocado pasta salad combines some of the great flavors of pasta salad with a homemade avocado dressing.
In this salad, you'll find gluten-free pasta, fresh corn, grape tomatoes, red onion, avocado, and chives.
This simple veggie pasta salad uses your choice of gluten-free pasta, bell peppers, red onion, and broccoli with a homemade vinaigrette.
Enjoy this as a side or add some protein to enjoy it as a main.
This avocado BLT pasta salad is gluten, egg, and dairy-free. It's made with bacon, lettuce, tomatoes, gluten-free pasta, Romaine lettuce, and a homemade dressing.
If you've been looking for a few ways to enjoy more fish in your gluten and dairy-free diet, I hope these recipes have helped inspire you!
If you loved this post, I hope that you'll share it with your friends on Facebook and pin it for future reference on Pinterest.