Find out what Nutella is made of and if it is gluten-free. Plus find out if this chocolate hazelnut spread is dairy-free and some brands to shop for.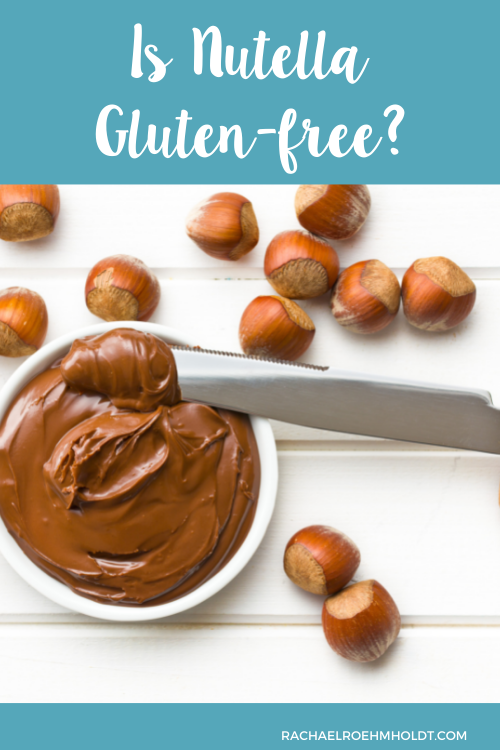 Note: I am a proud Amazon, Chomps, MunkPack, and Thrive Market affiliate and am happy to recommend their service and products to you. Please know that as an affiliate, I may receive a small commission on the products you purchase after clicking through my links. For more info, please see my disclosure policy here.
Nutella is a chocolate hazelnut spread that's become a breakfast treat worldwide over the last 50 years. In more recent years, the manufacturers of Nutella have decided that this spread isn't just for breakfast anymore. 
They've launched on the go snack packs with crackers and pretzels, so you can take them with you on the road or to serve to kids.
Nutella has always held a special place in my heart. I remember getting jars of Nutella as a special treat when I was a kid and slathering it on toast until my sister and I got through the jar at lightning speed within just a few days. My mom was never happy there wasn't much left for her once she got around to having even a bite.
On a gluten-free diet, even delicious foods need to be looked at with a careful eye. In this post, we're going to dive into the world of Nutella and find out what it's made of and if it's gluten-free.
If you follow a gluten-free diet, discover if you can eat this chocolate hazelnut spread regularly or if you'll want to go looking for another option to satisfy your chocolate craving.
I'll also discuss how Nutella falls into a dairy-free diet, as I also eat dairy-free and want to be sure even folks like me can enjoy this yummy treat once in a while.
What is Nutella?
Nutella is a spreadable chocolate hazelnut spread that can be used in a variety of recipes for breakfast, snacks, and desserts.
This super sweet spread is often used as a sweet replacement for peanut butter or other nut butters on toast, pancakes, or French toast. Others like to eat it just plain off a spoon (my sister does this), dipped with pretzels or crackers, and spread of banana sandwiches as snacks.
Nutella is a very versatile ingredient and a fun way to add some chocolate flavor to your favorite sweet recipes.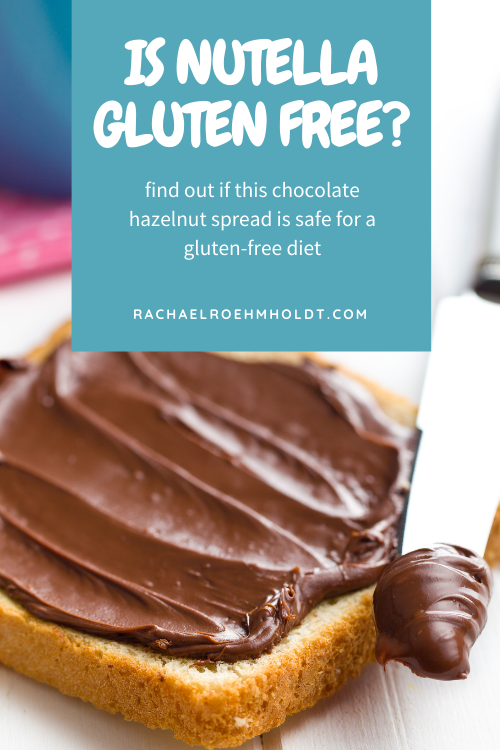 What is Nutella made of?
The packaging on Nutella products list the following ingredients in this chocolate hazelnut spread:
Sugar, Modified Palm Oil, Hazelnuts, Skim Milk Powder, Cocoa, Soy and/or Sunflower, Lecithin, Vanillin.
There is a note under the ingredients list: Contains: Hazelnuts, milk, soy.
What is gluten?
Gluten is a protein found in most wheat products, and acts as the "glue" that helps to hold wheat, barley, kamut, spelt, farro, durum, bulgur, rye, and semolina together to maintain their shape.
Gluten is naturally occurring, and therefore is impossible to strip away from the grain. If a grain naturally has gluten in it, there's no way to make that food gluten-free.
Gluten can be found in processed foods in obvious ways, like under the names of wheat or wheat flour. Sometimes gluten can be found in less obvious ways too, in the form of flavorings, binders, and thickeners. That's why it's so important to learn how to read ingredients lists and know the names of gluten so you can avoid them.
Is Nutella gluten-free?
According to the Nutella website:
"Nutella spread is gluten free whereas our Nutella to Go contains breadsticks or pretzels and is not gluten free"
While Nutella is considered gluten-free and even has a gluten-free label on the packaging, be sure that if you're sharing a jar of Nutella with others, that there isn't any double dipping of knives that go onto gluten-free bread or crackers and bread or crackers with gluten.
The spread may be gluten-free, but what you do with it can affect the possibility for cross contamination.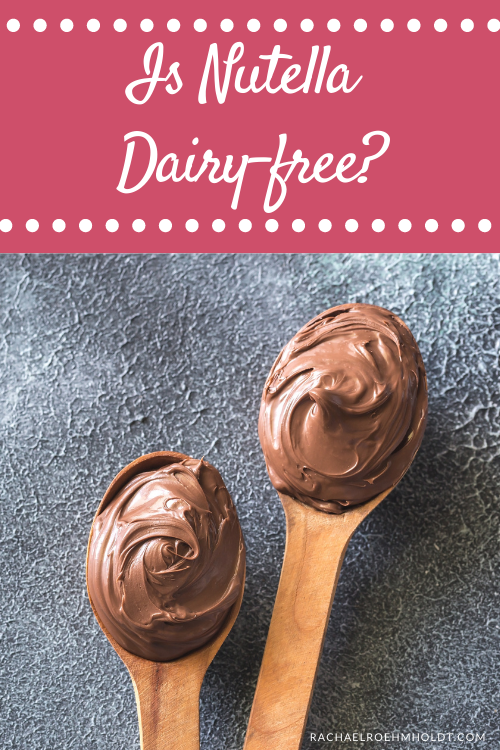 Is Nutella dairy-free?
Nutella contains skim milk powder and there is a note under the ingredients list saying it contains milk. This product is not dairy-free or safe for a dairy-free diet.
There are other brands of chocolate hazelnut spread that are dairy-free that you may want to check out instead of this specific brand which I'll list farther down in this post.
You can even make your own dairy-free nutella at home if you have a bit of time and a food processor. It is surprisingly easy to make and so so yummy!
What is Nutella used for?
There are so many ways to enjoy Nutella chocolate hazelnut spread. While I don't eat this brand anymore, because it has dairy, here are just a few ways I've heard folks love to eat it.
On a spoon by itself
On French toast
On toast
In place of peanut butter for PB&J sandwiches
On sandwiches
In oatmeal or breakfast whole grain bowls
Banana nutella sandwiches
Stirred into dairy-free hot chocolate
Melted and served on dairy-free ice cream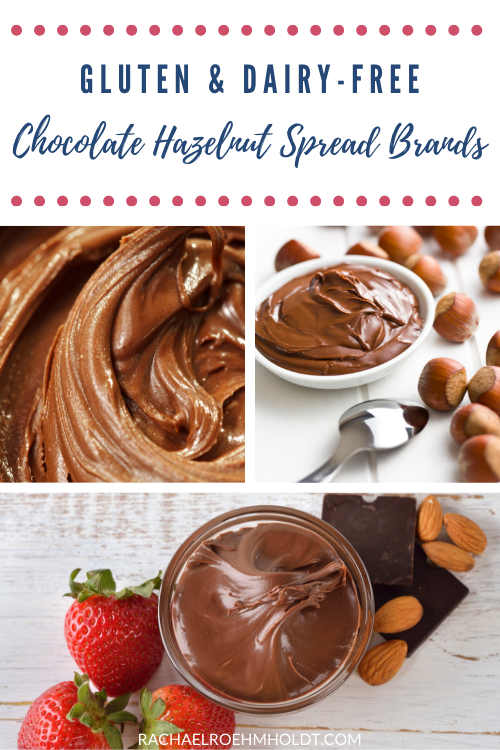 Gluten and dairy-free chocolate hazelnut brands
If you love Nutella, but realize you can't enjoy it because of the dairy included in this brand, don't worry – you won't have to live without chocolate hazelnut spread forever!
Try one of these brands for a gluten and dairy-free chocolate hazelnut spread:
You can find these brands locally or online through Amazon or Thrive Market.
If you enjoy Nutella chocolate hazelnut spread, I hope that this post has answered the questions you have about whether or not to continue eating it on a gluten-free diet.
If you follow a dairy-free diet in addition to avoiding gluten, look for an alternative brand to get your chocolate hazelnut craving met.
If you loved this post, I hope that you'll share it with your friends on Facebook and pin it for future reference on Pinterest.
Love this post? You might also want to check out these!
Find out if your favorite foods and ingredients contain gluten with these posts!