Do you love Miracle Whip but wonder if it's safe for your gluten-free diet? Find out in this post what Miracle Whip is made of and if you can enjoy it while still avoiding gluten.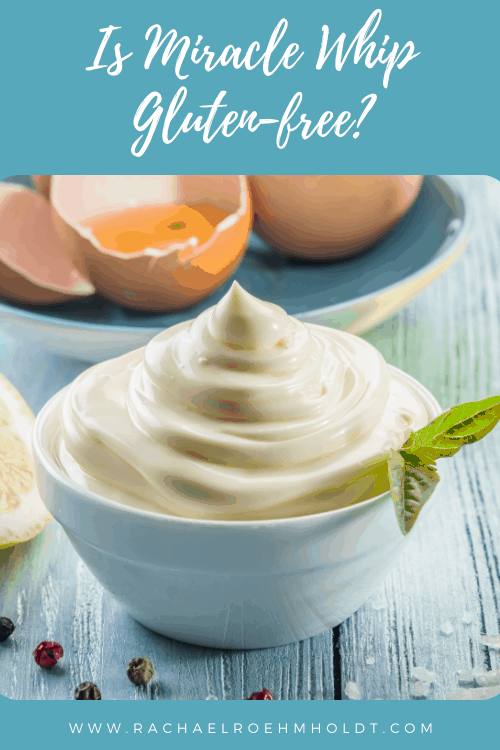 Note: I am a proud Amazon, Chomps, MunkPack, and Thrive Market affiliate and am happy to recommend their service and products to you. Please know that as an affiliate, I may receive a small commission on the products you purchase after clicking through my links. For more info, please see my disclosure policy here.
Miracle Whip is a go-to spread for sandwiches, a dressing for salads, and can be used in dips and casseroles alike. It's a well-known ingredient that many people love even more than mayonnaise and is touted as being a lower fat option for many folks.
But if you follow a gluten-free diet, is it okay to keep using it in your favorite recipes? Or should you look for another option?
In this post, we'll find out what Miracle Whip is, what it's made of, if it's gluten-free, and even answer the question as to whether it's safe for a dairy-free diet too.
What is Miracle Whip?
MIracle whip is a condiment, similar to mayonnaise, although not technically a mayonnaise. It has a sweet spicy flavor that differs from mayonnaise.
The FDA requires that mayonnaise has at least 65% vegetable oil, and although it's not known what the oil content is in MIracle Whip, Kraft has acknowledged that it's less than what is required to meet the requirement.
Miracle Whip is used in much the same way as mayonnaise in recipes, and oftentimes many people use it because it is a lower fat and calorie option to mayo.
What is Miracle Whip made of?
According to the Kraft Heinz website, Miracle Whip is made of: water, soybean oil, high fructose corn syrup, vinegar, modified cornstarch, eggs, salt, natural flavor, mustard flour, potassium sorbate as a preservative, paprika, spice, and dried garlic.
Read on: Is corn syrup gluten-free?
Read on: Is soybean oil gluten-free?
What is gluten?
Gluten is a protein found in most wheat products, and acts as the "glue" that helps to hold wheat, barley, kamut, spelt, farro, durum, bulgur, rye, and semolina together to maintain their shape.
You can find gluten in whole grains, but also in many processed foods as well. If you purchase wheat bread, there will be gluten in it, because wheat by nature has gluten.
Many processed foods have hidden gluten in them in the form or gluten or wheat derivatives. These are also in the form of flavorings, binders to keep ingredients together, or other additives.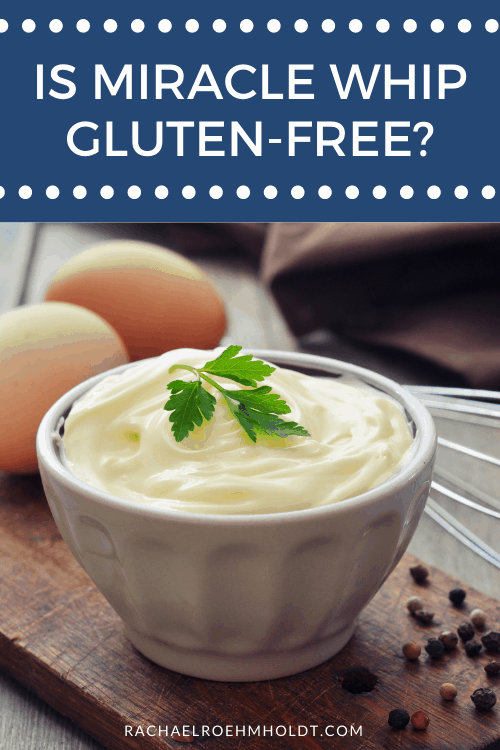 Is Miracle Whip gluten-free?
Miracle Whip does not contain any gluten-containing ingredients, so it is assumed safe to enjoy on a gluten-free diet.
Kraft Heinz, the company that makes Miracle Whip, is great about disclosing ingredients that contain gluten and other allergens. It is not listed with a clear indication of gluten being included in the ingredients list.
Vinegar can sometimes be sourced from gluten-containing grains, but again, Kraft Heinz is really good about disclosing this information.
As long as the vinegar used is distilled, it is safe for a gluten-free diet as the distillation process filters out the gluten proteins so they don't pass through to the finished product.
It should be noted that although it doesn't have any gluten-containing ingredients, it does not have a gluten-free label. This means it hasn't been verified to be gluten-free, and may have some potential for cross contamination in their facilities and on their processing lines.
Keep this in mind if you are extremely sensitive to gluten and even the smallest amount from cross contact can cause issues for you.
Read on: Is mayonnaise gluten-free?
Does Miracle Whip have dairy?
Based on the ingredients list, we can safely say that Miracle Whip does not contain any dairy products. This is a safe ingredient to use if you avoid dairy in your diet.
Miracle Whip does contain eggs, but eggs are not considered a dairy product as they don't come from animal milk.
Read on: Are eggs dairy?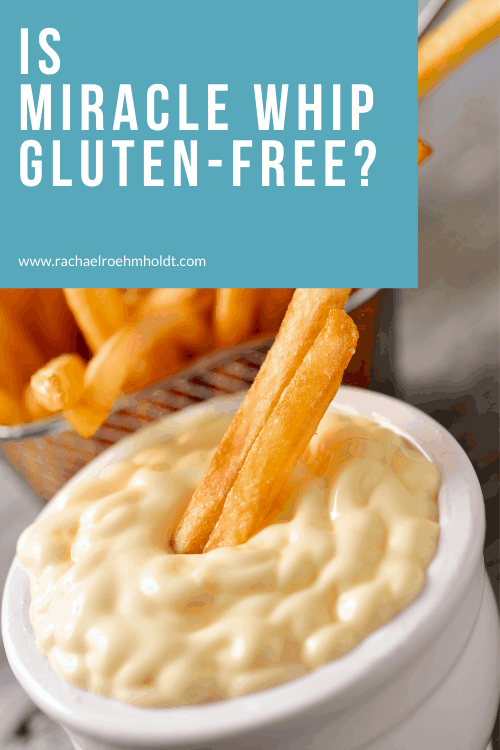 Is Miracle Whip dairy-free?
Because Miracle Whip contains no milk products, we can confidently say that Miracle Whip is dairy-free and safe for a dairy-free diet.
If you love Miracle Whip, I hope this post has encouraged you that you can still enjoy this ingredient in your gluten-free diet as long as you are okay with the potential for some cross contamination.
If you're looking for more information on mayonnaise and a gluten and dairy-free diet, check out this post: Does mayo have dairy?
If you loved this post, I hope that you'll share it with your friends on Facebook and pin it for future reference on Pinterest.
Love this post? You might also want to check out these!
Find out if your favorite foods and ingredients contain gluten with these posts!