Find out what Malibu Rum is made from and if it's safe for a gluten-free diet. Plus find out which flavors of Malibu Rum are gluten-free.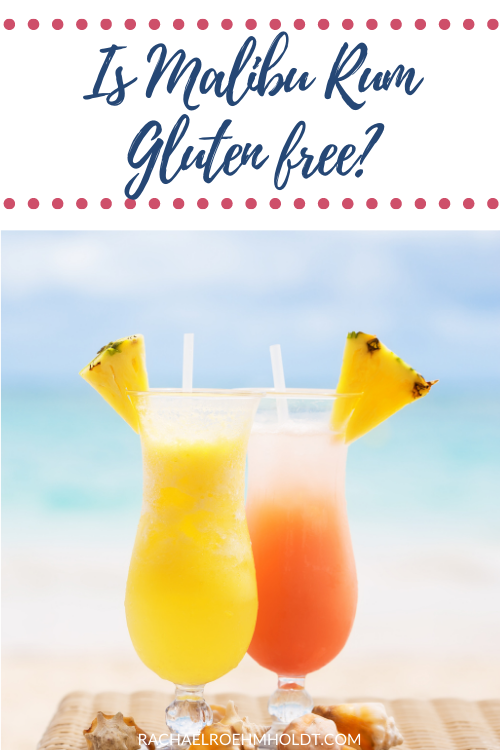 Note: I am a proud Amazon, Chomps, MunkPack, and Thrive Market affiliate and am happy to recommend their service and products to you. Please know that as an affiliate, I may receive a small commission on the products you purchase after clicking through my links. For more info, please see my disclosure policy here.
If you enjoy a tropical drink in the middle of summer, or dead of winter if you're looking for a little escapism, you are probably familiar with Malibu Rum. This coconut flavored rum is popular in the U.S. and has a sweet sunny flavor that's perfect for mixing into cocktails.
Whether you're just getting started with a gluten-free diet or have been at it for a while, you know that understanding ingredients and where an ingredient comes from is important to helping you stick with a gluten-free diet.
Alcoholic beverages are no different. It's important to know if your favorites, or even those you enjoy once in a while, are gluten-free, so you can drink them without worrying about any side effects of consuming gluten.
In this post, we're going to talk all about Malibu Rum and how it fits into a gluten-free diet. We'll talk about what Malibu Rum is, what it's made from, and if it's gluten-free. We'll also talk about the different flavors and options from the Malibu Rum brand and identify if some of their popular offerings are safe for folks on a gluten-free diet.
This post is part of the Gluten-free Alcohol Series, where we're going to discuss different types of alcoholic drinks and how they fit into a gluten-free diet. Read more in this Gluten-free Alcohol Guide.
If you're a Malibu Rum fan, you won't want to miss this post!
What is Malibu Rum?
Malibu Rum is a brand of flavored rums. Their most popular rum is their coconut rum, but they also offer other flavors like strawberry, watermelon, passion fruit, and lime.
Malibu Rum can be used in many popular mixed drinks, like pina coladas, bay breezes, mojitos, palomas, and mixed into other drinks that you'd want a coconut rum twist on.
Drinks like rum and Coke can have a new flavor with coconut rum, or adding Malibu Rum to soda water for a lower calorie drink with a coconut flavor.
Read on: Is Coke gluten-free?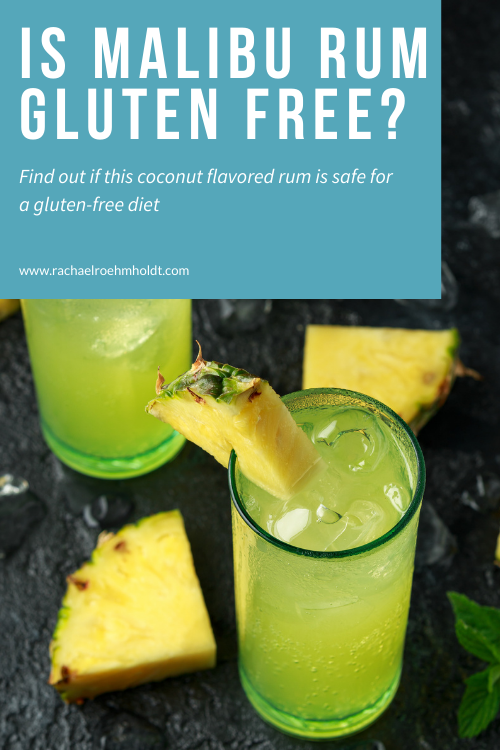 What is Malibu Rum made from?
Malibu Rum, like many other rums, is made from sugar cane. Sugar cane is cooked down to molasses, then it's processed and distilled. A coconut flavoring is added to the rum, and you get coconut flavored (or other flavored) rum perfect for adding to your favorite drinks.
What is gluten?
Gluten is a protein found in most wheat products, and acts as the "glue" that helps to hold wheat, barley, kamut, spelt, farro, durum, bulgur, rye, and semolina together to maintain their shape.
Gluten is naturally occurring, and therefore is impossible to strip away from the grain. If a grain naturally has gluten in it, there's no way to make that food gluten-free.
Is rum gluten-free?
Since rum is made from sugarcane or molasses, and we know that sugar does not contain gluten, we can be sure that rum is gluten-free.
It is safe to enjoy rum on a gluten-free diet, as long as the rum is pure and distilled. Look out for any drink mixes that have added flavorings, spices, or other additives. These additions may contain gluten, so you'll want to do some extra research before purchasing or drinking.
Read on: Is rum gluten-free?
Is Malibu Rum gluten-free?
According to the Malibu Rum website, their rum is gluten-free. Here is their official statement:
"Yes, we don't use any gluten containing ingredients in Malibu Original, Malibu Black, Malibu Flavours & Malibu RTDs. Please note however, that we cannot offer specific advice, and we recommend that you speak with you medical or dietetic advisor."
If you follow a gluten-free diet, you can safely enjoy their flavored rums and canned products, as long as these are not "malt beverages." Malibu Splash is their malt beverage, and this product is not gluten-free.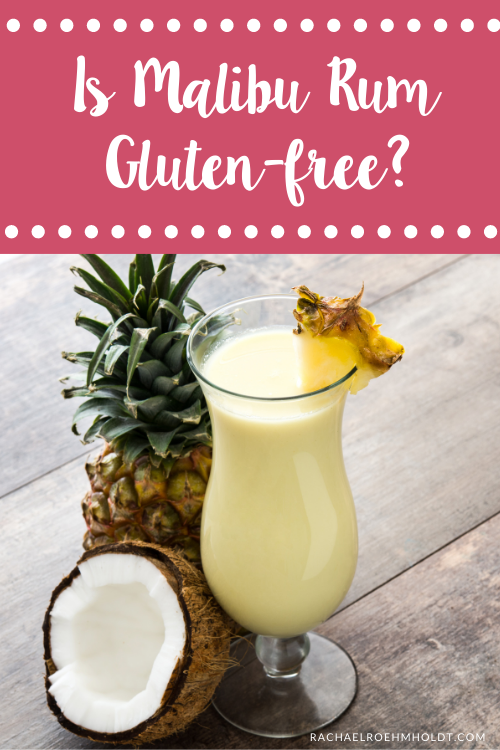 Types of Malibu Rum and Flavor List
There are a number of different varieties and flavors of Malibu Rum. Here are Malibu Rum's current types and flavors.
Flavors
Malibu Original
Malibu Watermelon
Malibu Strawberry
Malibu Passion Fruit
Malibu Lime
Cans (ready to drink options)
Malibu Pineapple
Malibu Pear
Malibu Cola
Malibu Pina Colada
Malibu Fizzy Pink Lemonade
Is Malibu Splash gluten-free?
Malibu Splash is the name of their canned sparkling malt beverages. These products are no longer on the Malibu Rum website, and therefore I'm uncertain if they're still being produced.
If you happen to come across this beverage, know that any malt beverages contain gluten, so this is a drink option you'll want to steer clear of if you're on a gluten-free diet.
The canned options on their website in pineapple, pear, cola, pina colada, and fizzy pink lemonade are all considered free from gluten ingredients according to their website.
Is Malibu Strawberry Rum gluten-free?
Malibu Strawberry is Malibu Rum's strawberry flavored rum. This rum is considered to be free from gluten according to the Malibu website. You can safely enjoy this drink on a gluten-free diet.
If you love Malibu Rum or have been considering picking up a bottle to add to a new drink, I hope this post has helped you get the information you've been looking for. Malibu Rum contains no gluten ingredients and is considered safe for folks following a gluten-free diet. Enjoy this coconut flavored rum in all your favorite drinks!
If you loved this post, I hope that you'll share it with your friends on Facebook and pin it for future reference on Pinterest.
Love this post? Check out more from the Gluten-free Alcohol Series.
Wondering which alcohol is safe for a gluten-free diet? Find out in the Gluten-free Alcohol series!