Find out if Jim Beam is safe for a gluten-free diet, what it's made from, and if your favorite varieties are gluten-free.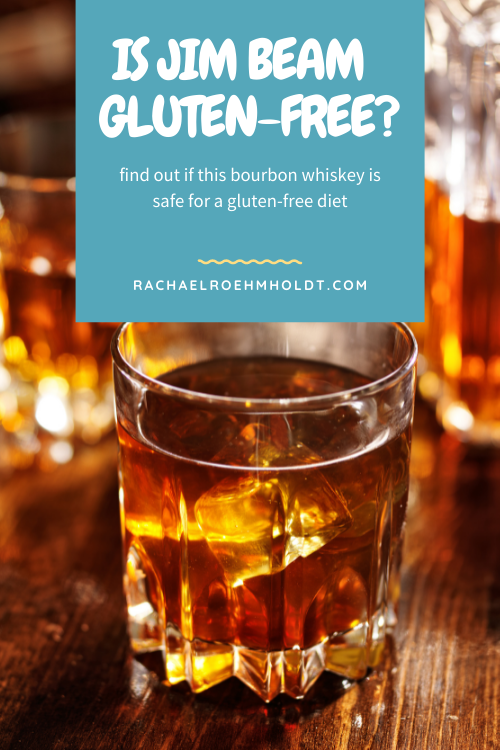 Note: I am a proud Amazon, Chomps, MunkPack, and Thrive Market affiliate and am happy to recommend their service and products to you. Please know that as an affiliate, I may receive a small commission on the products you purchase after clicking through my links. For more info, please see my disclosure policy here.
Do you love a glass of Jim Beam after a long day? Or enjoy mixing it into mixed drinks for your favorite cocktail?
Are you also following a gluten-free diet, trying to stick with it, and knowing that some of your favorite foods and drinks might be on the "iffy" scale for being gluten-free?
In this post, we're going to set the record straight about Jim Beam bourbon whiskey and help you make an informed decision about whether or not to include this drink in your gluten-free diet.
We'll talk about what Jim Beam is, what it's made from, if it's gluten-free, and what varieties are safe for you to enjoy while sticking with your gluten-free diet.
Since some alcohol can have hidden gluten, we're going into a deep dive into some of the most popular brands and types of alcohol for those of us on a gluten-free diet to make choices that work well for our bodies.
This post is part of the Gluten-free Alcohol Series, where we're going to discuss different types of alcoholic drinks and how they fit into a gluten-free diet. 
What is Jim Beam?
Jim Beam is a brand of Kentucky bourbon with a variety of different options, including extra aged and flavored bourbons.
It is a popular bourbon brand in the US and is manufactured in Kentucky.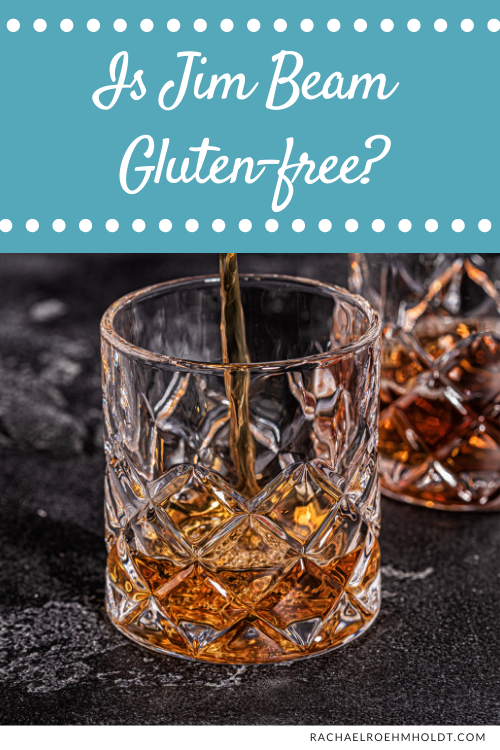 What is bourbon made from?
Bourbon is a type of whiskey and is primarily made from corn. According to Thrillist, a whiskey can only be considered a bourbon if it is made up of at least 51% corn. The remaining ingredients can include rye, wheat, malted barley, or malted rye grain.
In addition, this mixture has to be stored in charred oak containers and cannot have any additives.
While there are some alcohols that have general guidelines, what separates a bourbon from other types of whiskey is actually a law.
Knowing that bourbon is made with rye, wheat, malted barley, or malted rye grain might give you pause, because you probably already know these grains contain gluten. Let's clear this up.
What is Jim Beam made from?
Jim Beam is made with a mixture of corn (at least 51%) and rye and malted barley. It's mixed with "Kentucky water" – basically water from Kentucky that is said to be "iron-free" and "calcium-rich."
Like other whiskeys, yeast is added and the alcohol is fermented, then it is distilled twice. It is then aged before making its way to the bottle and out to consumers.
Read more about the bourbon making process at Jim Beam.
What is gluten?
Gluten is a protein found in most wheat products, and acts as the "glue" that helps to hold wheat, barley, kamut, spelt, farro, durum, bulgur, rye, and semolina together to maintain their shape.
Gluten is naturally occurring, and therefore is impossible to strip away from the grain. If a grain naturally has gluten in it, there's no way to make that food gluten-free.
Read on: Is barley gluten-free?
Is bourbon gluten free?
Yes, like other whiskeys, bourbon that is distilled and is pure from the bottle is considered gluten-free.
Even though it can be made using wheat and grains that contain gluten, the gluten is removed from the bourbon during the distillation process.
You can safely enjoy pure distilled bourbon on a gluten-free diet.
Read on: Is whiskey gluten-free?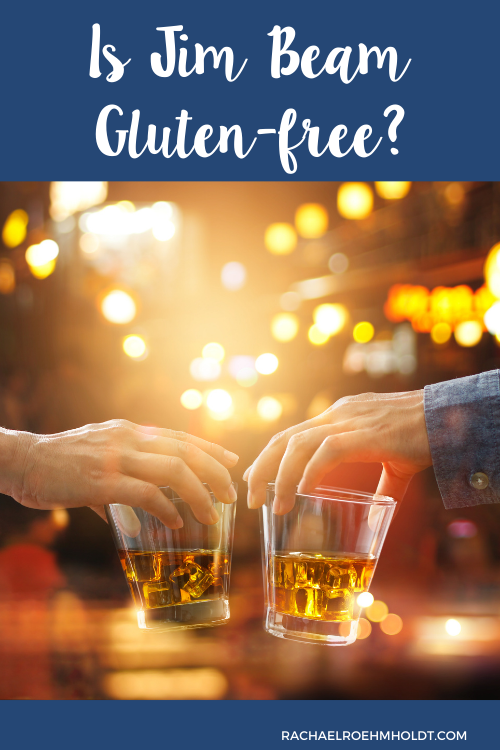 Is Jim Beam gluten-free?
Most bourbon and whiskeys are considered safe for a gluten-free diet as the distillation process removes any gluten that is found in the grains used to create the alcohol. However, some people experience reactions to this brand (and others).
It's best to start with a small amount if you've never had Jim Beam before and determine if you have any adverse reactions, as you would with other potential foods with gluten before jumping straight in with a full serving.
What types of Jim Beam are gluten-free?
According to the Jim Beam website, there are a number of varieties of this bourbon, including their "more refined members" and "flavorful side" options.
Here is Jim Beam's current lineup of pure bourbons:
Jim Beam Black
Jim Beam Double Oak
Jim Beam Rye
Jim Beam Devil's Cut
Jim Beam Single Barrel
These are their flavored bourbon:
Jim Beam Honey
Red Stag by Jim Beam
Jim Beam Kentucky Fire
Jim Beam Peach
Jim Beam Orange
Jim Beam Apple
Jim Beam Vanilla
The bourbon whiskeys that are most likely to be gluten-free from Jim Beam are those that are pure whiskey, like Jim Beam Black, Double Oak, Rye, Devil's Cut, and Single Barrel.
If you follow a gluten-free diet, you may or may not be able to enjoy their flavored bourbons. Since most flavorings are added after the distillation process, it's likely that gluten could be added at this point of the manufacturing process.
Since the Jim Beam brand doesn't make any gluten-free statements it's hard to know for sure whether these flavored options are truly gluten-free or not. T
hat said, use your best judgment and determine what's right for you. Start small and watch your body for adverse reactions before jumping in with a full serving.
If you love Jim Beam and have been looking for answers as to whether or not to include this liquor in your gluten-free diet, I hope this post has been useful for you.
Stick with the pure bourbons from Jim Beam and add your own flavorings at home with gluten-free ingredients to help you stick with staying gluten-free.
Love this post? Check out more from the Gluten-free Alcohol Series.
Wondering which alcohol is safe for a gluten-free diet? Find out in the Gluten-free Alcohol series!