Find out if falafel is gluten-free, dairy-free, and vegan. Plus find out if your favorite brands are safe for a gluten-free diet.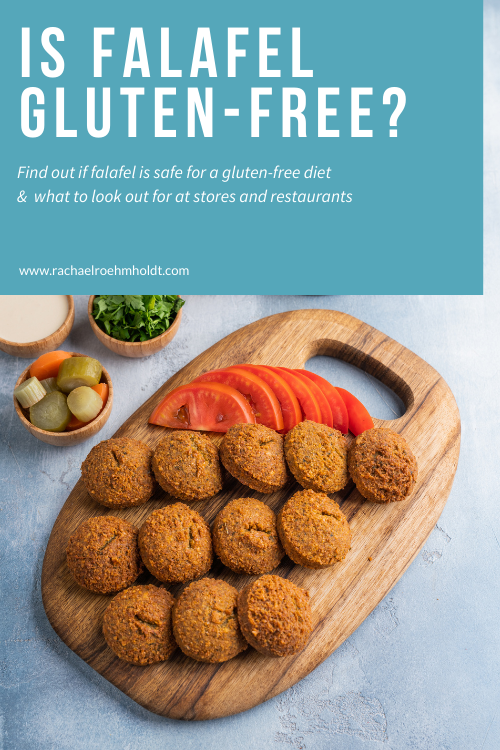 Note: I am a proud Amazon, Chomps, MunkPack, and Thrive Market affiliate and am happy to recommend their service and products to you. Please know that as an affiliate, I may receive a small commission on the products you purchase after clicking through my links. For more info, please see my disclosure policy here.
Are you a fan of Middle Eastern food or Mediterranean cuisine? If so, you're probably no stranger to falafel. This full-of-flavor, crispy-outside-tender-inside patty is popular in Mediterranean cuisine.
If you are trying to find a high-protein meatless option for adding to salads, sandwiches, or bowls, falafel is a great food to try.
You can enjoy them as patties or balls on their own or with your favorite condiments, like hummus, tahini sauce, or cilantro sauce.
If you're just getting started on a gluten-free diet or have been at it for a while, you might want to know how this delicious fried dish can fit into your regular meal rotation.
Better yet, can you pick up a pack of frozen falafel or falafel mix from the store without having issues with your stomach later?
In this post, we're going to talk about if you can safely enjoy falafel on a gluten-free diet and what to look out for both at grocery stores and restaurants.
We'll talk about what falafel is, what the main ingredients are, where gluten might be hiding, and a few recipes to inspire you to make your own at home.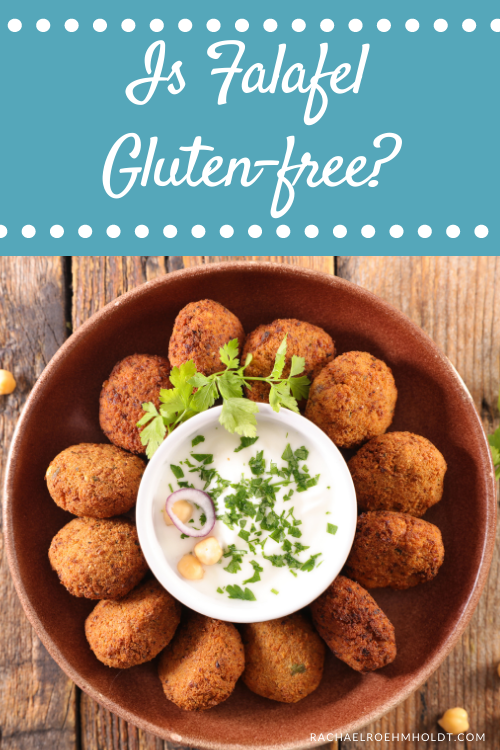 What is falafel?
Falafel is a deep fried patty or balls that are traditional Middle Eastern food. They are made with chickpeas or fava beans, and often served as a sandwich in a pita bread pocket. Falafel balls are also used as a vegetarian protein with salads or as an appetizer.
Read on: Is pita bread gluten-free?
What are the ingredients in falafel?
Falafel recipes may vary from one to another, but most have the following ingredients in common. Chickpeas (also known as garbanzo beans) or fava beans (also known as broad beans), fresh herbs like parsley, cilantro, and dill, cumin, coriander, and cayenne pepper.
Most recipes also have onions, garlic, and shallots. Many folks like to experiment with their falafel recipe, and some recipes will call for nuts or grains added to their falafel.
Read on: Are chickpeas gluten-free?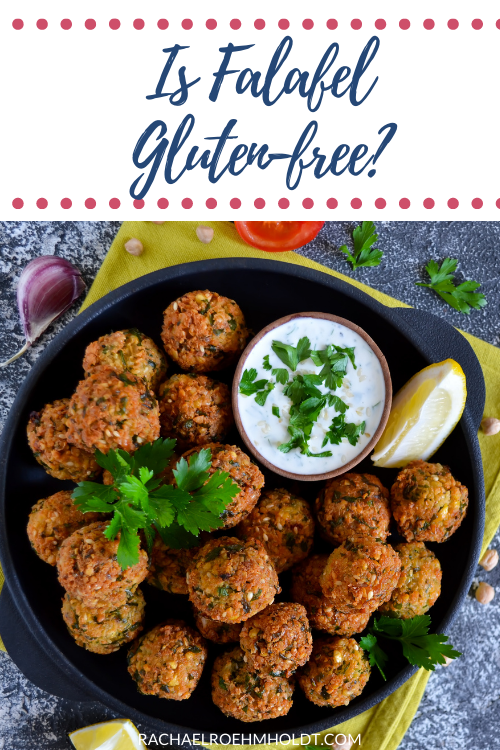 What is gluten?
Gluten is a protein found in most wheat products, and acts as the "glue" that helps to hold wheat, barley, kamut, spelt, farro, durum, bulgur, rye, and semolina together to maintain their shape.
You can find gluten in whole grains, but also in many processed foods as well. Many processed foods have hidden gluten in them in the form of gluten or wheat derivatives.
These are also in the form of flavorings, binders to keep ingredients together, or other additives.
Read on: What is gluten in food? The basics of a gluten-free diet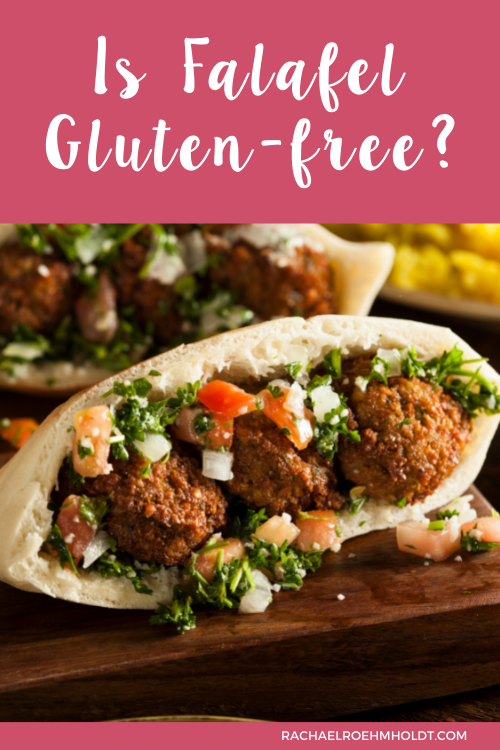 Is falafel gluten-free?
Depending on the falafel you eat, it may or may not be gluten-free. While traditional falafel uses chickpea flour to make this fried dish, many commercial manufacturers use both chickpea and wheat flour.
If you're buying store-bought falafel or falafel from a restaurant, do your due diligence to ask whether or not that falafel has been made with flour.
Another consideration is how the falafel is prepared. If it is store-bought, check for a gluten-free label.
This will also indicate to you if it was prepared in a gluten-free facility and fryers were not shared with other gluten-containing ingredients.
The same idea goes for restaurants. If you order falafel and it doesn't have any gluten in the ingredients, but it is fried in the same fryer as onion rings or other foods that have a breading containing gluten, this food won't be gluten-free anymore.
Depending on your level of sensitivity, a shared fryer may not bother your body, but if you have celiac disease, your safest bet is to make falafel at home with your own gluten-free ingredients.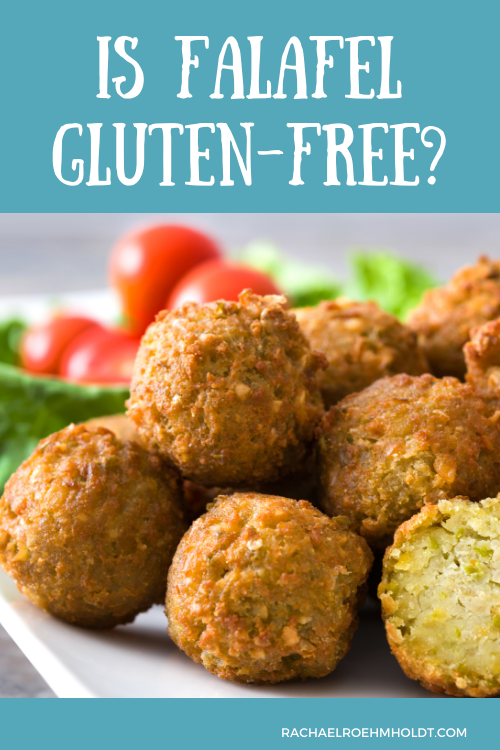 Is falafel dairy-free?
Most falafel is considered dairy-free, as there is no cheese or other dairy products in many recipes.
That said, if you're buying falafel premade from a grocery store or restaurant, it never hurts to ask if there is dairy in the recipe or review an ingredients list before buying.
Is falafel vegan?
Yes, falafel is almost always considered vegan since it contains no animal products or meat. That said, sometimes the condiments used alongside falafel are not vegan. For example, a yogurt or milk-based sauce could be used as a dressing for falafel.
If you follow a vegan diet, check out the ingredients in the condiments used with your falafel before slathering it on.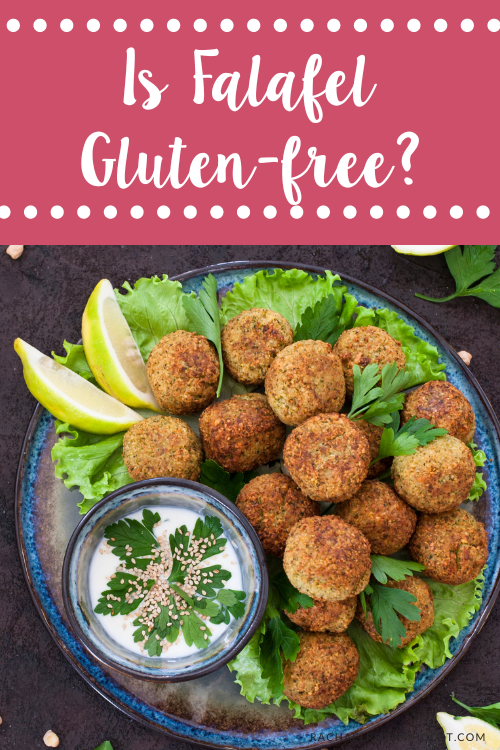 Is hummus gluten-free?
Most hummus is gluten-free, however you may come across brands that add gluten-containing ingredients to their hummus in the form of flavoring. You might also find brands that make hummus that will come into contact with gluten while being manufactured.
Read ingredients lists and look for a gluten-free label when buying hummus at the store. If you make your own hummus at home, you can easily make sure that it is gluten-free by using only gluten-free ingredients.
Read on: Is hummus gluten-free?
Is Trader Joe's falafel mix gluten-free?
According to the Trader Joe's product page, yes, their falafel mix is gluten-free and vegan. You can safely enjoy this product while sticking with your gluten-free diet.
Is Zoe's Kitchen falafel gluten-free?
According to the Zoe's Kitchen website, their falafel trios and falafel pitas do contain gluten, but their side backed falafel are gluten-free as long as you enjoy them without pita.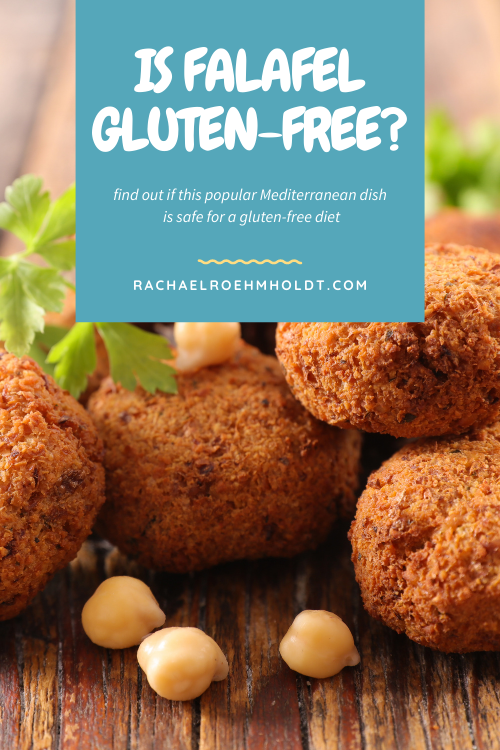 Can I make my own gluten-free falafel at home?
Of course! In fact, that's probably the very best way to ensure that your falafel is safe for your gluten-free diet. It's easy to make falafel at home and you can fry it or bake it up in the oven.
Here are a few recipes to inspire you to make some up for lunch or dinner:
If you love falafel and have been wondering how to fit it into your gluten-free diet, I hope this post has given you the answers you've been looking for.
Store bought and restaurant falafel may or may not be gluten-free, but making your own at home is easy to make work for your gluten-free diet.
f you loved this post, I hope that you'll share it with your friends on Facebook and pin it for future reference on Pinterest.
Love this post? You might also want to check out these!
Find out if your favorite foods and ingredients contain gluten with these posts!