Find out if Angry Orchard is gluten-free, if it's safe for a gluten-free diet, and what you need to know about hard cider.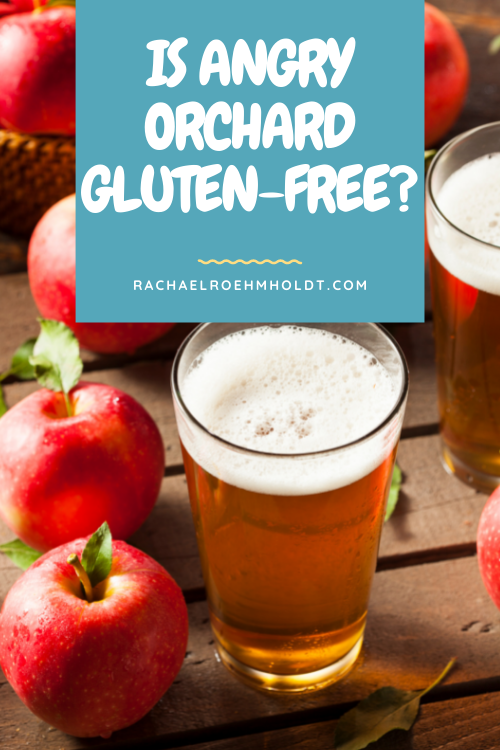 Note: I am a proud Amazon, Chomps, MunkPack, and Thrive Market affiliate and am happy to recommend their service and products to you. Please know that as an affiliate, I may receive a small commission on the products you purchase after clicking through my links. For more info, please see my disclosure policy here.
If you aren't much of a beer lover or just like to mix up your drinks sometimes, you may enjoy drinking hard cider. This alcoholic beverage is made with apple juice that's been fermented, just like beer, and is well known as a generally safe gluten-free option for folks who avoid gluten in their diets.
If you're following a gluten-free diet, you know that looking at every food and drink that you consume is important. That includes the alcohol that you choose too.
In this post, we're going to talk about one very popular brand of hard cider: Angry Orchard. This brand is mass distributed by the Boston Beer Company. According to Wikipedia, Angry Orchard was the top-selling brand of cider in the US in 2019, and I suspect it still is today.
Find out in this post what Angry Orchard cider is made of, if hard cider is gluten-free, if Angry Orchard is gluten-free, and which flavors are safe for a gluten-free diet. Learn if your favorite brand of cider can safely be enjoyed with you're avoiding gluten.
This post is part of the Gluten-free Alcohol Series, where we're going to discuss different types of alcoholic drinks and how they fit into a gluten-free diet.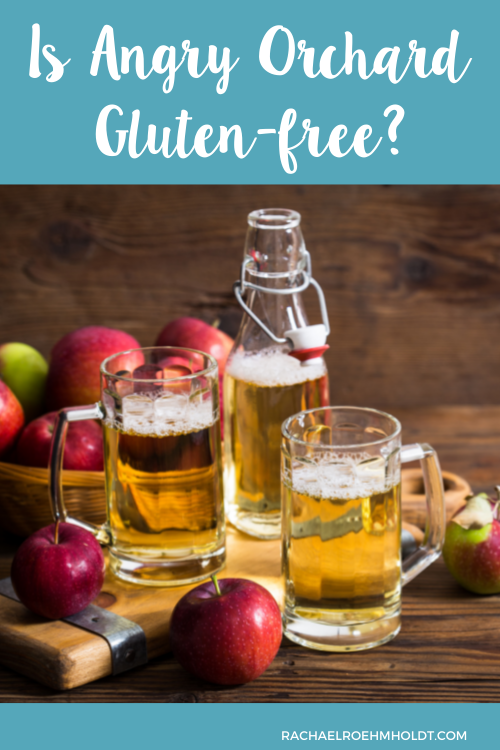 What is Angry Orchard made from?
Angry Orchard is made with apple juice and yeast, along with some preservatives to keep the cider long lasting in the bottle. Certain flavors may have additional ingredients added, like pear juice for their pear flavored cider.
I was able to find an interesting interview from 2014, where a cider maker shared some great answers to questions about how their cider is made.
This video from Angry Orchard is also a really helpful resource to help us see how the cider is made step by step.
What is gluten?
Gluten is a protein found in most wheat products, and acts as the "glue" that helps to hold wheat, barley, kamut, spelt, farro, durum, bulgur, rye, and semolina together to maintain their shape. You can create a malt from any of these grains.
Gluten is naturally occurring, and therefore is impossible to strip away from the grain. If a grain naturally has gluten in it, there's no way to make that food gluten-free.
Is hard cider gluten-free?
Most hard cider is gluten-free, because it is made using apple juice as its base. Apples are naturally gluten-free, meaning most cider is also gluten-free. There are no gluten-containing grains in most hard ciders.
Some ciders do contain gluten, but not from the apple juice it's made from. Gluten gets introduced into the cider if a facility shares equipment with other alcoholic beverages that contain gluten, like beer.
While alcoholic beverages are not required to have a gluten-free label on them, many cider brands have them in order to show folks who are following this diet that it is a safe option for them.
Read on: Is apple cider gluten-free?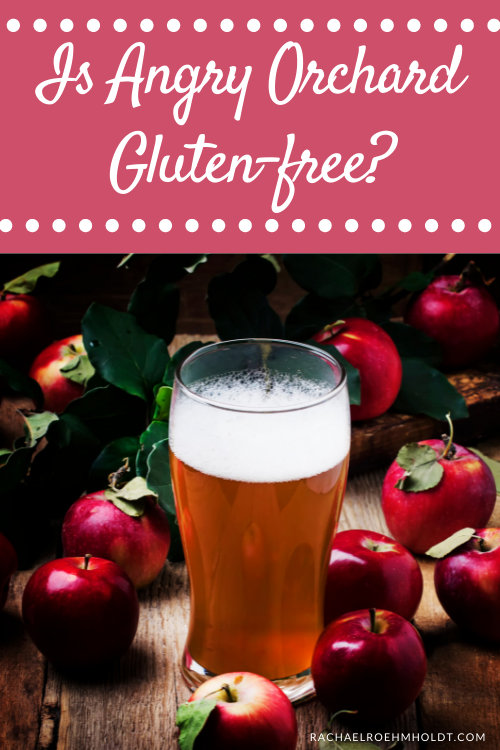 Is Angry Orchard gluten-free?
Yes, Angry Orchard is a gluten-free hard cider! Their website verifies they use only naturally gluten-free ingredients and has no place for cross-contamination.
"Great news: Angry Orchard ciders are made with naturally gluten free ingredients. Just to be safe, we still test our cider-making equipment to be sure there's been no cross-contamination."
Which flavors of Angry Orchard gluten-free?
All flavors of Angry Orchard ciders are gluten-free, including all of the following:
Crisp Apple
Unfiltered
Rosé
Green Apple
Pear Cider
Stone Dry
Look for one of these options at the grocery store or liquor store next time you're looking for a cider or a beer alternative for your gluten-free diet.
If you love Angry Orchard cider, you might also want to try some different gluten-free cider brands. Check out this post where I rounded up a big list of brands to choose from that will work for your gluten-free diet: Is cider gluten-free?
To find out what alcohol is safe for a gluten-free diet, read this post: What Alcohol is Gluten-free?
If you love Angry Orchard hard cider, you can feel good about including this drink in your diet. Look for any of their flavors next time you're at the store or at a restaurant – they are all gluten-free!
If you loved this post, I hope that you'll share it with your friends on Facebook and pin it for future reference on Pinterest.
Love this post? Check out more from the Gluten-free Alcohol Series.
Wondering which alcohol is safe for a gluten-free diet? Find out in the Gluten-free Alcohol series!