Find out what apple cider is, what it's made from, and how it fits into a gluten-free diet. Plus learn about hard cider and sparkling cider.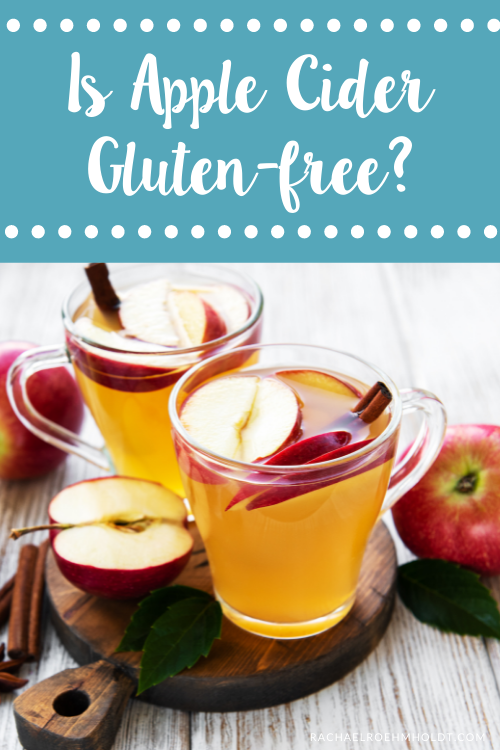 Note: I am a proud Amazon, Chomps, MunkPack, and Thrive Market affiliate and am happy to recommend their service and products to you. Please know that as an affiliate, I may receive a small commission on the products you purchase after clicking through my links. For more info, please see my disclosure policy here.
Are you a fan of apple cider in the fall and winter months? If you're like me, you start getting a craving for fresh apple cider once things start to feel like fall and the leaves turn gorgeous colors.
Over the following few months, that craving turns into wanting to warm that cider up, spice it up, and enjoy it while reading a book or watching my favorite holiday movies.
Apple cider is a delicious drink that comes in a surprising number of varieties. You can enjoy it cold, warm, mulled with spices, fermented and turned into hard cider, and even carbonated to enjoy for holidays and celebrations.
If you're looking to find out how apple cider can fit into your gluten-free diet, this post will give you all the answers you've been looking for. Find out what apple cider is, what the difference between cider and apple juice is, and if it's gluten-free.
We'll talk about how not only apple cider fits into a gluten-free diet, but also hard cider and sparkling cider, because these are bound to find their way to your celebrations and holidays too.
Let's chat about apple cider!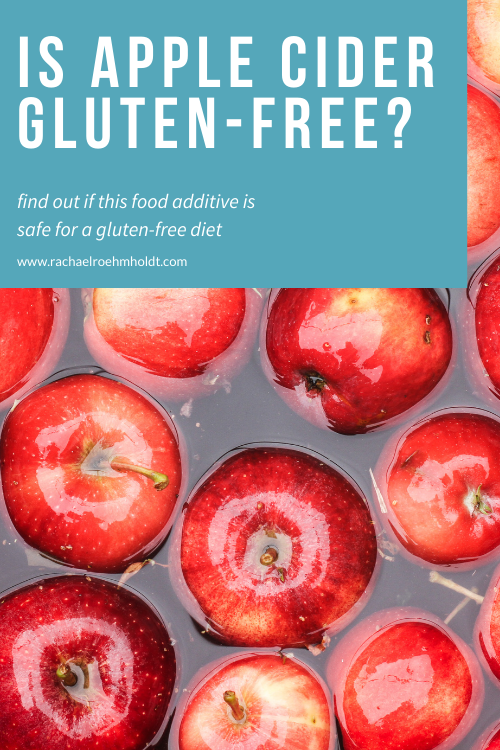 What is apple cider?
Apple cider is a drink that's made from raw apple juice. It's cloudy and brown in color and has a very rich and flavorful taste. Fresh apple cider is apples that have been washed and pressed to extract a liquid with no filtration of pulp or other particles.
Sometimes this cider is pasteurized or unpasteurized depending on where you buy it. Over time, if unpasteurized, the cider can ferment and take on an alcohol flavor.
Apple cider and apple juice differ in that apple juice has been filtered and pasteurized, leaving a clear light brown color and no real texture because it's been filtered out of extra pulp and solids.
In the United States, we call apple cider this cloudy unfiltered apple juice, but in other countries cider may refer to hard cider, an alcoholic drink that's been fermented.
What is apple cider made from?
Apple cider is made from fresh apples that have been pressed with an apple grinder or press. This machine, manual or electric, presses the apples, allowing the juice to be extracted leaving an apple mash behind.
Apple cider is generally not sweetened and is not filtered. This drink can be enjoyed plain, mulled, warm, or cold. Many options of apple cider you find at the grocery store will be treated with some type of preservative to extend the shelf life, but at farmer's markets and local stores, you may find the real deal with no additives.
Apple cider can also be turned into an alcoholic beverage by allowing it to ferment over time. This is where we get the term "hard cider."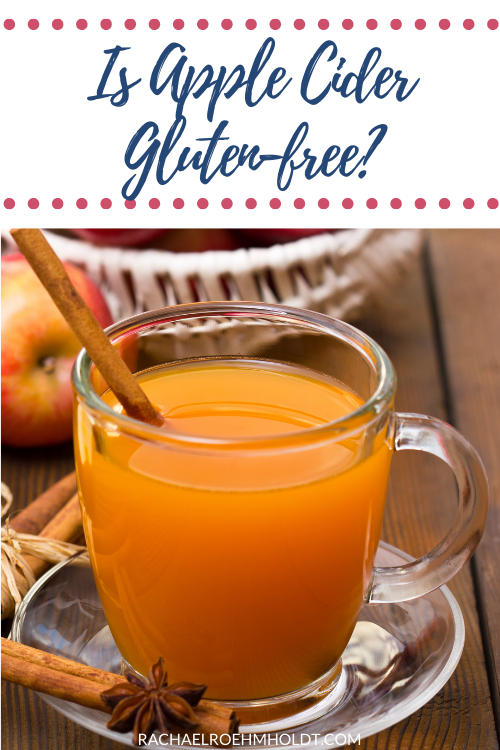 What is gluten?
Gluten is a protein found in most wheat products, and acts as the "glue" that helps to hold wheat, barley, kamut, spelt, farro, durum, bulgur, rye, and semolina together to maintain their shape.
Gluten is naturally occurring, and therefore is impossible to strip away from the grain. If a grain naturally has gluten in it, there's no way to make that food gluten-free.
Is apple cider gluten-free?
Apple cider is generally considered to be gluten-free and safe for a gluten-free diet. That said, sometimes cross contamination can occur if the cider is processed in facilities where other foods with gluten are processed and prepared.
It's always best to look at ingredients lists and make sure the shorter the ingredients list, the better. This means there are less opportunities for gluten to be introduced into the cider.
It's also an opportunity to review ingredients for any hidden sources of gluten. Finally, look for a gluten-free label if you know that even trace amounts of gluten from cross contamination during processing may affect your system negatively.
Is hard cider gluten-free?
Most hard cider is gluten-free, because it is made using apple juice as its base. Apples are naturally gluten-free, meaning most cider is also gluten-free. There are no gluten-containing grains in most hard ciders.
Some ciders do contain gluten, but not from the apple juice it's made from. Gluten gets introduced into the cider if a facility shares equipment with other alcoholic beverages that contain gluten, like beer.
Look for a "gluten free" label to be sure that the brand you've chosen is safe for your gluten-free diet.
Read on: Is cider gluten-free?
Read on: Is Angry Orchard gluten-free?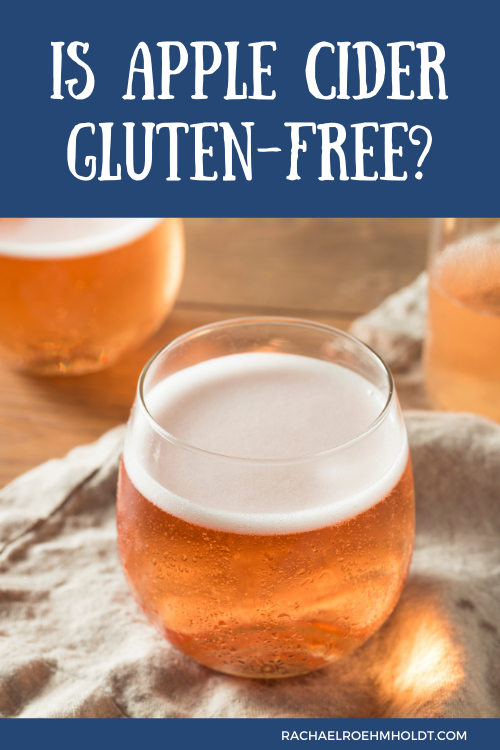 Is sparkling apple cider gluten-free?
If you love sparkling cider to celebrate special occasions or to enjoy around the holidays, you'll be pleased to know that most sparkling cider is indeed gluten-free, including all Martinelli's sparkling cider products, and R.W. Knudsen Family Spritzer Sparkling Beverages.
Welch's brand also offers the following options with gluten-free labels: Sparkling Red Grape Juice Cocktail, Sparkling White Grape Juice Cocktail, Sparkling Cider, Sparkling Sangria Juice Cocktail, Sparkling Strawberry Daiquiri Juice Cocktail.
If you've been wondering if you can enjoy apple cider on your gluten-free diet through the fall and winter months or throughout the holiday season, I hope this post has helped ease your mind about including this drink in your diet.
Most apple cider is gluten-free, but it never hurts to review ingredients lists and look for a gluten-free label to be certain.
f you loved this post, I hope that you'll share it with your friends on Facebook and pin it for future reference on Pinterest.
Love this post? You might also want to check out these!
Find out if your favorite foods and ingredients contain gluten with these posts!