Get a list of 25 gluten-free Thanksgiving side dishes, including salads, rolls, potatoes, and stuffing recipes. Most are dairy-free too!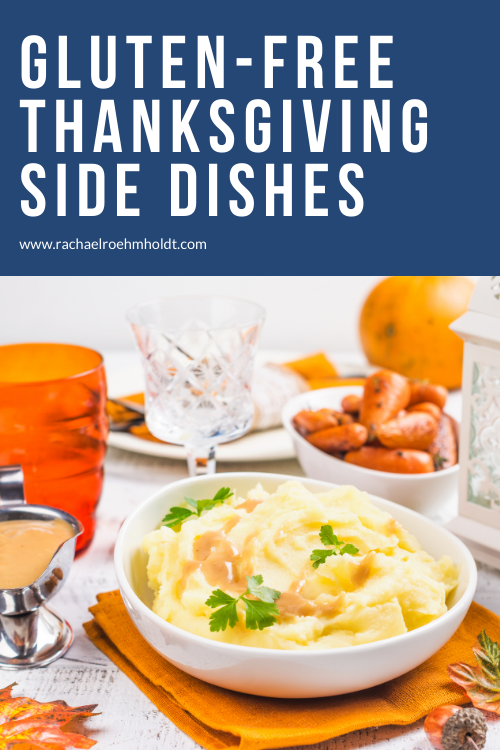 Note: I am a proud Amazon, Chomps, MunkPack, and Thrive Market affiliate and am happy to recommend their service and products to you. Please know that as an affiliate, I may receive a small commission on the products you purchase after clicking through my links. For more info, please see my disclosure policy here.
If you love Thanksgiving for all the side dishes there are at the table, you're not alone.
More than the turkey, more than the desserts, more than the "big deal" parts of a Thanksgiving dinner, I'm all about the sides.
I love that the side dishes are where you can get most creative in the meal. It's also where you can play a lot more with flavors and textures, and give a nod to the fall season.
You can use in season vegetables and fruit, and fall colors in your recipes, making it feel even more festive.
If you follow a gluten-free diet, you know that you need to be extra careful about what ingredients are used and which dishes land on your Thanksgiving plate.
Side dishes are the most common place for gluten to show up at a Thanksgiving meal, so it's important to have some options that work well for your gluten-free diet.
I've rounded up 25 delicious gluten-free Thanksgiving side dish recipes to help you get inspired to not only stick with your gluten-free diet, but to love every dish that is served.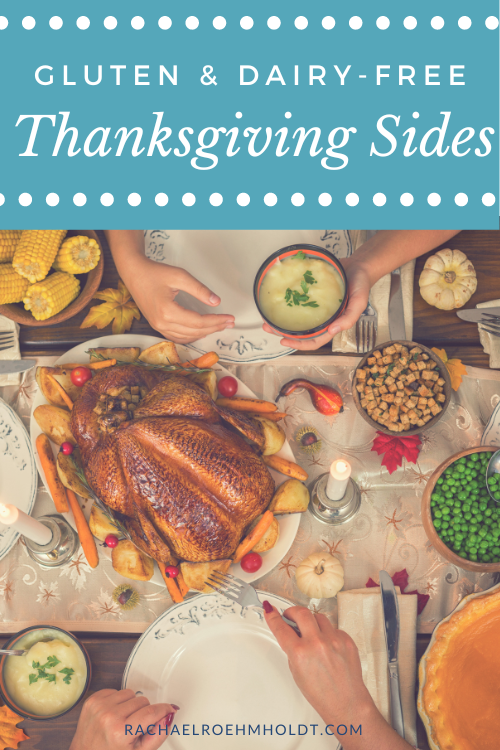 Whether you're bringing a dish to share at someone else's house or hosting your own event at home, these recipes will give you some ideas of what you can make while successfully avoiding gluten during a holiday where being together and being included matters.
In this roundup, you'll find five different side dish categories: gluten-free salads, gluten-free bread and rolls, potato recipes, vegetables, and gluten-free stuffing recipes.
Since I also avoid dairy in my diet, most of the recipes are either dairy-free or have notes on how to make them that way.
I hope these recipes inspire you to fully embrace this fall holiday and not miss out on any of your favorite Thanksgiving side dishes!
Read on: 25 Dairy-free gluten-free Thanksgiving recipes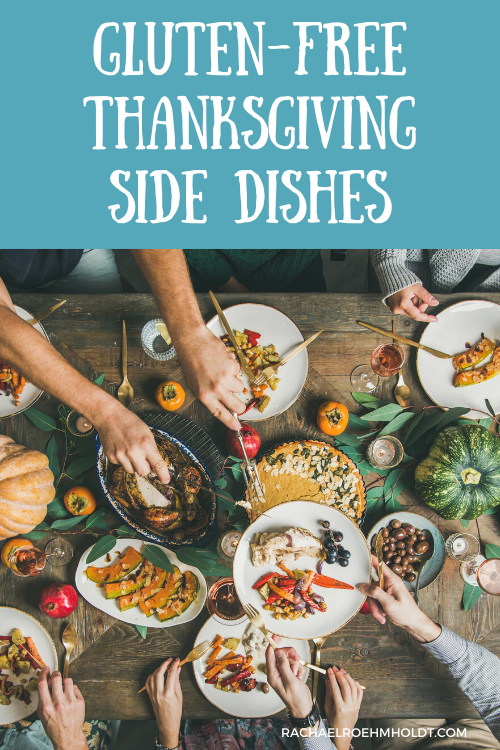 Gluten-free Thanksgiving Salad Recipes
To get a meal started or round out a meal with something healthy, you'll love these gluten-free Thanksgiving salad recipes.
I've included some traditional options with just leafy greens, as well as some salads with wild rice and green beans as a base for a new twist.
This wild rice salad is a beautiful and full-flavored salad that is loaded with healthy ingredients like wild rice, arugula, pecans, cranberries, and pomegranate seeds.
This recipe is gorgeous with earthy browns and red hues perfect for your Thanksgiving table. If you avoid dairy, be sure to omit the feta cheese.
This salad is chopped with loads of fall flavors, like pecans, squash, bacon, dried cranberries, kale, and Brussels sprouts.
This salad not only has delicious fall flavors, but beautiful fall colors you'll love to see on your Thanksgiving table.
Thanksgiving salad is full of salad greens, pears, pomegranate seeds, and toasted pecans.
The whole dish sings with a homemade balsamic vinaigrette, but you could probably shortcut this with a gluten-free store-bought variety. For a dairy-free option, omit the brie cheese.
If you want a different type of salad for Thanksgiving this year, you might opt for a salad that uses green beans as a base instead of salad greens.
This recipe has green beans, radicchio, red onion, goat cheese, walnuts, almonds, and tarragon with a honey mustard dressing. For a dairy-free salad, omit the goat cheese.
This maple roasted squash salad is a little more effort as you have to roast the squash, but the payoff is far worth the effort.
Not only does this salad look like Thanksgiving in a bowl, the flavors of fall really come together with squash, arugula, pomegranate seeds, and a goat cheese dressing.
If you're also dairy-free, you might opt for a different type of dressing, like a gluten-free balsamic vinaigrette instead.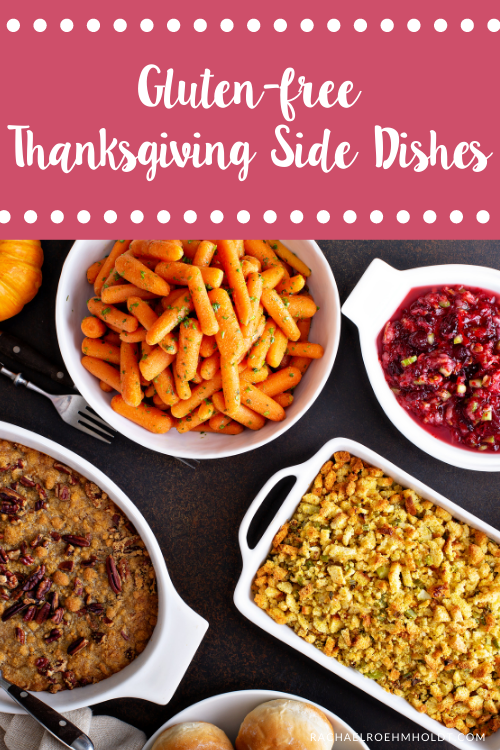 Gluten-free Thanksgiving Bread and Roll Recipes
If bread or rolls are your favorite part of every Thanksgiving meal, you'll be glad to see a number of dinner roll options here in this post.
Try one of these five recipes, including dinner rolls, biscuits, artisan bread, and even cornbread.
If you're looking for a dinner roll with no gluten, dairy, or eggs, try this recipe.
It works great as a side dish to all your favorite soup, stew, or big family dinners, as well as for sliders and mini sandwiches.
Enjoy these gluten-free biscuits that are also dairy-free and vegan.
Plus get some recommendations for some store-bought gluten-free biscuit mixes for those I-need-a-shortcut days.
Try this beautiful artisan bread that's not only gluten-free but vegan as well.
It has a crispy crust and a soft center – just like all the breads you'll find at grocery stores and bakeries. Now you don't have to miss out on the delicious bread!
These gluten-free pull apart dinner rolls are an awesome recipe to keep handy during the holidays, and Thanksgiving is no exception.
It's tough to find a bread or roll recipe that doesn't have gluten or dairy – and that turns out.
You can make these dairy-free by substituting the butter for vegan butter or vegetable shortening.
If you enjoy cornbread for Thanksgiving, you might give this option a try. You can make it into individual muffins or a larger pan. This recipe is gluten and dairy-free with an egg-free option.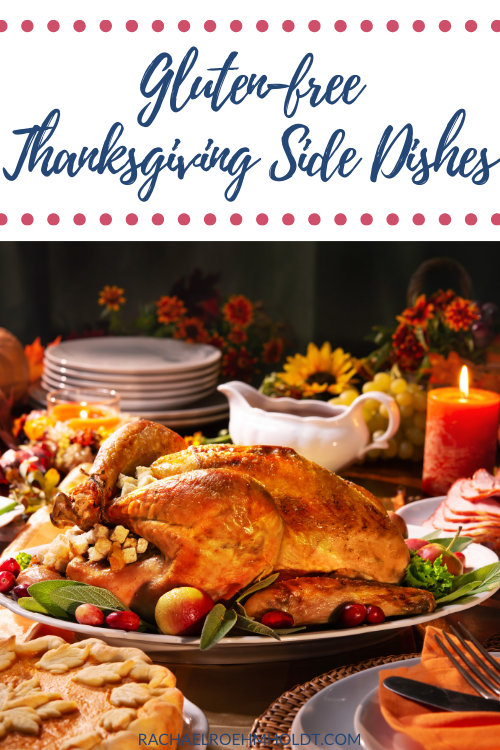 Gluten-free Thanksgiving Potato Recipes
Thanksgiving isn't Thanksgiving without a few types of potatoes on the table.
I've included a few mashed potato recipes and sweet potato recipes, including a few that help you get your meal done with less hands-on time with the help of a slow cooker or Instant Pot.
Did you know mashed potatoes don't require loads of butter and cream to make at home?
These mashed potatoes are made using dairy-free milk and vegan butter.
Try these plain or add your favorite mix-ins, like roasted garlic, fresh herbs, or bacon. Serve with some delicious gluten-free gravy on top.
Read on: Are mashed potatoes gluten-free?
Read on: Are potatoes gluten-free?
These cinnamon roasted sweet potatoes and cranberries are a wonderful side dish idea, because they combine such classic fall flavors that are full of healthy carbohydrates and fiber.
This recipe is only 6 ingredients and looks gorgeous too.
Read on: Are sweet potatoes gluten-free?
I love mashed potatoes year round, but they are great in the fall and winter months when they're at their most popular.
These come together with just sweet potatoes, water, salt, pepper – and you can make them dairy-free by swapping out ghee for vegan butter.
My grandma makes a sweet potato casserole for every Thanksgiving and Christmas for our family – we love it so much.
When I first went gluten and dairy-free, she had no idea how to make changes so I could eat it.
This is an awesome gluten and dairy-free recipe for you to check out if your family loves sweet potato casserole too.
I love to find quick options for making holiday meals, so this Instant Pot side dish is speaking to me.
Enjoy this recipe that is both gluten and dairy-free, and made with just russet potatoes, chicken or vegetable broth, dairy-free butter, and salt to taste.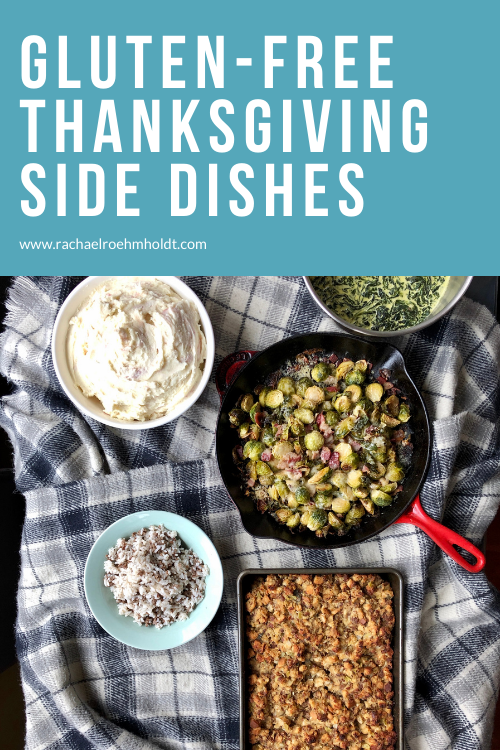 Gluten-free Thanksgiving Vegetable Side Dish Recipes
I wouldn't say that vegetables are usually the highlight of a Thanksgiving dinner, but I do enjoy having at least a few options available when loading up my plate. I can feel a little better about dessert when I eat some healthy veggies first.
Enjoy these recipes for green beans, carrots, corn, and roasted vegetables – plus one not-veggie recipe for cranberry sauce.
Try this delicious dairy-free green bean casserole recipe that's also gluten-free and vegan! This is perfect for Thanksgiving or any other holiday feast.
The secret to this reinvented dish is homemade dairy-free cream of mushroom soup and gluten-free French fried onions. Yum!
This side dish is great for any time of year, but carrots are at their peak in the fall months. Enjoy this easy and flavorful carrot dish with your Thanksgiving meal
Okay, so cranberries aren't a vegetable and they're in the vegetable section of this post.
But this fruit is naturally gluten-free and most ingredients that are added to a homemade cranberry sauce are also.
Enjoy this simple but delightful cranberry side dish to go alongside your turkey and gluten-free gravy.
With all the carbs on the table on Thanksgiving day, it's nice to know that there are some veggie options too.
Try this roasted vegetable dish that's full of Brussels sprouts, carrots, and red onions and tossed in an olive oil, maple syrup, rosemary, salt, pepper, and cinnamon mixture.
If you enjoy corn on Thanksgiving, you might opt for this simple skillet corn recipe. The corn gets cooked for 30 to 40 minutes until full of flavor as they caramelize and brown.
This recipe calls for butter, but you can also choose to use coconut oil, olive oil, or vegan butter for a dairy-free option.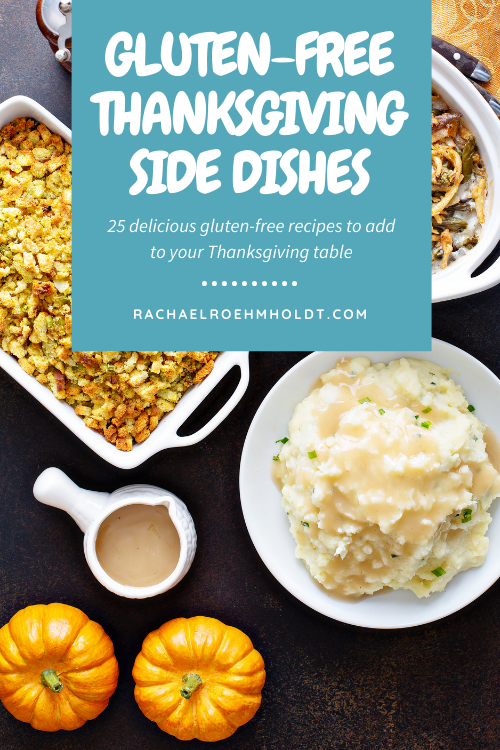 Gluten-free Thanksgiving Stuffing Recipes
Stuffing might be my favorite part of Thanksgiving overall, so I've included five gluten-free stuffing options in this roundup.
You can go as simple or as complicated as you want with stuffing as shown in these recipes. Keep it basic or add in apples, sausage, pears, and nuts – you get to choose!
This gluten-free stuffing is a simple, yet moist, fluffy, and flavorful Thanksgiving side dish.
This basic recipe can be mixed and matched to make your own customized stuffing too – add sausage, apples, mushrooms, nuts, or any of your other favorite stuffing ingredients!
Serve with a drizzle of gluten-free gravy on top. This gluten-free stuffing comes together quickly and easily with a loaf of gluten-free bread. Plus it's dairy-free and egg-free too.
Read on: Gluten-free Stuffing Mixes from the Store
Read on: Dairy and gluten-free bread brands to make your own stuffing
This gluten-free stuffing is made with homemade gluten-free bread, which is completely gluten-free and dairy-free.
This recipe involves a little more effort than buying store-bought bread, but it will be worth it once it's done and it's super flavorful – and safe for your gluten-free diet.
Try a gluten-free stuffing recipe that's made with homemade gluten-free Japanese milk bread.
This recipe isn't the quickest or easiest if you're making homemade bread, but it's so worth it according to Nicole from Gluten-free on a Shoestring.
Enjoy an easy version of gluten-free stuffing that's also dairy-free.
Audrey from Mama Knows Gluten-free gives an option for store bought or homemade bread, and this recipe comes together with eggs, olive oil, celery, garlic, chicken broth, salt, onion powder, thyme, sage, and rosemary.
This stuffing for Thanksgiving is gluten-free, dairy-free, and egg-free. You can use store-bought bread or a homemade bread, depending on the level of effort you want to put in.
This recipe comes together with apples, carrots, celery, onion, pecans or walnuts, dried cranberries, sage, nutmeg, salt, and pepper.
If you love Thanksgiving for all its delicious side dishes, I hope this post has shown you that even on a gluten-free diet, you can enjoy all the flavors of this holiday. Try one of these 25 recipes this Thanksgiving and you won't miss the gluten one bit!
If you loved this post, I hope that you'll share it with your friends on Facebook and pin it for future reference on Pinterest.
Want to see more Thanksgiving content? Check out these posts!
Try these delicious gluten and dairy-free recipes and tips for your next Thanksgiving or family feast! This list includes stuffing, green bean casserole, pumpkin pie, and more!