Find out if tapioca and tapioca flour is safe for a gluten-free diet and what you should know before buying anything with this ingredient.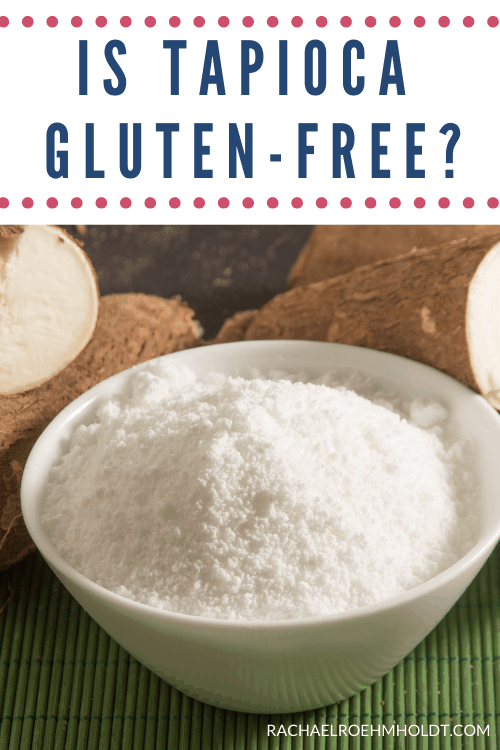 Note: I am a proud Amazon, Chomps, and Thrive Market affiliate and am happy to recommend their service and products to you. Please know that as an affiliate, I may receive a small commission on the products you purchase after clicking through my links. For more info, please see my disclosure policy here.
If you follow a gluten-free diet, you may have seen tapioca as an ingredient in many gluten-free products.
You may have also grown up eating tapioca pudding or seen tapioca used in sauces or other foods you can find at the store. You might be wondering if tapioca is safe for your gluten-free diet.
Whether you enjoy tapioca in pudding or want to try to use it in baking, this post will give you all the information that you need to confidently bring tapioca into your gluten-free diet.
In this post, we're going to talk about what tapioca is, what is used for, how it's made, if it's gluten free, and if it's safe for you to include on your gluten-free diet.
What is tapioca?
Tapioca comes from the cassava root, which is native to South America. Cassava is quickly becoming a well known health food in certain diets, like the paleo diet.
Tapioca is the starch of the cassava root and has long-been used in puddings, breads, and as a thickener in many other foods.
What is tapioca used for?
Tapioca is used in many foods, such as puddings, breads, baked goods, and even used as a thickening agent in many sauces or other processed foods.
It has gained popularity with the gluten-free diet as tapioca flour can be used in gluten-free baking, providing a light and fluffy texture to many baked goods. It can also be used as a thickening agent, like cornstarch or arrowroot starch in sauces.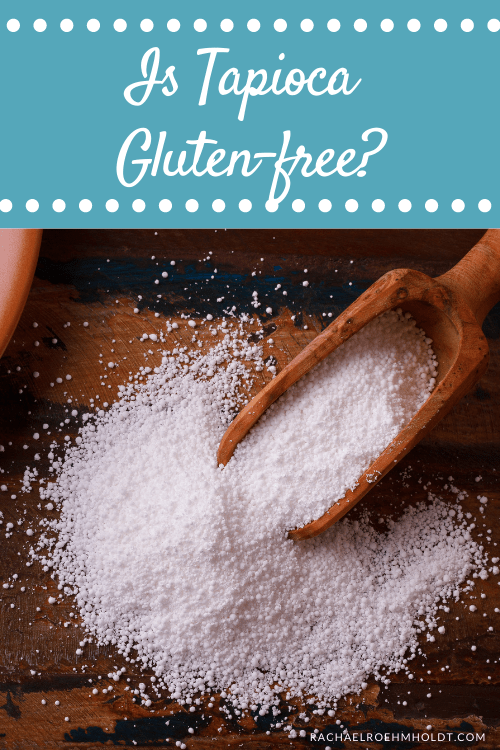 How is tapioca made?
Tapioca is made by grinding a cassava root, then squeezing the liquid out of it. The remaining starch is then dried out and a tapioca powder is all that is left.
Tapioca takes many forms, including tapioca flour, flakes, and pearls. It has long been used in puddings, but has gained popularity over the past decade or so with the rise of gluten-free baking.
What is gluten?
Gluten is a protein found in most wheat products, and acts as the "glue" that helps to hold wheat, barley, kamut, spelt, farro, durum, bulgur, rye, and semolina together to maintain their shape.
You can find gluten in whole grains, but also in many processed foods as well. If you purchase wheat bread, there will be gluten in it, because wheat by nature has gluten.
When you think of squishing a piece of bread in your hands, it will form a ball, then will bounce back. That bouncing back is often indicative of gluten. The gluten is the naturally sticky glue that is part of many whole grains.
Many processed foods have hidden gluten in them in the form or gluten or wheat derivatives. These are also in the form of flavorings, binders to keep ingredients together, or other additives.
Read on: What is gluten in food? The basics of a gluten-free diet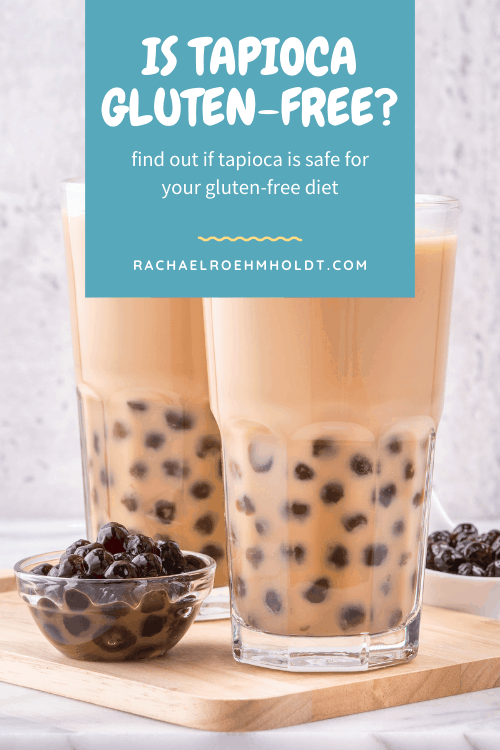 Is tapioca gluten free?
Since tapioca comes from the cassava root and not from wheat or other gluten-containing grains, it is considered gluten-free and safe for a gluten-free diet.
Can you eat tapioca if you're gluten-free?
Tapioca is a gluten-free food, and on its own is safe to enjoy on a gluten-free diet. Depending on the food that the tapioca is in, it may or may not be safe to enjoy.
For example, every ingredient in a food you're eating needs to be gluten-free, not just the tapioca. If you review an ingredients list for other gluten-free ingredients or find a gluten-free label on the package, you'll know it's safe for your gluten-free diet.
Tapioca flour and tapioca starch are common flour substitutes used to make gluten-free bread and baked goods. It makes a good option for gluten-free baking, because of its starchy consistency and light texture. It works especially well in recipes that require a lightness, like cakes and cookies.
You can also eat tapioca in pudding or boba tea if you follow a gluten-free diet, assuming the other ingredients in the food are also gluten-free. Always check ingredients lists for hidden sources of gluten before buying.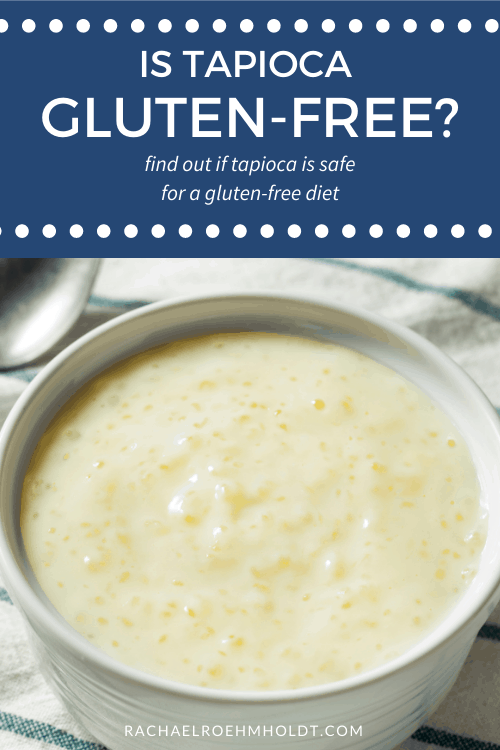 What is tapioca flour made of?
Tapioca flour is made from the cassava root. It is the starch that is left over from grinding, squeezing, and dehydrating the cassava root. It is a white powder that is used in many baked goods, breads, and puddings.
Is tapioca good for you?
Tapioca is a starch that is left over from processing the cassava root. As with any type of processed food, the whole food version is much better for you.
The downside of tapioca is that it is only starch. It doesn't have the proteins or fiber that cassava flour does. This means it's much more likely to spike your blood sugar and leave you feeling on a roller coaster, looking for that next boost in energy shortly after.
As with all foods, all good things in moderation. Tapioca has a place in the kitchen, but you're better off sticking with cassava flour if you're looking for a choice for your health so you can reap the benefits of the whole cassava plant.
Is Minute tapioca gluten free?
Minute tapioca from the Kraft brand contains only pre cooked tapioca and soy lecithin. There are no gluten-containing ingredients in this product, and it is safe to enjoy on a gluten-free diet.
Is tapioca dairy-free?
Tapioca is made from cassava root, not animal milk. It is dairy-free and safe to enjoy on a dairy-free diet.
Tapioca pudding may contain dairy, so if you are avoiding dairy in your diet, be sure to read ingredients lists before buying.
If you loved this post, I hope that you'll share it with your friends on Facebook and pin it for future reference on Pinterest.