Find out if Raisin Bran is safe to enjoy on a gluten-free diet, plus if your favorite brands of raisin bran are gluten-free.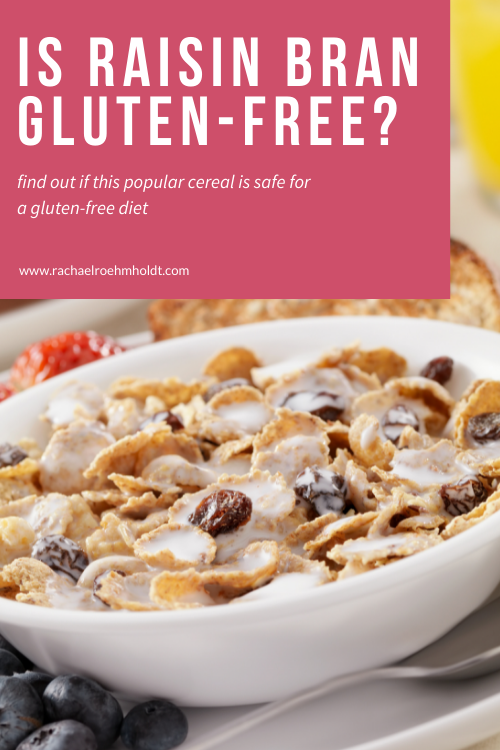 Note: I am a proud Amazon, Chomps, MunkPack, and Thrive Market affiliate and am happy to recommend their service and products to you. Please know that as an affiliate, I may receive a small commission on the products you purchase after clicking through my links. For more info, please see my disclosure policy here.
If you grew up eating cereal for breakfast like I did, you're probably familiar with the very popular Raisin Bran cereal that's been on shelves for decades.
This crunchy sweet cereal is full of fiber and sweetness from raisins. It's been a tried and true option for folks on a busy schedule who need a bite before hitting the road for school or work for a long time.
If you're new to a gluten-free diet or you've been wondering how you can eat more cereal while still avoiding gluten, you may have wondered about Raisin Bran and how it can fit into your gluten-free diet.
In this post, we'll talk about this popular cereal and answer some common questions about it and how it falls into a gluten-free diet. Find out what Raisin Bran is, the main ingredients in the top three brands of Raisin Bran, and if this cereal is gluten-free. We'll also talk about some of the spin off flavors of Raisin Bran that have hit the shelves in the last few years and if these are gluten-free.
Finally, we'll wrap this post up with an alternative that may or may not work for you to get your cravings met while allowing you to stick with your gluten-free diet.
Let's talk Raisin Bran!
What is Raisin Bran?
Raisin Bran is a type of cereal made by a few different manufacturers. The most popular brands are Kellogg's, General Mills, and Post Cereal.
This cereal is made up of bran flakes and dried raisins and is marketed to be a healthy high-fiber cereal. Though there is fiber in the cereal, there is a lot of sugar which makes for some health conscious folks to state that this cereal isn't as healthy as the makers of it would like us to believe.
That said, this popular cereal has been around for decades and is among one of the most popular types of cereal in the US today.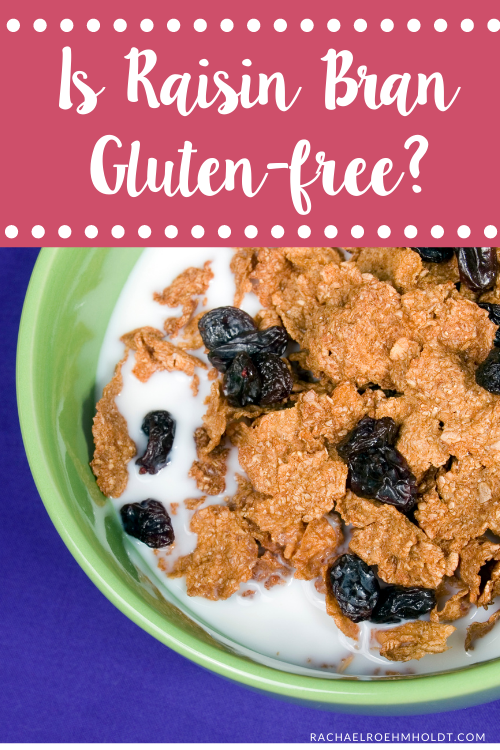 Raisin Bran ingredients
The ingredients for Kellogg's Raisin Bran original cereal according to the Kellogg's website are:
"Whole grain wheat, raisins, wheat bran, sugar, brown sugar syrup, contains less than 2% of malt flavor, sea salt."
The ingredients in General Mills' Total Raisin Bran cereal are:
"Whole Grain Wheat, Raisins, Sugar, Corn Bran, Corn Syrup, Brown Sugar Syrup, Salt. Vitamin E (mixed tocopherols) Added to Preserve Freshness. Vitamins and Minerals: Vitamin C (sodium ascorbate), Zinc and Iron (mineral nutrients), Vitamin E Acetate, A B Vitamin (niacinamide), A B Vitamin (calcium pantothenate), Vitamin B6 (pyridoxine hydrochloride), Vitamin B1 (thiamin mononitrate), Vitamin B2 (riboflavin), Vitamin A (palmitate), A B Vitamin (folic acid), Vitamin B12, Vitamin D3."
The ingredients in Post Raisin Bran cereal according to their website are:
"Whole grain wheat, raisins, wheat bran, sugar, wheat flour, malted barley flour, salt, reduced iron, niacinamide (vitamin B3), zinc oxide (source of zinc), vitamin A palmitate, pryidoxine hydrochloride (vitamin B6), thiamin mononitrate (vitamin B1), riboflavin (vitamin B2), folic acid, vitamin B12, vitamin D3."
What is gluten?
Gluten is a protein found in most wheat products, and acts as the "glue" that helps to hold wheat, barley, kamut, spelt, farro, durum, bulgur, rye, and semolina together to maintain their shape.
Gluten is naturally occurring, and therefore is impossible to strip away from the grain. If a grain naturally has gluten in it, there's no way to make that food gluten-free.
Gluten can be found in some cereal products in the form of wheat, wheat flour, malt flavor, or malt barley. You can also find gluten hidden in flavorings in some cereal.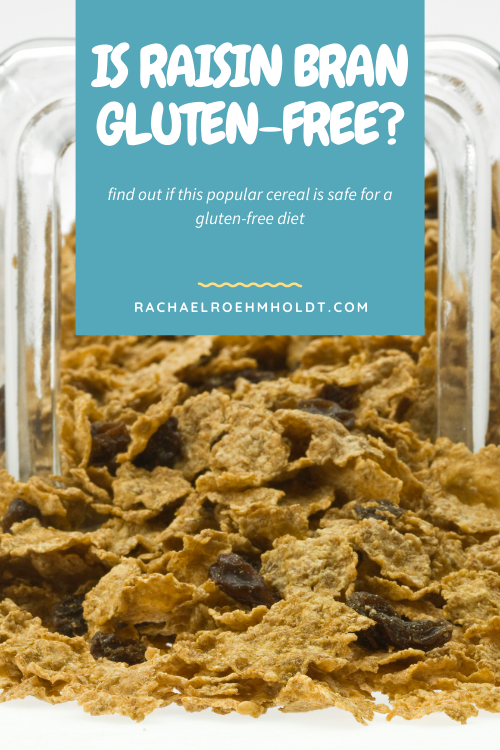 Is Raisin Bran gluten-free?
Almost all Raisin Bran cereals that you'll find at grocery stores are not gluten-free. As you can see from the three we've reviewed ingredients for, all have whole grain wheat, wheat bran, and/or malt flavor or malted barley.
All of these ingredients are names for gluten and we know on a gluten-free diet to avoid them when we find them on ingredient lists.
Read on: Gluten-free Cereal
Read on: Is malt flavor gluten-free?
Read on: Are raisins gluten-free?
Is Kellogg's Raisin Bran Crunch gluten-free?
Raisin Bran Crunch from Kellogg's is not gluten-free, because this cereal contains whole grain wheat and wheat bran. These are both obvious ingredients that contain gluten, as well as whole grain oats which are notorious for being contaminated with gluten from the manufacturing process.
Is Kellogg's Raisin Bran Crunch Vanilla Almond gluten-free?
This flavor of Raisin Bran from Kellogg's has whole grain wheat and wheat bran, making this not a good choice for folks on a gluten-free diet. These terms are hidden names for gluten and we want to steer clear of these any time we find them on an ingredients list.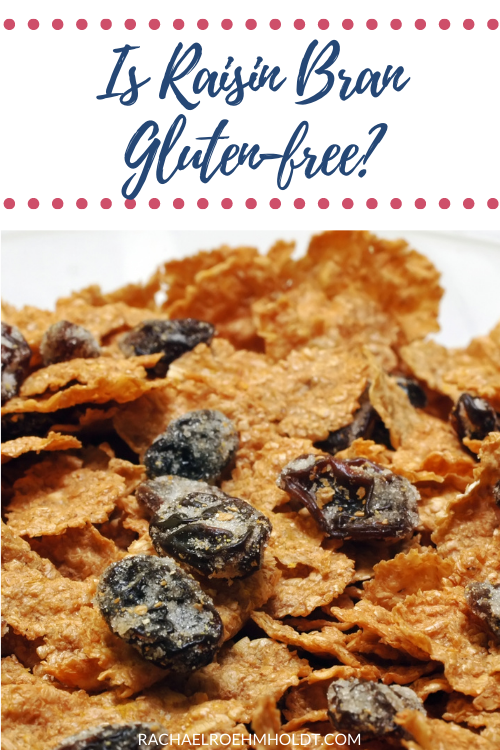 Is Kellogg's Raisin Bran Toasted Oats & Honey gluten-free?
Kellogg's Raisin Bran Toasted Oats & Honey contain both whole grain wheat, wheat bran, and malt flavor. All of these are ingredients that contain gluten and should be avoided when on a gluten-free diet.
Is General Mills Raisin Nut Bran gluten-free?
Raisin Nut Bran from General Mills has a note under their ingredients that very obviously contains gluten that says "Contains wheat, almond, soy; may contain sesame and milk ingredients."
With that note, it is clear that the whole grain wheat make this cereal not a good choice for someone who is avoiding gluten for their health.
What can I substitute Raisin Bran for on a gluten-free diet?
Though anything that's made with whole grain wheat or wheat bran will indicate there's gluten in the product, you can still enjoy a similar bowl of cereal without the stuff that will make you feel sick.
Try pouring a bowl of gluten-free corn flakes, like One Degree Sprouted Corn Flakes, and adding a handful of raisins to the bowl.
Though it's not the same or even too similar, you may be able to get the same crunch and sweetness in this alternative as you would a bowl of real Raisin Bran that might give you a stomach ache or other unfortunate symptoms later.
If you enjoy Raisin Bran, I hope this post has helped you see that this cereal option may not be your best choice if you're trying to stick with a gluten-free option. For some excellent cereal ideas, you definitely won't want to miss this post: Gluten-free Cereal.
If you loved this post, I hope that you'll share it with your friends on Facebook and pin it for future reference on Pinterest.
Love this post? You might also want to check out these!
Find out if your favorite foods and ingredients contain gluten with these posts!