Find out if margaritas are gluten-free, what they're made from, and if this cocktail is safe for a gluten-free diet.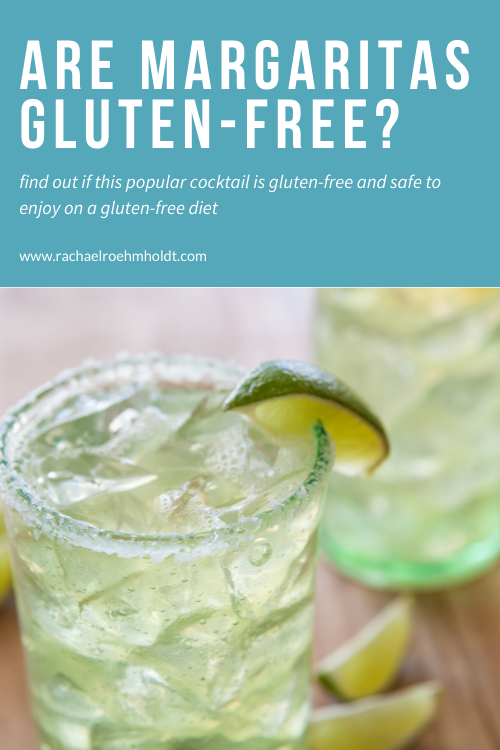 Note: I am a proud Amazon, Chomps, MunkPack, and Thrive Market affiliate and am happy to recommend their service and products to you. Please know that as an affiliate, I may receive a small commission on the products you purchase after clicking through my links. For more info, please see my disclosure policy here.
If you enjoy a cocktail at the end of a long week or enjoy sipping margaritas poolside in the summer on hot days, you're not alone. Margaritas are a popular cocktail that are sweet, sour, and full of fresh lime flavor.
If you're a margarita fan or are wondering if this is a cocktail that's safe for you to enjoy while trying to stick with a gluten-free diet, you're going to get your answers here in this post.
Find out what margaritas are, what they're made of and the main ingredients are, and if those ingredients are gluten-free. We'll also answer some questions you might have about margaritas, like "Are margaritas gluten-free?" "Is tequila gluten-free?" and "Is margarita mix gluten-free?"
Whether you're just going gluten-free and wondering if your favorite drink is safe to continue enjoying or you're trying to expand your cocktail repertoire on a gluten-free diet, this post will get all your questions answered.
Read on: What alcohol is gluten-free?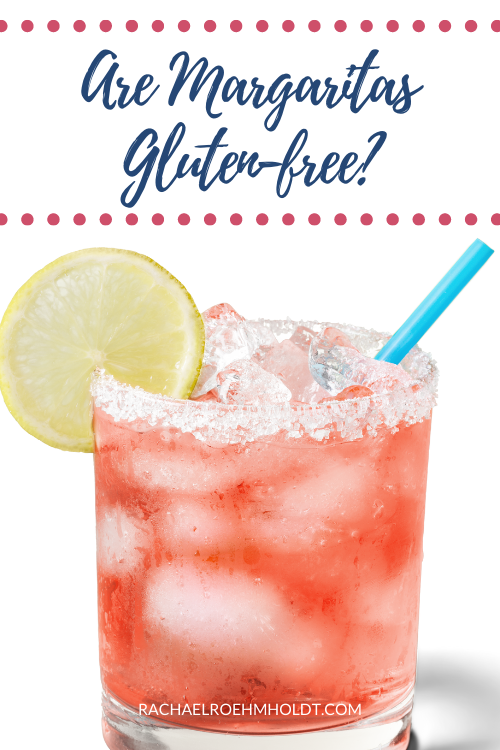 What are margaritas?
A margarita is a cocktail that originated in Mexico and can be found at many restaurants and places where Mexican food is served. It's considered a very popular cocktail, so you can also find it at most bars as well.
The main alcohol used in margaritas is tequila. Other ingredients may be swapped out, the main alcohol ingredient is always tequila and the flavor is lime in a margarita. In virgin margaritas, the alcohol is omitted and lime juice, orange juice, and club soda is used.
What are margaritas made from?
A traditional margarita is made with tequila, orange liqueur, and lime juice. Some recipes call for specific brands of tequila and triple sec (orange liqueur). Others call for simple syrup to sweeten the cocktail.
Margaritas are often served with salt on the rim, and can be served blended with ice or with ice "on the rocks.
Margaritas can come in a variety of flavors if you order them from restaurants and bars. By adding other fruit juices, the classic margarita becomes a flavored one. You might find strawberry, mango, watermelon, coconut, raspberry, and even jalapeno margaritas on restaurant and bar menus.
What is gluten?
Gluten is a protein found in most wheat products, and acts as the "glue" that helps to hold wheat, barley, kamut, spelt, farro, durum, bulgur, rye, and semolina together to maintain their shape.
Gluten is naturally occurring, and therefore is impossible to strip away from the grain. If a grain naturally has gluten in it, there's no way to make that margaritas gluten-free.
Is tequila gluten-free?
Knowing that tequila is made from the blue agave plant which is naturally gluten-free, we can be sure that tequila is safe for a gluten-free diet. As long as you're purchasing tequila that says "100% agave" on the bottle, you'll know it's gluten-free.
Read on: Is tequila gluten-free?
Is triple sec or orange liqueur gluten-free?
According to The Spruce Eats, triple sec uses a "neutral grain spirit (similar to vodka), rum, or brandy."
Cointreau may be used as the type of triple sec in a margarita. This orange liqueur is a brand name triple sec that's higher in alcohol content and smooth in flavor. Cointreau and other brands of triple sec or orange liqueur can be used in a margarita recipe interchangeably.
Knowing that the alcohol used in triple sec is distilled and no other gluten-containing ingredients are added to the liqueur, we can confidently say that triple sec and other orange liqueurs are gluten-free.
Read on: Is triple sec gluten-free?
Read on: Which liqueurs are gluten-free?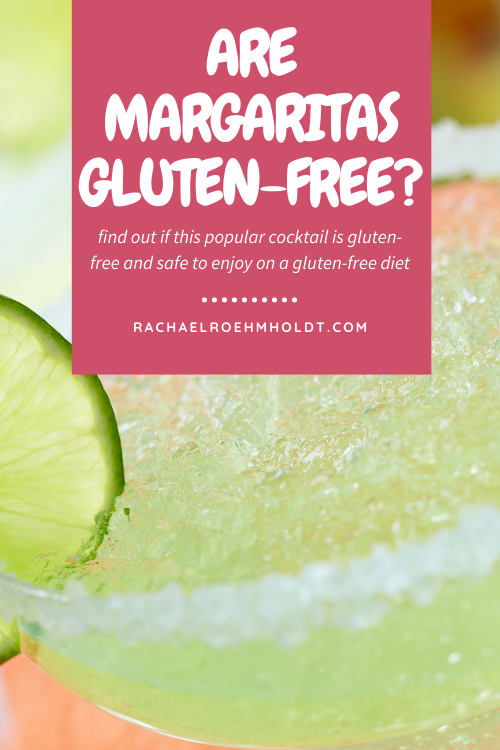 Are margaritas gluten-free?
Margaritas are usually made with a combination of tequila, triple sec or Coitreau, and lime or lemon juice. If your margaritas are homemade, you can check all your ingredients to be sure there isn't any gluten in any of them before adding them to your margaritas.
Both triple sec and Cointreau are liqueurs made from orange peels, and distilled into a gluten-free orange flavored alcohol. These are also naturally gluten-free.
Is margarita mix gluten-free?
You can take a shortcut making a margarita at home and buy bottled margarita mix, which is a combination of lime juice, orange juice or flavor, and sweetener.
Bottled margarita mixes need to be looked at a bit more carefully for hidden sources of gluten, because it's a more processed product. You can look under their ingredient lists for other names of gluten to be safe.
For the most part, margarita mixes are gluten-free and will have a "gluten-free" label on them to help you identify them easily. But it's always a good idea to check before just picking up a bottle from the shelf.
One of my little secrets is that I carry around a copy of my GFDF Take Along Cards so that I always have a point of reference when I can sneak a peek at the ingredient list of a food.
>> Get your copy of the GFDF Take-Along Cards to make this easy on you.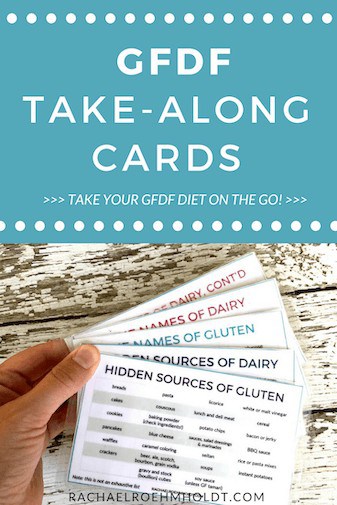 If you enjoy margaritas and have been concerned about sticking with your gluten-free diet, know that most homemade margaritas and even restaurant made margaritas are going to be safe for you to enjoy.
If you're using a margarita mix, you might want to have a quick look at ingredients before pouring, but otherwise this is a generally safe cocktail to keep in your mixed drink rotation.
If you loved this post, I hope that you'll share it with your friends on Facebook and pin it for future reference on Pinterest.
Love this post? Check out more from the Gluten-free Alcohol Series.
Wondering which alcohol is safe for a gluten-free diet? Find out in the Gluten-free Alcohol series!