Wondering if Cool Whip is dairy-free? Find out if this popular frozen dessert topping is safe for a dairy-free diet.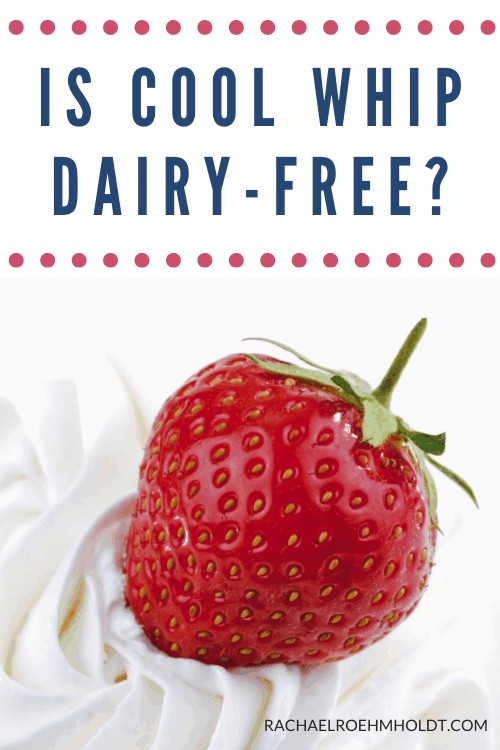 When it comes to dessert, you may have loved having Cool Whip on hand for a quick and easy addition to a sweet treat for gatherings or weeknight desserts.
It's a great ingredient, especially since when stored in the freezer, it keeps for a really long time. However, if you follow a dairy-free diet, you may have wondered if this ingredient is a good option for you.
In this post, let's go over the details on whether or not Cool Whip is dairy-free and some good options for dairy-free whipped cream.
Cool Whip Ingredients
Before we discuss if Cool Whip is dairy-free or not, let's dig in to the ingredients in this very popular dessert topping.
From their website, Cool Whip shares this image of the ingredients included in Cool Whip Original Whipped Topping.

Cool Whip Ingredients: water, corn syrup, high fructose corn syrup, hydrogenated vegetable oil (coconut & palm kernel oils), skim milk, contains less than 2% of light cream, sodium caseinate, natural and artificial flavor, xanthan and guar gums, modified food starch, polysorbate 60, sorbitan monostearate, sodium polyphosphate, beta carotene( color).
As you can see with the "Contains" note at the bottom of the ingredient list list, it says it contains milk.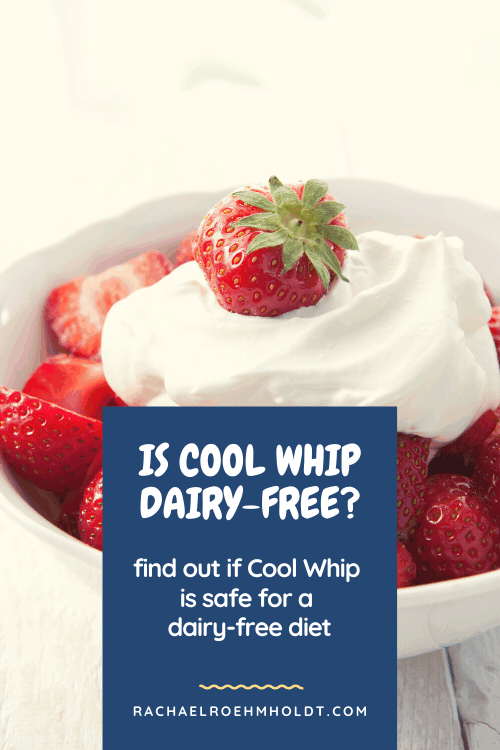 Is Cool Whip Dairy-free? Does Cool Whip Have Dairy?
After looking through the ingredient list, we can see that it is not dairy-free, as it contains skim milk, light cream, and sodium caseinate.
A food is considered a dairy product when it contains animal milk. With skim milk and light cream, we know this product is a dairy product.
To sum it up, Cool Whip isn't a good option for someone following a dairy-free diet.
Is Cool Whip Lactose-free?
Cool Whip contains skim milk, light cream, and sodium caseinate, making this product not safe for a lactose-free diet. If you are lactose-free, you might also benefit from some of the dairy-free Cool Whip options below.
Dairy-free Cool Whip Options
If you follow a dairy-free diet, you might be wondering what you can enjoy instead of Cool Whip now that you know this ingredient contains dairy. Here are a few great options for a dairy-free cool whip or cool whip substitutes.
So Delicious CocoWhip
This coconut-based dairy-free whipped cream substitute comes in a tub, just like Cool Whip. It comes in Original and Lite, and can be used as a topping, as well as in many dessert recipes.
You can find this product in the freezer section at natural food stores or in many larger grocery stores with larger natural food sections.
Truwhip Vegan
This soy protein-based dairy-free whipped cream substitute is the vegan version of their other Truwhip products.
While most dairy-free whipped cream products are coconut based, this one is made from soy so it has no coconut flavor. You can find TruWhip vegan at many larger grocery stores, like Safeway and Kroger.
Use their store locator to see where you can find it near you.
Read on: Is soy gluten-free?
If you don't love the idea of either of these two Cool Whip substitutes for a dairy-free diet, you might consider making your own dairy-free whipped cream.
It's extremely easy and only requires three ingredients and a hand or stand mixer. Get my dairy-free whipped cream recipe. Or my aquafaba whipped cream recipe.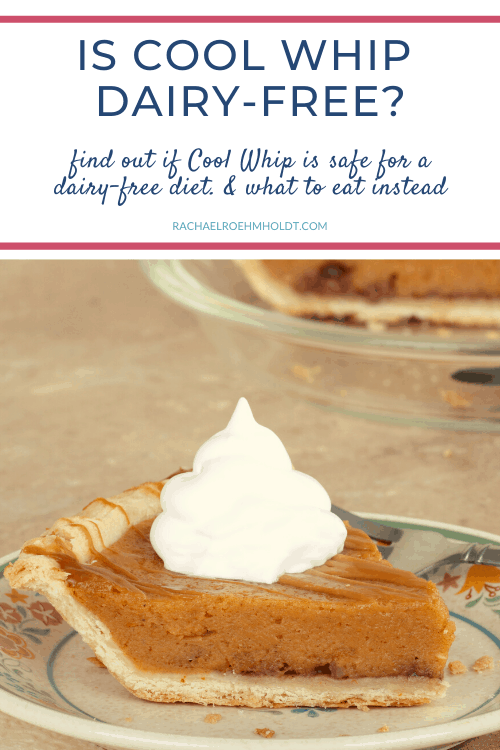 Is Cool Whip Gluten-free?
A great question you might have if you also follow a gluten-free diet in addition to being dairy-free is "does Cool Whip have gluten?" or "is Cool Whip gluten-free?"
If you eat a gluten-free diet but not a dairy-free diet, you'll be pleased to learn that this is a safe ingredient for folks who are gluten-free.
However, if you are both gluten and dairy-free, you'll want to avoid Cool Whip and go for another one of the three options I shared with you earlier in the post.
Whether you're looking for a delicious topping for your pies, fresh fruit, or to add into your favorite whipped desserts, I hope that this post has given you some inspiration to find a dairy-free Cool Whip substitute so you can continue enjoying the flavor and texture of Cool Whip without the dairy.
Try one of the three options here on your next dessert and see how easy it is to substitute this popular product for your dairy-free diet!
Wondering if other ingredients or foods are dairy-free? Check out the FAQ's on my Gluten and Dairy-free Diet Basics Page for more.
Love this post? You might want to check these out!
Find out if your favorite foods and ingredients contain dairy with these posts!