Find out if ghee is safe for a dairy-free diet in this post. Also learn what ghee is, if it is healthy, and if you should add this ingredient to your dairy-free diet.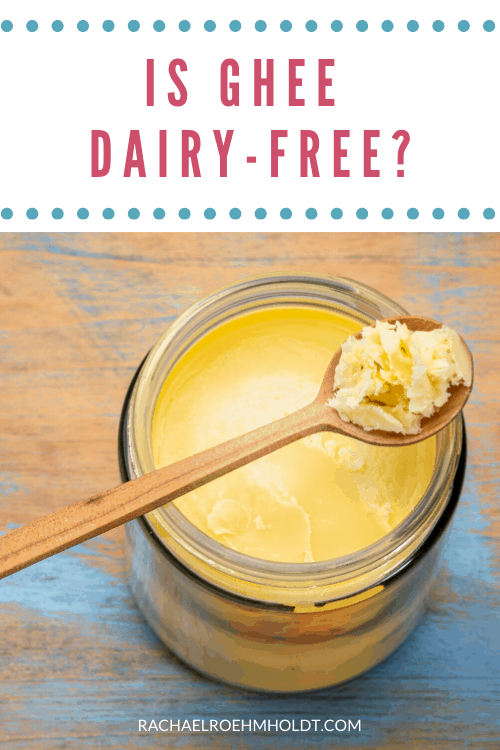 If you've been following a dairy-free diet or thinking about getting started with it, you may be wondering if ghee is a safe ingredient to replace butter in your diet.
Whether you've been eating it and experiencing symptoms from it, or are just thinking through some ideas as to whether this will be a good addition to your diet, check out this post first.
Ghee is a food that has gained popularity over the past few years with the rise of the paleo diet and Ayurvedic approaches to healthy eating. Many people discuss its health benefits, but is it right for YOU?
If you try to avoid dairy due to an intolerance, autoimmune condition, or other health issue, you're probably wondering if you should avoid it or add it to your diet.
Let's go over some of the basics of ghee and get you some information to help you make an informed decision.
Inside this post, you'll find out:
What is ghee?
Is ghee healthy?
Does ghee have milk protein?
Can you eat ghee if you're dairy intolerant?
Is ghee dairy-free?
Ghee and dairy intolerance
Is ghee lactose-free?
Is ghee vegan?
Should you add ghee to your dairy-free diet?
What is ghee?
Ghee is clarified butter that has been cooked down over low heat, and all water has been removed. With the liquid removed, ghee is what's left over, a browned clarified butter with milk solids being cooked down.
Ghee is shelf-stable, has a nutty flavor, and is known for being a popular health food.
Is ghee healthy?
Ghee is often considered a health food, because it is said to have anti-inflammatory properties and be good for digestion. It is commonly used in Ayurveda to help soothe and pacify vata and pitta constitutions.
It is also popular among the paleo diet as it is said to be a healthy fat source without the properties of dairy that folks on a paleo diet avoid.
With the low temperature of cooking the clarified butter down to remove the water, what's left is fat, vitamin E, vitamin A, and antioxidants.
While fat has often had a bad reputation over the years, it is well known today that some fat – even some amounts of saturated fat – is something your body needs in order to function properly.
Ghee isn't said to be any healthier than any other butter or clarified butter, aside from the additional vitamins and antioxidants you may find in it.
If we're being honest, you'll likely get those vitamins and antioxidants from other sources in your diet with or without the addition of ghee.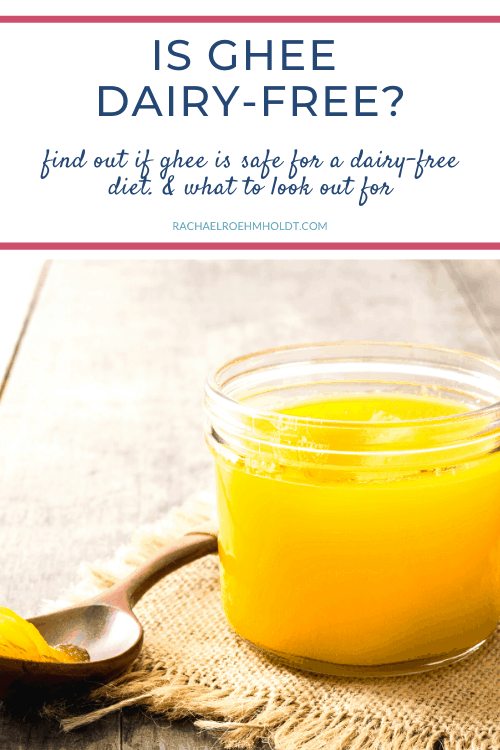 Does ghee have milk protein?
Since ghee is cooked down clarified butter, once the liquid has been boiled away at a low temperature, what's left at the bottom are the milk proteins and the butter fat (ghee) is skimmed off the top. When we eat ghee, what we're eating is the milk fat.
Ghee is said to not contain any milk proteins, such as whey or casein.
Can you eat ghee if you're dairy intolerant?
The answer to this question is really "it depends." It depends on the level of sensitivity that you can tolerate dairy in general, if you've been able to tease out if you're sensitive to a specific milk protein, sugar, or fat, and how adventurous you are while living with a dairy intolerance.
Some people with a dairy intolerance can tolerate eating ghee as an alternative to dairy. Others are too sensitive to be able to tolerate even this boiled down version of clarified butter.
The truth is that you won't know unless you try it and know for yourself of your sensitivity level and how it affects you.
It's your choice if you want to attempt to try ghee if you're dairy intolerant, taking into consideration that you know your body best, and that what works well for one person may not work for another.
I personally don't eat ghee, but know many people who read my blog have had no issues at all bringing it into their diet.
Is ghee dairy-free? Does ghee have dairy?
Being that ghee is made from butter, I don't feel comfortable saying that it is a dairy-free food.
Regardless of what processes are done to separate out the different parts in butter, removing the fats and separating the proteins, ghee still comes from a dairy product. Even if all that is left in ghee is fat, it is still fat from butter made from cow's milk.
Ghee and dairy intolerance
You may be wondering if ghee and dairy intolerance work well together, the answer is (as I mentioned before): it depends. For many people who are dairy intolerant, they can tolerate bringing ghee back into their diet in small quantities.
Others may not be able to enjoy it, depending entirely on just how the individual body tolerates it.
In my own diet, I choose not to bring ghee in, but what works for me may not be exactly what works for you. Do what you feel is best for you and your body, and don't worry too much about labeling your diet.
Is ghee lactose-free? Does ghee have lactose?
Ghee is said to be lactose-free, because after the boiling down of butter, this lactose will have burned off and leaving only the solid milk fat and proteins. The milk fat is strained off the top, making what we know as ghee.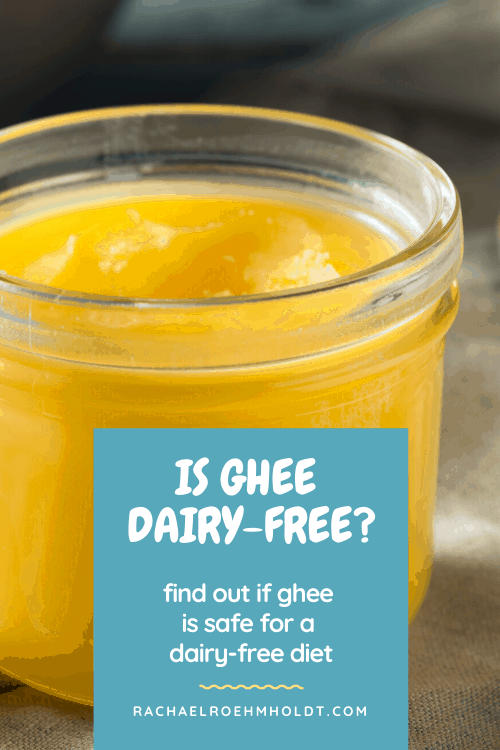 Is ghee vegan?
Ghee is not vegan, because it comes from a dairy product. All dairy products are made from the milk of animals, and in the case of ghee, cows' milk. If you follow a vegan diet, you'll want to avoid ghee.
Is ghee gluten-free?
Ghee is made from clarified butter and is made from animal milk. Animal milk is naturally gluten-free, making ghee safe for a gluten-free diet.
Should you add ghee to your dairy-free diet?
Now that you know more about ghee and your dairy-free diet, should you add it to your diet? As I mentioned throughout this post, it may work well for you and it may not.
The only way to learn of this is by testing it into your diet. If you are on a dairy-free diet by recommendation of a doctor or other healthcare provider, I would recommend getting advice from them before adding it to your diet.
If you are extremely sensitive to even small amounts of dairy, you might want to be careful of adding it to your diet. Watch your symptoms as you would in an elimination diet to determine if it gives you any adverse symptoms.
If you have things come up that aren't normal for you within about 72 hours of eating ghee for the first time into your dairy-free diet, then you'll know it's probably a good idea to keep it out of your dairy-free diet.
Only you know what's best for you. Go with your gut, talk to your doctor, and make an informed decision on whether you feel comfortable bringing ghee into your diet.
Wondering if other ingredients or foods are gluten-free? Check out the FAQ's on my Gluten and Dairy-free Diet Basics Page for more.
Love this post? You might want to check these out!
Find out if your favorite foods and ingredients contain dairy with these posts!