Find out what Velveeta is made from, used for, and if it's safe for a gluten-free diet. Plus all the gluten-free products from Velveeta.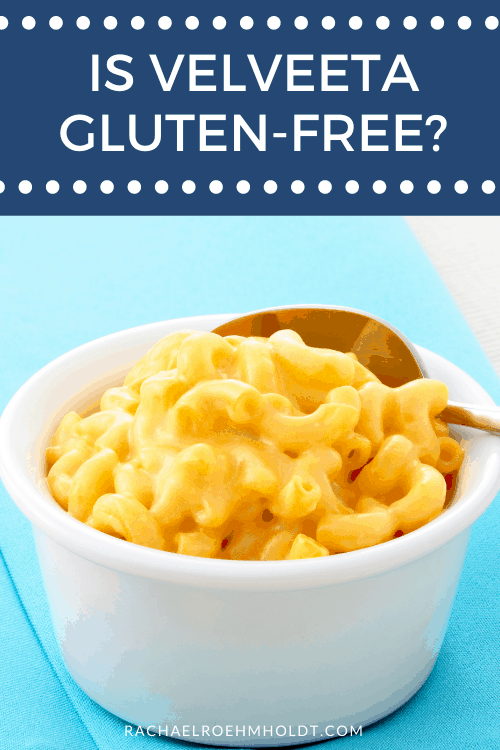 Note: I am a proud Amazon, Chomps, MunkPack, and Thrive Market affiliate and am happy to recommend their service and products to you. Please know that as an affiliate, I may receive a small commission on the products you purchase after clicking through my links. For more info, please see my disclosure policy here.
If you grew up eating Velveeta cheese like me and so many of my friends, you may have fond memories or the rich, creamy cheese sauce that slides of macaroni noodles like no other cheese sauce out there.
The taste of Velveeta is unmistakable, because of its richness and overly cheesy flavor. While it's definitely not a health food and is the epitome of processed food, so many folks wonder if this cheese is safe for a gluten-free diet.
Even just once in a while for a trip down memory lane, it would be nice to know if you can trust this brand as a gluten-free option. Whether you have memories of it as a kid or like to cook with it now, this post is all about that rich, creamy, cheesy sauce.
In this post, we're going to dive into Velveeta, find out what this food is made of, if it's gluten-free, if it's dairy-free, and get a full list of the varieties of Velveeta that are okay for your gluten-free diet.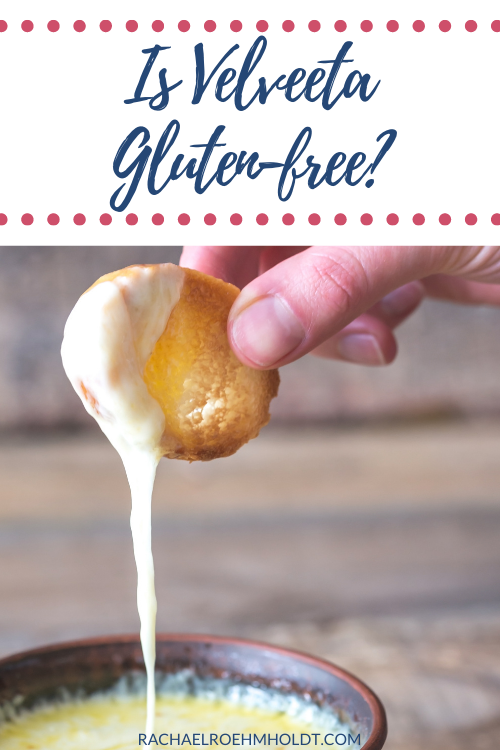 What is Velveeta?
Velveeta is a processed cheese that is made by Kraft Foods. It's considered a "pasteurized prepared cheese product," and not considered to be real cheese.
It is a smoother consistency than real cheese, making it easy to melt and it makes for extra creamy cheese sauces for macaroni and cheese, or queso dips.
What is Velveeta used for?
Many people use Velveeta in macaroni and cheese, cheese dips, or on sandwiches, like grilled cheese or tuna melts.
Read on: 25 Gluten and dairy-free mac and cheese recipes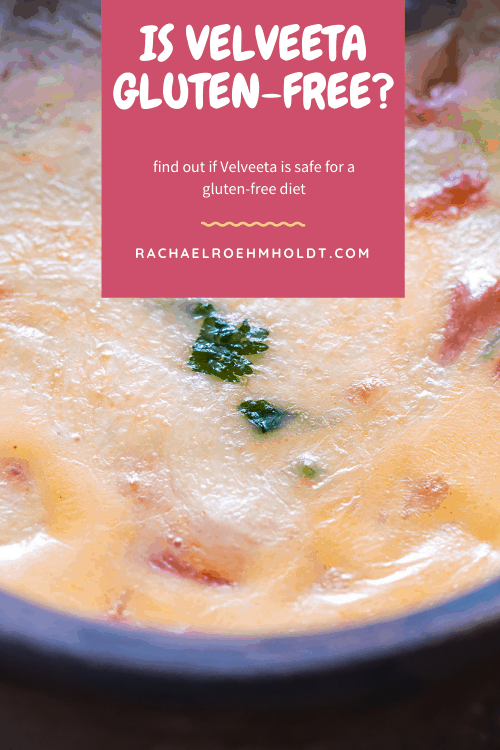 Velveeta cheese ingredients
According to the Kraft website, Velveeta original cheese is made with the following ingredients:
Skim milk, milk, canola oil, milk protein concentrate, sodium phosphate, contains less than 2% of modified food starch, whey protein concentrate, maltodextrin, whey, salt, calcium phosphate, lactic acid, sorbic acid as a preservative, milkfat, sodium alginate, sodium citrate, enzymes, apocarotenal and annatto (color), cheese culture, vitamin A palmitate.
Read on: Is modified food starch gluten-free?
Is cheese gluten-free?
Most cheese is naturally gluten-free, as milk, cultures, rennet, and salt are all gluten-free.
There are some cheeses that may have gluten added to them, especially if they are low salt or fat free cheese. Others have gluten added to them as a stabilizer or preservative. You can find out if the cheese you're buying contains gluten by looking at ingredients lists.
Read on: Is cheese gluten-free?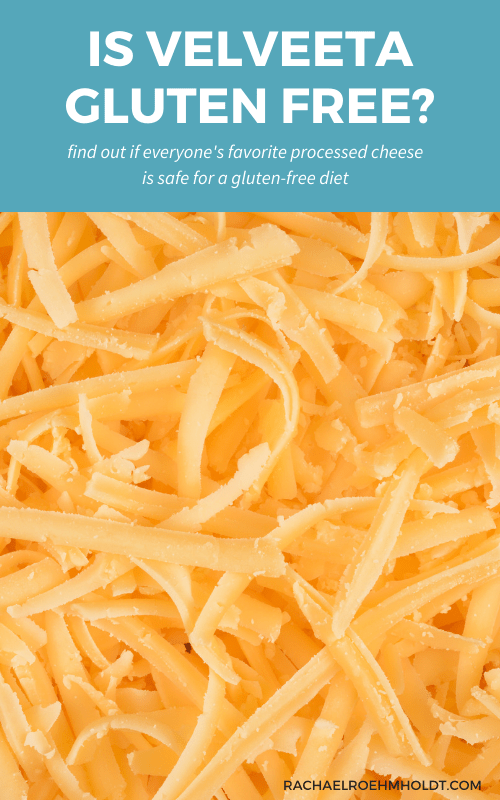 Is Velveeta gluten-free?
Velveeta is a brand under the Kraft company. Kraft is well known for disclosing all the gluten ingredients in their products. As per their website, Velveeta contains no gluten-containing ingredients.
Velveeta cheese is generally considered gluten-free among the larger gluten-free community and even celiacs agree, even without a specific gluten-free label.
Since there is no gluten-free label on the product, it's possible that there is a potential for gluten cross contamination.
Is Velveeta dairy-free?
Velveeta contains a variety of different milk sources in its products, making it not dairy-free or safe for a dairy-free diet.
There are other dairy-free cheese brands that you may want to consider using, like Daiya, Miyoko's, and Violife.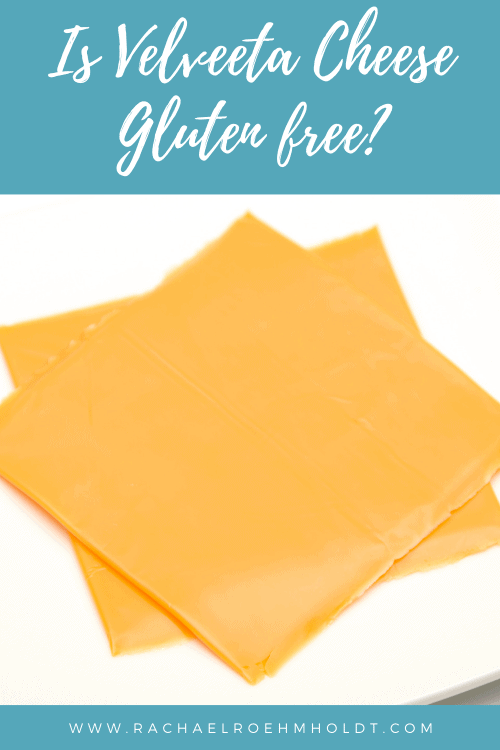 Are all Velveeta products gluten-free?
The "cheese sauce" varieties of Velveeta contain no gluten-containing ingredients. Though these products don't have a gluten-free label, they are considered gluten-free from the gluten-free and celiac community.
The products that contain other ingredients do contain gluten. These include their shells and cheese, cheesy mashed potatoes, skillets, cheesy bowls, and rotini and cheese lines.
Try one of these gluten-free Velveeta varieties:
Original Cheese Sauce Pouch
Jalapeno Cheese Sauce Pouch
Slices Jalapeno Cheese
Slices Queso Blanco
Slices Sharp Cheddar Cheese
Slices Original Cheese
Slices 3 Cheese with Cheddar, Colby & Asiago
Shreds Mexican Style Shredded Cheese
Shreds Original Shredded Cheese
Shreds Cheddar Shredded Cheese
Shreds Mozzarella Shredded Cheese
Jalapeno Cheese Block
Queso Blanco Cheese Block
2% Milk Reduced Fat Cheese 25% Less Fat Block
Original Cheese Block
Sharp Cheddar Block
Fresh Packs Original
Read on: Is cheddar cheese gluten-free?
If you enjoy Velveeta cheese and have been wondering if it will fit into your gluten-free diet, I hope this post has given you the information you need to make an informed decision for you and your body.
Velveeta cheese sauce, shreds, slices, and blocks are gluten-free, but not their other "meal" products.
If you loved this post, I hope that you'll share it with your friends on Facebook and pin it for future reference on Pinterest.
Love this post? You might also want to check out these!
Find out if your favorite foods and ingredients contain gluten with these posts!