Find out if vegetable oil is gluten-free, what it's made of, and used for in cooking and baking. Plus what to know about cross contamination.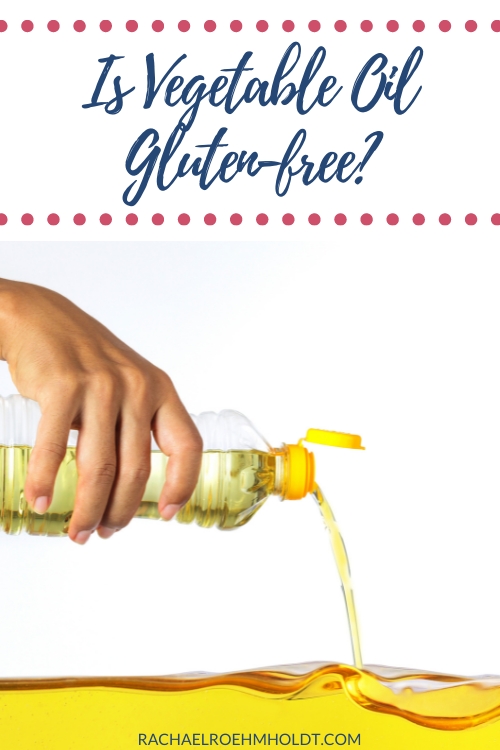 Note: I am a proud Amazon, Chomps, MunkPack, and Thrive Market affiliate and am happy to recommend their service and products to you. Please know that as an affiliate, I may receive a small commission on the products you purchase after clicking through my links. For more info, please see my disclosure policy here.
If you have been searching for a great recipe and came upon the term vegetable oil in a cooking or baking recipe, you may have wondered a little bit about this ingredient. After all, what kinds of vegetables can be turned into oil?
When it comes to different types of oil, vegetable oil is a popular ingredient. You can find it in so many different recipes and packaged foods from the grocery store. However, because the term is so vague, it can be hard to know what this ingredient is and where it comes from.
When you're following a gluten-free diet, you need to know exactly what ingredients contain gluten and which don't. Which is why even the most mundane ingredients, like vegetable oil, need to be looked at with a cautious and curious eye.
Find out in this recipe what vegetable oil is, what it's used for, and if it's gluten-free. Plus get a word of caution around when you need to be careful with vegetable oil on a gluten-free diet.
What is vegetable oil?
Vegetable oil is a type of cooking oil that's used for frying, making salad dressings, and used to add flavor and keep food from getting stuck on pans. It has a mild flavor and can be used for a variety of cooking and baking.
Vegetable oil is a type of oil that can be made from any oil that comes from plants. Oils that come from vegetables or plants include canola oil, sesame oil, sunflower oil, corn oil, olive oil, avocado oil, and soybean oil. The term vegetable oil is an umbrella term for any and all of these types of oils.
When you buy vegetable oil at the store, you can get any of these possible oils. However, the most common of these to show up in a bottle of vegetable oil is soybean oil. According to The Spruce Eats, it can also be a combination of soybean and corn oils.
Read on: Is sesame oil gluten-free?
Read on: Is olive oil gluten-free?
Read on: Is canola oil gluten-free?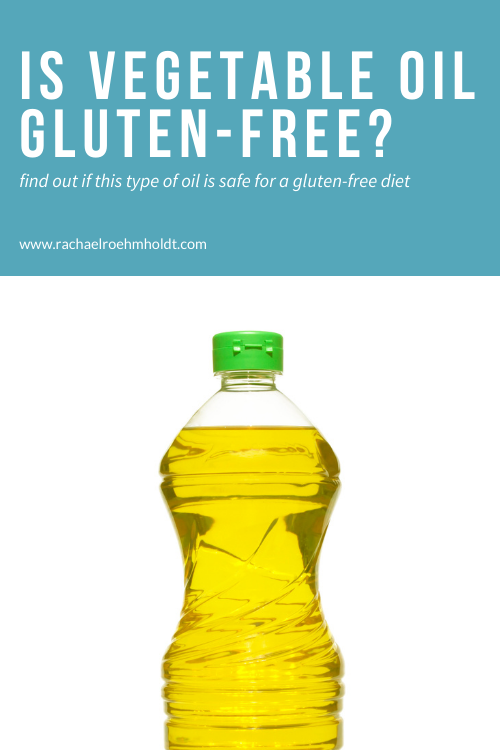 What is vegetable oil used for?
Vegetable oil is used for baking and adding extra moisture and fat to a recipe. It's also useful in pan frying or deep frying, because it has a mild flavor and doesn't overpower the flavor of the other ingredients in a dish. It also has a high smoke point compared to other oils, so it works well for high heat frying.
Many folks use vegetable oil in salad dressings and dips as it offers a neutral flavor to offset another ingredient like vinegar or other flavors.
Though vegetable oil is often called for in a recipe, it can be substituted for any other plant-based oil. If you have canola, sesame, sunflower, corn, olive, or avocado oil, you can use these in place of vegetable oil in any recipe and get a similar outcome.
What is gluten?
Gluten is a protein found in most wheat products, and acts as the "glue" that helps to hold wheat, barley, kamut, spelt, farro, durum, bulgur, rye, and semolina together to maintain their shape.
Gluten is naturally occurring, and therefore is impossible to strip away from the grain. If a grain naturally has gluten in it, there's no way to make that food gluten-free.
Gluten can be found in some food products in the form of wheat, wheat flour, malt flavor, or malt barley.
Read on: What is gluten in food?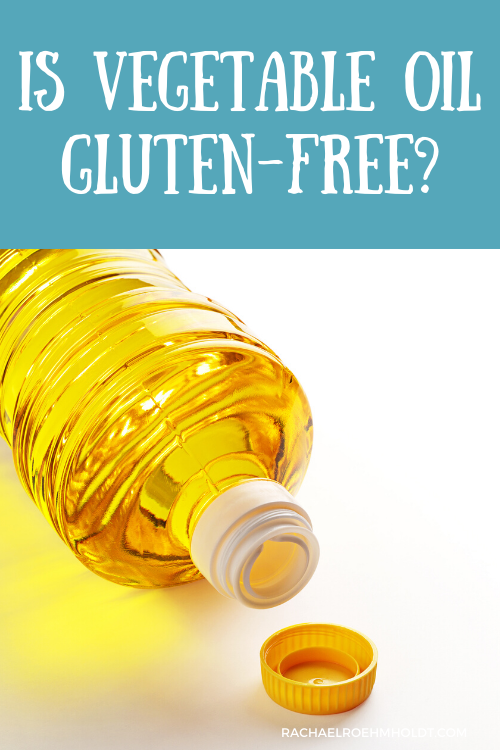 Is vegetable oil gluten-free?
Since we know that vegetable oil is made from any plant-based oil, we can be certain that it's almost always gluten-free. Since soybean oil is the most commonly used oil in vegetable oil packages, we can feel safe enjoying this ingredient in our favorite recipes.
Read on: Is soybean oil gluten-free?
Vegetable oil and gluten
Though vegetable oil is naturally gluten-free, it's important to note that other ingredients in a dish or a recipe need to also be gluten-free in order for this to be a safe ingredient to add to your diet.
Keep this in mind especially when you're using vegetable oil for frying food. The ingredients that are fried in this oil need to also be gluten-free and not shared with other gluten-containing ingredients.
If both gluten and gluten-free ingredients are used in this oil, there will likely be cross contamination between the two. If you are celiac or extremely sensitive to gluten, you'll want to have a dedicated pan of oil to be used for frying only your gluten-free foods.
If you've been wondering if vegetable oil is safe for a gluten-free diet, I hope this post has helped you get the information you've been looking for. Vegetable oil is naturally gluten-free, but be aware of other ingredients in a recipe or fryer that may contain gluten and cause cross contamination.
f you loved this post, I hope that you'll share it with your friends on Facebook and pin it for future reference on Pinterest.
Love this post? You might also want to check out these!
Find out if your favorite foods and ingredients contain gluten with these posts!