Find out if canola oil is gluten-free, what it's made of, and what brands to shop for at the store.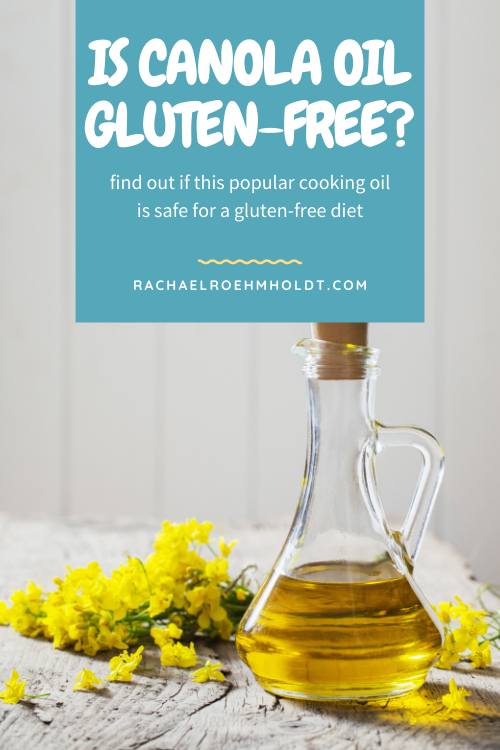 Note: I am a proud Amazon, Chomps, MunkPack, and Thrive Market affiliate and am happy to recommend their service and products to you. Please know that as an affiliate, I may receive a small commission on the products you purchase after clicking through my links. For more info, please see my disclosure policy here.
Canola oil is a popular oil that's considered "plant-based" and a "vegetable oil" as it's made from canola plants.
While this oil is highly processed and made using chemicals and washing of the oil during manufacturing, it's very common in a lot of recipes and can be found in many restaurants and other foods you can buy at the store.
If you love to cook and bake with canola oil, you may be wondering if this ingredient is gluten-free.
If you follow a gluten-free diet or are just starting out with one, you know that being diligent about each and every ingredient that goes into your body is important. You need to know what to look for when it comes to gluten hiding in your food.
In this post, we're going to talk about canola oil, what it's made of, used for, and when you know your canola oil is gluten-free. We'll also go over some brands that are sold with only pure canola oil, so you can feel confident that the canola oil you're buying is safe for your gluten-free diet.
A fun fact I learned about canola oil while I was reaching this post is that "canola" is a made up name – and a trademarked one at that!
Canola is a term that was made up as an abridged version of "Canada" and "oil." Together, these come together to make "canola" oil, an oil sourced by canola plants that come from Canada.
Interesting, right?
Now let's dive in to learn more about how canola oil fits into a gluten-free diet safely.
What is canola oil made of?
Canola oil is made of the extracted oil from canola seeds from the pods left on a canola plant after it has flowered. The term "canola" was trademarked in Canada in 1978 to call these plants used for canola oil.
This type of oil is considered a vegetable oil, because it is created from a plant. According to the Manitoba Canola Growers website, canola is not rapeseed, like you may find information about on other websites. It was selectively bred for certain traits beginning with rapeseed plants to create its own engineered plant.
This website states that "Canola was selected from rapeseed through the knowledge and ingenuity of these prairie plant scientists. Canola is NOT rapeseed. It may look the same but it's nutritional makeup is totally different. Canola came about only after years of hard work, research and countless field tests of new plant varieties."
What is canola oil used for?
Canola oil is used for cooking and baking. It can be used for a variety of cooking methods, like sauteing or grilling meat or vegetables, added to marinades or sauces, or used in baked goods to keep them moist.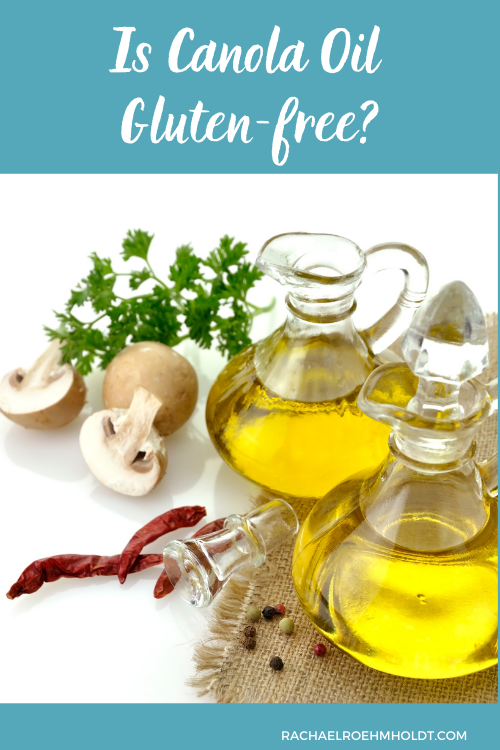 Is canola oil gluten-free?
Many cooking oils are gluten-free naturally, including canola oil. Pure canola oil itself is naturally gluten-free, but you'll want to be aware of how it is processed, and if you're eating foods with canola oil as an ingredient, know that the other ingredients are also gluten-free.
For example, if you're buying a salad dressing with canola oil, be sure the other ingredients in the salad dressing are also gluten-free.
Read on: Is sesame oil gluten-free?
Read on: Is olive oil gluten-free?
Read on: Is soybean oil gluten-free?
Read on: Is vegetable oil gluten-free?
Gluten and canola oil
The places you'll want to be aware of as it relates to canola oil and gluten are in the manufacturing. The canola oil you buy should be pure canola oil, not one with a blend of oils.
Pure canola oil naturally contains no gluten, but if the manufacturer also processes other ingredients with gluten, there may be a chance for cross contamination.
Another thing you'll want to be aware of with canola oil is if you're ordering food from a restaurant with canola oil, are the other ingredients used in a fryer or the rest of the recipe gluten-free? Are the surrounding areas in the prep area kept free of other gluten-containing ingredients and allergens? What is the cleaning protocol to keep these ingredients separate?
These are all things to consider when you're at restaurants and trying to stick with a gluten-free diet.
For the most part, canola oil is going to be safe for a gluten-free diet and you won't need to worry too much about cross contamination. You'll be able to use this in most of your recipes with no issues.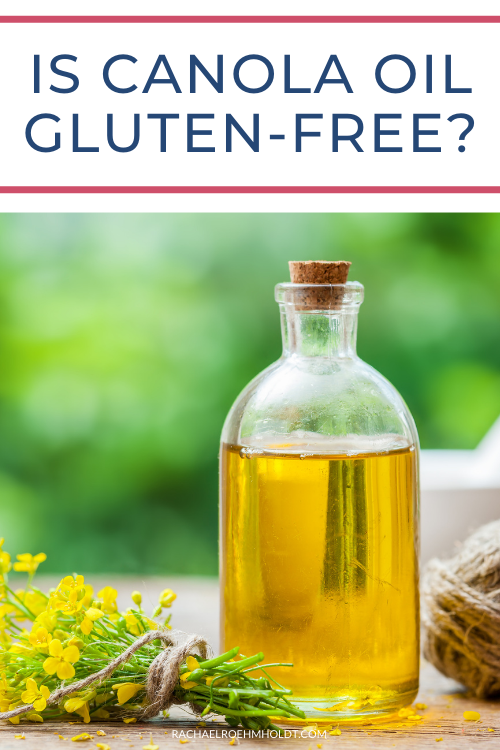 Brands of gluten-free pure canola oil
Since pure canola oil is naturally gluten-free, you have plenty of options for brands to choose from. Here are some canola oil brands you can look for at the store. Be sure to check ingredients lists to check there is only one ingredient: canola oil.
If you've been wondering if canola oil is safe for your gluten-free diet, you can feel good about using this ingredient knowing there is generally not any gluten. Look for canola oil with no additives and only one ingredient: canola oil.
f you loved this post, I hope that you'll share it with your friends on Facebook and pin it for future reference on Pinterest.
Love this post? You might also want to check out these!
Find out if your favorite foods and ingredients contain gluten with these posts!