Find out if tempeh is gluten-free, what it's made of, how it's made, and get a list of gluten-free tempeh brands.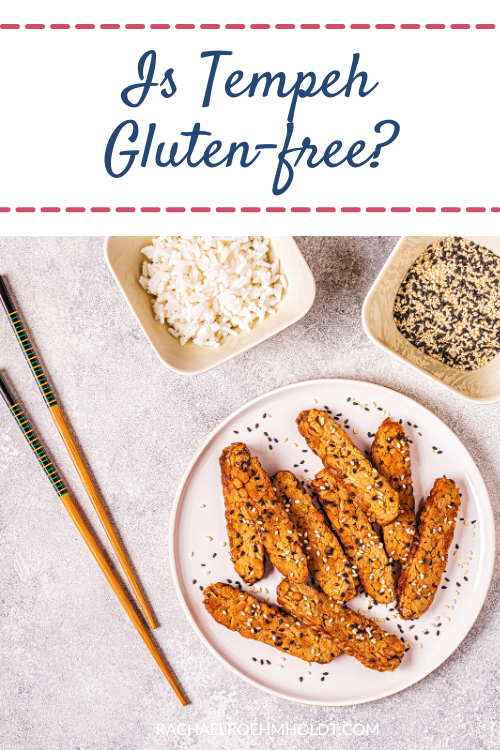 Note: I am a proud Amazon, Chomps, MunkPack, and Thrive Market affiliate and am happy to recommend their service and products to you. Please know that as an affiliate, I may receive a small commission on the products you purchase after clicking through my links. For more info, please see my disclosure policy here.
If you follow a vegetarian or vegan diet, you know that tempeh is an excellent high protein food that works well in a number of dishes.
If you aren't vegetarian or vegan and are just looking for some ways to cut back on your meat consumption, tempeh may be a good choice to look into.
If you are also gluten intolerant or have a gluten allergy, you know that it's important to know the details of each and every food that you put in your body to avoid having a reaction.
Even meat-free protein sources aren't an exception to this rule. If it's a food that's been processed, you know the chances of the food containing gluten or coming into cross contact with gluten are possible, if not probable.
That's why we're going to dig into this topic today and find out if tempeh is safe to eat on a gluten-free diet. We'll also go into the basics answering all your questions like what tempeh is, what it's made of, how it's made, and discuss the differences between tempeh and tofu.
We'll also dive into some uses for tempeh and wrap the post up with a list of gluten-free tempeh brands you can look for at the grocery store. If you love tempeh or are interested in making some more meat-free meals for your gluten-free diet, this post is for you!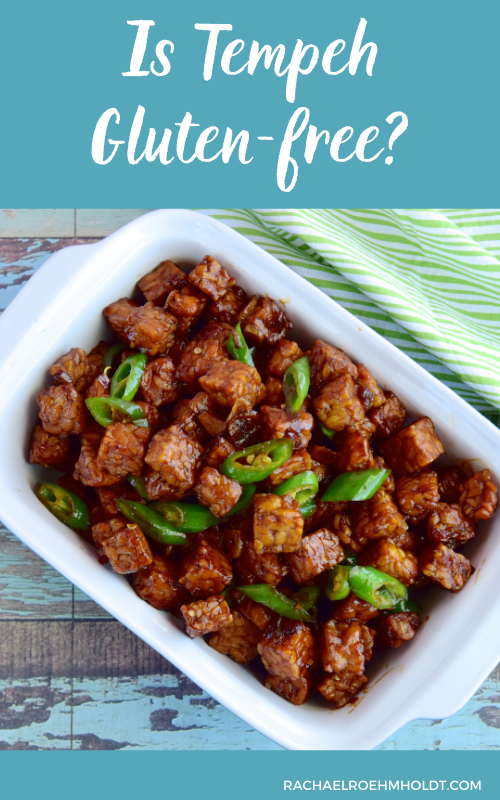 What is tempeh?
Tempeh is a high protein plant-based food that many vegetarians and vegans use in place of meat in their diets.
This food is high in fiber, protein, and can be cooked and eaten in a variety of ways. It tastes nutty and has a distinct tang from the fermentation.
In a way, you can think of it as a sourdough bread with soybeans. It is left to sit and ferment over time, giving it a unique flavor that can't be reproduced with other flavorings.
What is tempeh made of?
Tempeh is made from fermented soybeans that have been packed into a cake-like brick. In its more plain state, it's made from only soybeans, but some recipes and brands also add in whole grains and flavorings.
Read on: Is soy gluten-free?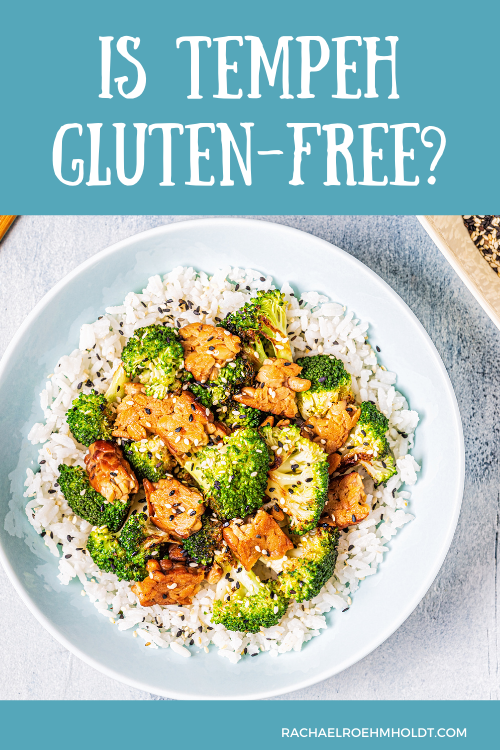 How is tempeh made?
Tempeh is made by soaking and cooking soybeans, then pressing them into a mold, squeezing all the excess water out and left to ferment. The result is a cake-like brick of tempeh that can be sliced and cooked, prepared in whatever way you wish.
What is gluten?
Gluten is a protein found in most wheat products, and acts as the "glue" that helps to hold wheat, barley, kamut, spelt, farro, durum, bulgur, rye, and semolina together to maintain their shape.
You can find gluten in whole grains, but also in many processed foods as well. If you purchase wheat bread, there will be gluten in it, because wheat by nature has gluten.
Many processed foods have hidden gluten in them in the form or gluten or wheat derivatives. These are also in the form of flavorings, binders to keep ingredients together, or other additives.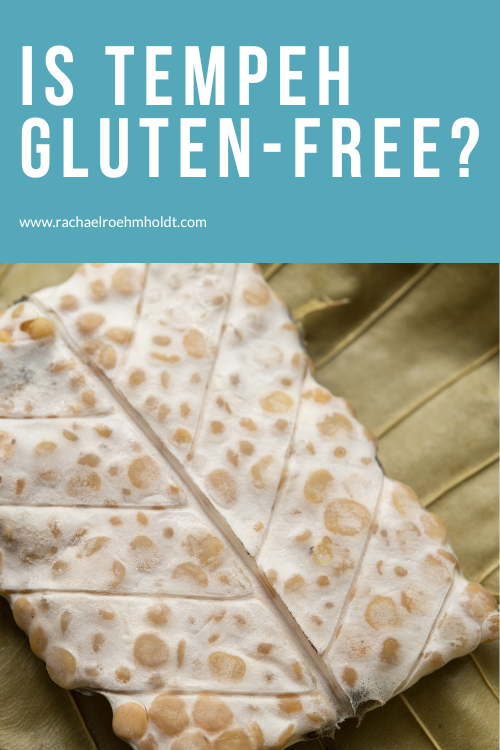 Are tempeh and tofu the same thing?
Tempeh and tofu both are made using soy beans, but they are definitely different food products.
Tempeh is a fermented food that offers high protein and fiber content, along with great gut health benefits from the fermentation.
Tofu is also high in protein, but it is processed differently than tempeh. Tofu is made by soaking soybeans, crushing, then boiling them. It's made similarly to the way you'd make cheese, by separating the solids from the liquids. The liquid is removed to make soy milk, and the solids are used to be pressed into tofu.
Both are used as a vegetarian and vegan source of protein and as a replacement for meat in many recipes, but they are not one in the same.
Read on: Is tofu gluten-free?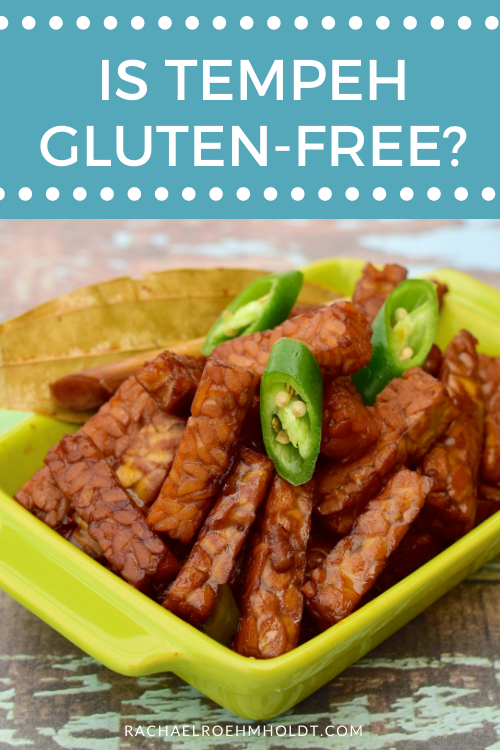 Is tempeh gluten-free?
Tempeh traditionally is made with just soybeans and vinegar, which would generally make this food safe for a gluten-free diet.
However, many store bought options contain other gluten-containing grains in addition to these two ingredients, making them not gluten-free. You'd have to look at specific brands and ingredients lists before purchasing tempeh to know which options will work best for your gluten-free diet.
One of my little secrets is that I carry around a copy of my GFDF Take Along Cards so that I always have a point of reference when I can sneak a peek at the ingredient list of a food.
>> Get your copy of the GFDF Take-Along Cards to make this easy on you.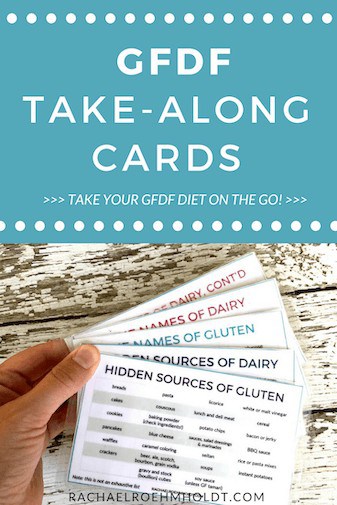 Uses for tempeh
There are many ways to use tempeh in your cooking. If you're looking for a meat-free protein source that is plant-based, you might try one of these different options for meal times.
In sandwiches
In tacos
In stir-fry
In place of meat in spaghetti sauce
In chili
As a bacon replacement
On salads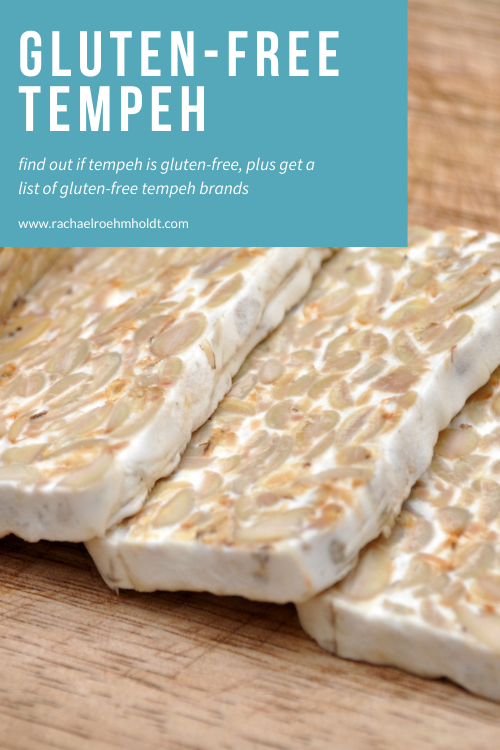 Gluten-free tempeh brands and varieties
If you're looking for a gluten-free tempeh brand, use this list as a jumping off point to help you find the right choice for you. Note that just because a brand offers one gluten-free product does not mean that all their products are gluten-free.
Read ingredients lists before picking up any tempeh product to save yourself the headache of buying something you later find out you can't eat because it contained gluten.
Asian Miso Ginger Hempeh
Raspberry Habanero BBQ Hempeh (soy-free)
Smoke Salt and Pepper Hempeh Steaks (soy-free)
Lightlife states on their website that some products do not contain gluten, but are not labeled as gluten-free as there could be cross contamination in their facilities. Use your best judgement for what's right for you and your body.
Original Tempeh
Buffalo Tempeh Strips
Flax Tempeh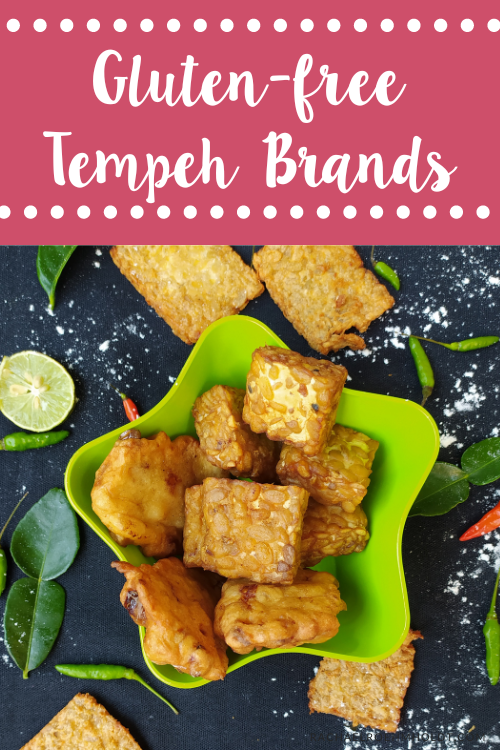 3 Grain Organic Tempeh
Quinoa & Sesame Organic Tempeh
Original Soy Organic Tempeh
Organic Tempeh with Sea Vegetables
Organic Tempeh
BBQ Ready-to-Eat Tempeh
Teriyaki Ready-to-Eat Tempeh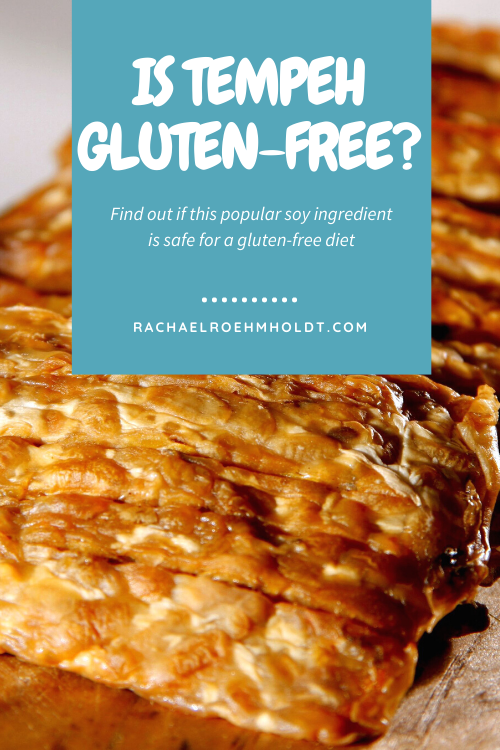 Soy Tempeh
Black Eyed Pea Tempeh
Garbanzo Tempeh
Texas Tempeh Sausage, Mild
Texas Tempeh Sausage, Spicy
Tempeh Salad
Organic Five Grain Tempeh Cake
Original Soy Cake Tempeh Cake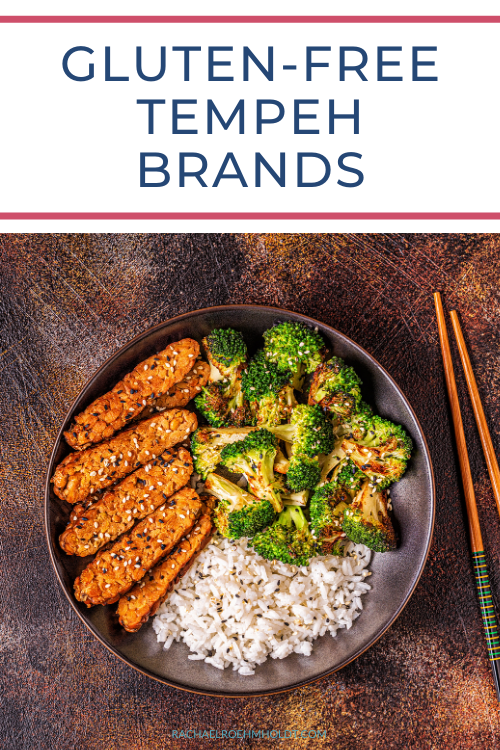 Where can I buy gluten-free tempeh?
Look for gluten-free tempeh at your local grocery store or health food store in the refrigerated section.
Are my favorite tempeh brands gluten-free?
If you have been enjoying a specific brand of tempeh for a while, you might be wondering if it's safe for your gluten-free diet. Let's go through a few popular brands and answer the questions you have about them.
Is Lightlife Tempeh gluten-free?
Lightlife makes no gluten-free claims on their products, because they offer some items that contain gluten, and others that have no gluten-containing ingredients. They say on their website that it's possible for cross contamination to occur and to use your best judgement with their products based on your specific needs.
Is Trader Joe's tempeh gluten-free?
Trader Joe's does not list their tempeh in their gluten-free dietary list on their website. One of the ingredients listed on the packaging is organic barley, which is a gluten-containing grain. I would avoid this brand of tempeh if you're following a gluten-free diet.
If you enjoy tempeh or are looking for a gluten-free plant-based protein, know that tempeh will work for your gluten-free diet if you use the right brands.
Be on the lookout for some of the brands listed in this post to enjoy your favorite tempeh dishes while being able to stay gluten-free.
If you loved this post, I hope that you'll share it with your friends on Facebook and pin it for future reference on Pinterest.
Love this post? You might also want to check out these!
Find out if your favorite foods and ingredients contain gluten with these posts!