Find out what potato salad is made of, if its main ingredients are gluten-free, and if this salad is safe for a gluten-free diet.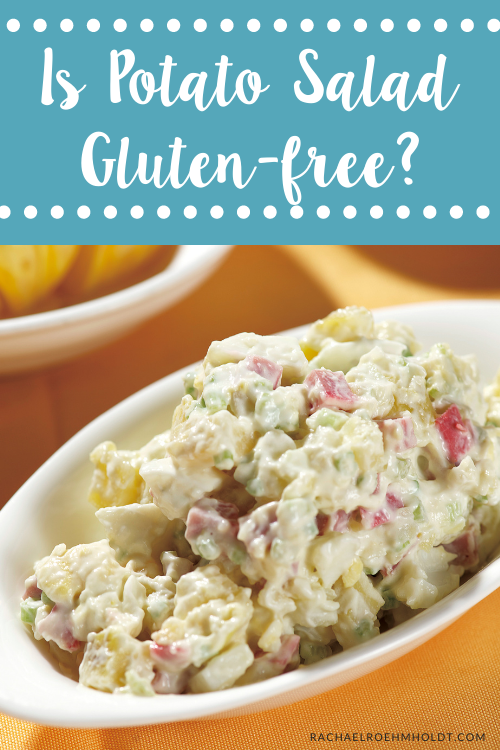 Note: I am a proud Amazon, Chomps, MunkPack, and Thrive Market affiliate and am happy to recommend their service and products to you. Please know that as an affiliate, I may receive a small commission on the products you purchase after clicking through my links. For more info, please see my disclosure policy here.
If you've found yourself at a barbecue, picnic, or other large get-together, you've likely seen potato salad on a table spread with tons of food.
If you're like me, you won't choose anything that you're not 100% sure of the ingredients due to my limited diet.
Being uncertain about whether or not a dish contains gluten is a big indicator of whether or not I'll grab a scoop for my plate at these larger gatherings centered around food.
Without a clear indicator of if a dish is gluten-free, I'll  usually let it stay on the table. Some of those questionable options at these events are salads.
You know, the large bowls of potato salad, pasta salad, and broccoli salad that are such a popular option at these gatherings, because they can feed a big crowd.
If you've been wondering if potato salad is a good option to load up on at your next barbecue or picnic, don't worry. I've been looking into this topic to help you get the answer you're looking for.
Whether you like to make your own or like to buy it at the store, we'll answer a few questions about potato salad and how it fits into a gluten-free diet here in this post.
We'll talk about what potato salad is, what it's made of, if the main ingredients are gluten-free, and if this salad is a safe option for folks who avoid gluten.
Since I'm a "more is more" kind of person when it comes to information, I've also added a link to a big roundup of some great salad recipes that are all gluten-free at the end.
If you love potato salad, this post is for you!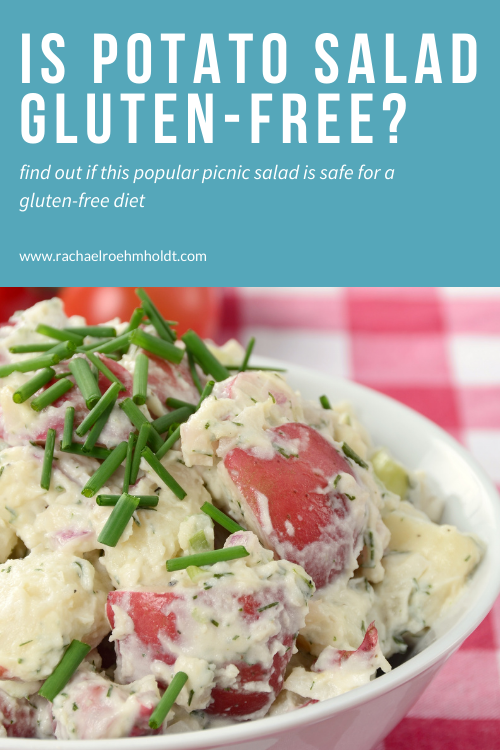 What is potato salad?
Potato salad is a side dish with the main ingredient being potatoes. It's often served at picnics, barbecues, and larger gatherings. You can find a few varieties of potato salad, including an American version with boiled eggs, celery, and mayonnaise and German potato salad, which is made with bacon, vinegar, and white sugar.
American potato salad is generally served cold, while German potato salad can be served warm or cold. For the remainder of this post, we'll be discussing American potato salad.
Read on: 25 gluten-free side dishes
What is potato salad made of?
The main ingredients in American potato salad are boiled potatoes, mayonnaise, hard boiled eggs, onion, mustard, celery, and salt and pepper.
Recipes may vary from person to person, as some folks may add relish or pickles, dill, mustard seeds, dijon mustard, apple cider vinegar, or red wine vinegar. Depending on your preferences, you can make or buy potato salad with any ingredients you enjoy.
The dish is generally made with boiled potatoes, a creamy vinegar based dressing, some crunchy veggies, and salt and vinegar. You're free to get creative with the rest of the ingredients, like eggs, celery, and what you season it with.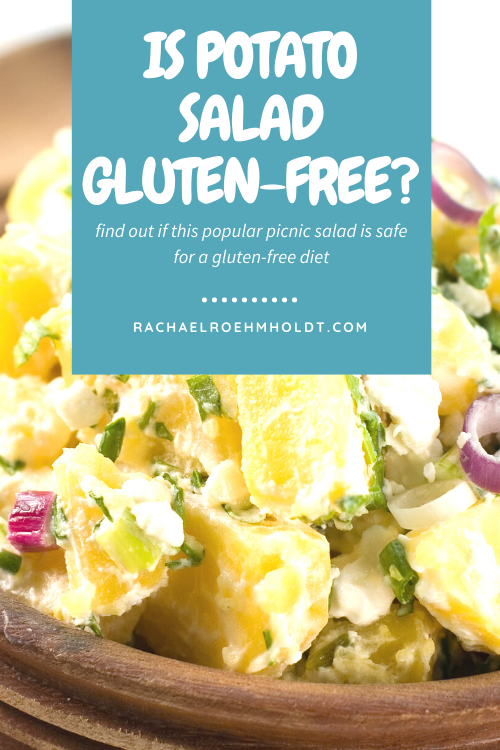 What is gluten?
Gluten is a protein found in most wheat products, and acts as the "glue" that helps to hold wheat, barley, kamut, spelt, farro, durum, bulgur, rye, and semolina together to maintain their shape.
Gluten is naturally occurring, and therefore is impossible to strip away from the grain. If a grain naturally has gluten in it, there's no way to make that food gluten-free.
Are potatoes gluten-free?
Potatoes are naturally gluten-free and don't contain gluten, as they are not a grain.
Better yet, potatoes are grown underground, making any possibility of cross contamination in the field practically impossible.
Read on: Are potatoes gluten-free?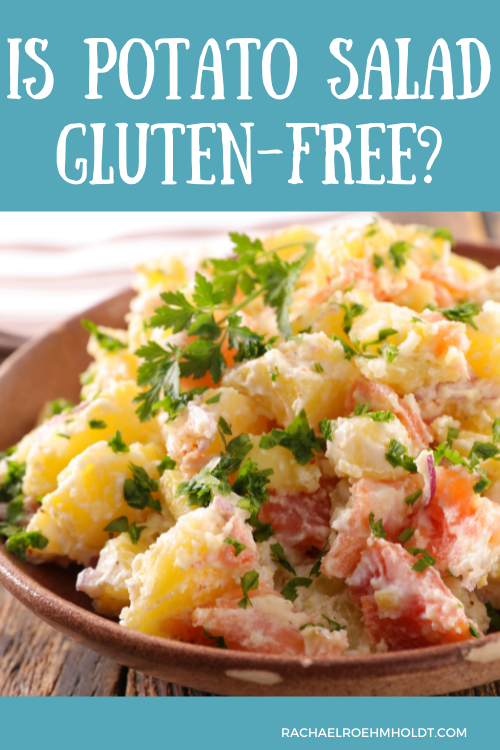 Is mayonnaise gluten-free?
For the most part, mayonnaise is a gluten-free food and most ingredients that are included in a mayonnaise recipe are gluten-free.
That said, there may be some cross contamination if the mayo is processed in the same facility as other gluten-containing products.
As with anything when you're dealing with a food intolerance, cross contamination and reactivity to small amounts of gluten is variable from person to person.
If you are extremely sensitive to gluten and cannot tolerate any form of trace amounts in your food, it's important to look for a "gluten-free" label on the product's packaging.
Find out if your favorite brands of mayonnaise are gluten-free here: Is mayonnaise gluten-free?
Read on: Does mayo have dairy?
Is potato salad gluten-free?
Most potato salad is gluten-free assuming all the ingredients used in a recipe are. If you take the time to review ingredients before making a potato salad recipe at home, you can easily make sure yours is gluten-free.
Store bought potato salad may need to be looked at with a closer eye. You can review ingredients lists for any hidden names of gluten to be sure, as well as look for an option that offers a gluten-free label on the packaging to help put your mind at ease.
Read on: 25 gluten-free potluck ideas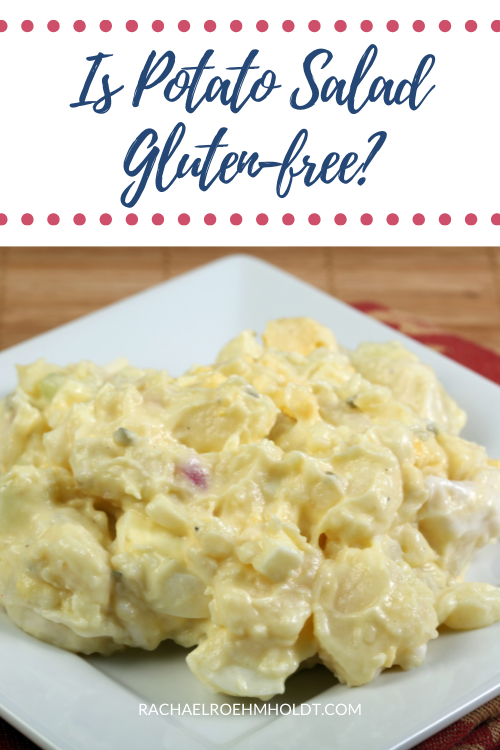 What other salads are gluten-free?
There are so many other salads that are also gluten-free, including green salads, chicken salads, gluten-free pasta salads, gluten-free macaroni salads, egg salads, broccoli salads, and even tuna salads.
If you're looking for some recipes to help you stick with your gluten-free diet while enjoying your favorite salad side dishes, be sure to check out this post: 75 gluten and dairy-free salad recipes.
If you love making or serving potato salad at your favorite family picnics, barbecues, or get-togethers, I hope this post has put your mind at ease a little bit.
Potato salad is easy to make gluten-free as long as the ingredients you choose have no gluten to begin with. If you're looking for a grocery store option, be sure to check ingredients lists before buying!
If you loved this post, I hope that you'll share it with your friends on Facebook and pin it for future reference on Pinterest.
Love this post? You might also want to check out these!
Find out if your favorite foods and ingredients contain gluten with these posts!