Get 25 gluten-free potluck ideas including recipes, plus find out what makes a good potluck dish and what doesn't.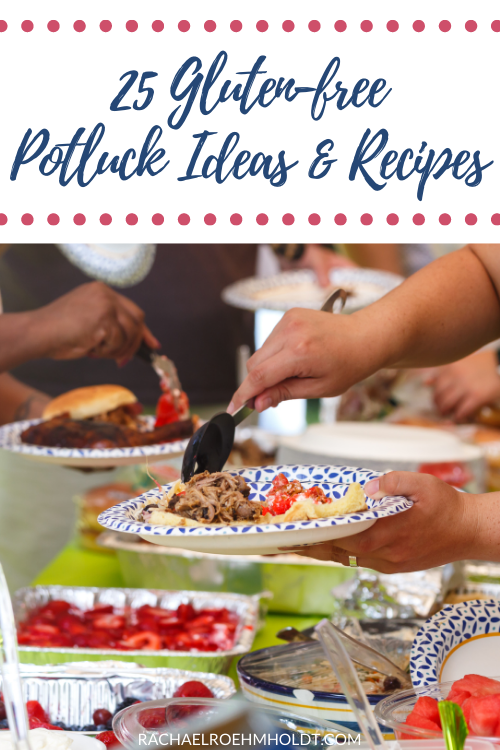 Note: I am a proud Amazon, Chomps, MunkPack, and Thrive Market affiliate and am happy to recommend their service and products to you. Please know that as an affiliate, I may receive a small commission on the products you purchase after clicking through my links. For more info, please see my disclosure policy here.
If you get invited to a lot of potlucks, you may have wondered what foods are good choices to bring.
Better yet, if you're invited to potlucks where someone has a food intolerance or allergy, you may have been curious what you can bring that will be safe for them.
As someone who doesn't eat gluten or dairy, potlucks can be tricky. It's important to know what's in different dishes before adding anything to my plate.
So if you're looking for something to bring to a potluck with folks who can't eat gluten or if you are gluten-free yourself and are curious what you can bring to make sure you have at least one option, this post is for you.
We're going to talk about what to consider when it comes to choosing a dish to bring to a potluck, what dishes work best for bringing to potlucks, as well as what makes a good gluten-free potluck addition.
I'll also share 25 different recipes and ideas for gluten-free potluck dishes that you might want to try or at least give you inspiration for what types of recipes to search for and think about bringing to your next potluck.
Before we get to the recipes, let's start with the basics around potlucks.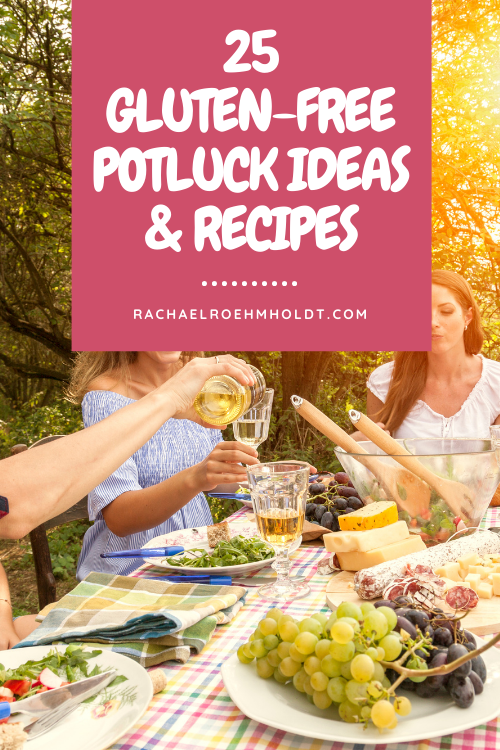 Things to consider when choosing a potluck dish
When you go to a potluck, you have probably seen a lot of similar types of foods.
There's almost always salads, casseroles, and cookie bars or cakes for desserts. That's because these types of foods work well for sharing.
When it comes to deciding what to bring to a potluck, there are three big things I like to consider before choosing a recipe:
How many people will be there? This helps me decide if I need to double or triple a recipe once I decide on what I'm bringing.
Does the potluck need more hot or cold dishes? Savory or sweet dishes? This helps me narrow down my options from needing to bring an appetizer, main dish, side dish, or dessert.
How long will the food be sitting out before people eat? This helps me figure out a plan for how I will keep hot foods hot or cold foods cold.
It also helps me decide if I can't do either if I will make or bring a dish where that doesn't matter too much, like staying away from mayo or meat ingredients that spoil when out too long.
When I know the answers to these questions, I think about what some good options in general are to bring to a potluck and start narrowing down from there.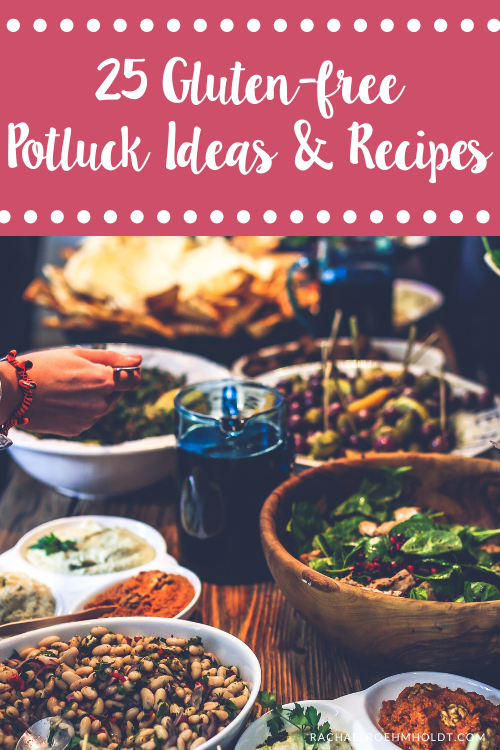 What makes a good potluck dish?
So many things can be made and shared, but potlucks are in general designed to feed a lot of people a small amount of every dish that's served.
Potluck dishes that are best to make and bring are those that don't require a lot of individual work, like individual servings.
My personal preference is to make a dish that serves a lot of people and that can be served by the person who is eating it.
This way, they can choose to take a small or large portion, depending on if it looks good to them. It saves me time prepping and it means there's less waste if someone isn't interested in more than one bite of a food.
These are some of my go-to ideas for what makes a good potluck dish – gluten-free or otherwise.
Salads
Chips and dip
Casseroles
Vegetables
Anything in your slow cooker
Rice or grain dishes
Potato dishes
Desserts
Fruit salad
The reason all of these work is because you make them once and they can be self-served. Another reason is that they don't require special utensils or bowls to serve them.
On that note, there are a few foods that are not great at potlucks.
Soup, stew, or chili isn't always great, because you need individual bowls to serve it. Of course, if you and the rest of the folks in attendance don't mind carrying around an extra bowl while serving up, then by all means, make the soup, stew, or chili. But otherwise, try to stick a food that can be eaten off a plate.
Other foods that aren't great at potlucks are those that are DIY. Foods like "make your own sandwiches" or "taco bars" or "potato bars."
These are all amazing options for folks to get exactly what they want, but potlucks aren't really the right place for that kind of fussing.
In my mind, potlucks are for foods where you take a dish or you don't. There's no spending time trying to decide on toppings or different flavor combinations.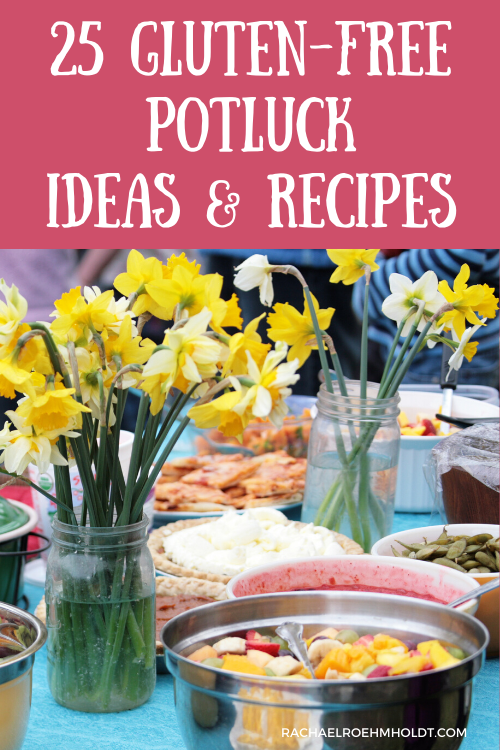 What makes a good gluten-free potluck idea?
If you're following a gluten-free diet or want to make a potluck dish for a gathering where folks are trying to stay away from gluten, there are a few things that help you decide what to bring and what to make.
After you narrow down the category of what you're bringing to an appetizer, salad, main dish, side dish, or dessert. And when you know if you want that dish to be a hot or cold dish, you can then start looking for recipes.
Choose a recipe that's naturally gluten-free using ingredients that you don't have to make any substitutions for. This will keep it simple for you when sourcing ingredients and not have to overthink anything as you're making your dish.
If you aren't able to find a gluten-free option for the dish you want to make, find a recipe that substitutions are obvious and easy to make.
For example, a pasta dish that contains semolina pasta can be swapped for gluten-free pasta. Or a favorite dip recipe that's gluten-free and all you need to swap is the chips to go with it. Try to make it easy for yourself!
My favorite kind of gluten-free pasta ideas are those that are made into big batches. This means things that can be made into bars or casserole dishes and pre-cut.
Or served in a big bowl with a spoon so folks can serve themselves. Again, if it can be served with the lifting of one spoon or one spatula to get it to a person's plate, that makes it a good potluck idea.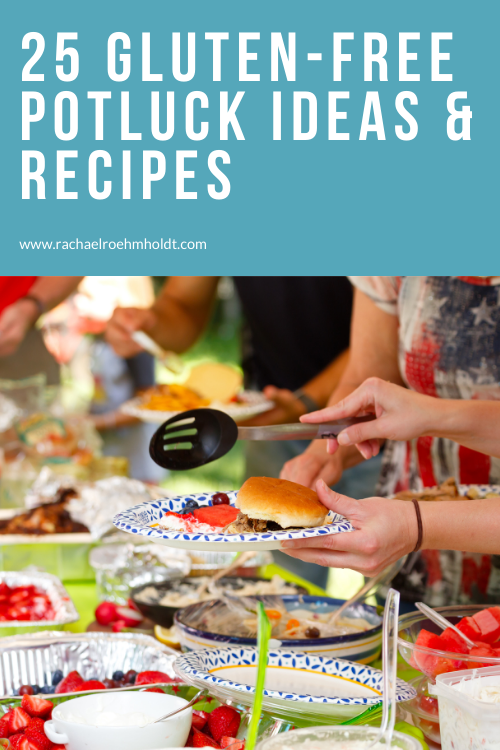 25 Gluten-free Potluck Ideas
Now that you have some ground rules for what makes a good potluck idea for folks on a gluten-free diet, let's go over some specific ideas and recipes.
The recipes and ideas I've rounded up are divided into five main categories: appetizers, salads, casseroles, side dishes, and desserts.
There's quite a bit of variety here and the recipes are great. However, don't feel like you have to choose one of these specific recipes.
A lot of these ideas are just to give you inspiration for what types of dishes work well for a gluten-free diet.
Get creative with what you see here and look for a recipe that you think would be a great addition to your next potluck.
As a side note, most of the recipes here are dairy-free in addition to being gluten-free, because I know many folks who visit my blog also avoid dairy products.
If you need some gluten and dairy-free potluck ideas and recipes, this post will work for you too!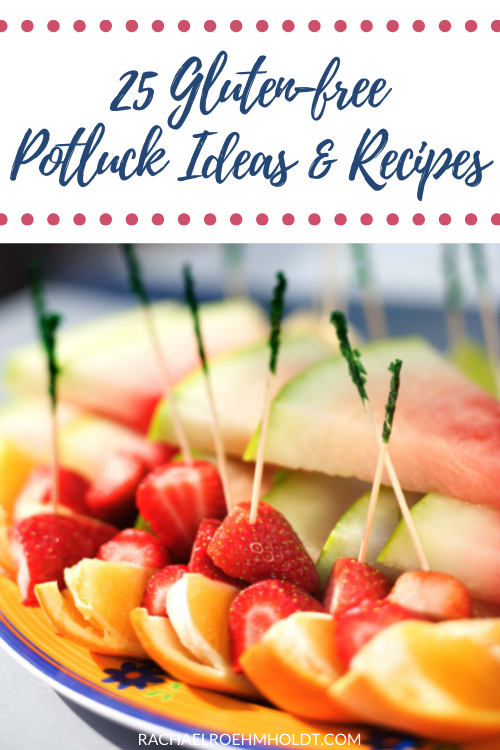 Gluten-free Potluck Appetizer Recipes
These gluten-free potluck appetizer recipes are all great options to bring to share with a group. Classic meatballs, deviled eggs, and dips are highlighted here.
Make up a batch or two of these gluten-free meatballs for your next potluck. You can serve them with any favorite sauce, like marinara, pesto, or even sweet and sour sauce.
What's great about this recipe is you can serve them straight from your slow cooker if you wish! They're also dairy and egg-free!
Deviled eggs feel like the quintessential potluck food. If the people you're gathering with are into deviled eggs, you'll love to know that they are almost always gluten-free!
Try this classic recipe that uses avocado mayo and is also dairy-free. Perfect for your next gathering!
Hummus is naturally gluten and dairy-free, so try this olive tapenade recipe and serve with your favorite gluten-free crackers as a snack at your picnic.
If you don't want to make your own, I've even bought the store-bought version of this hummus from Boar's Head in the deli section of my grocery store. Many Boar's Head products are labeled as gluten-free.
I love tortilla pinwheels as an appetizer, because they're so easy to put together! You can pick and choose what ingredients you want to add to them and make them different every time.
This recipe is made with corn tortillas (naturally gluten-free), sliced deli meat (make sure yours is gluten-free), taco seasoning and avocados.
Feel free to mix up the seasonings and the fillings to make it your own.
Spinach and artichoke dip isn't always gluten-free, but this one is a healthier version of this dip and is both gluten and dairy-free.
It's made with both cashews and mayonnaise so it's not as heavy as your traditional spinach artichoke dip. Serve it with gluten-free crackers or corn tortilla chips to keep it gluten-free.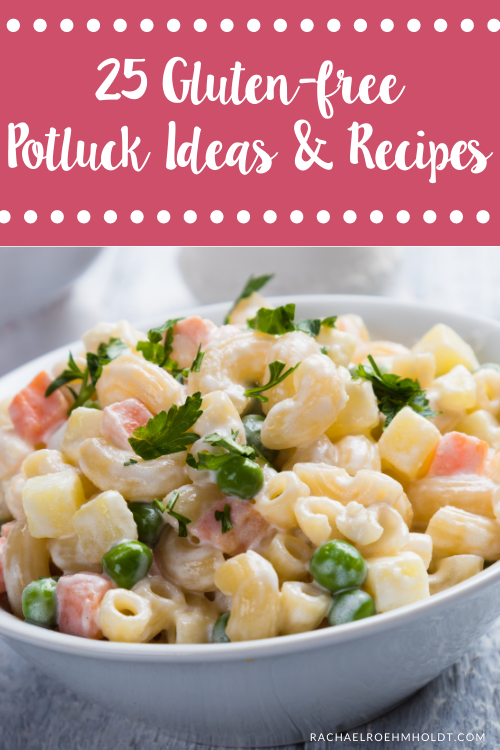 Gluten-free Potluck Salad Recipes
If you love bringing salad to potlucks, these five recipes are all great choices. Pasta salad, quinoa salad, chopped salad, potato salad, and macaroni salad are all potluck classics that have been given a gluten-free twist.
This Italian pasta salad is made from gluten-free rotini pasta, bell pepper, cucumber, red onion, broccoli, pepperoni, black olives, and a homemade Italian dressing.
With tons of fresh flavors, this is a real crowd pleaser at potlucks!
Quinoa tabouli is made from quinoa, fresh herbs and veggies – a perfect potluck side dish because nothing in it will spoil quickly.
You get to make your own dressing with just olive oil, lemon juice, salt, and pepper too!
This dish is simple and easy to put together – just what I'm looking for when I'm trying to find what to bring to a gathering.
A classic Italian chopped salad includes Romaine lettuce, radicchio, cannellini beans, sun dried tomatoes, and a red wine vinaigrette.
Double this salad and be the friend who brings along something healthy to add to the meal!
This mustard potato salad is full of flavor from hard boiled eggs, mayo, dill pickles, onion, red pepper, celery, yellow mustard, white vinegar, and some seasonings to really make the flavors come together.
Double or triple the recipe to serve a big crowd!
Read on: Is potato salad gluten-free?
Gluten-free macaroni salad is made with gluten-free pasta, mayo, sweet relish, diced onions, diced olives, celery, and green onions.
With sweet relish and black olives, this is a new take on macaroni salad that folks at a potluck will love!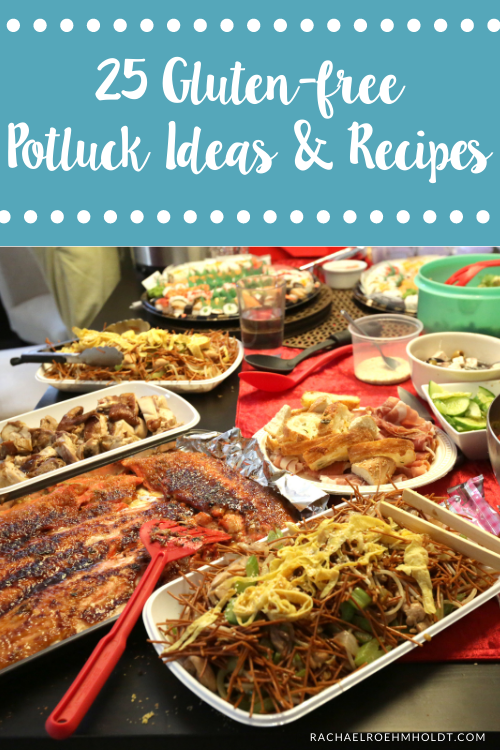 Gluten-free Potluck Casserole Recipes
Casseroles are easy to serve at potlucks, so these five gluten-free casserole recipes are all great options for your next get together.
Try some comfort food in the tater tot casserole and baked ziti and get your kids to eat up every bite of the pizza casserole.
This recipe is great for a crowd – and with gluten-free and dairy-free options, it's easy to throw together and feed everyone in the family or for a get-together.
It uses cooked chicken (Costco rotisserie chicken could save a lot of time here), rice, store-bought salsa, tomato sauce, and seasonings.
This dish screams summertime potluck to me, but you can definitely enjoy it year round.
Combine a sweet and tangy sauce with bacon, ground beef, and three kinds of beans. Plus, it's gluten-free and dairy-free and hearty enough that the whole family can enjoy!
This Tater Tot casserole turns a old favorite into a gluten-free dairy-free version so you don't have to miss out on an old family favorite.
Gluten-free flour and soy milk are the main swaps, but also be sure that whatever beef bouillon you use is gluten-free and dairy-free too! Folks at your potluck will love this comfort food dish.
This dairy-free gluten-free baked ziti is a great choice for a gluten-free potluck option. Any simple baked pasta dish will be a crowd-pleaser and this one is no exception.
While baked ziti is easy to make gluten-free, the cheese on top isn't always up to par flavor-wise.
Brianna from Flippin' Delicious created a dairy-free sauce to substitute for the dairy-free cheese you can buy at the grocery store – and it looks… well, delicious!
This gluten-free pizza casserole isn't dairy-free but the cheese in the recipe could easily be swapped out for Daiya or other vegan mozzarella cheese.
Pizza casserole will be a hit at a potluck – especially for kids. Try a dish like this out at your next potluck get together!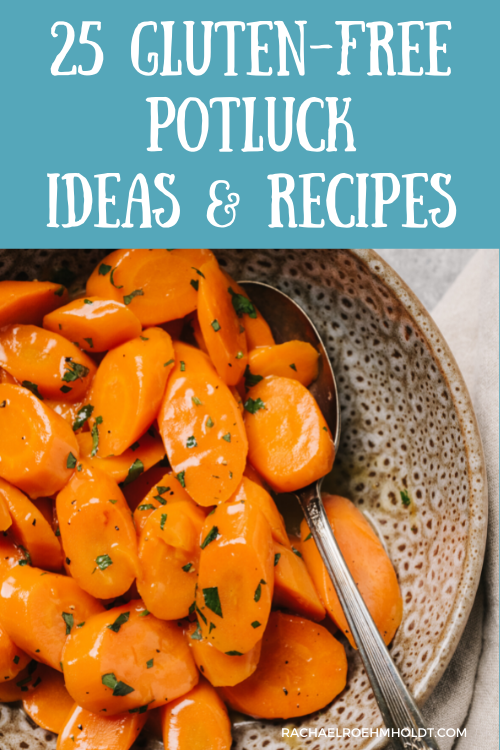 Gluten-free Potluck Side Dish Recipes
Side dishes are easy to bring to potlucks, so choose your own adventure with vegetables, rolls, beans, or potato dishes. All these recipes are gluten-free and dairy-free.
This maple glazed carrot recipe couldn't be easier. With some fresh carrots, cumin, mustard, maple syrup, and Italian parsley, this recipe comes together quickly in the oven.
The recipe calls for ghee, but you can also use vegan butter or coconut oil instead to make it dairy-free. My grandma always brings these carrots to friends' houses for potlucks and she never comes home with leftovers!
If you're looking for a dinner roll with no gluten, dairy, or eggs, try this recipe. It works great as a side dish to all your favorite soup, stew, or big family dinners, as well as for sliders and mini sandwiches.
You may need to make more than one batch, but folks will be impressed you can make rolls without the gluten, dairy, and eggs.
I love to see quinoa options at potlucks, because I always know they're far more likely to be gluten-free than other things being offered. For an easy side dish that's loaded with protein and flavor, you'll love this quinoa dish.
It's made with quinoa, black beans, corn, tomatoes, cilantro, and green onions. It's flavored with lime juice, garlic, and chicken or vegetable broth to give it loads of flavor.
These green beans are made using just 5 ingredients – green beans, onion, garlic, chicken broth, and salt).
These are gluten-free, dairy-free, and EASY. Plus you can have them going in your crockpot and bring that along with you to your potluck to keep them warm.
These cinnamon roasted sweet potatoes and cranberries are a wonderful side dish idea, because they combine such classic flavors that are full of healthy carbohydrates and fiber.
This recipe is only 6 ingredients and looks gorgeous too. This is a great side dish in the fall months, but can work year round too.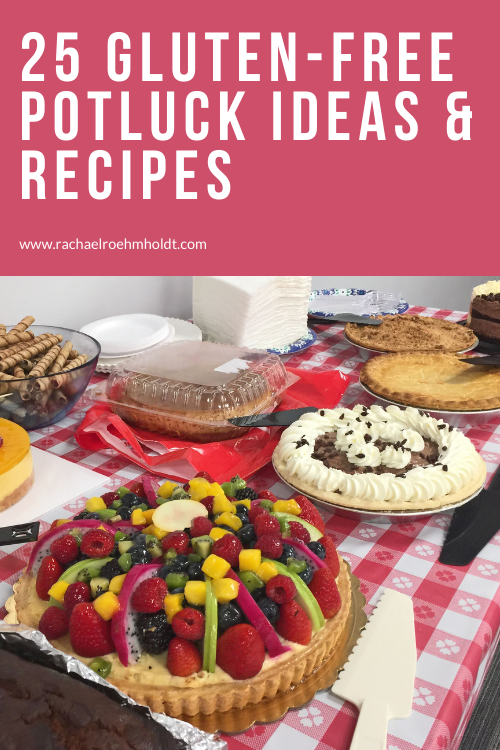 Gluten-free Potluck Dessert Recipes
There are a million great dessert recipes that work well for potlucks, but I try to stick with things that can be cut into bars or slices that are easy to serve.
Cake, bars, and rice krispie treats fit the bill with that. If you like more fruity desserts, a gluten-free cobbler or crisp will work perfectly for a potluck too.
This dairy and gluten-free chocolate zucchini cake is moist, sweet, and super easy to make.
Any kind of larger sheet cake is a great choice for a potluck, because it's not an overwhelming amount of work to make and feeds a lot of people.
This recipe is a remake on my grandma's famous cake and it can easily serve 12. Feel free to make two if you have a really big gathering to go to!
This recipe takes me right back to my childhood. My grandma made chocolate peanut butter bars all the time when I was a kid and I'd tag along with her to big potlucks at her community center.
This recipe takes all the gluten and dairy out of the recipe and makes a big pan – enough to share with a crowd!
If you want to take your brownie to the next level, what about salted caramel brownies? This recipe delivers on the promise and it's gluten-free, dairy-free AND egg-free so you don't have to even think about your food intolerances while indulging.
Brownies are a crowd-pleaser always so sharing a dessert that can be made in one pan then sliced into smaller bites is a great option for a gluten-free potluck idea.
Rice Krispie Treats are a fun dessert option for a gluten-free potluck. Make sure to get gluten-free crispy rice cereal though, because Kellogg's Rice Krispies do contain gluten.
With only a few ingredients, you can make these up super fast – and there are plenty to share!
I love recipes that require like no effort out of me. This easy blueberry cobbler fits the bill. Not only is it gluten-free and dairy-free, but there are seriously only 4 steps to the whole recipe – except for turning on your oven.
If you want a fruity dessert for your potluck, a cobbler is a great choice, because you can make a large batch in a big pan and folks can spoon out what they want.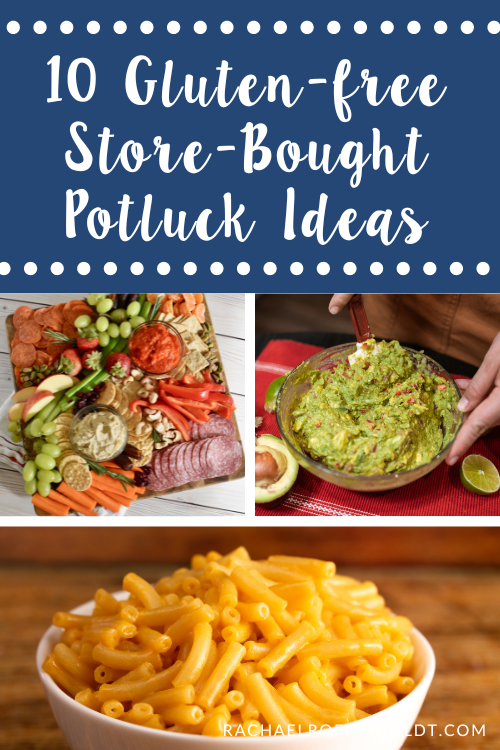 10 Gluten-free Store-bought Potluck Ideas
When you're in a pinch and you know you need to bring something to a potluck but have very little time to make a dish, here are a couple ideas to inspire you – no (or very minimal) cooking required!
Gluten-free Charcuterie Board or Snack Board – great for appetizers or for kids
Store-bought Hummus & Pre-cut Veggie Tray
Pre-cut Fruit Tray or Fruit Salad
Tortilla Chips & Guacamole and/or Salsa
Quinoa Salad (I love the one from Costco)
Gluten-free Potato Salad (check ingredients & labels first!)
Bagged Salad Kits (check ingredients & labels first!) – Make 2 or more for a crowd
Gluten-free Mac & Cheese – Make 2 boxes at home, it's always a hit with kids!
Gluten-free Dessert Platter – grab a few bags/boxes of gluten-free cookies and fruit and arrange them on a serving platter
Strawberries & Boar's Head Dark Chocolate Hummus
If you've been looking for a dish to bring to your next potluck where either you or someone else is trying to stick with a gluten-free diet, I hope this post has given you some ideas as well as some recipes to try out.
There are so many great options for potlucks, so choose something that is easy to make and serve, and enjoy being among friends!
If you loved this post, I hope that you'll share it with your friends on Facebook and pin it for future reference on Pinterest.
Love this post? You might also want to check out more of my recipe roundups here!
Find some delicious gluten and dairy-free recipes in these popular recipe roundup posts!
Want more? Check out all my Gluten-free Dairy-free Recipes!