Find out if Miller Lite is safe for a gluten-free diet, what ingredients are in this beer, and which brands of beer are gluten-free.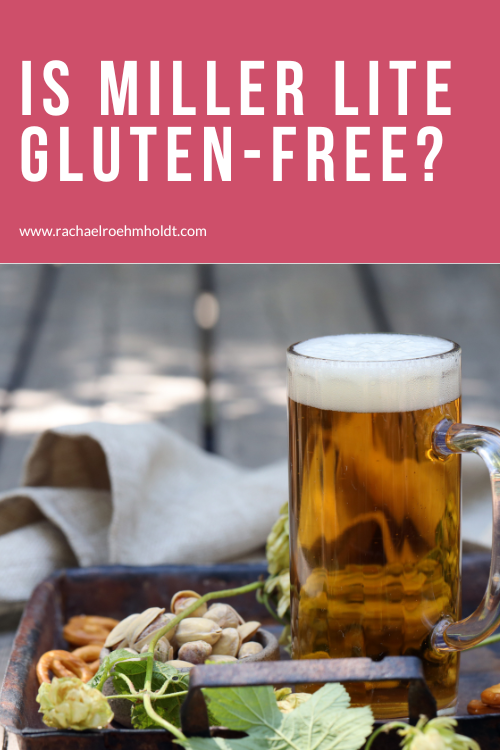 Note: I am a proud Amazon, Chomps, MunkPack, and Thrive Market affiliate and am happy to recommend their service and products to you. Please know that as an affiliate, I may receive a small commission on the products you purchase after clicking through my links. For more info, please see my disclosure policy here.
If you are just getting started with a gluten-free diet and are worried you can't take your favorite beer along with you on your journey, you're not alone.
When you first find out you need to go gluten-free, you're probably concerned that some of your favorite little pleasures will go by the wayside.
It's true that many foods and drinks contain gluten, which is why I'm doing my best to go through some of the popular ones and share what I know about some popular brands.
In this post, we'll talk about Miller Lite and discuss what this beer is best known for, who makes it, and what ingredients are in this beer.
We'll also go over if beer is generally gluten-free, if Miller Lite beer is gluten-free, and I'll share some resources to point you in the direction of gluten-free beers you can start exploring.
If you enjoy Miller Lite or are just trying to get a gauge on which products are safe for your gluten-free diet and which aren't, this post is for you.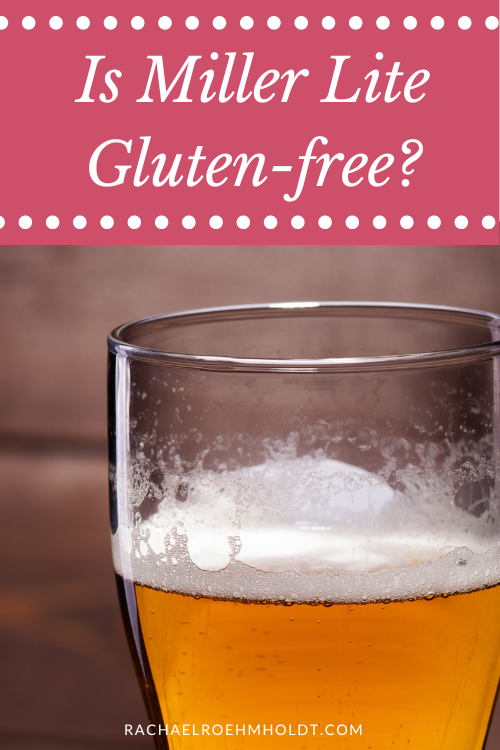 What is Miller Lite?
Miller Lite is a brand of light beer that was founded in 1975. It is considered an American Pilsner beer that is marketed as a low calorie beer for folks who want to drink beer without all the extra calories. Miller Lite has an abv of 4.2%.
Though it's hardly a health drink, it's marketed as an option for folks who want to enjoy beer without ruining their diet. It's also touted as being the first light beer to make it big in the United States.
Who makes Miller Lite?
MIller Lite is manufactured by the Miller Brewing Company. This is the same manufacturer that also makes Miller High Life, Miller Genuine Draft, Miller 64, Frederick Miller Classic Chocolate Lager, and Miller Sharp's.
The MIller Brewing COmpany also has economy brands under the name of Milwaukee's Best, Milwaukee's Best Light, and Milkwaukee's Best Ice.
What are the ingredients in Miller Lite?
According to the Miller Lite website, the ingredients in this beer are:
"Water, barley malt, corn syrup* (dextrose – never high fructose corn syrup), yeast, hops and hop extract."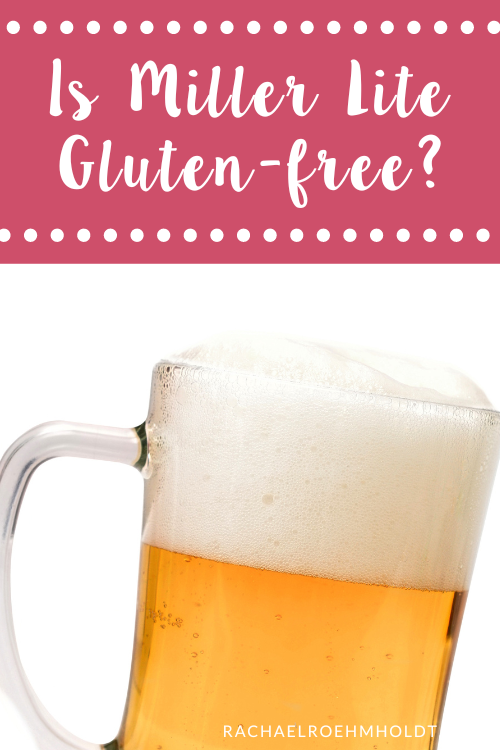 What is gluten?
Gluten is a protein found in most wheat products, and acts as the "glue" that helps to hold wheat, barley, kamut, spelt, farro, durum, bulgur, rye, and semolina together to maintain their shape.
You can find gluten in whole grains, but also in many processed foods as well. If you purchase wheat bread, there will be gluten in it, because wheat by nature has gluten.
Many processed foods have hidden gluten in them in the form of gluten or wheat derivatives. These are used as flavorings, binders to keep ingredients together, or other additives.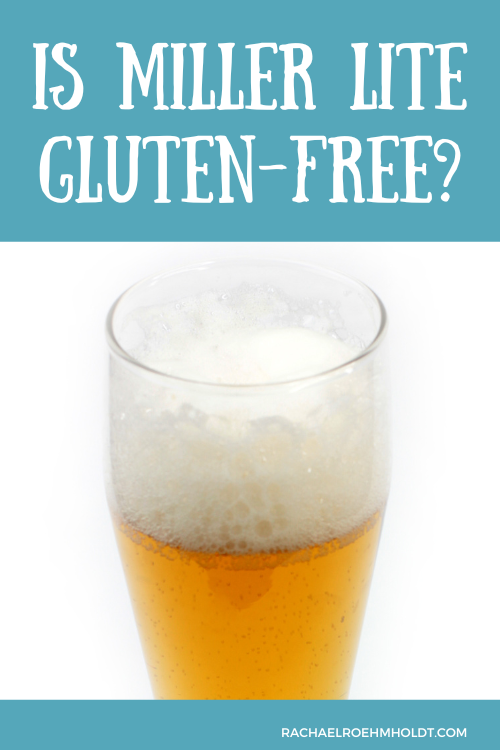 Is beer gluten-free?
No, most beer is not gluten-free. It's most commonly made with malted barley – and sometimes with wheat. Both barley and wheat are gluten-containing grains, making them not safe for a gluten-free diet.
In the process of making beer, the gluten remains in the drink, as opposed to distilled drinks, such as whiskey that uses malted barley but the gluten is distilled out of the final product.
Not all beer contains gluten though. Luckily, there are gluten-free beers available and on the market. You can look for bottles and brands with a gluten-free label to know for sure that they are safe for you to enjoy.
According to the FDA, in order to have a gluten-free label on a product, the product has to contain less than 20 ppm in one serving.
Read on: Does beer have gluten?
Is Miller Lite gluten-free?
Unfortunately, Miller Lite is not gluten-free, because it contains barley malt. Barley is a gluten-containing grain, and the gluten is not removed during the manufacturing process of beer.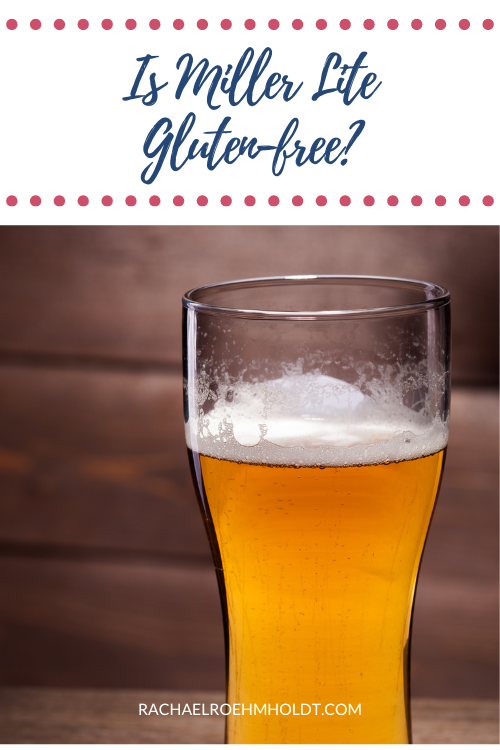 What beer is gluten-free?
Even though Miller Lite beer is not gluten-free, there are plenty of other brands that do offer gluten-free beer.
If you're looking for a brand that works for you and your gluten-free diet, be sure to check out this post with a full list of 49 beer brands that are either naturally gluten-free or gluten removed: Gluten-free Beer List
I'll even tell you the difference between the two and what you need to know about choosing a gluten-free beer.
If you've curious if your favorite beer, Miller Lite, is safe to continue drinking on a gluten-free diet, I hope this information has been helpful for you.
While this beer is not gluten-free, there are plenty of other options and brands that are available for folks like us to enjoy while sticking with a gluten-free diet.
If you loved this post, I hope that you'll share it with your friends on Facebook and pin it for future reference on Pinterest.
Love this post? Check out more from the Gluten-free Alcohol Series.
Wondering which alcohol is safe for a gluten-free diet? Find out in the Gluten-free Alcohol series!