Find out if Kahlua is gluten-free, what other brands of coffee liqueur are gluten-free, and answer some common about this delicious drink.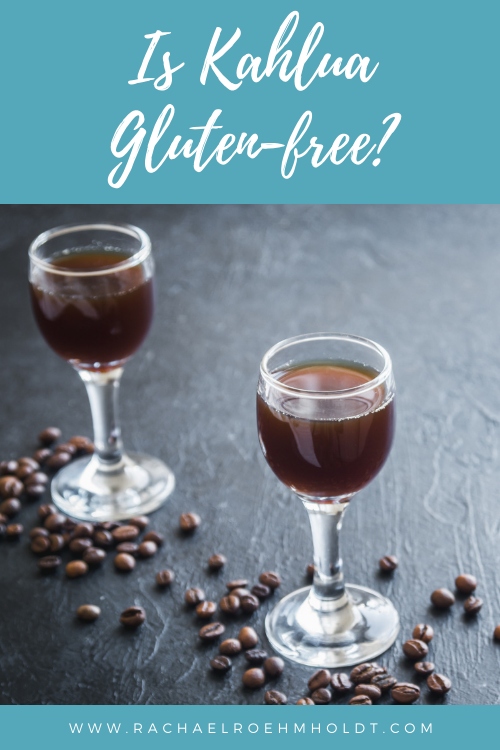 Note: I am a proud Amazon, Chomps, MunkPack, and Thrive Market affiliate and am happy to recommend their service and products to you. Please know that as an affiliate, I may receive a small commission on the products you purchase after clicking through my links. For more info, please see my disclosure policy here.
If you love to add coffee flavored liqueurs to your coffee or cocktails, you might be wondering if Kahlua is gluten-free. This liqueur is popular in sweet cocktails, many that can be enjoyed as desserts, like mudslides and white Russians.
Some types of alcohol contain gluten, so you'll want to be sure that each and every time you buy a brand or type of alcohol, that it's safe for you and your diet.
This post is all about Kahlua, and we're going to dive into the details of this drink, and answer the question "is Kahlua gluten-free?"
This post is part of the Gluten-free Alcohol Series, where we're going to discuss different types of alcoholic drinks and how they fit into a gluten-free diet.
In this post, we're going to find out what this famous coffee liqueur is made of, if it's gluten-free, what other brands of coffee liquor are gluten-free, and answer some common questions related to this popular drink.
What is Kahlua?
Kahlua is a coffee flavored liqueur that is sweet, almost syrupy, and used in many cocktails to add a rich coffee flavor.
Many cocktails like espresso martinis, white Russians, and mudslides call for Kahlua liqueur. You can also use Kahlua as a topping for ice cream or added to a cup of coffee.
Kahlua is a brand that comes from Veracruz, Mexico, the place where all their coffee beans are sourced to make their liqueurs.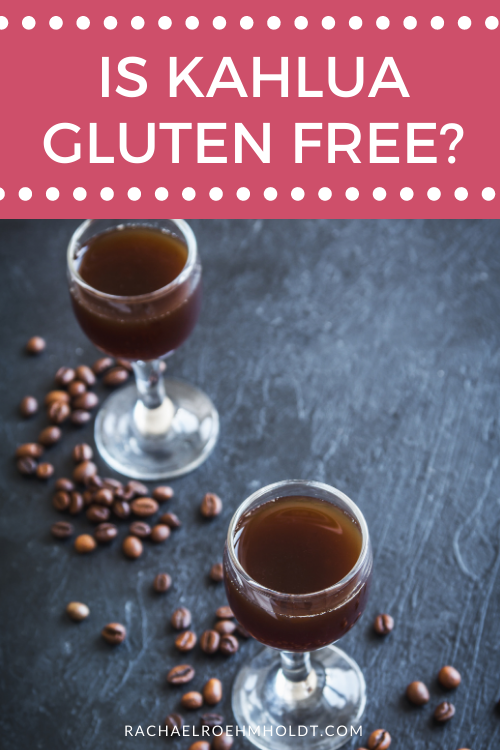 What is Kahlua made of?
Kahlua is made with rum, sugar, and arabica coffee. The three of these ingredients individually are gluten-free, making this a liqueur safe to drink on a gluten-free diet.
Their different flavors will have other ingredients in addition to these three main ingredients.
What is gluten?
Gluten is a protein found in most wheat products, and acts as the "glue" that helps to hold wheat, barley, kamut, spelt, farro, durum, bulgur, rye, and semolina together to maintain their shape.
Gluten is naturally occurring, and therefore is impossible to strip away from the grain. If a grain naturally has gluten in it, there's no way to make that food gluten-free.
Gluten can be found in alcohol in barley malt, flavorings, or colorings, which is why we have to be careful about which drinks we choose.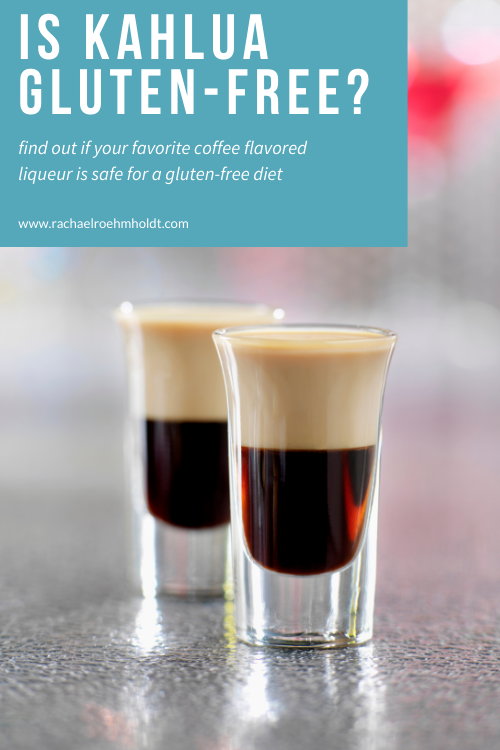 Is Kahlua gluten-free?
According to Kahlua's website, there are no gluten-containing ingredients in their product. It is generally accepted as safe for a gluten-free diet.
Here is their gluten statement from their website:
"The processes of distillation should eliminate cereal proteins from distilled spirits drinks and therefore distilled drinks are generally accepted for a gluten-free diet.
We do not add any known gluten ingredients in Kahlúa Original or the Kahlúa Flavors. Please note however, that we cannot offer specific advice, and recommend that you discuss these matters with your medical or dietetic advisors."
Kahlua is considered gluten-free even without a gluten-free label. Do what you feel is right for your body based on this information from the Kahlua brand.
Read on: Which liqueurs are gluten-free?
Read on: Which alcohol is gluten-free? The ultimate guide
Kahlua Varieties and Flavors
The Kahlua brand states that there are no gluten-containing ingredients in their products, making them generally considered safe for a gluten-free diet.
Since they do not test for gluten and gluten-free labels are not required for alcohol, you'll want to proceed with caution, doing what you feel is right for your body.
It's possible that there is gluten, especially since the Kahlua brand doesn't make such claims about gluten not being present.
Here are the varieties and flavors that you may consider gluten-free, because they have no gluten-containing ingredients, but no specific claims to being gluten-free.
Kahlua Original
Blonde Roast Style
Chili Chocolate
Especial Coffee
Espresso Style Martini Ready to Drink
Midnight
Mint Mocha
Nitro Cold Brew Ready to Drink
Pumpkin Spice
Salted Caramel
Vanilla Liqueur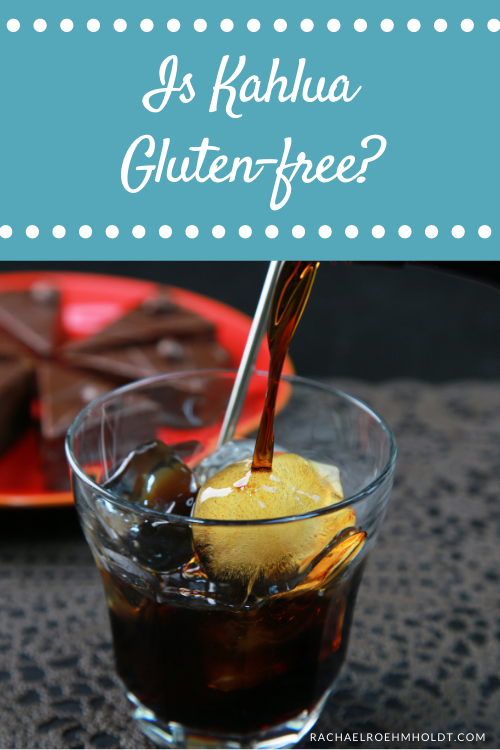 Is Kahlua dairy-free? Does Kahlua have dairy?
The Kahula website states that Kahlua is lactose-free, but not acceptable for vegans. Here is their official statement in response to the question "does Kahlua contain dairy (milk or cream)?"
"No, Kahlúa Original does not contain milk, cream or any milk derived ingredients.
Kahlúa Espresso Martini RTD's and Kahlúa Nitro Cold Brew RTD's also do not contain milk or cream.
Please note, these products are lactose free, but not acceptable for a vegan diet.
However, Kahlúa Mudslide RTD, White Russian RTD, Vanilla White Russian RTD, and Kahlua with Milk RTD do contain milk and/or milk proteins."
From my research, I found that this is the case because the way the sugar is processed is not in alignment with vegan values. This doesn't mean that there is dairy in the product.
Kahlua Original and Kahlua Flavors are safe for a dairy-free diet, however their ready-to-drink options contain milk and/or milk proteins, so these should be avoided.
Other Gluten-free Coffee Flavored Liquors and Liqueurs
If you love Kahlua and are looking for other brands of coffee flavored liqueurs to try, you might consider one of these different brands and options.
Allen's Coffee Brandy
Cafe Rica
Hiram Walker Aztec Coffee Liqueur
Jagermeister Cold Brew Coffee
Kavalan Distillery Sweet Coffee Liqueur
Kamora Coffee Liqueur
Licor de Cafe
Midnight Espresso Liqueurs
Mr Black Cold Brew Coffee Liqueur
Patron XO Cafe
Sombai Liqueur Anise & Coffee
Flor de Cana
Richardo's Decaf Coffee Liqueur
St George Nola Coffee Liqueur
Tia Maria Liqueur
Toussaint Coffee Liqueur
If you enjoy coffee liqueur and Kahlua, know that this is generally considered a safe liqueur to enjoy on a gluten-free diet. Kahlua is both gluten-free and dairy-free, though they don't make specific claims about either.
f you loved this post, I hope that you'll share it with your friends on Facebook and pin it for future reference on Pinterest.
Love this post? Check out more from the Gluten-free Alcohol Series.
Wondering which alcohol is safe for a gluten-free diet? Find out in the Gluten-free Alcohol series!