Find out what Crispix cereal is, what ingredients are used, and if this cereal is safe for folks on a gluten-free diet.
Note: I am a proud Amazon, Chomps, MunkPack, and Thrive Market affiliate and am happy to recommend their service and products to you. Please know that as an affiliate, I may receive a small commission on the products you purchase after clicking through my links. For more info, please see my disclosure policy here.
If you love a bowl of cereal in the morning, you may have a few favorite brands. Crispix is a popular brand of cereal that's been around since 1983.
Whether you grew up eating this brand of cereal or just enjoy the sweet crunchy cereal more than others, you may have wondered if this cereal is a good option for you if you're just getting started with a gluten-free diet.
Being that cereals are a processed food, folks on a gluten-free diet need to be careful about which brands they choose. Finding a cereal without gluten ingredients, as well as cereals that aren't exposed to gluten during manufacturing can be a little tricky.
That's why we're diving deep into some of the most popular brands of cereal to get answers about whether or not we should keep them in our regular morning rotation.
In this post, find out what Crispix cereal is, what ingredients are used in this cereal, what gluten is and where it hides in cereal, and find out once and for all if this cereal is safe for folks who are trying to follow a gluten-free diet.
Let's talk about Crispix!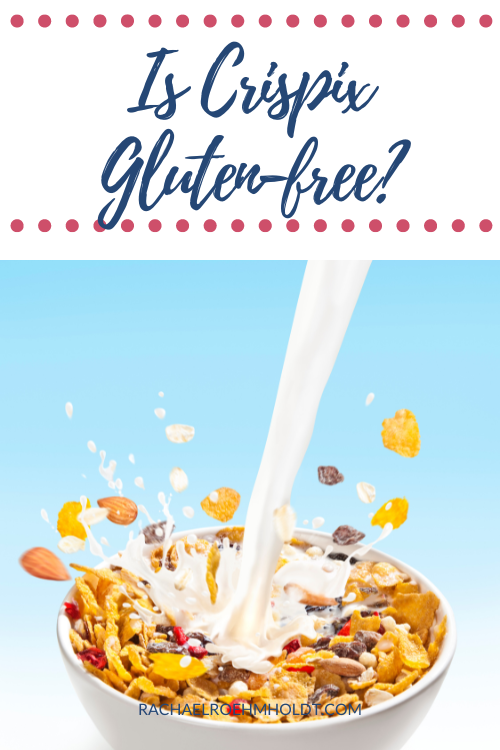 What is Crispix cereal?
You may have seen this popular cereal on store shelves. It comes in a blue box with big white letters. Crispix cereal is branded with the marketing tagline "Crispy rice on one side. Crunchy corn on the other."
Crispix cereal is a brand of corn and rice cereal. It is a unique cereal in that one side has corn and the other is made of rice. This cereal is made in a hexagonal shape.
This cereal is made by the Kellogg's brand, the same manufacturer as Corn Flakes, Rice Krispies, and Special K cereals.
Ingredients in Crispix
According to the Crispix website, these are the ingredients you can expect to find in Kellogg's Crispix:
"Rice, milled corn, sugar, contains 2% or less of salt, molasses, brown rice syrup, baking soda, turmeric extract color.Vitamins and Minerals: Iron (ferric phosphate), niacinamide, vitamin B6 (pyridoxine hydrochloride), vitamin B2 (riboflavin), vitamin B1 (thiamin hydrochloride), folic acid, vitamin D3, vitamin B12. "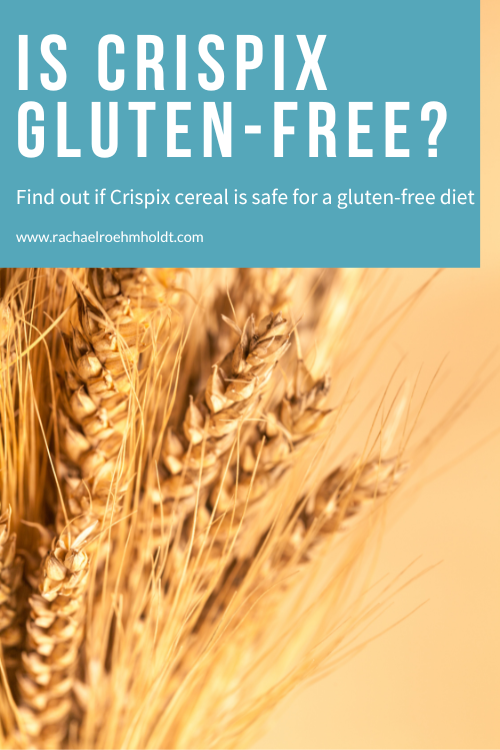 What is gluten?
Gluten is a protein found in most wheat products, and acts as the "glue" that helps to hold wheat, barley, kamut, spelt, farro, durum, bulgur, rye, and semolina together to maintain their shape.
Gluten is naturally occurring, and therefore is impossible to strip away from the grain. If a grain naturally has gluten in it, there's no way to make that food gluten-free.
Gluten or other wheat derivatives are sometimes added to foods as a flavoring or binder. Barley and malt derivatives are common ingredients in many cereal options.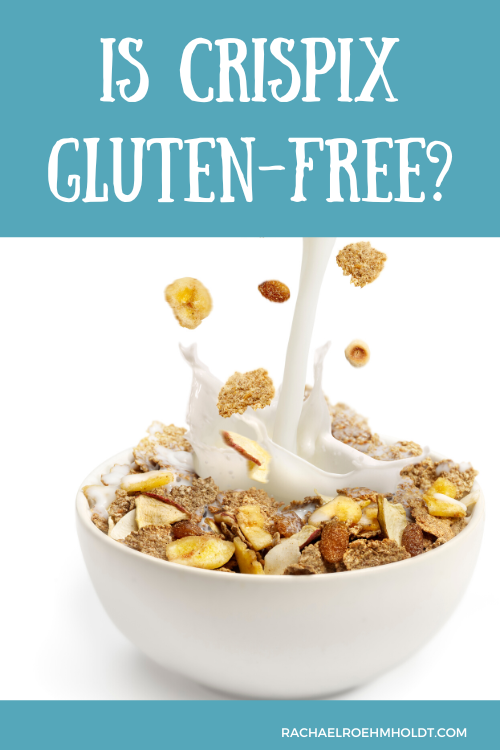 Is Crispix gluten-free?
Crispix used to contain barley malt as a main ingredient in their cereal. They do not use this ingredient any longer, but the brand also doesn't have a gluten-free label on their packaging.
While there is conflicting information online through different website, going straight to the source, Kellogg's makes this statement regarding whether or not there is gluten in Crispix:
"Corn Flakes, Rice Krispies, Cocoa Krispies, Crispix, and Frosted Flakes are wheat free but are not labeled gluten free because they contain malt which comes from barley and may contain gluten."
Even without malt in the most recent ingredient list for Crispix, the history for Kellogg's is that they don't have gluten-free cereals. Either their cereals contain gluten ingredients or they are made on shared equipment resulting in cross contact with gluten during manufacturing.
If you're trying to stick with a gluten-free diet, be sure to keep this in mind when choosing a cereal. Opt for another corn or rice cereal that does offer a gluten-free label on their packaging, like Chex.
Read on: Is Chex cereal gluten-free?
Read on: Gluten-free cereal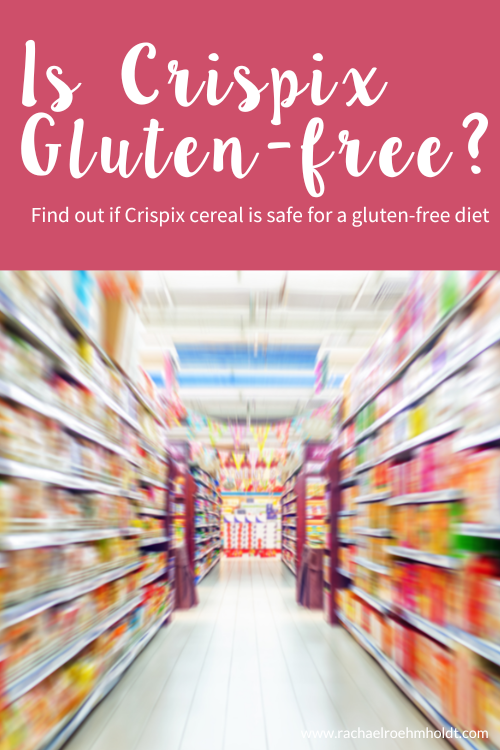 Is Crispix dairy-free?
Crispix cereal does not contain any dairy ingredients, and therefore should be considered safe for folks to enjoy on a dairy-free diet.
If you're following a gluten-free diet and curious if this cereal will fit into your morning routine, I hope this post has helped you find the information you're looking for.
Crispix cereal doesn't have any gluten ingredients, but it's fairly safe to say it's not completely safe for folks who are on a gluten-free diet.
If you loved this post, I hope that you'll share it with your friends on Facebook and pin it for future reference on Pinterest.
Love this post? Be sure to check out some of my other great breakfast posts!
Not sure what to make for breakfast on a gluten and dairy-free diet? These posts will give you loads of ideas!