Is cornbread gluten-free? Find out what cornbread is made of, and if it's gluten-free or dairy-free. Plus get a list of gluten-free cornbread mixes to shop for at the store.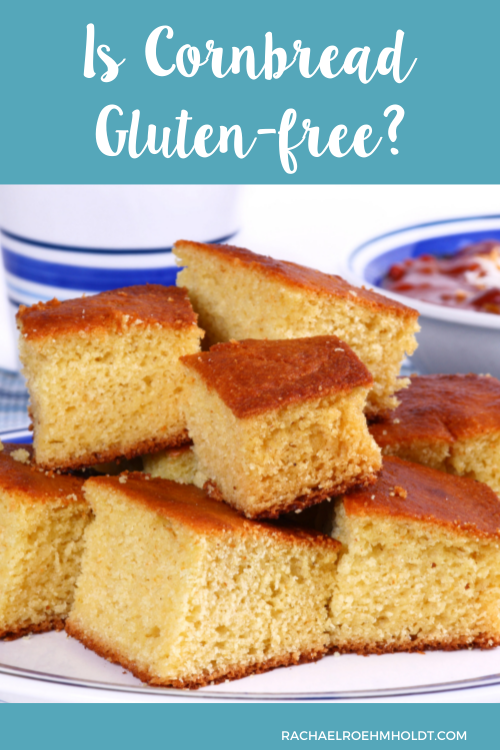 Note: I am a proud Amazon, Chomps, MunkPack, and Thrive Market affiliate and am happy to recommend their service and products to you. Please know that as an affiliate, I may receive a small commission on the products you purchase after clicking through my links. For more info, please see my disclosure policy here.
If you love eating a big slice of cornbread with your favorite barbecue food or bowl of chili, you aren't alone! Cornbread is a delicious and easy side dish to make that helps round out a number of meals.
This sweet bread is often made in cast iron skillets, but can also be made in a loaf pan, glass baking dish, or even in muffin cups (my favorite way to make it).
If you follow a gluten-free diet, you know that it's important to review each and every food that goes into your body. Looking at ingredients of all our favorite foods is a good starting point for getting started with a gluten-free diet, so we know how to make substitutions and find new ways to enjoy them.
In this post, we're going to talk all about cornbread and how it fits in with a gluten-free diet. We'll also talk about what cornbread is made of, if it's dairy-free, and wrap the post up with some gluten-free cornbread mix options you can buy at the store.
What is cornbread?
Cornbread is a corn-based bread that's often served as a side dish to chili, stew, soup, or barbecue food. It has a sweet flavor and is often served with butter and sometimes honey.
What is cornbread made of?
Traditional cornbread is a mix of cornmeal, all-purpose flour, butter, milk, and eggs. Cornbread is made like other quickbreads in that all the ingredients are mixed together at once, then baked. There is no need for yeast or waiting for proofing and rising in order to make cornbread.
What is gluten?
Gluten is a protein found in most wheat products, and acts as the "glue" that helps to hold wheat, barley, kamut, spelt, farro, durum, bulgur, rye, and semolina together to maintain their shape.
Gluten is naturally occurring, and therefore is impossible to strip away from the grain. If a grain naturally has gluten in it, there's no way to make that food gluten-free.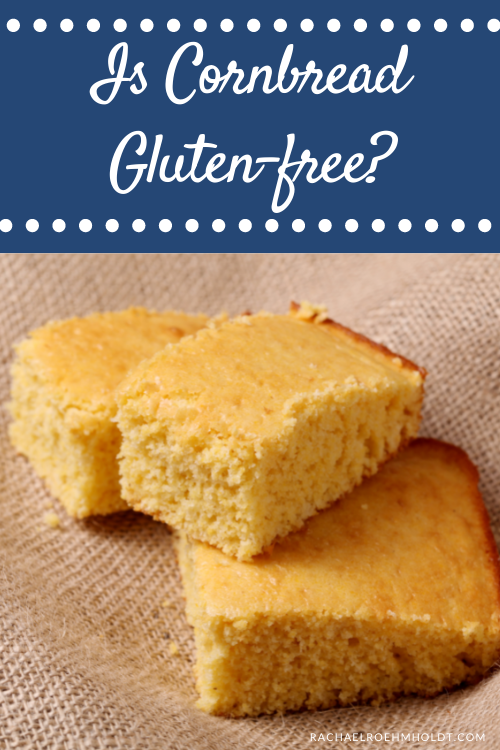 Is cornmeal gluten-free? Is corn flour gluten-free?
Cornmeal and corn flour are naturally gluten-free. However, since corn is a grain that often gets manufactured on the same lines as other gluten-containing grains, there is a chance for cross contamination with corn products.
It's best to look for a cornmeal brand that is committed to minimizing the risk of gluten contamination by using facilities and machinery that is only used for corn products and not other gluten grains.
You will know if cornmeal is gluten-free at the store by looking for a package with a gluten-free label. Bob's Red Mill offers a gluten-free cornmeal option and it is processed in a dedicated gluten-free facility.
Read on: Is cornmeal gluten-free?
Read on: Is corn flour gluten-free?
Is cornbread gluten-free?
Cornbread is traditionally not gluten-free as it contains all-purpose flour or wheat flour. However, the easiest way to make it gluten-free is to substitute the all-purpose flour for a gluten-free flour blend that works as a "measure for measure" option.
Get my gluten-free cornbread recipe that's also dairy-free here!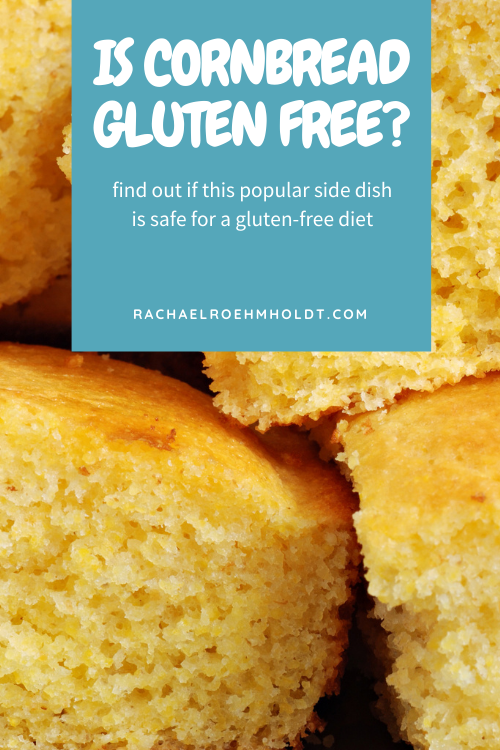 Is cornbread dairy-free?
Traditional cornbread recipes call for butter and milk, meaning it's generally not a dairy-free food. If you make your own cornbread at home, you can easily make it dairy-free by swapping out the milk for a dairy-free milk and the butter for a vegan butter brand.
Read on: Does bread have dairy?
Gluten-free cornbread mix brands
If you're looking for a cornbread mix to bake at home instead of making it from scratch, try one of these great gluten-free options.
I've marked the options that are also dairy-free with an asterisk(*). The mixes themselves are dairy-free, however the directions to bake them may not be. You can use dairy-free replacements, like vegan butter or oil, and dairy-free milk to make them work for your dairy-free diet.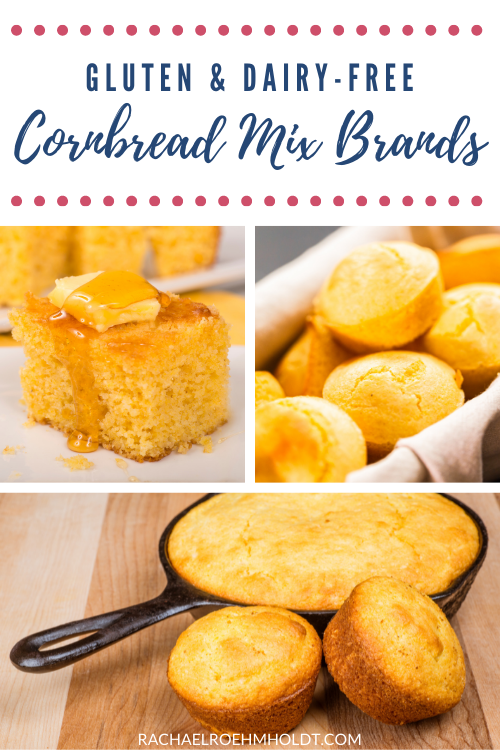 Are my favorite brands of cornbread mix gluten-free?
If you have a favorite brand of cornbread mix from the store that you've been wondering if it's gluten-free, I've done some research to answer this exact question about a few popular brands here.
Is Bob's Red Mill cornbread gluten-free?
Bob's Red Mill makes a cornbread mix that has gluten and another option that is gluten-free. Their Stone Ground Cornbread & Muffin Mix contains wheat flour, making it not a good option for a gluten-free diet.
They also carry a Gluten-free Cornbread Mix that has no gluten ingredients and is certified as gluten-free. This company makes their gluten-free products in a desiccated gluten-free facility too.
Is Jiffy cornbread gluten-free?
JIffy mix brand of cornbread contains wheat flour making this not a good choice for a gluten-free diet. Their website confirms that they do not support the manufacture of gluten-free mixes.
Read on: Is Jiffy cornbread gluten-free?
Is Krusteaz cornbread gluten-free?
The Krusteaz brand makes cornbread both for folks who can eat gluten and those on a gluten-free diet. If you're following a gluten-free diet, look for their Gluten-free Honey Cornbread. If you can tolerate gluten, look for their Southern Cornbread & Muffin MIx or Honey Cornbread & Muffin Mix.
I hope if you love cornbread and are looking for ways to continue to enjoy this food on a gluten-free diet that this post has helped you get the answers you're looking for. Cornbread is a versatile and delicious side dish that doesn't have to be avoided on a gluten-free diet, you just need to make sure your ingredients are gluten-free!
f you loved this post, I hope that you'll share it with your friends on Facebook and pin it for future reference on Pinterest.
Love this post? You might also want to check out these!
Find out if your favorite foods and ingredients contain gluten with these posts!