Find out if Jiffy cornbread is safe for a gluten-free diet, plus which products this brand makes, and if cornbread is gluten-free.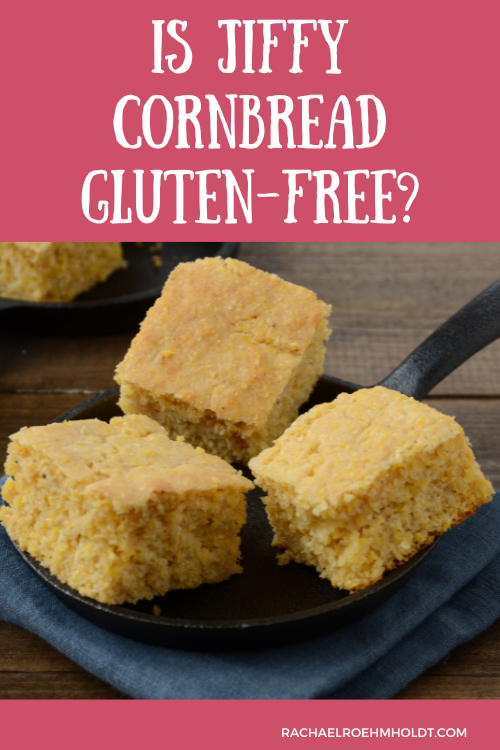 Note: I am a proud Amazon, Chomps, MunkPack, and Thrive Market affiliate and am happy to recommend their service and products to you. Please know that as an affiliate, I may receive a small commission on the products you purchase after clicking through my links. For more info, please see my disclosure policy here.
If you love to make cornbread to go alongside chili, stew, or soup, you may have looked for shortcuts to make this quickly and easily.
Dry mixes are a great option when you can buy all the ingredients pre-assembled and all you need to do is add eggs, milk, water, or oil.
Without having to measure dry ingredients, you save quite a bit of time in the kitchen and can have cornbread ready for dinner – dare I say – in a jiffy.
You may have come across Jiffy cornbread mix at the store or have enjoyed this quick fix option when you make cornbread for your family.
But you may have wondered if this product is safe for a gluten-free diet. Does Jiffy cornbread mix have gluten or wheat? Find out in this post what Jiffy is, what it's made of, what products this brand manufactures, and if Jiffy cornbread is safe for a gluten-free diet.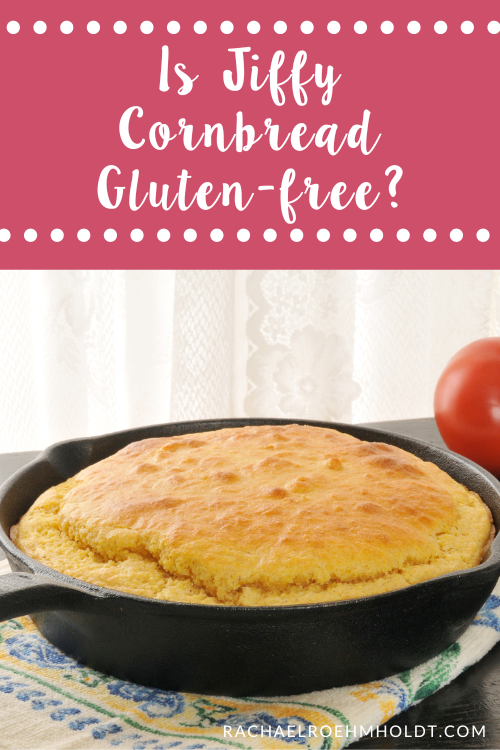 What is Jiffy?
Jiffy is a name brand of baking mixes. They come in small boxes with about six muffin-sized servings in all their muffin boxes.
They make muffin mixes, corn muffin mix, pie crust, brownies, pizza crust, cake mix, biscuit mix, pancake mix, and baking mixes.
Buying a Jiffy mix is a great way to buy dry ingredients for many popular baked goods already premixed at the grocery store. You can simply add wet ingredients like oil, milk, water, and eggs to create a variety of different baked goods at home.
What is Jiffy Cornbread?
Jiffy Cornbread or Jiffy Corn Muffins are a dry mix you can buy at the grocery store with ingredients to make corn muffins or cornbread, depending on what pan you prepare it in.
This mix has the dry ingredients for cornbread and you only need to add one egg and ⅓ cup of milk to make up six muffins.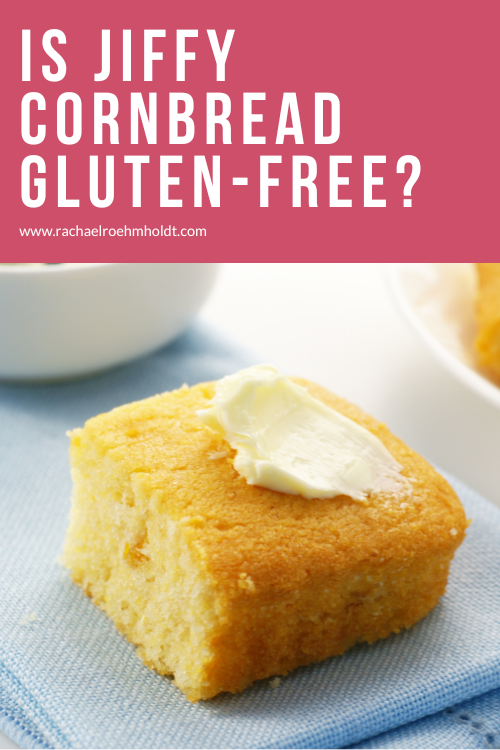 What flavors and varieties does Jiffy come in?
Jiffy mixes come in a variety of flavors that you can whip up with just a couple wet ingredients. Here is the current lineup of products that Jiffy offers:
Corn Muffin Mix
Honey Corn Muffin Mix
Vegetarian Corn Muffin Mix
Apple Cinnamon Muffin Mix
Banana Muffin Mix
Blueberry Muffin Mix
Raspberry Muffin Mix
Golden Yellow Cake Mix
Fudge Brownie Mix
Pie Crust Mix
Pizza Crust Mix
Buttermilk Biscuit Mix
Baking Mix
Buttermilk Pancake & Waffle Mix
What are the ingredients in Jiffy Cornbread mix?
On the packaging of Jiffy Cornbread mix, you'll find the following ingredients:
Wheat flour, degerminated yellow corn meal, sugar, lard (hydrogenated lard, "bht and citric acid preservatives), contains less than 2% of: baking soda, tricalcium phosphate, sodium acid pyrophosphate, monocalcium phosphate, salt, niacin, reduced iron, thiamine mononitrate, riboflavin, folic acid, wheat starch."
There's also a "contains: what" note after the ingredients list.
Read on: Is cornmeal gluten-free?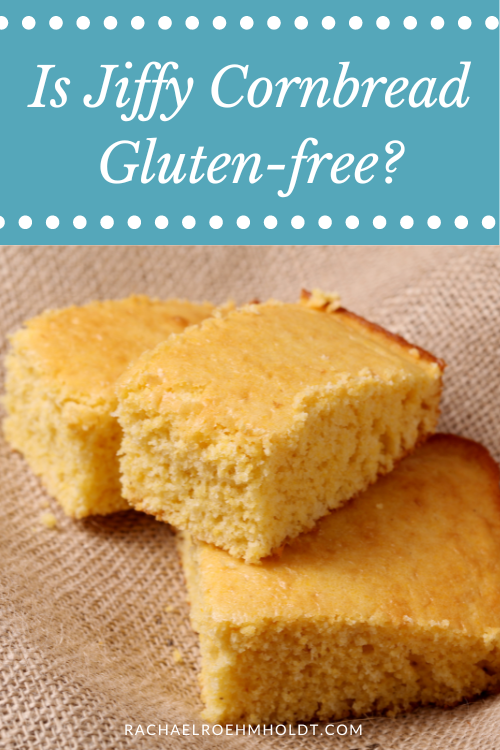 Is cornbread gluten-free?
Cornbread is traditionally not gluten-free as it contains all-purpose flour or wheat flour.
However, the easiest way to make it gluten-free is to substitute the all-purpose flour for a gluten-free flour blend that works as a "measure for measure" option.
Read on: Is cornbread gluten-free?
Is Jiffy Cornbread gluten-free?
Jiffy Cornbread is not considered gluten-free, because it contains wheat flour. There's also a "contains: wheat" note after the ingredients list making it clear that gluten is present in this brand of cornbread mix.
In addition to this, the Jiffy website has on their FAQ section the answer to this question:
"No. Our current facility does not support the manufacture of gluten-free mixes."
Which Jiffy products are gluten-free?
Since all Jiffy mixes contain wheat flour, none of them are considered gluten-free. You'll want to look for another baking mix for cornbread, muffins, cakes, etc with a gluten-free label clearly printed on the package to ensure that it works for your diet.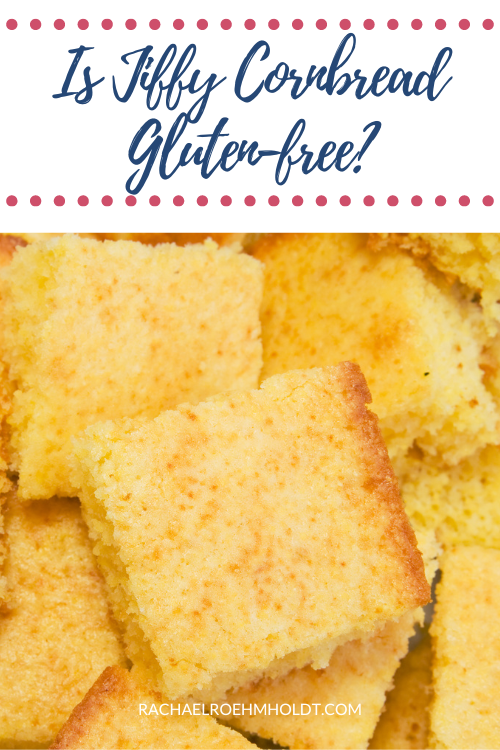 Gluten-free cornbread options
If you are interested in making your own cornbread at home, it doesn't require too many ingredients at all. Use this recipe for a gluten-free cornbread or corn muffin option that's also dairy-free.
Though none of the Jiffy mix options are gluten-free, you can find gluten-free cornbread mix from Bob's Red Mill, Cup4Cup, King Arthur, and Pamela's brands.
If you enjoy making cornbread to go with all your favorite barbecue, chili, or hearty stew and soups in the cooler fall and winter months, I hope that you've found the information you're looking for about Jiffy cornbread.
While the Jiffy brand of cornbread isn't gluten-free, there are plenty of other brands to look for that do offer gluten-free options.
f you loved this post, I hope that you'll share it with your friends on Facebook and pin it for future reference on Pinterest.
Love this post? You might also want to check out these!
Find out if your favorite foods and ingredients contain gluten with these posts!