Find out if amaretto is gluten-free, if it's safe for a gluten-free diet, if your favorites- like Disaronno- are gluten-free, and what brands to look for at the store.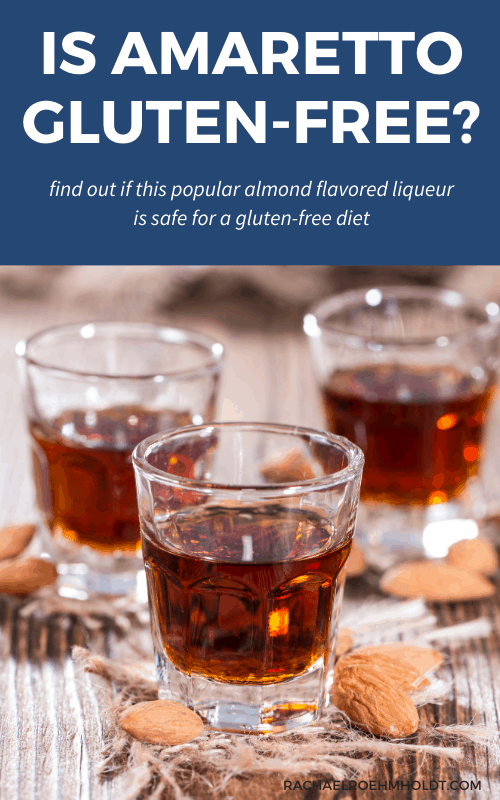 Note: I am a proud Amazon, Chomps, MunkPack, and Thrive Market affiliate and am happy to recommend their service and products to you. Please know that as an affiliate, I may receive a small commission on the products you purchase after clicking through my links. For more info, please see my disclosure policy here.
If you enjoy a drink with friends or a nightcap in the evening, you might be wondering what types of alcohol are gluten-free.
Some types of alcohol contain gluten, so you'll want to be sure that each and every time you buy a brand or type of alcohol, that it's safe for you and your diet.
This post is dedicated to one of my favorite liqueurs, amaretto. We're going to dive into the details of this drink, and answer the question "is amaretto gluten-free?"
This is part of the Gluten-free Alcohol Series, where we're going to discuss different types of alcoholic drinks and how they fit into a gluten-free diet.
Amaretto is an almond tasting liqueur that is sweet with a slightly bitter nutty flavor. It is often used in cocktails to add a depth of flavor and make liquors more palatable and sippable.
You can also drink amaretto plain or with lemon on the rocks, however it can be thick and almost syrup-like in texture, so you'd want to find a brand that is less syrupy and easier to drink.
Read on: Which liqueurs are gluten-free?
What is amaretto made from?
Amaretto is made from apricot kernels, peach stones, or almonds. Depending on the brand, the amaretto can be made from one or just one of these main ingredients.
Each of these bitter-tasting ingredients produce a flavor that's similar to almonds from the benzaldehyde that's in them.
Although the drink tastes like almonds, this ingredient may or may not be found in the drink itself. This liqueur may also contain spices or flavorings to give each brand a unique taste.
What is gluten?
Gluten is a protein found in most wheat products, and acts as the "glue" that helps to hold wheat, barley, kamut, spelt, farro, durum, bulgur, rye, and semolina together to maintain their shape.
Gluten is naturally occurring, and therefore is impossible to strip away from the grain. If a grain naturally has gluten in it, there's no way to make that food gluten-free.
Gluten can be found in alcohol in barley malt, flavorings, or colorings, which is why we have to be careful about which drinks we choose.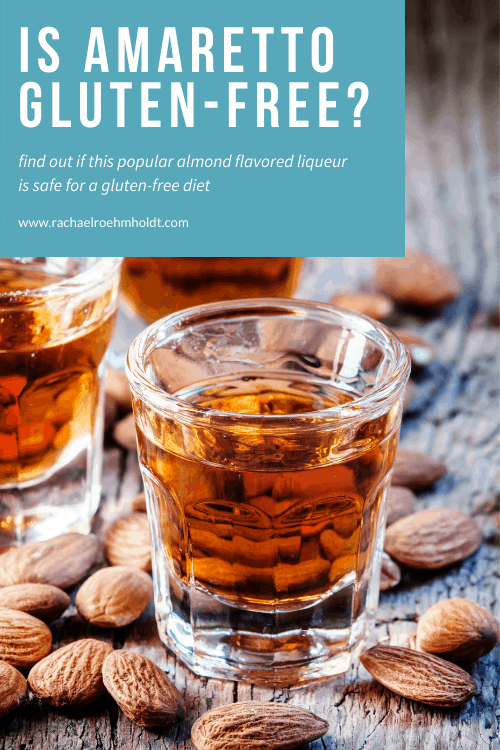 Is amaretto gluten-free?
Amaretto is generally considered to be gluten-free and safe for a gluten-free diet, because the alcohol used is distilled and apricot kernels, peach stones, and almonds are all gluten-free.
Amaretto could potentially contain gluten from any spices or flavorings added, or from caramel color. It could also contain gluten from cross contamination from when it is manufactured.
In general, I wouldn't trust just any brand I found at the store, but would know which ones are considered gluten-free and stick to those.
Most folks who have gluten intolerance or Celiac disease can tolerate amaretto without any issues.
Read on: What alcohol is gluten-free?
What brands of amaretto are gluten-free?
There are a number of brands that sell amaretto. These are the ones I was able to confirm are gluten-free and okay for a gluten-free diet.
Disaronno
Hiram Walker Amaretto
Ciroc Amaretto
Unfortunately, it is difficult to find detailed information about the presence of gluten in liqueurs, as manufacturers are not required to share their recipes or ingredients.
These are more amaretto brands, however I was not able to find out any gluten information about them.
Amaretto Adriatico
Amaretto di Amore
Bols Amaretto
Caffo Amaretto
De Kuyper Amaretto Liqueur
E Dolce Amaretto
Gabriel Boudier Amaretto
Giffard Amaretto
Gozio Amaretto Liqueur
Luxardo Amaretto di Saschira Liqueur
Lazzaroni Amaretto
Saliza Amaretto Veneziano
Strega Amaretto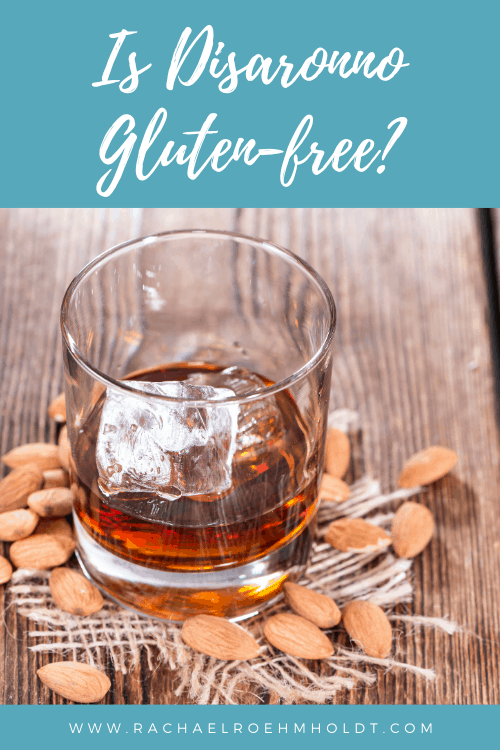 Is DiSaronno gluten-free?
Yes, DiSaronno, an almond flavored liqueur, is gluten-free and safe for a gluten-free diet. It is surprisingly also safe for a nut-free diet as it doesn't contain any nuts at all.
If you love amaretto, you can feel safe about enjoying at least a few brands of this delicious liqueur on your gluten-free diet. Stick with some of these well-known brands to be sure you don't come across gluten accidentally while enjoying a cocktail.
If you loved this post, I hope that you'll share it with your friends on Facebook and pin it for future reference on Pinterest.
Love this post? Check out more from the Gluten-free Alcohol Series.
Wondering which alcohol is safe for a gluten-free diet? Find out in the Gluten-free Alcohol series!