Find out if Absolut Vodka is gluten-free, what it's made from, and what flavors and products are safe for a gluten-free diet.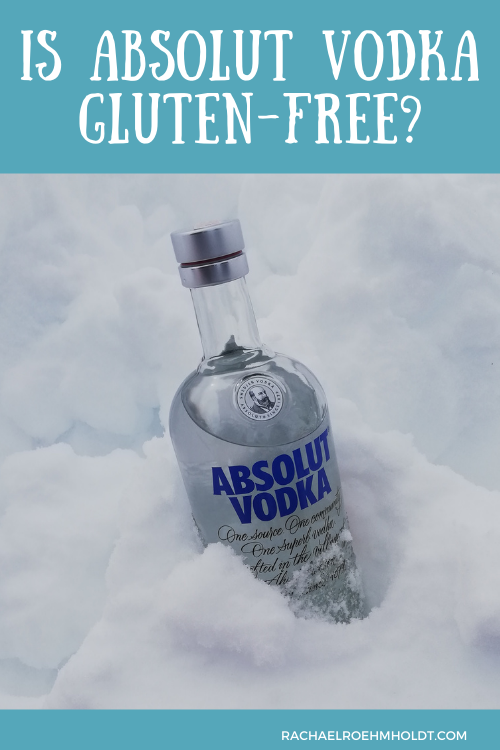 Note: I am a proud Amazon, Chomps, MunkPack, and Thrive Market affiliate and am happy to recommend their service and products to you. Please know that as an affiliate, I may receive a small commission on the products you purchase after clicking through my links. For more info, please see my disclosure policy here.
Do you enjoy Absolut vodka in your favorite martinis, mixed drinks, or other cocktails? If you are just getting started with a gluten-free diet, you may be wondering how this brand of vodka can fit into your life.
Will you have to give up all vodka if you avoid gluten? Which types of Absolut Vodka are safe for a gluten-free diet? Which varieties should you watch out for?
In this post, we're going to learn more about Absolut Vodka and their products and answer the question you're here for: "Is Absolut Vodka gluten-free?" Learn what this brand of vodka is made from, and when you need to be cautious about gluten showing up in your favorite drinks.
Let's talk Absolut!
This post is part of the Gluten-free Alcohol Series, where we're going to discuss different types of alcoholic drinks and how they fit into a gluten-free diet.
What is Absolut Vodka?
Absolut vodka is a brand of vodka that is popular in the U.S. for drinking straight, adding to cocktails, and all kinds of mixed drinks.
This brand is produced in Sweden and is one of the largest brands of spirits in the world, according to Wikipedia.
Absolut makes a variety of products including their pure vodka, flavored vodkas, and Absolut Juice. They also have two ready-to-drink lines, including their Absolut cocktails and Absolut Vodka Soda.
Here is a current list of Absolut vodkas:
Absolut Vodka
Absolut Watermelon
Absolut Grapefruit
Absolut Lime
Absolut Citron
Absolut Mandrin
Absolut Elyx
Absolut Raspberri
Absolut Vanilia
Absolut Apeach
Absolut Kurant
Absolut Peppar
Absolut Pears
Absolut Mango
Absolut Berri Acai
Absolut Rainbow
Absolut Juice Strawberry
Absolut Juice Apple
Absolut Juice Pear and Elderflower
Absolut also offers ready to drink options in their Cocktail line and Vodka Soda line.
Absolut Mango Mule Cocktail
Absolut Grapefruit Paloma Cocktail
Absolut Berry Vodkarita Cocktail
Absolut Vodka Soda Lime & Cucumber
Absolut Vodka Soda Raspberry & Lemongrass
Absolut Vodka Soda Grapefruit & Raspberry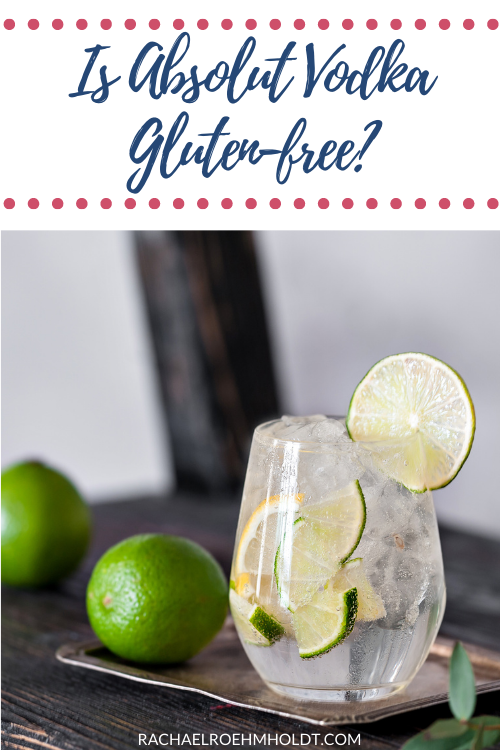 What is vodka made from?
Vodka can be made from many different ingredients, including cereal grains, sugar beet molasses, and potatoes. Most of the vodka we are familiar with and is made today is made using potatoes. (Source)
According to Difford's Guide for Discerning Drinkers, the ingredients that are used to make vodka can create different nuanced flavors in the vodka itself.
For example, vodka made from wheat may have a subtle anise seed, pepper, and lemon zest flavor. Vodka made from potatoes may have a creamy texture and vegetable notes. Absolut vodka is made from wheat.
Is vodka gluten-free?
Even though vodka can be made with wheat, it doesn't mean that this liquor contains gluten. It may surprise you, but it's well accepted that any gluten proteins that are found in the wheat are completely removed from the final product during the distillation process.
The drinks you'll want to be careful about are those that aren't the pure distilled vodkas and liquors. Any vodka that has been flavored after distillation may contain gluten from the added flavorings.
It's always your best bet to choose pure vodka over flavored varieties unless the brand gives a clear indication that their product is in fact gluten-free and they have confirmed this fact.
Read on: Gluten-free vodka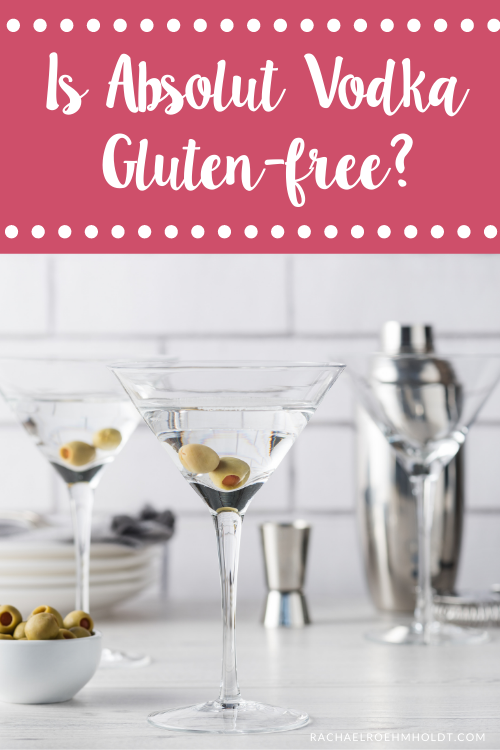 Is Absolut Vodka gluten-free?
Absolut vodka is made from winter wheat. Since the alcohol is distilled, their pure vodka a gluten-free liquor you can enjoy on a gluten-free diet.
Like any other vodka brand, you'll want to be aware of their flavored varieties and products that some of them may have traces of gluten. 
The Absolut brand has a statement about gluten in their products, which gives us helpful insight into what they know about their flavored vodkas.
"For our flavored vodkas (e.g. Absolut Citron) it is impossible for us to fully guarantee that flavored ingredients haven't come in contact with any trace of allergens during the suppliers' production processes.
HOWEVER…
We DO require ALLERGEN-FREE documentation (based on Regulation (EU) 1169/2011) from all flavor suppliers. We DO NOT use any flavors where ALLERGENS (e.g. wheat) are declared. Based on this supplier information, our VODKAS ARE ALLERGEN FREE."
To summarize, Absolut says their flavored vodkas should be gluten-free, but there's no way for them to know for sure.
Is Absolut Citron gluten-free?
Absolut Citron is not guaranteed to be gluten-free as the Absolut brand does its best to ensure there are no allergens in the flavorings added to their vodka. However, they can not say for certain whether this flavor is gluten-free.
Is Absolut Pear vodka gluten-free?
Absolut Pear may or may not be gluten-free. This is because Absolut cannot determine that the flavorings that they use from other suppliers do not have any trace amounts of gluten.
Use your best judgement on using a flavored vodka from this brand based on what you know about your body and level of sensitivity to gluten.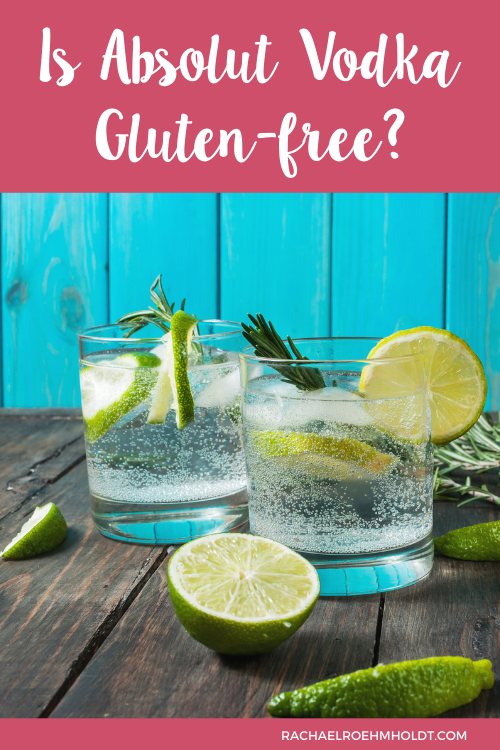 Are Absolut Cocktails gluten-free?
Absolut has three flavors of cocktails that are canned and ready to drink: Mango Mule, Grapefruit Paloma, and Berry Vodkarita.
Absolut doesn't make any statements about gluten being in their ready to drink products, so without more information, I'd likely want to steer clear of these products on a gluten-free diet.
Are Absolut Vodka Sodas gluten-free?
Absolut has a line of Vodka Sodas that come in three flavors: Lime & Cucumber, Raspberry & Lemongrass, and Grapefruit & Rosemary.
The Absolut brand doesn't make any gluten statements about their vodka soda line, so without knowing more, I'd steer clear of this product if you're trying to avoid gluten.
If you're a fan of Absolut vodka, I hope this post has helped you get the information you've been looking for to decide if you want to keep it in your gluten-free diet or not. Remember that pure distilled vodka is gluten-free, but to be cautious of any flavored varieties.
If you loved this post, I hope that you'll share it with your friends on Facebook and pin it for future reference on Pinterest.
Love this post? Check out more from the Gluten-free Alcohol Series.
Wondering which alcohol is safe for a gluten-free diet? Find out in the Gluten-free Alcohol series!