Find out if whole grain oats are safe for a gluten-free diet and get a list of gluten-free whole grain oats brands to buy.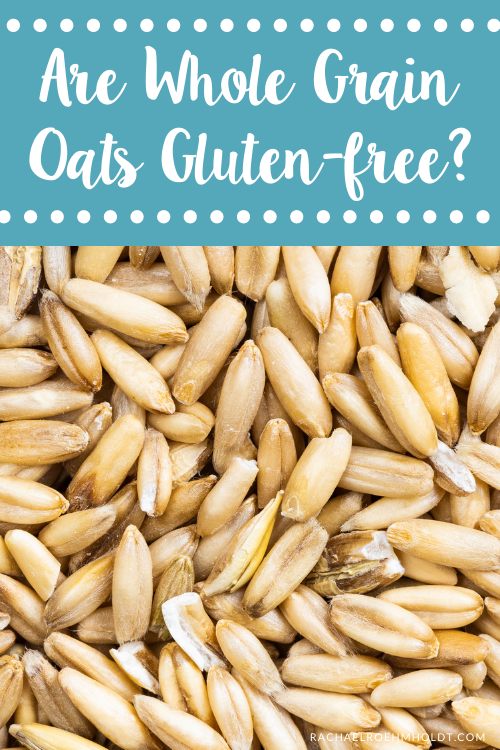 Note: I am a proud Amazon, Chomps, MunkPack, and Thrive Market affiliate and am happy to recommend their service and products to you. Please know that as an affiliate, I may receive a small commission on the products you purchase after clicking through my links. For more info, please see my disclosure policy here.
If you love a big bowl of oatmeal in the mornings and enjoy making it low and slow, you're probably no stranger to whole grain oats for breakfast. These types of oats are full of nutritional value and are a great option for getting extra fiber and protein first thing in the morning in your diet.
If you're getting started with a gluten-free diet or have been trying to switch up your breakfast routine for something a little less processed, you may have been wondering how whole grain oats will fit into your diet.
In this post, we're going to talk about this one particular type of oats and get your questions answered to help you make the best decision for you and your breakfast morning routine.
Find out what whole grain oats are, the difference between these and rolled oats, and get the answer to the question "are whole grain oats gluten-free?"
We'll wrap this post up with a list of gluten-free whole grain oat or oat groat brands to help you make shopping for this ingredient even easier next time you're at the store or looking for this ingredient online.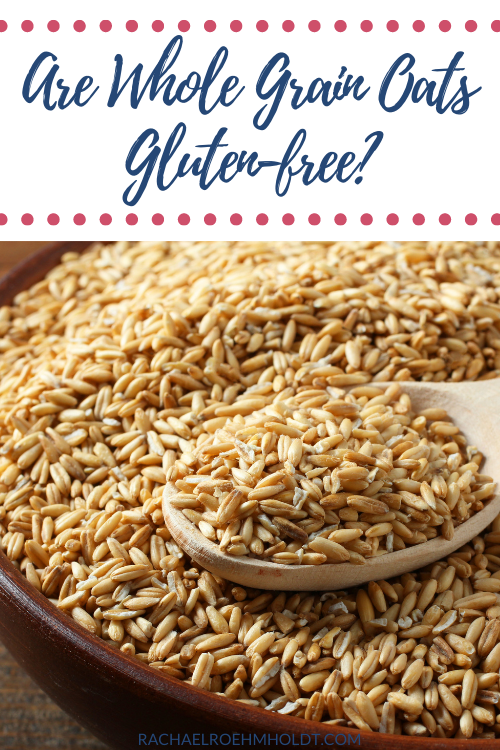 What are whole grain oats?
Whole grain oats are a type of oat that have not been modified, refined, or ground to a smaller side. This whole grain has all the parts any grain needs to be considered "whole," including the bran, endosperm, and germ of each oat grain.
Each of these different parts of a whole grain are important to one's health. The bran provides fiber, the endosperm gives carbohydrates, and the germ has all the vitamins, minerals, and protein you need from a grain.
When oat grains or oat groats are broken down, the nutritional value of that grain is diminished, but whole grain oats has the most nutrients than all other types of oats and oatmeal.
Whole grain oats are used mostly as oatmeal and porridge as it takes a while to cook this type of grain down due to the hard bran shell of the oats. You can expect whole grain oats to cook for about 30 minutes until they are tender enough to eat.
Are rolled oats and whole grain oats the same?
Rolled oats and whole grain oats come from the same oat grain.
Whole grain oats are the healthiest form of oats as they have the least amount of processing. They may take longer to cook than other types of oats, but they also have the most fiber and protein than others.
Rolled oats start out as whole grain oats, then are processed by steaming and rolling them into an easier to cook form. You'd need about double the amount of rolled oats to make up for the same calories, fat, protein, and fiber of whole grain oats.
Due to the processing, it takes less time for your body to break down and digest them so you may get hungry faster with rolled oats than with whole grain oats.
Read on: Are rolled oats gluten-free?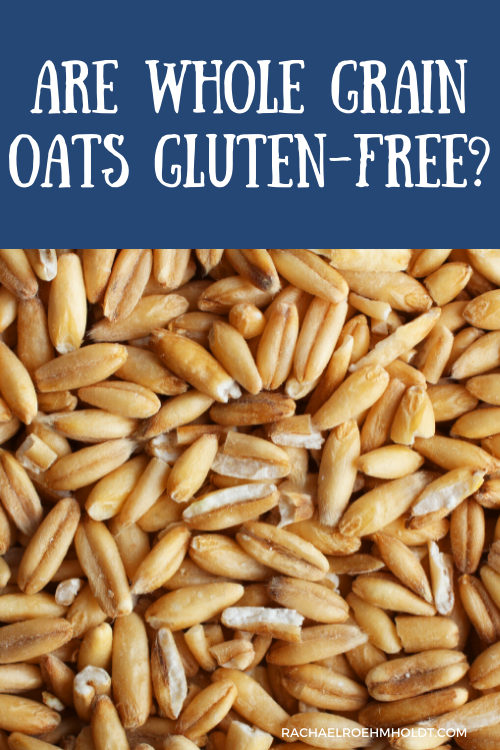 What is gluten?
Gluten is a protein found in most wheat products, and acts as the "glue" that helps to hold wheat, barley, kamut, spelt, farro, durum, bulgur, rye, and semolina together to maintain their shape.
You can find gluten in whole grains, but also in many processed foods as well. Many processed foods have hidden gluten in them in the form of gluten or wheat derivatives.
These are also in the form of flavorings, binders to keep ingredients together, or other additives.
Read on: Which whole grains are gluten-free?
Read on: What is gluten in food? The basics of a gluten-free diet
Are oats gluten-free?
Oats are a naturally gluten-free food, and on their own and processed in a dedicated gluten-free facility, they are safe for a gluten-free diet.
The main reason oats aren't always considered gluten-free is because they can become contaminated with gluten in a shared facility with gluten-containing grains.
They may also come into contact during the harvesting process if oat and wheat fields share physical proximity and are harvested at the same time.
Processing wheat, barley, or rye on the same equipment can result in cross contamination of gluten in oats.
Another potential place for cross contamination is bulk bins. If you buy oats from a grocery store that uses scoops, these scoops don't always stay in their intended bins.
Someone may accidentally move a scoop from a gluten-free bin and put it in a bin with wheat, barley, or other gluten-containing grain, and contaminate the whole bin of oats.
While oats are naturally gluten-free, you'll want to be aware of these specific ways that they can come into contact with gluten.
There are a number of other oat products that may or may not contain gluten. You can read more about these and get brands to look for at the store in the following posts: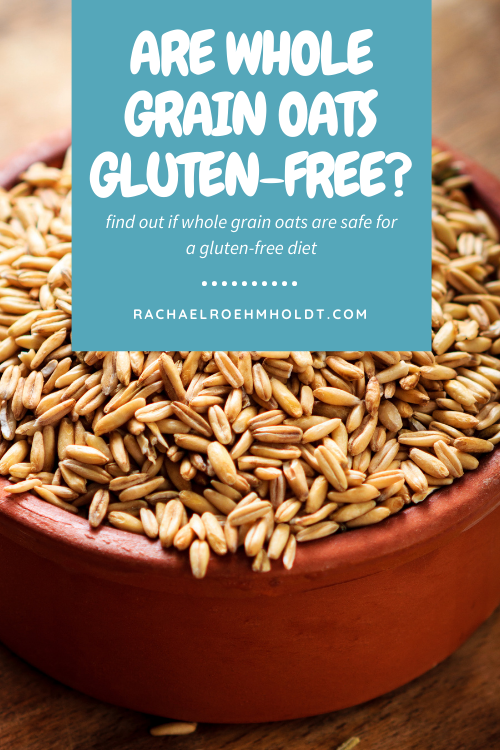 Are whole grain oats gluten-free?
Whole grain oats are naturally gluten-free, but they aren't always safe for folks on a gluten-free diet to eat. Many whole grain oats are processed on the same manufacturing lines and in facilities as other gluten-containing grains like wheat, rye, or spelt.
Due to the shared equipment and proximity of gluten, there's almost always a high risk of cross contamination with gluten in these facilities.
If you want to buy whole grain oats and are on a gluten-free diet, it's a good idea to look for a package with a gluten-free label. A gluten-free label ensures that no more than 20ppm of gluten is in that product, making it safe for folks who need to avoid gluten.
Another thing to keep in mind when buying whole grain oats or oat groats on a gluten-free diet is to avoid buying them from bulk bins.
These are notoriously hard to keep free of cross contamination with other gluten ingredients that may be in bins nearby, and oftentimes the scoops that are used get moved from one ingredient to another. Buying packaged oats is your best option for a gluten-free diet.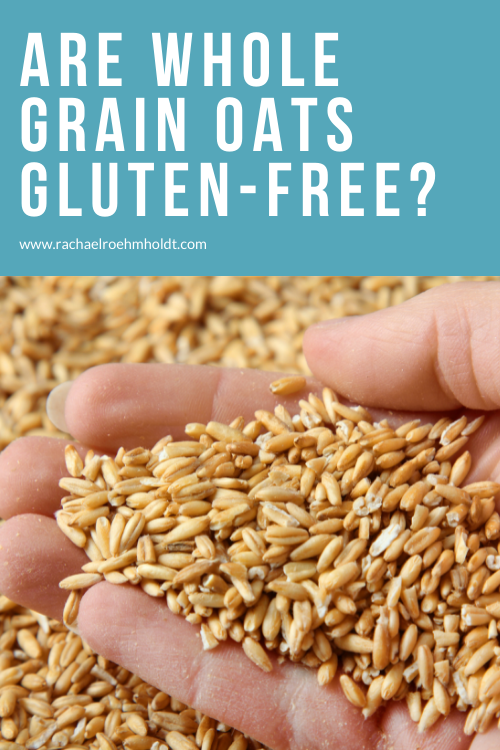 Brands of gluten-free whole grain oats
You can buy gluten-free whole grain oats at your local grocery store or online through sites like Amazon or Thrive Market. While whole grain oats aren't necessarily the most popular of all the types of oats to buy at the store, there are plenty of brands to choose from.
Look for some of these options next time you find yourself shopping for whole grain oats, knowing these all have gluten-free labels on their packaging.
Read on: Are Quaker oats gluten-free?
If you've been wondering if whole grain oats will work for you while you're sticking with a gluten-free diet, I hope this post has helped you get the answers you've been looking for. 
Many whole grain oats or oat groats have gluten due to cross contamination, so you'll want to look for a brand that has a gluten-free label to help you determine if it's a good choice for you and your diet. You can still enjoy this tasty breakfast option while eating gluten-free!
If you loved this post, I hope that you'll share it with your friends on Facebook and pin it for future reference on Pinterest.
Love this post? You might also want to check out these!
Find out if your favorite foods and ingredients contain gluten with these posts!