Find out if Quaker Oats are safe for a gluten-free diet, plus which flavors and options you can look for at the grocery store.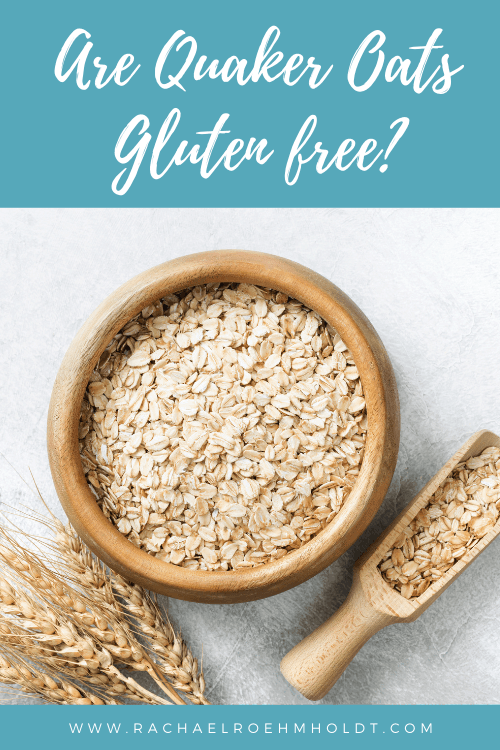 Note: I am a proud Amazon, Chomps, MunkPack, and Thrive Market affiliate and am happy to recommend their service and products to you. Please know that as an affiliate, I may receive a small commission on the products you purchase after clicking through my links. For more info, please see my disclosure policy here.
If you love eating oatmeal for breakfast, you might be interested to know which brands are safe for a gluten-free diet. Quaker Oats are likely the most well known oat and oatmeal brands in the US.
Knowing that you can find this brand at almost every grocery store nationwide makes it an easy choice when you're looking for a warm breakfast option.
But if you follow a gluten-free diet, you may be wondering if this brand contains gluten. In this post, we're going to talk about if oats and oatmeal are gluten-free and find out what Quaker Oats has to say about gluten in their oats and oatmeal products.
Finally, we'll dive into the Quaker Oats brand and find out which specific flavors and options to look for when choosing an oatmeal for your breakfast next time you're perusing the breakfast aisle.
Are oats gluten-free?
Oats are naturally gluten-free and on their own and processed in a dedicated gluten-free facility are safe for a gluten-free diet.
The main reason oats aren't always considered gluten-free is because they can become contaminated with gluten in a shared facility with gluten-containing grains. Processing wheat, barley, or rye on the same equipment can result in cross contamination of gluten in oats.
Another potential place for cross contamination is bulk bins if you buy from a grocery store that uses scoops, these scoops don't always stay in their intended bins.
Someone may accidentally move a scoop from a gluten-free bin and put it in a bin with wheat, barley, or other gluten-containing grain, and contaminate the whole bin of oats.
While oats are naturally gluten-free, you'll want to be aware of these specific ways that they can come into contact with gluten.
Read on: Are oats gluten-free?
Read on: Are whole grain oats gluten-free?
Read on: Is oat flour gluten-free?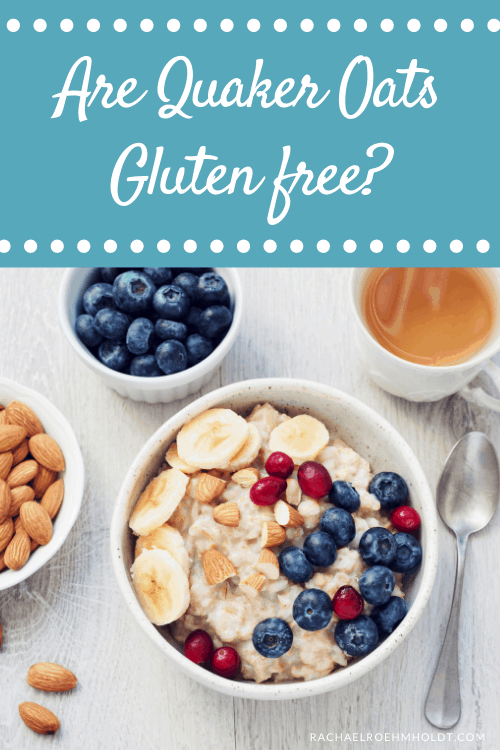 Is oatmeal gluten-free?
Oatmeal is naturally gluten-free, but that doesn't mean that all oatmeal brands are gluten-free. As mentioned above, oats may come into contact with gluten while being processed on the same lines as wheat, barley, or other gluten-containing grains.
Because of that, it's best to look for a gluten-free label on the oats and oatmeal products you buy to ensure that cross contamination has not taken place.
Read on: Is Oatmeal gluten-free?
Are Quaker Oats gluten-free?
Regular Quaker oats are not considered gluten-free, according to their website.
According to their Quaker Does Gluten-free document on their website, their statement is that you'll want to purchase specific gluten-free Quaker Oats products to ensure what you're eating is gluten-free.
"While oats are naturally gluten free, they may come in contact with gluten-containing grains such as wheat, rye and barley at the farm, in storage or during transportation. As the world's leader in oat milling for 140 years, our team of experts developed a breakthrough cleaning system to remove these stray grains so that we can deliver gluten free oatmeal consumers can trust."
You can see details on this cleaning system and how they meet the FDA's standards for being gluten-free in the document.
Knowing that regular Quaker oats products aren't gluten-free, it's important to note that you now can buy gluten-free oats and oatmeal products through the brand. These products meet the FDA's requirements for being labeled gluten-free, having less than 20ppm of gluten in their products.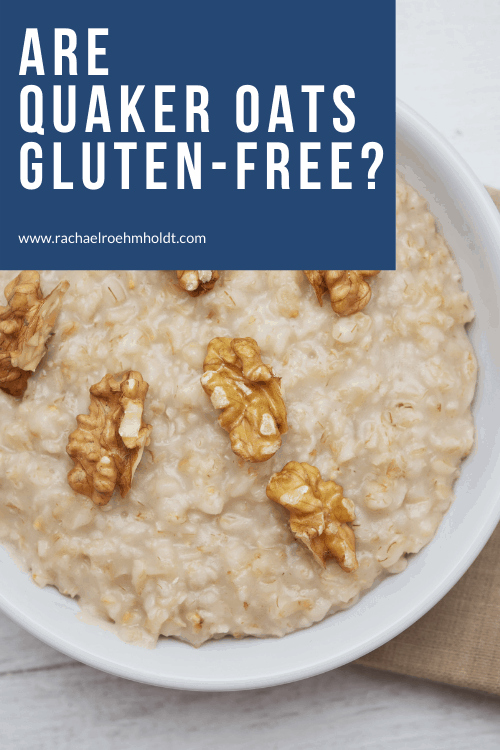 Which Quaker Oats products are gluten-free?
Quaker Oats offers a few different options of gluten-free oatmeal. While Quaker's normal oats and oatmeal are not considered gluten-free, their specific gluten-free line is safe for a gluten-free diet. They are also Non-GMO project verified.
Read on: Are rolled oats gluten-free?
Look for these next time you're at the grocery store either in the cereal aisle or the health food section of your store.
If you're looking for more gluten-free oatmeal brands, be sure to check out the products on this page: Is oatmeal gluten-free?
I hope if you love oatmeal that you can feel confident in choosing Quaker Oats products that are safe for your gluten-free diet with the information in this post.
If you loved this post, I hope that you'll share it with your friends on Facebook and pin it for future reference on Pinterest.
Love this post? You might also want to check out these!
Find out if your favorite foods and ingredients contain gluten with these posts!