Find out if Cocoa Puffs contain gluten, what to look for in gluten-free cereal, what brands to buy, and where to find them.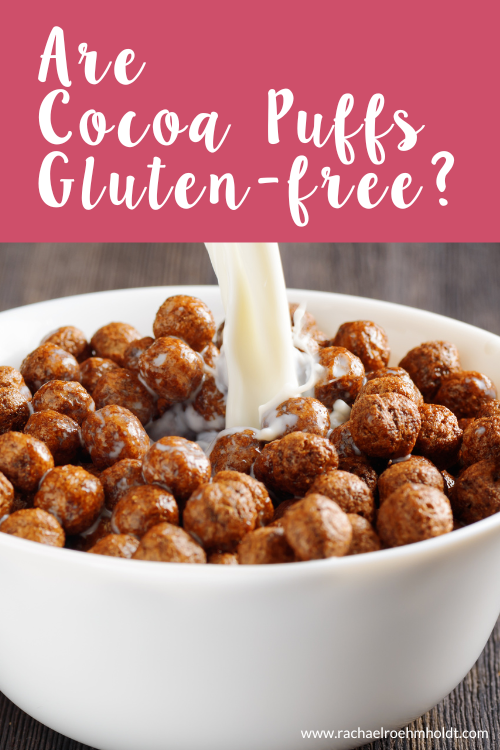 Note: I am a proud Amazon, Chomps, MunkPack, and Thrive Market affiliate and am happy to recommend their service and products to you. Please know that as an affiliate, I may receive a small commission on the products you purchase after clicking through my links. For more info, please see my disclosure policy here.
When you were a kid, did you love Cocoa Puffs? The chocolate flavored spherical cereal that tasted more like candy than cereal?
This sweet cereal was a true treat as a breakfast option when I was a kid, but these days I am much more boring with gluten-free oatmeal or gluten-free toast most mornings.
If you are getting started with a gluten-free diet or know someone who is, you may have been wondering about specific cereal brands. How do your favorite cereals measure up in terms of being safe for a gluten-free diet?
In this post, we're discussing Cocoa Puffs, including everything you need to know about this cereal's ingredients, where gluten shows up in cereal, and if Cocoa Puffs are going to be safe for you and your gluten-free diet.
Before you hit up the store for this favorite chocolate cereal, be sure to read this post first!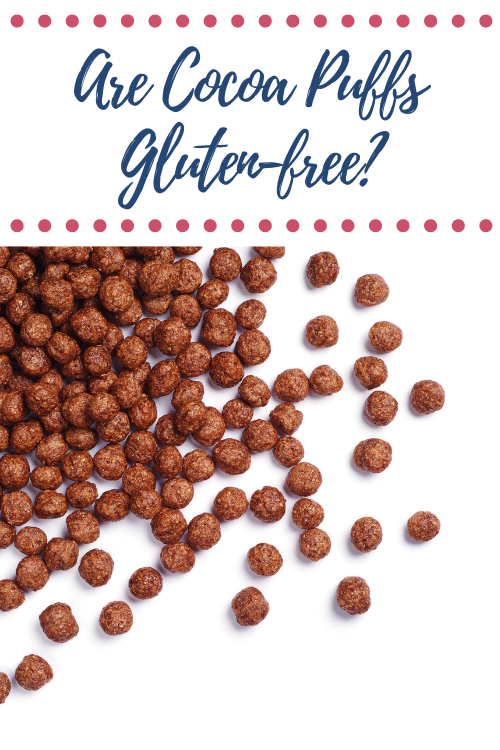 What are Cocoa Puffs?
Cocoa Puffs are a chocolate flavored children's cereal that has a slogan "cuckoo for Cocoa Puffs" that you may have heard on TV or other advertisements. The brand is made by General Mills, the same company that produces other cereal like Cheerios, Chex, Lucky Charms, and Kix.
Cocoa Puffs are small puffed corn cereal that are brown in color from their chocolate flavor. When added to milk, they often turn the milk a brownish color, making your milk into "chocolate milk."
The packaging for Cocoa Puffs usually has their signature cuckoo bird on a brown box. This cereal is popular among kids for breakfast or snacks.
Cocoa Puffs Ingredients
According to the General Mills website, Cocoa Puffs are made with the following ingredients:
"Whole grain corn, sugar, corn meal, corn syrup, cocoa processed with alkali, canola oil, fructose, salt, caramel color, refiner's syrup, baking soda, natural flavor."
What is gluten?
Gluten is a protein found in most wheat products, and acts as the "glue" that helps to hold wheat, barley, kamut, spelt, farro, durum, bulgur, rye, and semolina together to maintain their shape.
Gluten is naturally occurring, and therefore is impossible to strip away from the grain. If a grain naturally has gluten in it, there's no way to make that food gluten-free.
Gluten can be found in some cereal products in the form of wheat, wheat flour, malt flavor, or malt barley. You can also find gluten hidden in flavorings in some cereal.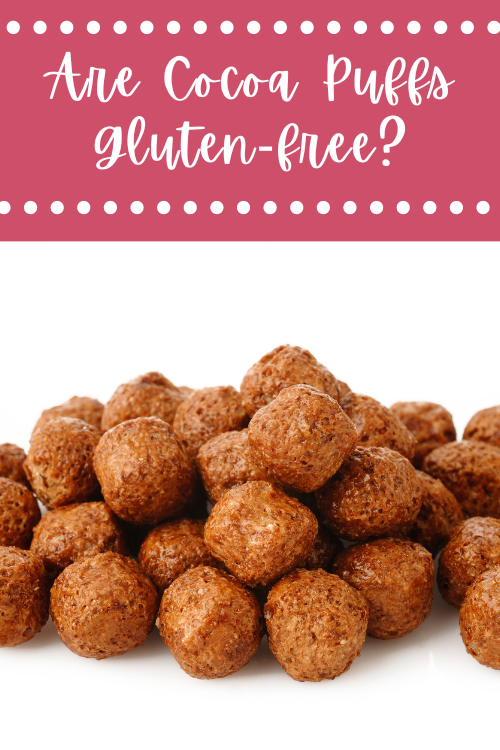 Are Cocoa Puffs gluten-free?
Cocoa Puffs have a note on their ingredients list stating "May contain wheat ingredients." This signals there is a high likelihood that there is gluten in the cereal.
This gluten may be from an ingredient listed in their ingredient list or it could be from cross contamination during manufacturing. Either way, General Mills is straightforward with their declaration that this is likely not a cereal that you'll want to enjoy if you're avoiding wheat or gluten.
Read on: Gluten-free cereal
Where does gluten show up in cereal?
Gluten can be found in some cereal products in the form of wheat, wheat flour, wheat starch, malt flavor, or malt barley. You can also find gluten hidden in flavorings in some cereal.
Since gluten can show up under so many different names, it's important to read ingredients lists for each cereal you buy. Sometimes one flavor of a cereal is gluten-free, but another from the same brand isn't.
Companies can change their recipes at any time, so it's important to do your due diligence before purchasing and look for the gluten-free label on the package or read the ingredients list to make sure that there is no hidden gluten in the cereal.
Oftentimes some cereals may not contain any gluten ingredients at all, yet they aren't considered gluten-free. This is because the manufacturer uses the same equipment to produce cereals that contain gluten ingredients as those without, making the likelihood that cross contamination occurs quite high.
Your best bet is to look for a cereal with a gluten-free label on the packaging. A gluten-free label indicates that there are less than 20ppm of gluten in the product as per the FDA, ensuring there isn't a chance for a reaction from gluten to the product.
Read on: Is malt flavor gluten-free?
Read on: Is malt gluten-free?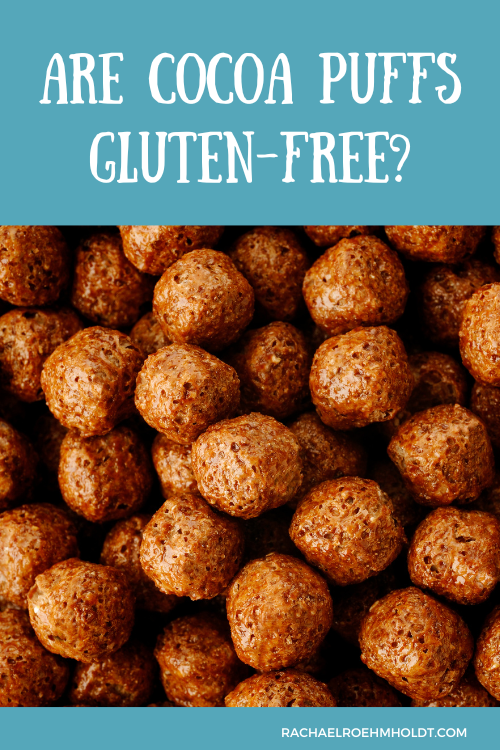 Brands of gluten-free chocolate cereal
Even though Cocoa Puffs very likely have gluten in the form of cross contamination, there are other chocolate flavored cereals that you may want to consider buying that are clearly gluten-free with gluten-free labels printed on their packaging.
Look for one of these chocolate cereals next time you're buying cereal for your kids (or as a treat for yourself). These options all have gluten-free labels (at the time of publishing this article).
Chocolate Cheerios
Chocolate Strawberry Cheerios
Cocoa Pebbles
Cocoa Pebbles Crisps
Envirokidz Organic Chocolate Koala Crisp
Envirokidz Organic Chocolate Choco Chimps
Envirokidz Organic Peanut Butter and Chocolate Leapin' Lemurs
Envirokidz Organic Strawberry Chocolate Turtle Splash
Forager Project Chocolate O's
Love Grown Foods Chocolate Cereal
Love Grown Foods Chocolate Comet Crispies
Three Wishes Grain Free Cocoa Cereal
Where to buy gluten-free chocolate cereal
You can look for gluten-free chocolate cereal at your local grocery store or health food store. If you have a tough time finding them locally, you can find these options at Thrive Market or Amazon online.
From the gluten-free options listed above, you are most likely to find Chocolate Cheerios and Cocoa Pebbles at most major grocery stores nationwide.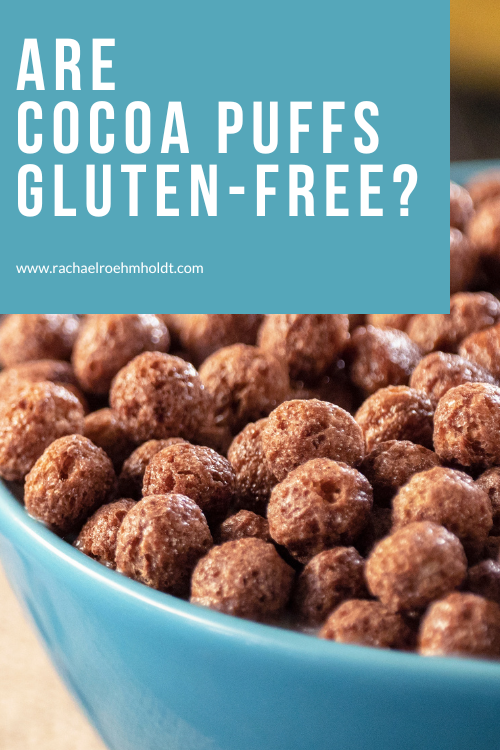 Are Cocoa Puffs dairy-free?
Cocoa Puffs contain no dairy ingredients, and therefore are safe to enjoy on a dairy-free diet. If you can tolerate gluten but not dairy, this cereal may still work for you and your diet.
Remember that if you eat Cocoa Puffs on a dairy-free diet to use dairy-free milk instead of cow's milk to keep it fully dairy-free.
If you enjoy Cocoa Puffs and have been wondering if this cereal will work for you while steering clear of gluten in your diet, I hope this post has been helpful for you in getting the answers you've been looking for.
Cocoa Puffs do not have gluten ingredients, however the General Mills brand makes it clear that they are not gluten-free with a notice about wheat being present in this product.
If you are looking for a gluten-free cereal that's chocolate flavored, there are quite a number of brands and options you can seek out in grocery stores and online to suit your chocolate craving.
If you loved this post, I hope that you'll share it with your friends on Facebook and pin it for future reference on Pinterest.
Love this post? Be sure to check out some of my other great breakfast posts!
Not sure what to make for breakfast on a gluten and dairy-free diet? These posts will give you loads of ideas!