Looking for some gluten-free dairy-free ground beef casserole recipes? You'll love this post!
Find Mexican casseroles, Shepherd's pie, hamburger and cheeseburger casseroles, and some other delicious comfort food in this ground beef casserole recipe roundup.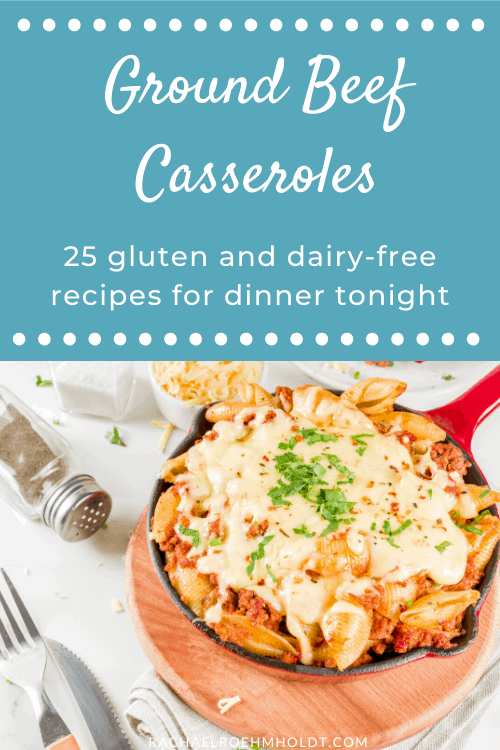 Do you love cheeseburgers, shepherd's pie, or Mexican food? If so, this post is for you!
I don't know about you, but ground beef is one of the staple ingredients in my regular diet (don't believe me? Check out the recipes in GFDF Weekly, my gluten and dairy-free menu plans).
I love using ground beef, because it's so versatile and can be made into just about any flavor you're looking for.
In my household, we are all about Mexican flavors and burgers.
We even have Taco and Burger Fridays on rotation, because we love them so much.
But when we're tired of plain old tacos and burgers, it's nice to switch it up once in a while.
We do that by adding in some super easy and delicious gluten and dairy-free ground beef casseroles.
This recipe roundup is full of some of the best 25 gluten and dairy-free ground beef casseroles I've found around the web.
Not only have all of these recipes been created to be gluten and dairy-free, but they're all easy to assemble, and pop into the oven while they finish cooking.
Some of these recipes are from my 101 gluten and dairy-free casserole recipe roundup, but many of them are new.
I don't know about you, but I don't know of a whole lot more meals other than my Instant Pot or crockpot recipes that allow for that kind of hands-off cooking time.
I relish that time in my life to get some of my daily chores done that I wouldn't otherwise prioritize, like laundry, dishes, or even getting a quick workout in if I haven't that day.
If you're a fan of using ground beef in your cooking and follow a gluten and dairy-free diet, you'll love this roundup!
Every single one of these recipes is safe for this diet, and if it needs modifications, I've written notes below to help you figure out what to do.
Read on: 25 Gluten-free ground beef recipes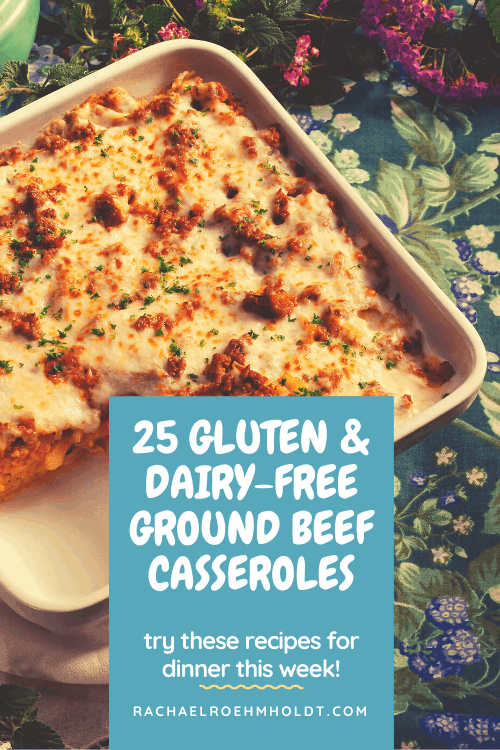 Gluten-free Dairy-free Ground Beef Casserole Recipes
Who doesn't love cheeseburgers? But when you're gluten-free and dairy-free, they aren't as easy to enjoy without getting a little creative.
This recipe will lighten up the traditional cheeseburger and give you all the flavors you're after to satiate your craving.
Read on: Are sweet potatoes gluten-free?
Shepherd's pie is an amazing comfort food, but with a few simple swaps, this recipe can be made gluten-free, dairy-free, and even healthier!
This tasty hamburger casserole uses healthy cauliflower to keep it on the lighter side, while the chicken bone broth and coconut milk are excellent for your digestion and naturally gluten-free and dairy-free.
This dish screams summertime campout to me. The ingredients are simple, but the seasonings help kick it up to a new level.
Plus, it's gluten-free and dairy-free and hearty enough that the whole family can enjoy!
Read on: Is bacon gluten-free?
When I first stumbled upon this recipe, I thought it was the weirdest idea, but after reading through the blog post and directions, I was quickly on board.
Who doesn't love the flavors of hamburgers without all the work of putting them together? This easy hamburger casserole is naturally gluten-free and dairy-free when you leave out the cheese.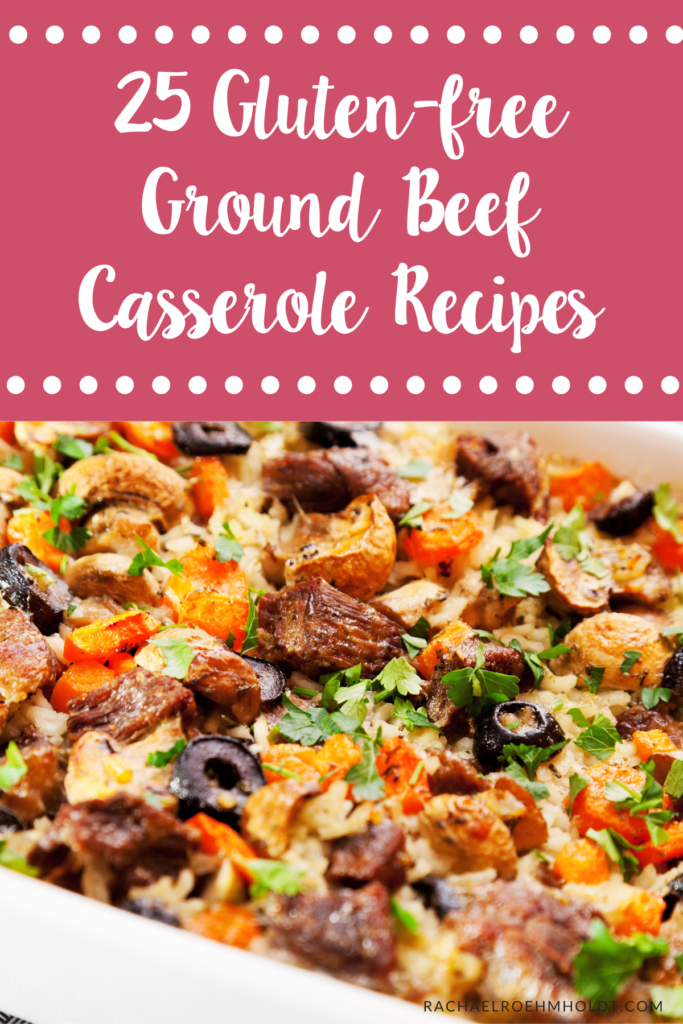 Talk about down-home cooking! This recipe is another simple but flavorful (and naturally gluten-free and dairy-free) and I love that she gives options for the Instant Pot to make it even faster to get a tasty meal to the table.
Read on: 101 dairy-free gluten-free instant pot recipes
I love recipes like this Keema ground beef casserole. With only 7 main ingredients, you can get a huge bang for your buck and loads of nutrient-dense goodness on a gluten-free dairy-free diet.
This Tater Tot casserole turns a old favorite into a gluten-free dairy-free version so you don't have to miss out on an old family favorite.
Gluten-free flour and soy milk are the main swaps, but also be sure that whatever beef bouillon you use is gluten-free and dairy-free too!
Read on: Are tater tots gluten-free?
Read on: Is Better than Bouillon gluten-free?
Don't let the long list of ingredient throw you off making this recipe!
With loads of naturally gluten-free and dairy-free ingredients, you're going to load up on nutrient dense foods and get the tasty goodness from a Thai-inspired dish.
I love seeing family recipes adapted to become gluten-free and dairy-free – and this recipe doesn't disappoint!
By simply swapping out spiralized sweet potato for the normal elbow macaroni and taking out the cheese entirely, a new dish is born – and suitable for any gluten and dairy-free diet.
What's great about this recipe is not only that you get some of the best flavors of Mexican food, but that you can freeze it ahead of time for easy prep later on.
Read on: Gluten-free Mexican food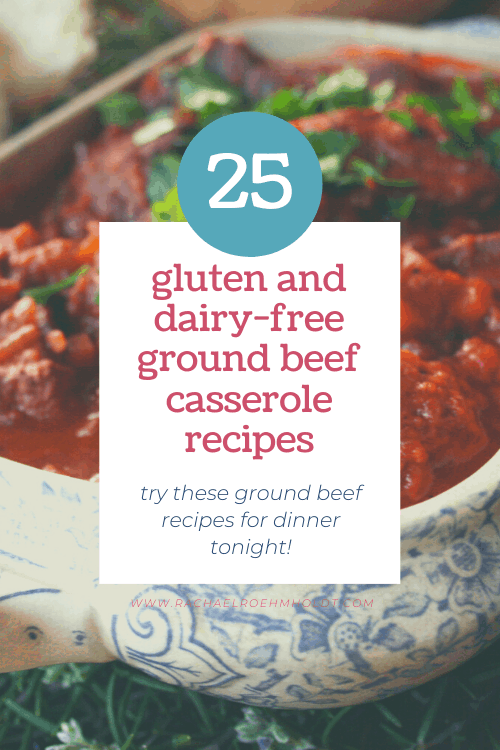 This classic Italian dish gets a gluten-free dairy-free stamp of approvel with gluten-free pasta – and NO cheese or dairy.
Breakfast casseroles are a favorite in our house, but without the gluten and dairy- you have to get creative.
This paleo and whole 30-friendly breakfast casserole makes it happen with bacon, ground beef, onion, garlic, zucchini, carrots, and eggs.
Read on: 25 dairy and gluten-free breakfast casseroles
This make ahead Mexican breakfast casserole has got to taste good, because it has almost all my favorite Mexican flavors included: ground beef, sweet potatoes, jalapeno, chili powder, and tomatoes.
Add some eggs, spinach, and some seasonings – and a beautiful breakfast that can be prepped ahead is born.
I love when simple ingredients are dressed up and made to taste out of this world.
This beef and cauli rice casserole does just that – turns plain ground beef and casserole up a notch with tons of seasonings and flavor.
I love the simplicity of this casserole – a few simple whole food ingredients turned into something amazing. Ground beef, onions, rice, and cabbage are the star of this easy dish.
This recipe is a nod to bacon cheeseburgers – but healthier. No guilt, no dairy, no gluten – just cauliflower, ground beef, bacon, tomatoes, and seasonings for a yummy meal idea.
For a homestyle cooked meal, try this crockpot recipe with ground beef, red potatoes, frozen corn, peas, and carrots, Daiya cheddar cheese, and a homemade cream of chicken soup.
Read on: 25 gluten-free dairy-free beef crockpot recipes
Read on: 101 gluten-free dairy-free crockpot recipes
This dairy-free tater tot casserole is a gluten and dairy-free twist on an old classic.
With tater tots, ground beef, onion, cooked vegetables, and a homemade dairy-free condensed soup, you'll love how this comfort meal comes together.
This recipe is simple, but great for a hearty dinner.
Hamburger casserole with cornbread topping is made with ground beef, onions, beef broth, Worcestershire sauce, pepper, and gluten-free cornbread mix. It couldn't be easier!
Read on: Is Worcestershire sauce gluten-free?
I love recipes that recreate flavors I enjoy into new dishes. This taco bake is the perfect blend of all your favorite Mexican ingredients, layered up, then baked.
This dish takes about 50 minutes to make.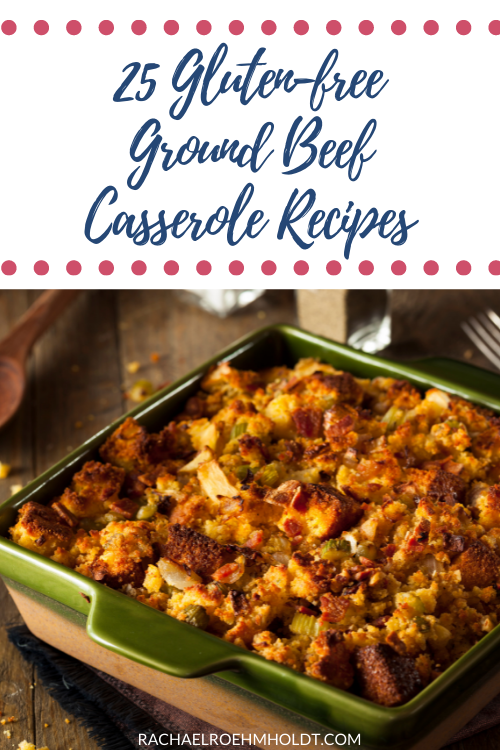 One-pan meals are some fo my favorite to make, and this Mexican Rice Casserole is full of flavors, like peppers, tomato paste, chili powder, garlic powder, and cumin.
With ground beef, rice, spinach, and cilantro, you know it will taste good!
Read on: Is rice gluten-free?
This gluten-free taco casserole is made with a shortcut, using McCormick gluten-free taco mix. To be sure it's dairy-free, use dairy-free cheddar cheese.
Read on: Is McCormick taco seasoning gluten-free?
When you're gluten-free, you either have to opt for a gluten-free bun or lettuce wrap with burgers.
This cheeseburger casserole takes it to a new level by combining all your favorite cheeseburger flavors into a casserole. You even get to make your own dairy-free cheese sauce with this recipe!
Technically, this recipe is considered a "pie" instead of a casserole, but with ingredients like spaghetti squash, ground beef, onion, diced tomatoes with green chiles, spinach, applesauce, red bell pepper, and seasonings, no matter what you call it – you know it's going to be good.
I hope you loved this gluten and dairy-free ground beef casserole recipe roundup and found some great inspiration for getting dinner to the table this week!
If you try any of these recipes and love them, I'd love for you to share in the comments. As a community, it's nice to know what others try so that we can all benefit!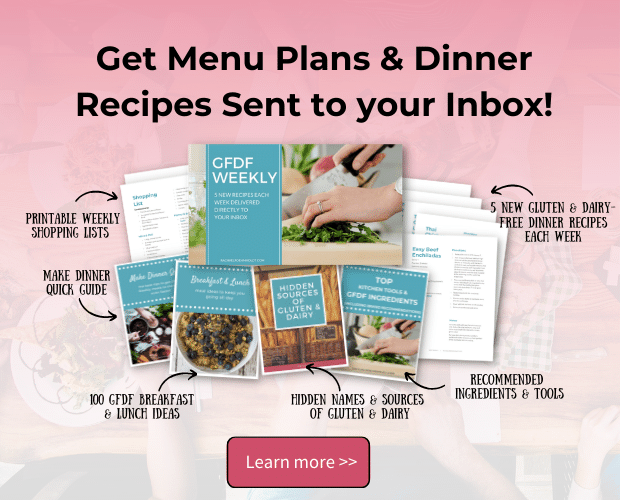 If you loved this post, I hope that you'll share it with your friends on Facebook and pin it for future reference on Pinterest.
Love this post? You might also want to check out more of my recipe roundups here!
Find some delicious gluten and dairy-free recipes in these popular recipe roundup posts!
Want more? Check out all my Gluten-free Dairy-free Recipes!