Find out what chocolate chips are made from and if they are safe for a gluten-free diet. Plus find out what brands of chocolate chips are gluten-free.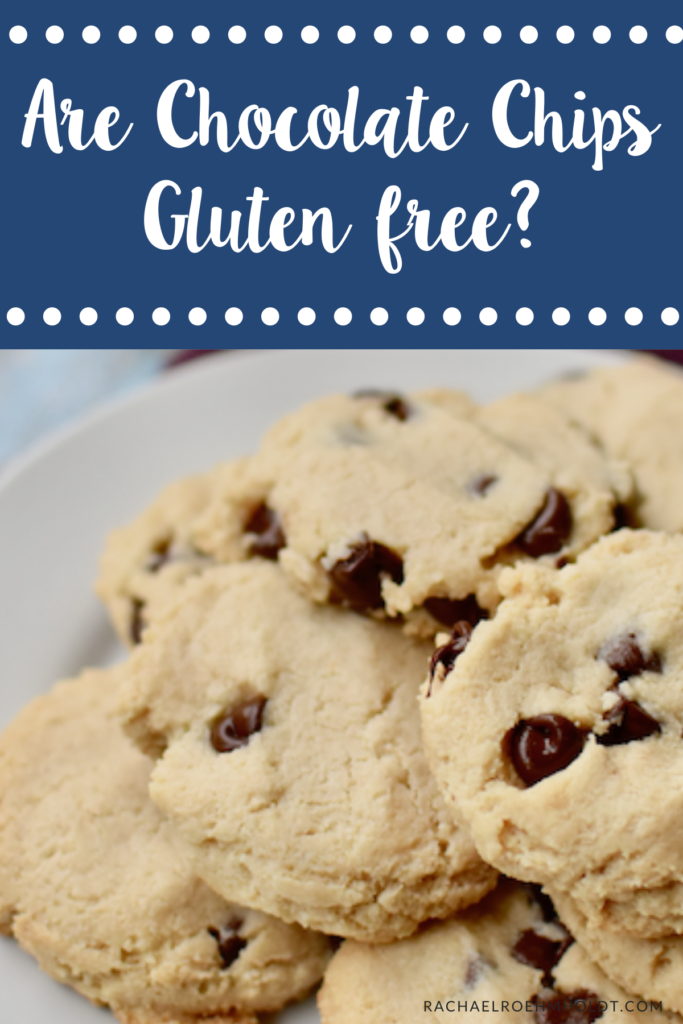 Note: I am a proud Amazon, Chomps, MunkPack, and Thrive Market affiliate and am happy to recommend their service and products to you. Please know that as an affiliate, I may receive a small commission on the products you purchase after clicking through my links. For more info, please see my disclosure policy here.
If you love to bake and especially with chocolate, you probably have wondered how the chocolate chips you use in your favorite cookies and treats work with your current diet.
If you're like me, you have your eye on gluten and maybe even avoid it for health reasons – whether for a digestive issue, immune issue, thyroid issue, or allergy. There are a million reasons that people don't eat gluten, but what we can all agree on is that it's tricky to find out where it hides in some of our favorite foods.
That includes our favorite treats, like chocolate chip cookies, pies, bars, and cakes. Yes, I'm a total chocolate fiend myself. Can you tell?
If you've been wondering if chocolate chips are safe for your gluten-free diet, this post is for you. We're going to talk all about what chocolate chips are made out of, what gluten is, and answer the question of "are chocolate chips gluten-free?"
We'll also go over some brands of chocolate chips that are for sure gluten-free, so you can feel confident when you're shopping for this ingredient next time you bake. Let's cover the basics of chocolate chips so you can get back to making your favorite treats!
What are chocolate chips?
Chocolate chips are a baking essential. They're small little dots of chocolate that are used in many baking and candy making recipes.
These candy pieces work well in cookies, cakes, as toppings for pies and ice cream. They're also often melted down and added to bars, used to coat other candies like chocolate coated peanut butter balls or marshmallows.
Chocolate chips make their way into many of my favorite recipes, like my gluten-free chocolate chip cookies, gluten-free oatmeal chocolate chip cookies, pumpkin chocolate chip cookies, and dairy and gluten-free chocolate zucchini cake.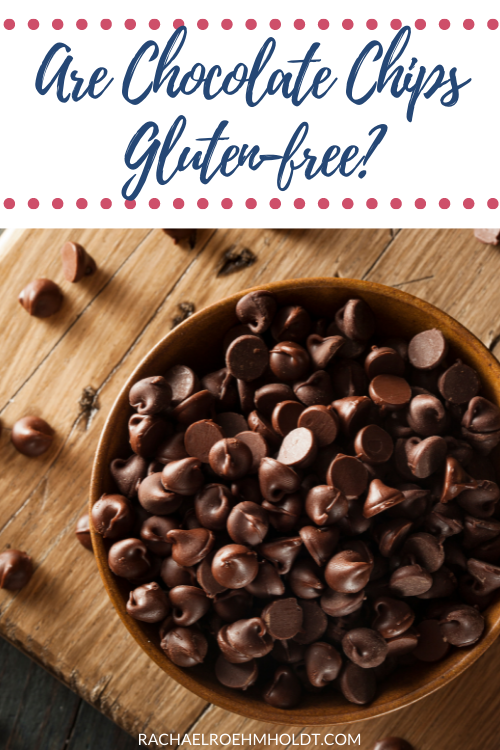 What are chocolate chips made out of?
Depending on the brand and manufacturer, the ingredients in chocolate chips will vary slightly. However, these are the main ingredients you'll find in many well known brands of semi-sweet chocolate chip packages from the store.
Sugar, milk or milk fat, chocolate liquor, unsweetened chocolate, cocoa butter, whole milk powder butterfat, soy lecithin, and vanilla extract.
What is gluten?
Gluten is a protein found in most wheat products, and acts as the "glue" that helps to hold wheat, barley, kamut, spelt, farro, durum, bulgur, rye, and semolina together to maintain their shape.
Gluten is naturally occurring, and therefore is impossible to strip away from the grain. If a grain naturally has gluten in it, there's no way to make that food gluten-free.
Gluten can be found in some cereal products in the form of wheat, wheat flour, malt flavor, or malt barley. You can also find gluten hidden in flavorings in some cereal.
Is chocolate gluten-free?
Most chocolate is gluten-free if it is simply just chocolate in its purest form. Most bars and chocolate chips are safe for a gluten-free diet. If you find chocolates with additional flavoring or textures, like crispy rice cereal or have fillings, you'll want to check ingredient lists for any hidden sources of gluten.
Read on: Is chocolate gluten-free?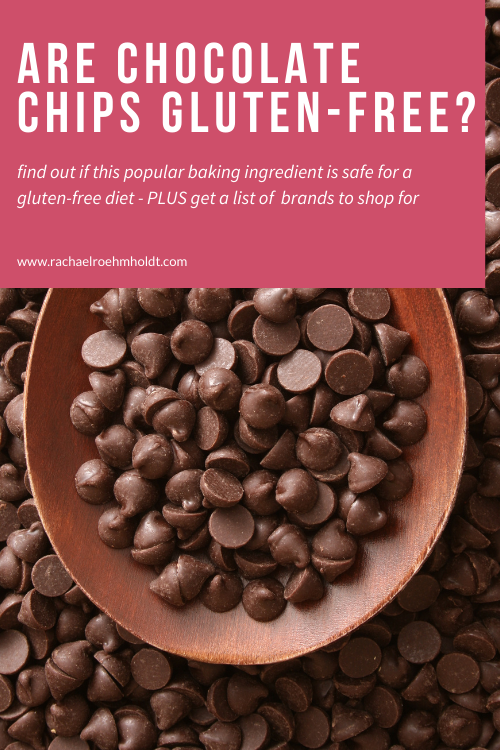 Are chocolate chips gluten-free?
Most chocolate chips are considered to be gluten-free, because they don't have any ingredients that are derived from wheat.
Some brands of chocolate chips have gluten-free labels which can help you make the distinction of whether or not that product contains gluten. Your best option is to review ingredients lists for any gluten ingredients to help you make a decision.
However even if there isn't a gluten-free label, that doesn't mean this product does have gluten. It could be that the chocolate chips are manufactured on equipment that is shared with gluten-free ingredients.
If you are extremely sensitive to gluten, you may want to look for that label to be certain. If you can tolerate small traces of gluten due to an intolerance, then looking for that gluten-free label may not be necessary for you.
Use your best judgement based on what you know about your body and how you react to gluten to determine if you need to find chocolate chips with gluten-free labels or if knowing there aren't any ingredients in the product is enough for your needs.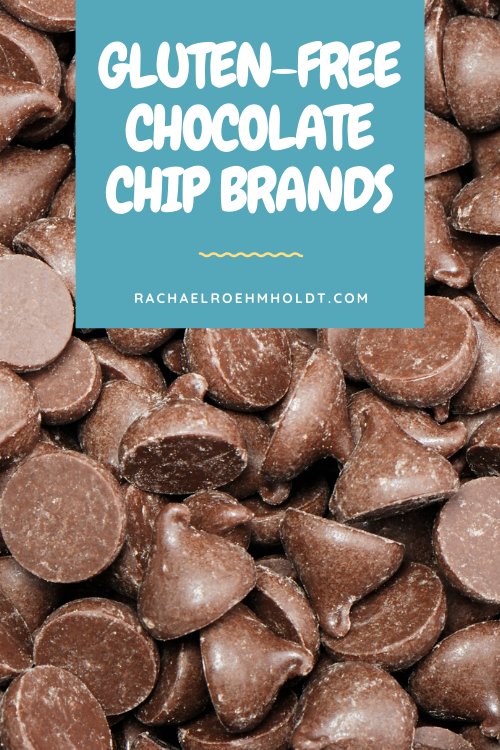 Gluten-free chocolate chip brands
There are so many different brands of chocolate chips available at grocery stores and online, it would be impossible to list them all. But knowing that most mainstream chocolate chip brands do not contain gluten can help you make an informed decision.
Here are some brands to look for at the store, knowing that these companies use gluten-free labels or indicate they are gluten-free on their website.
Are chocolate chips dairy-free?
Many chocolate chips do contain milkfat or other dairy products, which means it's important to read ingredient lists and find out if the package you are looking at contains dairy. If you are dairy intolerant or lactose intolerant, learning to read ingredient lists is extremely important for avoiding these ingredients.
Many of the options listed in the section above are also dairy-free, so you can refer to this list when looking at the store for dairy-free chocolate chips too.
Read on: Are chocolate chips dairy-free?
Read on: Dairy-free chocolate chip brands
If you've been wondering if you can use chocolate chips in all your favorite dessert recipes, I hope this post has helped you get the answers you've been looking for. Most chocolate chips are gluten-free, but it's always worthwhile to review ingredients lists and look for gluten-free labels if you are extremely sensitive to gluten. 
f you loved this post, I hope that you'll share it with your friends on Facebook and pin it for future reference on Pinterest.
Looking for a few more dairy-free chocolate recipes? You'll love these posts!
Check out these gluten and dairy-free recipes and posts featuring chocolate.