Find out if candy corn is gluten-free, dairy-free, or vegan. Plus get a list of candy corn brands with no gluten ingredients.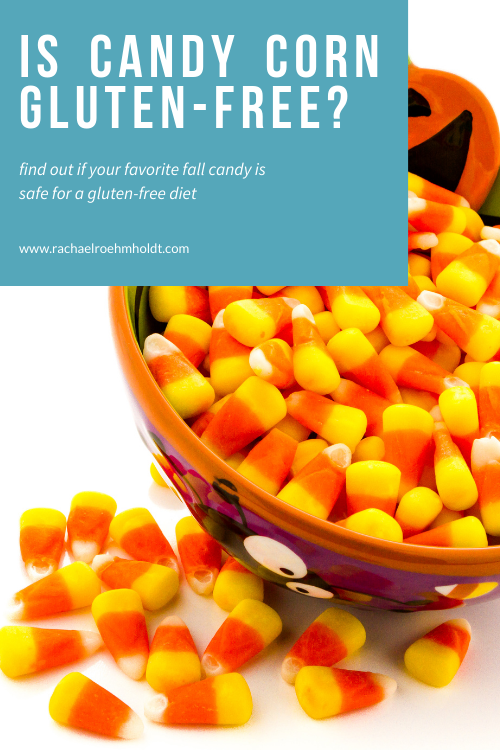 Note: I am a proud Amazon, Chomps, MunkPack, and Thrive Market affiliate and am happy to recommend their service and products to you. Please know that as an affiliate, I may receive a small commission on the products you purchase after clicking through my links. For more info, please see my disclosure policy here.
Candy corn is a quintessential fall candy that's most popular around Halloween and Thanksgiving. It's a super sweet candy that's in the shape of corn and in white, yellow, and orange mimicking the look of corn.
Many folks like to eat candy corn plain or add it to fun food crafts for kids, like as feathers for a turkey or candy corn flowers.
If you enjoy this sweet treat around Halloween or love to share it with kids in your life, you may be wondering if this candy is gluten-free and how it fits into a gluten-free or dairy-free diet.
In this post, we're going to talk about the main ingredients you're likely to find in candy corn and answer the question "Is candy corn gluten-free?"
We'll also cover if candy corn is safe for a dairy-free or vegan diet, and I'll share a list of brands or candy corn that have no gluten ingredients, so you can feel good about these options.
Find out if your favorite fall candy, candy corn, is gluten-free!
Ingredients of candy corn
Brach's, the most well known candy corn manufacturer, lists their classic candy corn ingredients with the following:
"Sugar, Corn Syrup, Confectioner's Glaze (Shellac), Salt, Cocoa Powder, Hydrogenated Palm Kernel Oil, Gelatin, Dextrose, Honey, Artificial Flavor, Sesame Oil, Yellow 6, Yellow 5, Red 3, Soy Lecithin, Blue 1, Red 40."
Read on: Is corn syrup gluten-free?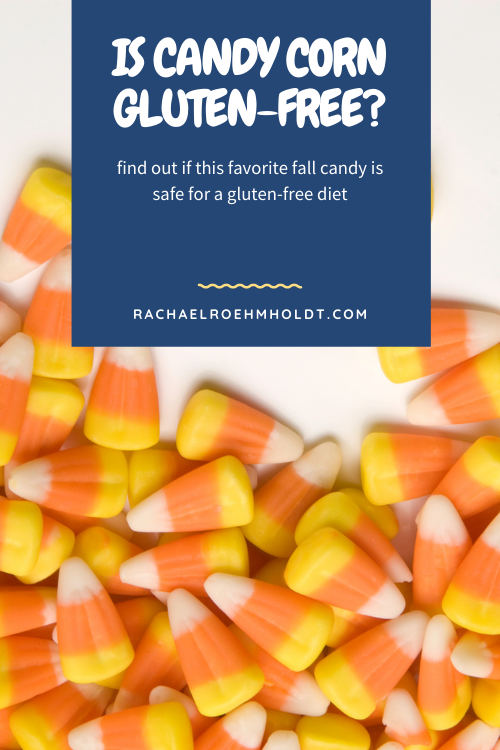 What is gluten?
Gluten is a protein found in most wheat products, and acts as the "glue" that helps to hold wheat, barley, kamut, spelt, farro, durum, bulgur, rye, and semolina together to maintain their shape.
Gluten is naturally occurring, and therefore is impossible to strip away from the grain. If a grain naturally has gluten in it, there's no way to make that food gluten-free.
Gluten can be found in candy as one of the main ingredients, especially in gummy candies, as wheat or wheat starch. You can also find it in flavorings, thickeners, or binders.
Is candy corn gluten-free?
Depending on the brand, candy corn may or not contain wheat. For the most part, most brands don't use wheat in the candy itself, but they do have "may contain" wheat or gluten notes on their product's packaging.
This means that there is a likelihood that cross contamination occurs during manufacturing, and is something to be aware of on a gluten-free diet.
For example, while there are no gluten-containing ingredients in Brach's classic candy corn, they make no statements on whether this specific product is gluten-free. However, they do offer a different product that is labeled as gluten-free.
Brach's Naturally Flavored Candy Corn is considered gluten-free by the brand and has different ingredients. This option has no artificial flavor or coloring and has been tested to have below 20ppm of gluten since it can have a gluten-free label on the packaging.
For a gluten-free diet, you'll want to look for a brand that has no gluten-containing ingredients in the ingredients list. If you are sensitive to even trace amounts of gluten, be sure to look for a gluten-free label before buying.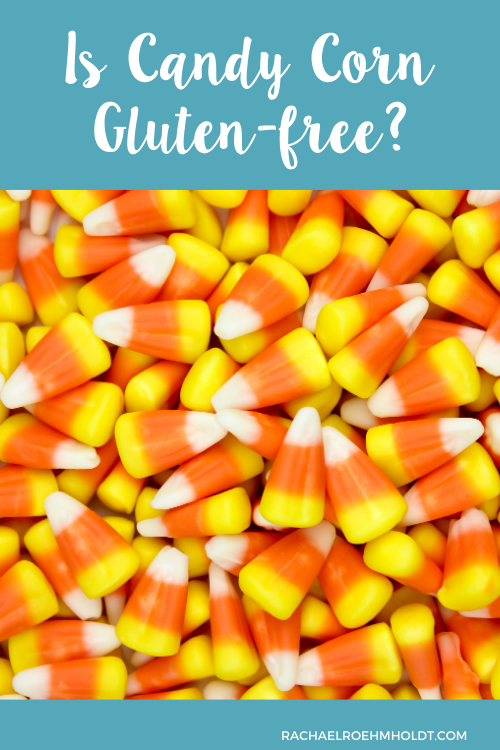 Is candy corn dairy-free?
Candy corn contains no dairy ingredients and can be enjoyed on a dairy-free diet.
Is candy corn vegan?
Candy corn is not vegan, because it has gelatin as an ingredient. This is an ingredient that many vegans avoid as it is an animal product.
What candy corn products are gluten-free?
While Brach's is one of the most popular candy corn manufacturers in the US, there are a number of other brands that make candy corn that is safe for a gluten-free diet.
These are the brands I was able to find that have a gluten-free label in addition to having no gluten ingredients listed.
Read on: Are Jelly Bellys gluten-free?
If you love candy corn, I hope this post has helped give you all the information you need in order to determine if you should keep candy corn in your diet through the fall months and holidays.
As with any food or treat, it's best to review ingredients lists and look for gluten-free labels before buying or eating any packaged food.
If you loved this post, I hope that you'll share it with your friends on Facebook and pin it for future reference on Pinterest.
Love this post? You might also want to check out these!
Find out if your favorite foods and ingredients contain gluten with these posts!