Find out if caramel is gluten-free, dairy-free, or vegan. Plus find out if your favorite caramel candy treats are gluten-free.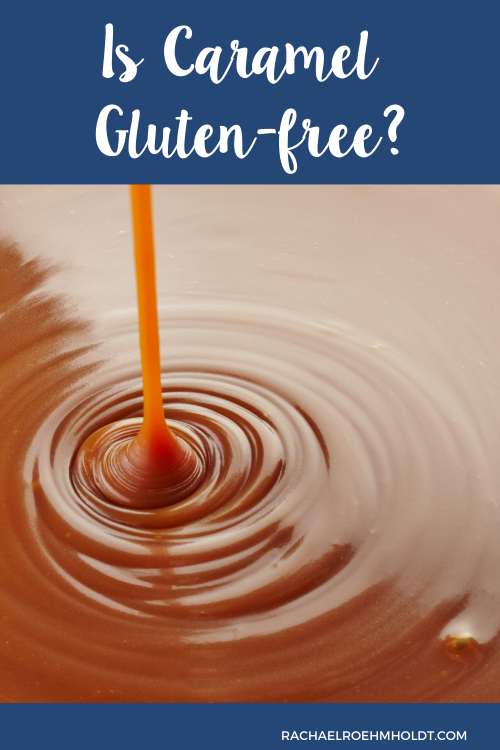 Note: I am a proud Amazon, Chomps, and Thrive Market affiliate and am happy to recommend their service and products to you. Please know that as an affiliate, I may receive a small commission on the products you purchase after clicking through my links. For more info, please see my disclosure policy here.
Do you love caramel candy? Caramel apples? Caramel sauce on your ice cream or coffee? If so, you may have been wondering if this creamy sweet treat contains gluten and if it's a safe choice for you to include in your gluten-free diet.
When I was 12 and got my braces off after two full years with my teeth getting shifted around, I remember a family friend buying me a giant bag of caramels as a congratulations. I love caramel, but of course, with braces, they're a no go.
As an adult, I learned to make homemade caramel candies from one of my first out-of-college apartments. I followed an Ina Garten recipe and it felt like I was somehow a big time real home cook that I could make them from scratch. I was very pleased with myself.
These days, I don't enjoy much caramel or caramel flavored treats. You'll read more about that in this post. Being gluten-free, caramel hasn't been much of an issue. But when you avoid dairy, that's where things can get a little tricky.
In this post, we're going to go over the ingredients in most caramel recipes, what gluten is, and if caramel is gluten-free.
We'll also discuss if caramel is dairy-free or vegan, and what your choices are for those diets. Finally, we'll answer some questions about some specific caramel treats and how they fit into a gluten-free diet – everything from caramel apples to Rolo candies to McDonalds caramel sauce.
Let's dive in!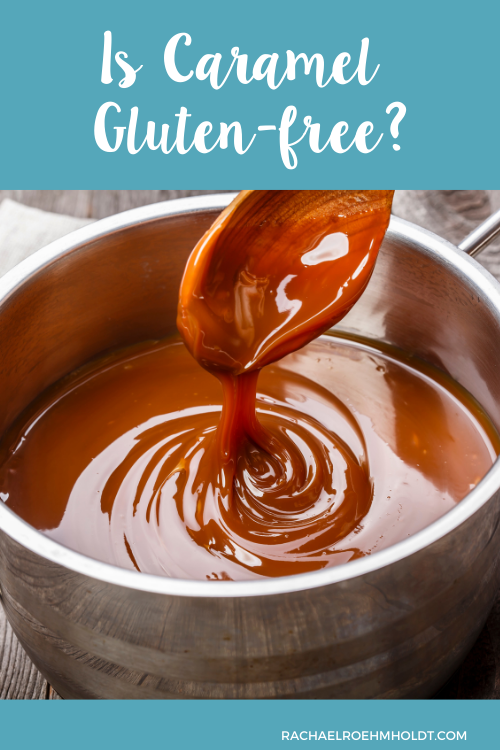 Ingredients in caramel
Most caramel is made with sugar, milk or cream, vanilla, and salt. Some brands or homemade recipes may include additional ingredients.
Caramel can be made into a sauce or cooked longer to let the liquid evaporate to create candies, but generally the ingredients are almost always the same.
What is gluten?
Gluten is a protein found in most wheat products, and acts as the "glue" that helps to hold wheat, barley, kamut, spelt, farro, durum, bulgur, rye, and semolina together to maintain their shape.
Gluten is naturally occurring, and therefore is impossible to strip away from the grain. If a grain naturally has gluten in it, there's no way to make that food gluten-free.
Gluten can be found in candy as one of the main ingredients, in the form of wheat or wheat starch. You can also find it in flavorings, thickeners, or binders.
Is caramel gluten-free?
Most caramel is naturally gluten-free, however it's always a good idea to look at ingredients lists for any hidden sources of gluten.
If you are celiac, be sure to look for a gluten-free label or a "made in a gluten-free facility" note on the label.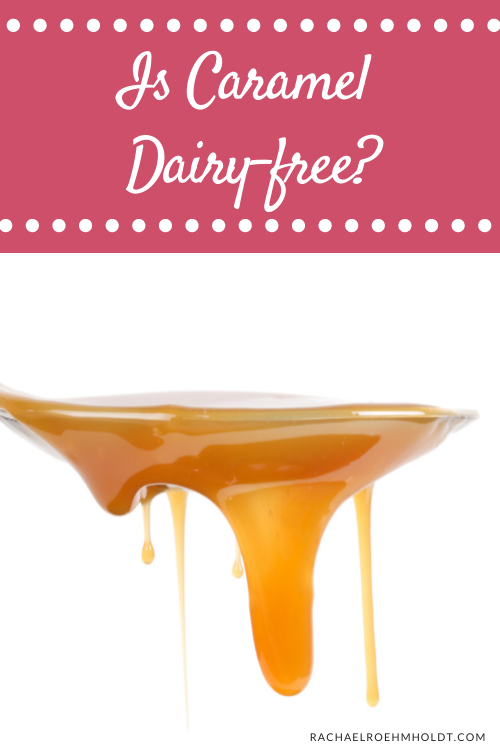 Is caramel dairy-free?
Most caramel is not dairy-free as it contains milk or cream. It is possible to make dairy-free caramel if the milk is substituted for coconut milk or other dairy-free milk or cream.
It's not too common to find dairy-free caramel, but there are brands that make it, like Cocomels, and of course you can make your own dairy-free caramel at home.
Is caramel vegan?
Caramel isn't generally vegan, however it can be made that way and some brands do make vegan caramel. Look for caramels that contain no animal products, like milk or cream, and instead use coconut milk or another dairy-free milk option in the ingredients.
Is caramel color gluten-free?
In North America, wheat is not usually used in the creation of caramel coloring, making it generally safe for a gluten-free diet.
That said, some manufacturers use caramel coloring that is derived from wheat. If this is a concern to you, be sure to check the ingredients lists and also look for a "contains wheat" statement on the packaging. If you find that label, you'll want to choose another product.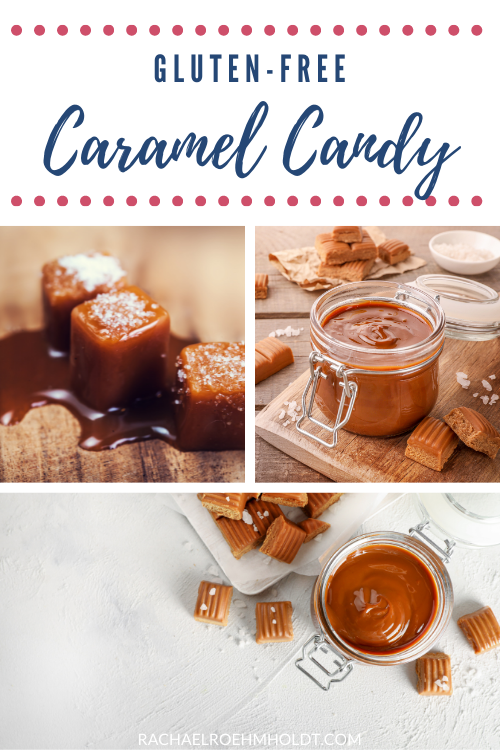 Does my favorite candy with caramel have gluten?
If you have a favorite type or brand of caramel, you may be wondering if that is safe for you to enjoy on your gluten-free diet. Find out with this information below.
Do caramel apples have gluten?
Since caramel is usually gluten-free, caramel apples are likely to be gluten-free too, assuming no other gluten ingredients have come into contact with the treat.
If you enjoy caramel apples with just apples and caramel, you'll know this is usually a safe choice for you on a gluten-free diet.
Some caramel apples are coated with chocolate, sprinkles, or rolled in cookie or graham cracker crumbs. In this case, you'd want to be sure that your caramel apples are kept simple. These cookie crumbs contain gluten, and you'll want to choose something without extras that might introduce gluten into your caramel apple.
Caramel apples generally contain milk and dairy products, so if you also avoid dairy, you'll want to find a recipe or a caramel apple product that uses dairy-free milk in the recipe for their caramel.
Are caramel Milky Ways gluten-free?
Milky Way Simply Caramel candy bars contain no gluten ingredients, as per their ingredients lists.
If you also avoid dairy, know that this caramel does contain milk ingredients and you'll want to choose another treat.
Read on: Are Milky Ways gluten-free?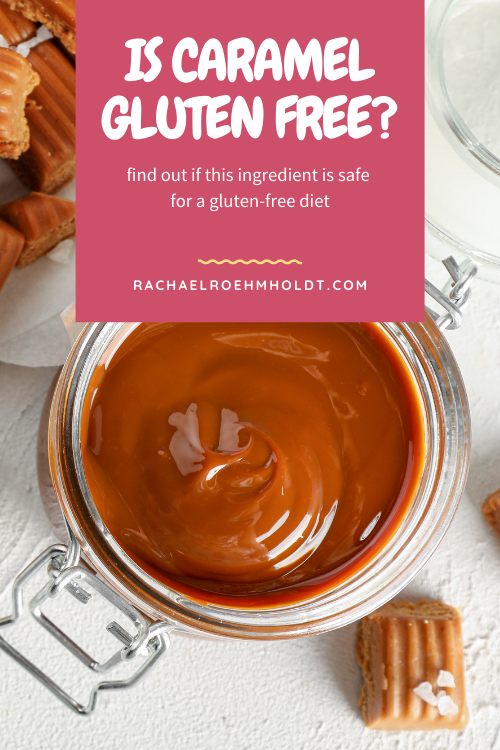 Is McDonalds caramel gluten-free?
The ingredients in McDonalds caramel syrup that's used in their sundaes and coffee drinks contain sugar, sweetened condensed milk, water, corn syrup, natural flavors, brown sugar, propylene glycol, sea salt, disodium phosphate, and potassium sorbate.
None of these ingredients contain gluten, so you should feel okay enjoying the caramel syrup from McDonald's if you follow a gluten-free diet. Be sure to be aware of cross contamination with other gluten containing foods where your food is prepped at McDonalds.
McDonalds caramel does contain dairy ingredients, so if you're also following a dairy-free diet, this is a food you'll want to avoid.
Is Cadbury caramel gluten-free?
Cadbury, owned by the Hershey's company in the US, always states if wheat or gluten is present in their candies. You can look at the ingredients lists or look for a "contains wheat" note on the packaging to know whether or not the product you're holding is gluten-free.
That said, most Cadbury products with caramel in them do not contain gluten ingredients. They don't make a statement about being made in a dedicated gluten-free facility, but there are no additional ingredients introduced to these products.
Cadbury caramel does contain dairy, so if you are also following a dairy-free diet, you'll want to choose another option.
Are Kraft caramels gluten-free?
According to the product page on the My Food and Family website (the name of the Kraft Heinz website), Kraft caramels contain corn syrup, sugar, skim milk, palm oil, whey, salt, artificial and natural flavor, and soy lecithin.
None of these ingredients contain gluten and though there is no gluten-free label, these contain no added gluten.
Kraft caramels do use milk and dairy products in their caramels, so opt for a different caramel brand if you're also dairy-free.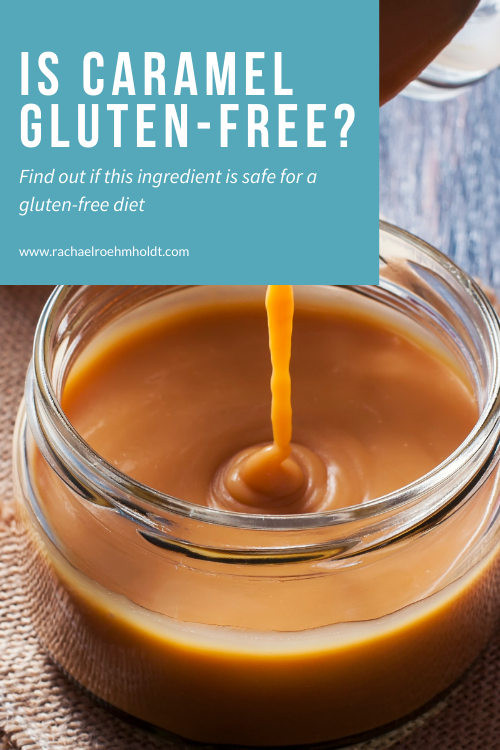 Are caramel baking chips gluten-free?
Depending on the brand, many baking chips that are caramel flavored are both gluten and dairy-free – yay! Try Baker's Choice brand if you like to add these to your favorite baking recipes.
Are Hershey's Caramel Kisses gluten-free?
Hershey's brand is great in that they are very transparent about gluten and other allergens in their products. According to their website, Milk Chocolate Filled with Caramel Kisses are gluten-free.
Are milk duds caramels gluten-free?
According to the Hershey's website, all varieties of Milk Duds are gluten-free. If you follow a gluten-free diet, this type of candy is safe for you to enjoy.
Read on: Are Milk Duds Gluten-free?
Are Rolo caramels gluten-free?
Rolos do not contain any gluten ingredients and they are considered to be gluten-free by the Hershey's company.
Their website states that all the products are gluten-free except Rolo minis.
Read on: Are Rolos Gluten-free?
Are Caramel Apple Pops gluten-free?
According to the Tootsie website, the maker of Caramel Apple Pops, this brand of lollipops are gluten-free. In fact, all Tootsie products are currently gluten-free – hurray!
These do contain milk, so avoid them if you are also following a dairy-free diet.
If you love caramel and have been wondering how it fits into a gluten-free diet, I hope that this post has helped you determine whether it will be a good option for you.
Most caramel is safe for a gluten-free diet, but it also contains dairy. If you avoid dairy in addition to gluten like I do, you'll want to look for a dairy-free caramel option to add to your diet or learn to make this treat at home.
If you're looking for more info on your favorite candy brands, find out if they're gluten-free in these posts!