Find out what Thousand Island dressing is made of, what it's used for, and what brands are safe to enjoy on a gluten-free diet.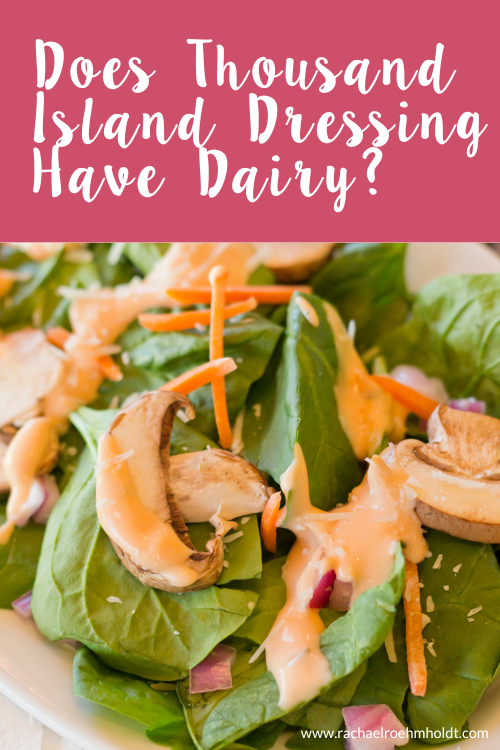 If you enjoy a salad for lunch or dinner, you may have had choices around which salad dressing to choose. Some of the more popular options include ranch, Italian, Caesar, and Thousand Island.
While I've talked about each of these others before here on the blog, I thought it only fitting to dive into Thousand Island dressing in this post today.
Find out what Thousand Island dressing is, what it's used for most commonly, what the main ingredients are, and if this dressing is safe for folks who avoid dairy in their diets.
Whether you love this rich dressing on salads, sandwiches, or burgers and you're trying to stick with a dairy-free diet, you won't want to miss this post!
What is Thousand Island dressing?
Thousand Island dressing is a flavor of salad dressing popular in the US. This dressing gets its name from the Thousand Islands region, an area bordering the United States and Canada along the St Lawrence River.
This dressing is popular to serve on salads, burgers, and many restaurants also use it on Reuben sandwiches as well.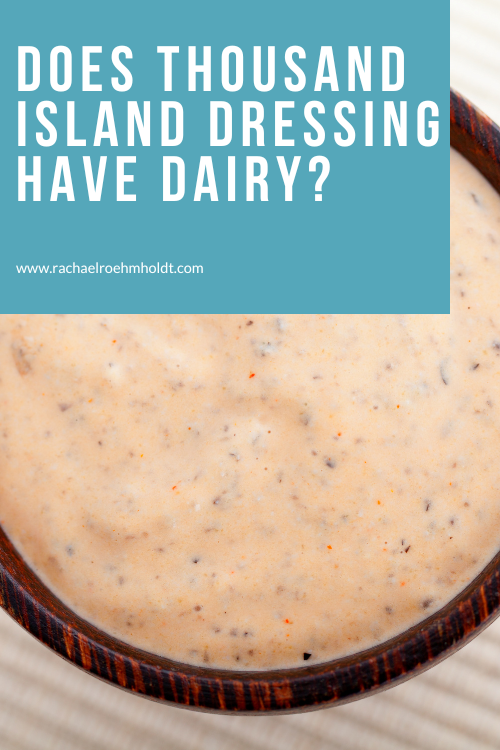 What is Thousand Island dressing used for?
Thousand Island dressing is most commonly used as a salad dressing, but many restaurants use it as a spread on burgers and sandwiches.
The Reuben sandwich in particular, a sandwich made with corned beef, swiss cheese, sauerkraut, and rye bread, also gets a smear of Thousand Island dressing.
Places like McDonald's and In-N-Out Burger use Thousand Island dressing on some of their burgers under the name of "secret sauce" or "special sauce."
According to Wikipedia, Thousand Island dressing is also called "American dressing" in Germany.
Read on: 75 gluten and dairy-free salad recipes
What is Thousand Island dressing made from?
Thousand Island dressing is usually made with a number of different condiments all mixed together.
You'll find a combination of these ingredients in most Thousand Island recipes: mayonnaise, olive oil, ketchup, mustard, tomato puree, vinegar, sweet pickle relish, Worcestershire sauce, orange juice, lemon juice, paprika, and salt.
Most Thousand Island dressings also call for some solid ingredients, mainly miced or finely chopped pickles, onions, bell peppers, parsley, garlic, chives, pimento, hard-boiled eggs, and sometimes even chopped nuts.
There are a million different variations on this recipe and you're likely to never find two of the same when looking in cookbooks or online. There's no one "true" way to make a Thousand Island dressing recipe.
When it comes to bottled Thousand Island dressings, you will see these same ingredients, plus maybe a few others for preservatives, maintaining texture, or stabilizers.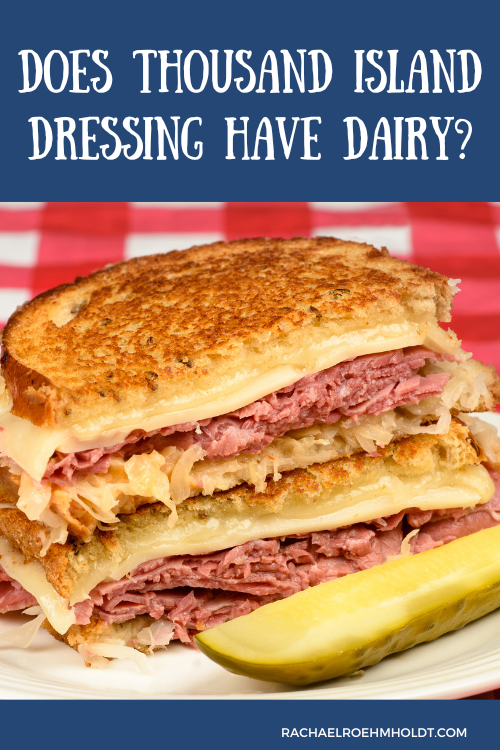 What is dairy?
Dairy is a general name for ANY food that is made from milk. Technically, this is any food made from cow's milk or goat's milk or sheep's milk. Any animal milk is dairy. However, mostly when we're talking about dairy, we're talking about drinking cow's milk, because that's what is most popular here in the United States.
The most common foods that are considered to be dairy are: milk, cream or heavy cream, cheese, ice cream, and yogurt. This includes different variations of each of these as well, such as: hard cheeses, soft cheeses, cottage cheese, feta cheese, flavored milks, different flavored ice creams and yogurts, pudding, and sherbet.
If a product is made from cow's milk or any animal milk, it is considered to be a dairy product.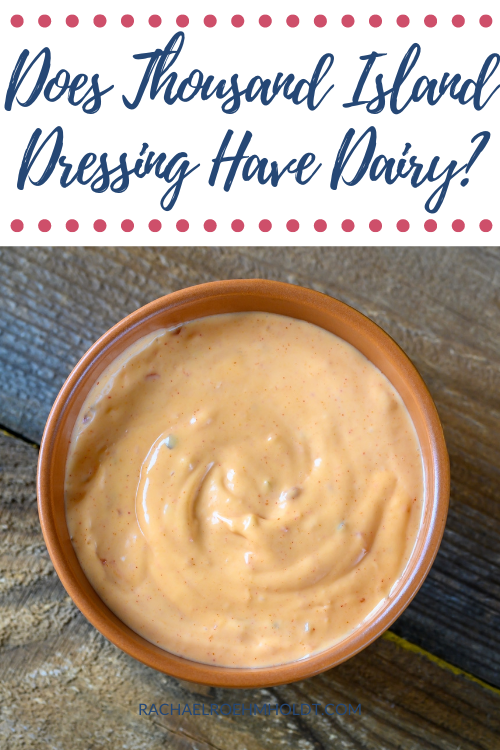 Does Thousand Island dressing have dairy?
Thousand Island dressing most commonly does not contain dairy ingredients. This dressing gets its creaminess from a base of mayonnaise, a condiment made from eggs and oil.
Depending on the recipe, you may or may not find dairy ingredients in a Thousand Island dressing recipe. It's best to read through an entire recipe before making it to be sure there are no hidden sources of dairy in your homemade dressing.
In a bottled Thousand Island dressing, again, you may or may not find dairy and it will really depend on the brand and what they choose to include as ingredients in their recipe.
It's important to look through ingredients lists for any hidden names of dairy before buying. This is the only way to be sure there is no dairy in the dressing you've selected off the shelf.
You can also look for a "contains milk" near the ingredients list on Thousand Island dressing packaging to help make this easier to determine.
Read on: Does ranch have dairy?
Read on: Is Italian dressing gluten-free?
Read on: Does Caesar dressing have dairy?
Is Thousand Island dressing gluten-free?
Like most packaged foods, there's no hard and fast rule for Thousand Island dressing being gluten-free. Most salad dressings are a hit or miss when it comes to gluten and Thousand Island is no different.
Review ingredients to help you determine this or look for a gluten-free label to help make your decision making a little easier. The list I've included in this post has noted those that are also gluten-free to help you navigate the salad dressing shelf next time you're at the store.
Read on: Gluten-free salad dressing: types & brands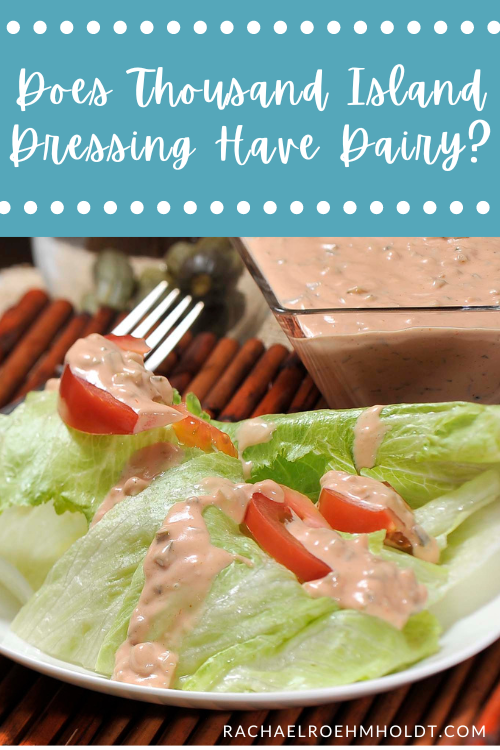 Brands of dairy-free Thousand Island dressing
There are a number of brands of Thousand Island dressing that don't contain any dairy ingredients since the base of this recipe is usually mayonnaise, an egg and oil based condiment.
Here is a list of a few brands that you may consider looking for next time you're at the store trying to find a dairy-free replacement for your favorite Thousand Island dressing.
Those with an asterisk (*) are marketed as being gluten-free by their brands as well. If you follow a gluten-free diet, this information will help you make informed decisions next time you're shopping.
Annie's Organic Thousand Island Dressing*
Drew's Organics Organic Thousand Island Dressing & Quick Marinade*
Follow Your Heart Thousand Island Dressing*
Happy Belly Thousand Island Dressing
Ken's Steakhouse Thousand Island*
Ken's Steakhouse Lite Thousand Island*
Marzetti's Thousand Island Dressing*
Organicville Thousand Island Dressing*
Primal Kitchen Thousand Island Dressing*
Walden Farms Thousand Island Dressing
Wishbone Light Thousand Island Dressing*
Wishbone Thousand Island Dressing*
If you love using Thousand Island dressing on salads, smearing it on sandwiches, or layering it on burgers, I hope this information has been helpful for you. Thousand Island generally doesn't have any dairy ingredients, but that doesn't mean always!
Review ingredients lists before buying store bought brands, and if you're making your own Thousand Island dressing at home, know that the ingredients you already use in your dairy-free cooking will work great in a homemade recipe.
If you loved this post, I hope that you'll share it with your friends on Facebook and pin it for future reference on Pinterest.
Love this post? You might also want to check out these!
Find out if your favorite foods and ingredients contain gluten with these posts!