Find out if Caesar dressing contains dairy and how it fits into a dairy-free diet.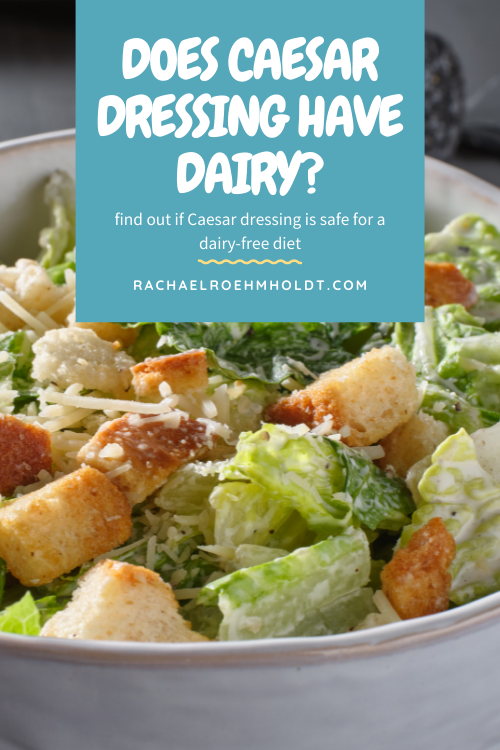 Note: I am a proud Amazon, Chomps, MunkPack, and Thrive Market affiliate and am happy to recommend their service and products to you. Please know that as an affiliate, I may receive a small commission on the products you purchase after clicking through my links. For more info, please see my disclosure policy here.
Do you love Caesar salads and Caesar dressing, but also need to follow a dairy-free diet for health needs? Caesar salad is by far one of the (if not THE) most popular salads in the US. That means a lot of Caesar dressing is being put on store shelves and romaine lettuce in restaurants everywhere daily.
But if you avoid dairy, you know that any food that's creamy is up for questioning. Is it creamy from milk, cream, butter, eggs? What other ingredients in that food could have dairy?
Caesar dressing is no different. Even if your salad doesn't have obvious ingredients with dairy, like cheese, then the dressing might, right?
If you've been thinking along these lines at all when it comes to deciding on your next order from your favorite lunch spot or which bottled dressing to pick up next time you're at the store, I've got you covered.
In this post, we're going to talk about what Caesar dressing is, what it's used for, and the main ingredients in Caesar dressing.
We'll also go into what dairy is, if Caesar dressing is dairy-free, vegan, and gluten-free. Finally, we'll wrap up with some dairy-free brands of Caesar dressing to shop for and even a few recipes you can try to make at home.
Caesar salad lovers unite! Let's learn about Caesar salad and how it fits into a dairy-free diet!
What is Caesar dressing?
Caesar dressing is a creamy salad dressing that's most commonly used on Caesar salad. This type of salad is most commonly made with romaine lettuce, croutons, parmesan cheese, and Caesar dressing.
Caesar dressing is used for salad mostly, but can also be used as a dip or marinade for chicken or other meat.
Read on: Gluten-free Salad Dressing: Types & Brands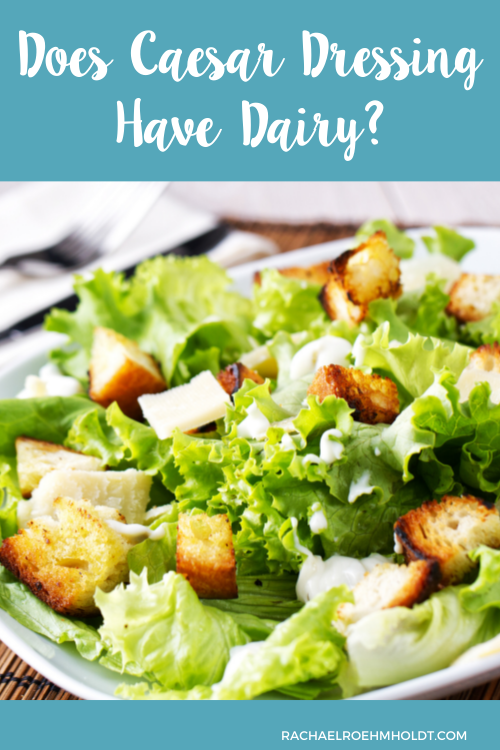 What is Caesar dressing used for?
Caesar dressing is well known to be used on Caesar salad, but it's also great used in different ways. Try one of these fun ideas to make the most of Caesar dressing:
Marinade for grilled meat or chicken
Flavoring for roasted vegetables
Dip for a veggie tray or crackers
In potato salad
In pasta salad
As a spread for any type of burgers
In tuna or chicken salad
On baked fish
On sandwiches or wraps
Served on the side with kebabs or skewers
Read on: 75 gluten and dairy-free salad recipes
What are the ingredients in Caesar dressing?
The main ingredients in Caesar dressing are olive oil, egg yolks, dijon mustard, Worcestershire sauce, anchovies, parmesan cheese, lemon, garlic, and pepper.
Each recipe may differ a little bit, and some recipes may add their own twist to this recipe to make it unique.
What is dairy?
Dairy is a general name for ANY food that is made from milk. Technically, this is any food made from cow's milk or goat's milk or sheep's milk. Any animal milk is dairy.
However, mostly when we're talking about dairy, we're talking about drinking cow's milk, because that's what is most popular here in the United States.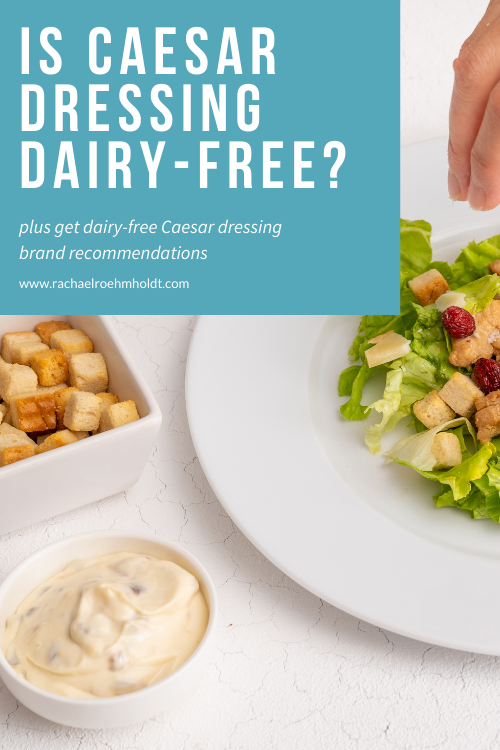 Is Caesar dressing dairy-free?
Caesar dressing is commonly made with Parmesan cheese, so this is not considered a dairy-free food.
If your Caesar dressing doesn't contain cheese or other milk products, it will be considered safe for a dairy-free diet.
Is Caesar dressing vegan?
Caesar dressing contains both Parmesan cheese and eggs making this not a good choice for a vegan diet.
That said, there are plant-based vegan Caesar dressings available at many grocery stores, and you can easily make your own at home if that feels like a project you'd like to try.
Is Caesar dressing gluten-free?
Caesar dressing is generally considered gluten-free as there are no gluten-containing ingredients in most products and recipes.
If buying store-bought Caesar dressing, look for a gluten-free label and read ingredient lists to double check that what you're buying works for your diet.
Dairy-free Caesar dressing brands
Even though many Caesar dressings contain dairy, there are a few dairy-free options available at many grocery stores.
Here are some to look out for next time you're whipping up a Caesar salad at home:
Bonsan Caesar Dressing
Chosen Foods Caesar Dressing & Marinade
Daiya Dairy-free Creamy Caesar Dressing
Follow Your Heart Organic Vegan Caesar Dressing
Mother Raw Caesar Dressing
Newman's Own Dairy-free Caesar Dressing
Open Nature Vegan Caesar Dressing
Panera Bread At-Home Dressing (contains gluten)
Primal Kitchen Caesar Dressing with Avocado Oil
Thrive Market Caesar Dressing
Trader Joe's Vegan Caesar Dressing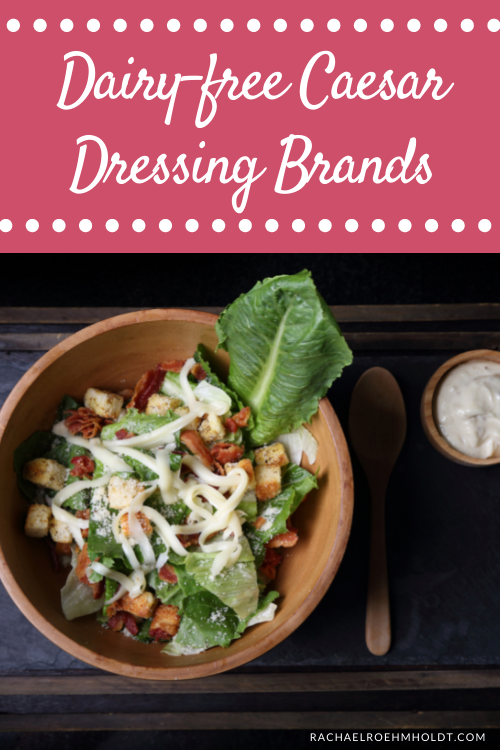 Homemade dairy-free dressing recipes
If you're interested in trying your hand at making your own dairy-free dressing at home, here are a few recipes you might want to consider:
If you love Caesar dressing and have been wondering if you can still enjoy it on a dairy-free diet, I hope this post has helped you determine which brands to buy and that you can also make it at home easily.
Continue to add Caesar dressing to all your best salads as long as you're picking a vegan or dairy-free brand!
If you loved this post, I hope that you'll share it with your friends on Facebook and pin it for future reference on Pinterest.
Love this post? You might want to check these out!
Find out if your favorite foods and ingredients contain dairy with these posts!