Find out what Italian dressing is made of, what it's used for, and what brands are safe to enjoy on a gluten-free diet.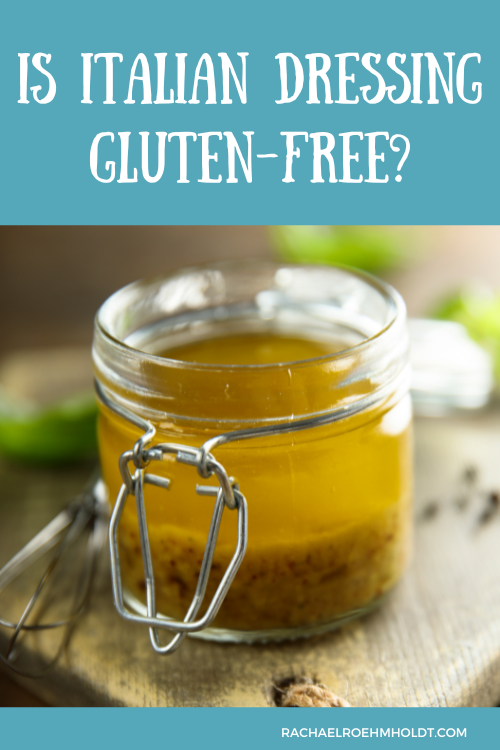 Note: I am a proud Amazon, Chomps, MunkPack, and Thrive Market affiliate and am happy to recommend their service and products to you. Please know that as an affiliate, I may receive a small commission on the products you purchase after clicking through my links. For more info, please see my disclosure policy here.
If you love getting your greens from big green salads, you have probably come across Italian dressing either in restaurants or at grocery stores. This tangy, full-flavored salad dressing goes well with any Italian-inspired salad with greens, tomatoes, cucumbers, and olives.
You may have even come across recipes for pasta salads or marinades that use bottled Italian dressing and wondered if this is an ingredient you can use while on a gluten-free diet.
Of course, on a gluten-free diet every ingredient needs to be looked at with a careful eye. Gluten can come in packaged foods in a variety of places, for a variety of reasons, and under various names.
That's why we're going to dig into the topic of Italian dressing and go over everything we need to know about this dressing before you decide to make your next batch or buy your next bottle.
In this post, we're going to talk about what Italian dressing is, what it's used for, and what the main ingredients are in this popular salad dressing flavor.
We'll also discuss what gluten is, where it hides in salad dressing, and which brands to look for when you're avoiding gluten. Plus we'll do a quick Q&A for some popular Italian dressing brands to help you determine if your favorites are ones you can continue enjoying.
Let's get to it!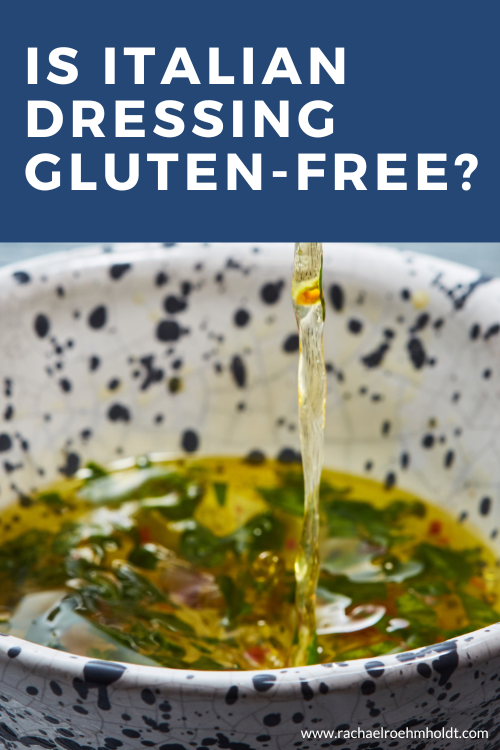 What is Italian dressing?
Italian dressing is a type of salad dressing, usually made with vinegar or lemon juice, oil, garlic, salt and pepper, herbs and spices. It can sometimes contain cream or cheese, but not always.
Italian dressing differs from a vinaigrette in that it's often a little thicker in texture and generally has more ingredients for flavor.
You can buy or make your own Italian dressing at home or buy bottled Italian dressing at most grocery stores.
Read on: Gluten-free salad dressing: types & brands
What is Italian dressing used for?
Italian dressing is most commonly used for topping and tossing with salad greens. However, that's not the only use.
Many folks use Italian dressing for marinating chicken, pork, or other protein, tossing in with a homemade pasta salad, or adding to a warm pasta dish for extra flavor.
Tossing a tomato, cucumber, and basil salad with Italian dressing is another delicious way to use this dressing.
Read on: 75 gluten and dairy-free salad recipes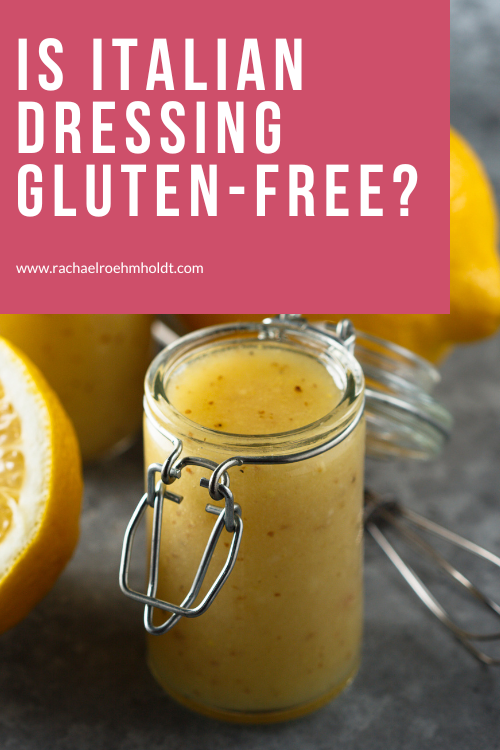 What is Italian dressing made from?
Recipes will vary for Italian dressing. Most homemade versions of this popular salad dressing contain white wine vinegar, lemon juice, olive oil, garlic, onion, salt, and dried herbs. The dried herbs used are usually basil, oregano, and thyme. Sometimes red pepper flakes are added as well.
You may or may not see dijon mustard, honey, and even Parmesan cheese called for in different Italian dressing recipes.
Store bought Italian dressings often contain these ingredients, but also preservatives or stabilizers to help maintain texture and flavor while allowing them to be shelf stable.
What is gluten?
Gluten is a protein found in most wheat products, and acts as the "glue" that helps to hold wheat, barley, kamut, spelt, farro, durum, bulgur, rye, and semolina together to maintain their shape.
You can find gluten in whole grains, but also in many processed foods as well. If you purchase wheat bread, there will be gluten in it, because wheat by nature has gluten.
Many processed foods have hidden gluten in them in the form of gluten or wheat derivatives. These are also in the form of flavorings, binders to keep ingredients together, or other additives.
Read on: What is Gluten in Food? The Basics of a Gluten-free Diet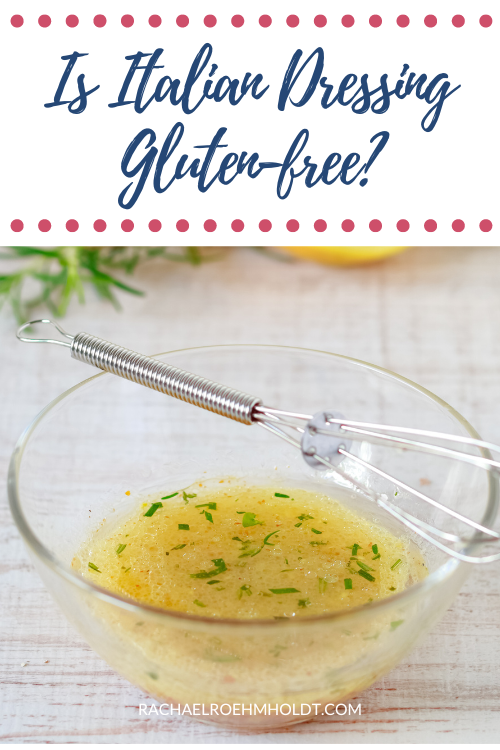 Is Italian dressing gluten-free?
Most Italian dressing is gluten-free, but it's hard to give one broad statement to an ingredient that can vary from one kitchen to another as well as one brand to another.
First, depending on whether or not you make your own dressing at home will help determine if it is gluten-free. If you are using ingredients from your kitchen, you can easily determine if this dressing is gluten-free. Simply only use gluten-free ingredients in your dressing and the final result will also be gluten-free.
Store bought varieties of Italian dressing can be a little more tricky. Gluten can sometimes show up as an ingredient to help give a desired texture in a dressing.
There are many brands of gluten-free Italian dressing available, however it's important to check for a gluten-free label and review ingredients lists before buying. One brand may be gluten-free while another may have hidden gluten.
Do your due diligence in reviewing brands before you leave home or reviewing ingredients lists when you get to the store and are at the salad dressing aisle.
Is Italian dressing dairy-free?
Not all Italian dressing is dairy-free. Many varieties contain Parmesan or Romano cheese in their recipes or their store bought variations.
Keep this in mind if you also follow a dairy-free diet and are looking for a variety that works for you while shopping at the grocery store. I've included notes for some options that are dairy-free in the list of gluten-free brands below.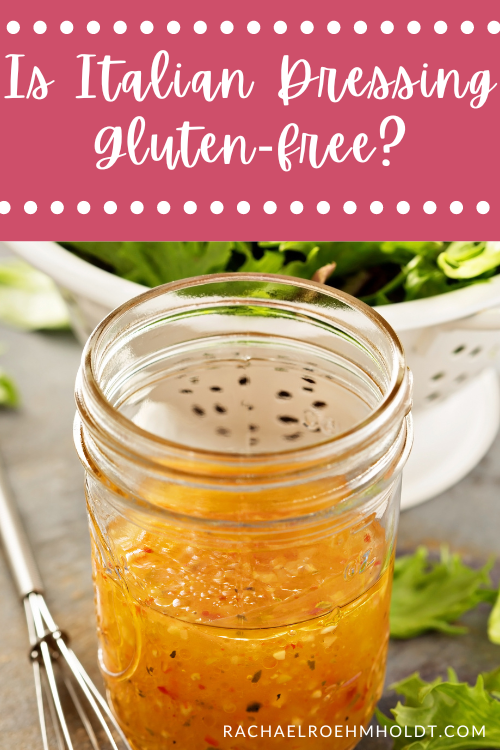 Brands of gluten-free Italian dressing
There are quite a few brands of gluten-free Italian dressing available at grocery stores. If you are looking for an option to pick up next time you need to purchase this ingredient, use this list as a jumping off point of what to look for.
This list doesn't substitute for reviewing bottles and ingredients before you buy, so while at the time of publishing this post these brands are gluten-free, they may not always be. Check every bottle before purchasing.
Those with an asterisk (*) are noting those that are also dairy-free.
Annie's
Annie's Tuscany Italian Dressing*
Brianna's
Brianna's Italian Vinaigrette
Drew's Organics
Drew's Organics Classic Italian Dressing & Quick Marinade*
Girard's
Girard's Olde Venice Italian Dressing*
Ken's Steakhouse
Ken's Steakhouse Italian*
Ken's Steakhouse Creamy Italian
Ken's Steakhouse Lite Northern Italian
Ken's Steakhouse Zesty Italian*
Ken's Steakhouse Italian with Aged Romano
Ken's Steakhouse Three Cheese Italian
Ken's Steakhouse House Italian
Ken's Steakhouse Simply Vinaigrette Italian
Ken's Steakhouse Lite Italian*
Ken's Steakhouse Chef's Reserve Italian with Garlic & Asiago Cheese
Marie's
Marie's Italian Vinaigrette*
Marie's Garlic Parmesan Italian Vinaigrette
Marie's Creamy Italian Garlic
Marzetti's
Marzetti's Sweet Italian Dressing*
Marzetti's Roasted Garlic Italian Vinaigrette
Newman's Own
Newman's Own Family Recipe Italian Dressing
Newman's Own Organic Italian Dressing*
Newman's Own Zesty Italian Dressing*
Newman's Own Light Italian Dressing*
Primal Kitchen
Primal Kitchen Italian Vinaigrette & Marinade*
Primal Kitchen Dreamy Italian Dressing*
Wishbone
Wishbone Creamy Italian Dressing
Wishbone Fat Free Italian Dressing*
Wishbone House Italian Dressing
Wishbone Italian Dressing*
Wishbone Italian Herb Vinaigrette*
Wishbone Italian Three Cheese Dressing
Wishbone Light Italian Dressing*
Wishbone Zesty Robusto Italian Dressing*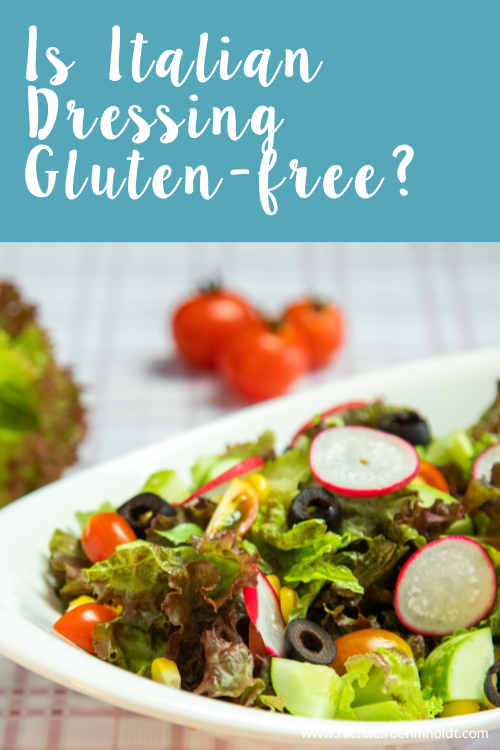 Are my favorite brands of Italian dressing gluten-free?
There are so many brands of Italian dressing available, but a few rise to the top when it comes to questions about whether or not they're safe for a gluten-free diet. Let's go over some of these popular brands and get the question as to whether or not they're gluten-free answered here.
Is Kraft Zesty Italian Dressing gluten-free?
There are no gluten-containing ingredients in Kraft Zesty Italian dressing, though Kraft does not make any gluten-free claims about this product.
Use your best judgment about how your body reacts to gluten even in trace amounts from cross contamination about whether or not this product is a good choice for you.
Is Olive Garden Italian Dressing gluten-free?
Olive Garden's Italian dressing has no gluten ingredients, but it is made in a facility that processes gluten-containing ingredients. Keep this in mind as you decide if this is an ingredient that you're comfortable with buying or ordering from this restaurant.
Read on: Olive Garden Gluten-free Menu Items
Is Wishbone Italian Dressing gluten-free?
Wishbone offers a number of Italian dressing varieties. None of them contain gluten ingredients, though the brand also doesn't make any gluten-free claims on their dressing.
Use your best judgment about how your body reacts to gluten even in trace amounts from cross contamination about whether or not this product is a good choice for you.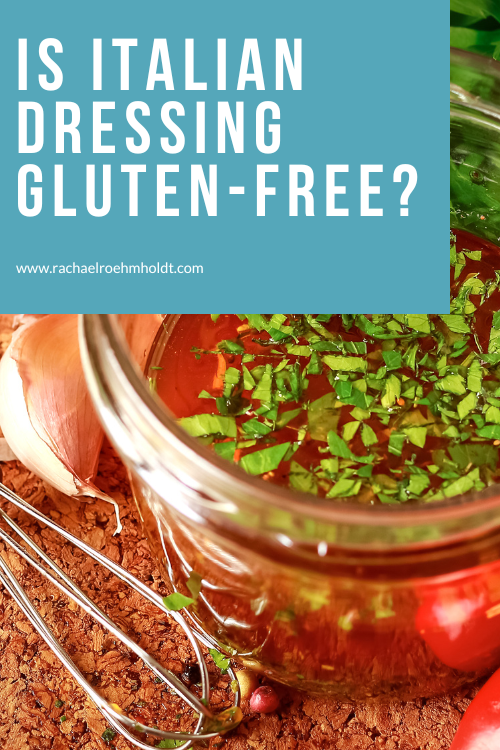 Whether you love to use Italian dressing for your salads, pasta salads, or as a marinade to make some flavorful and delicious chicken, I hope this post has been helpful and informative for you.
There are a number of brands of Italian dressings that contain no gluten ingredients and even have gluten-free labels, like those from Ken's Steakhouse and Newman's Own. Others have no gluten ingredients but do not have the labels to verify that they are gluten-free.
Since there is no hard and fast rule for Italian dressing and how it fits into a gluten-free diet, it's always a good idea to use caution when buying this condiment at the store. Review ingredients lists and look for gluten-free labels.
When in doubt, make your own Italian dressing at home using ingredients you've already verified are gluten-free and you feel comfortable cooking with.
If you loved this post, I hope that you'll share it with your friends on Facebook and pin it for future reference on Pinterest.
Love this post? You might also want to check out these!
Find out if your favorite foods and ingredients contain gluten with these posts!