Find out if Twizzlers candy is gluten-free, dairy-free, and vegan. Plus get a list of gluten-free Twizzlers alternatives to try.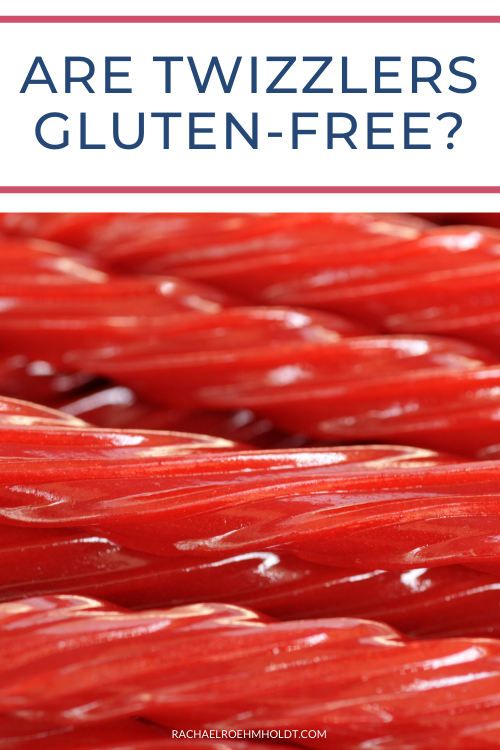 Note: I am a proud Amazon, Chomps, MunkPack, and Thrive Market affiliate and am happy to recommend their service and products to you. Please know that as an affiliate, I may receive a small commission on the products you purchase after clicking through my links. For more info, please see my disclosure policy here.
If you love Twizzlers as a movie snack or as an anytime treat, you may be wondering how this chewy licorice-like candy will fit into your gluten-free diet.
Twizzlers come in a variety of different flavors, including their original strawberry, cherry, and licorice. While not all of their candy can be classified as "licorice," their products come in fruity flavors and they also have a licorice flavored option.
The original strawberry and cherry flavors are quite popular at movie theaters and you can find them at most grocery stores. They've expanded their product lines to include all types of fruit flavors, sour candy, and even some unexpected flavors like chocolate and orange cream pop.
Whether you're just getting started with being gluten-free or have been at it for a while, we can probably agree that knowing where gluten shows up – even in our favorite treats – is important so we can do our best to avoid getting sick.
In this post, we're going to talk all about Twizzlers and help you determine if you want to keep this candy on rotation in your diet. We'll cover the ingredients of Twizzlers and answer the question "are Twizzlers gluten-free?"
We'll also go over if this candy is dairy-free or vegan, and wrap the post up with a few suggestions for other brands you might want to shop for. Let's find out more about Twizzlers!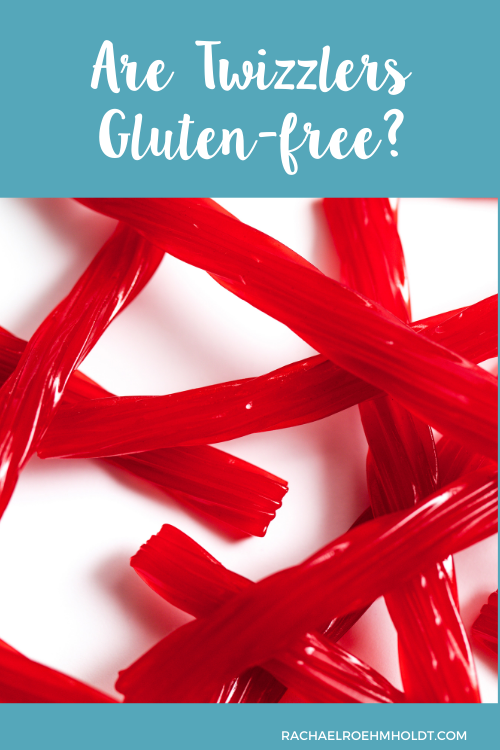 Twizzlers ingredients
Though the ingredients will vary depending on the flavor of Twizzlers you buy, the main ingredients are: corn syrup, enriched wheat flour, vegetable oil, modified potato starch, glyceryl monostearate, natural and artificial flavors, salt, cornstarch, glycerin, citric acid, soy lecithin, artificial color (yellow 5, blue 1, red 40), carrageenan, potassium sorbate.
Read on: Is corn syrup gluten-free?
Read on: Is soy lecithin gluten-free?
What is gluten?
Gluten is a protein found in most wheat products, and acts as the "glue" that helps to hold wheat, barley, kamut, spelt, farro, durum, bulgur, rye, and semolina together to maintain their shape.
Gluten is naturally occurring, and therefore is impossible to strip away from the grain. If a grain naturally has gluten in it, there's no way to make that food gluten-free.
Gluten can be found in candy as one of the main ingredients, especially in gummy candies, as wheat flour or wheat starch. You can also find it in flavorings, thickeners, or binders.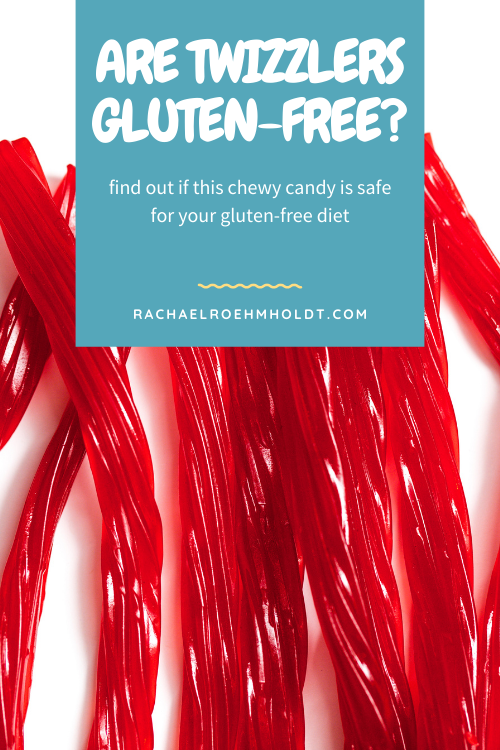 Are Twizzlers gluten-free?
Twizzlers are not gluten-free because they contain wheat flour. The Hershey Company (Twizzler's parent brand) has put out a statement specifically on this topic to help us get a clear answer too:
"TWIZZLERS products are not gluten-free because they include wheat as an ingredient. While these particular products are not gluten-free, we do offer other gluten-free products."
The brand shares a list of gluten-free candy on their website that they offer. You can find that list here.
The website confirms that all flavors of Twizzlers are not gluten-free.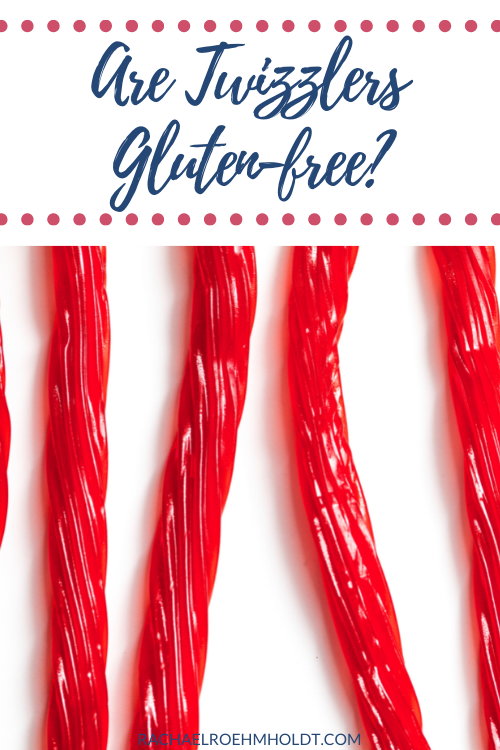 Are Twizzlers dairy-free?
Based on the ingredients list, we can see that Twizzlers contain no dairy products, and are therefore safe to enjoy on a dairy-free diet.
Are Twizzlers vegan?
Twizzlers candy doesn't have any gelatin, which is an ingredient that many vegans watch out for in candy products. This type of candy is vegan-friendly.
Read on: Are Twizzlers vegan?
What Twizzlers products are gluten-free?
All Twizzlers candy is made with wheat flour, making it all not gluten-free. You'll want to choose another type of gluten-free candy to get your sweet craving satisfied.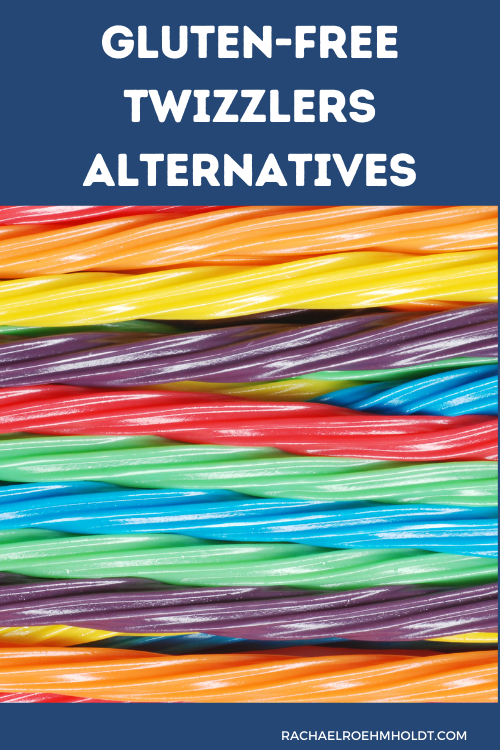 Gluten-free Twizzlers Alternatives
If you love Twizzlers and are looking for a gluten-free alternative to enjoy next time you're getting ready for movie night or packing up a sweet treat for your kiddos, try one of these options.
Fruity Twizzlers Alternatives
Traditional Red and Black Licorice
Read on: Gluten-free licorice
I hope if you're a big Twizzlers fan that this post has given you all the information you need to make an informed decision about keeping this candy in your diet.
While all of Twizzlers products do contain gluten, there are a number of great alternatives in both fruit and traditional licorice options.
f you loved this post, I hope that you'll share it with your friends on Facebook and pin it for future reference on Pinterest.
Love this post? You might also want to check out these!
Find out if your favorite foods and ingredients contain gluten with these posts!