Find out if Twizzlers candy is vegan or dairy-free. Plus learn what ingredients are in Twizzlers and how it fits into a vegan diet.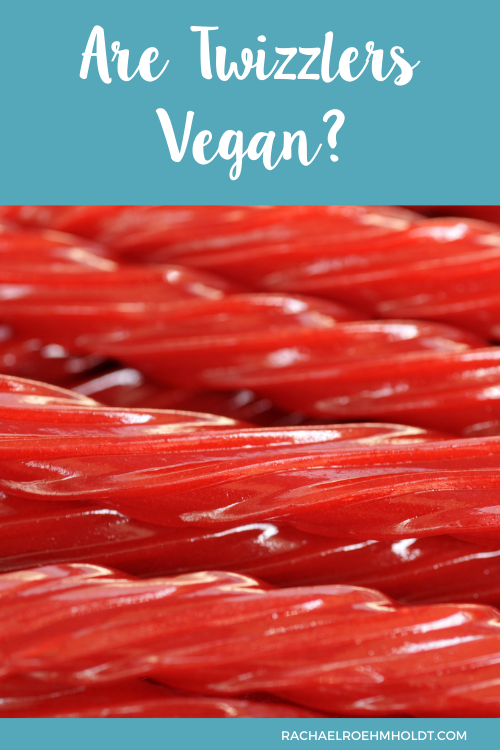 Note: I am a proud Amazon, Chomps, MunkPack, and Thrive Market affiliate and am happy to recommend their service and products to you. Please know that as an affiliate, I may receive a small commission on the products you purchase after clicking through my links. For more info, please see my disclosure policy here.
If you're vegan or have been avoiding animal products for your health, you may be wondering what types of candy are good options for you.
Twizzlers are a popular candy option year-round at movie theaters, candy aisles at grocery stores, and definitely around Halloween.
Whether you're vegan by moral choice or by health requirements, I know that finding information for what foods are good options for you can be tough.
In this post, we're going to talk specifically about Twizzlers candy and how it can fit into your vegan diet. We'll also answer whether or not this candy is dairy-free and vegan. Let's answer this question "are Twizzlers vegan?" to help you make an informed decision next time you're buying candy at the movies or at the store stocking up on sweet treats.
What are Twizzlers?
Twizzlers are a fruity rope-like candy similar to licorice. This candy comes in a few different flavors, like original strawberry, cherry, licorice, mystery, and rainbow flavors.
You can often find this type of candy and many grocery stores, convenience stores, and at movie theaters in the concession stands.
Though the shape mimics licorice, the only flavor that is similar is the licorice flavor. The cherry or strawberry flavors are unique in their own ways to the Twizzlers brands and don't taste like red licorice that we know of.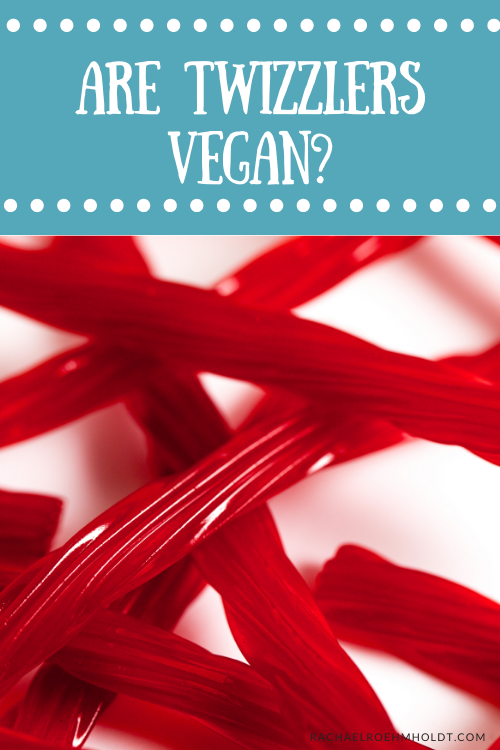 Ingredients of Twizzlers
The Ingredients will vary depending on the flavor of Twizzlers you buy, however the main ingredients in most flavors are: corn syrup, enriched wheat flour, vegetable oil, modified potato starch, glyceryl monostearate, natural and artificial flavors, salt, cornstarch, glycerin, citric acid, soy lecithin, artificial color (yellow 5, blue 1, red 40), carrageenan, potassium sorbate.
Read on: Is corn syrup gluten-free?
Read on: Is soy lecithin gluten-free?
What is a vegan diet?
A vegan diet is one where the person doesn't eat any foods that come from animals. This can include common ingredients like eggs, cheese, milk, honey, and even gelatin.
Most vegans try to stick with whole foods that are plant-based to get the majority of their nutrition.
Are Twizzlers vegan?
Twizzlers candy doesn't have any gelatin, which is the main ingredient I'd look for in a chewy candy like this. There are no other animal products in this product, making it safe for vegans to enjoy.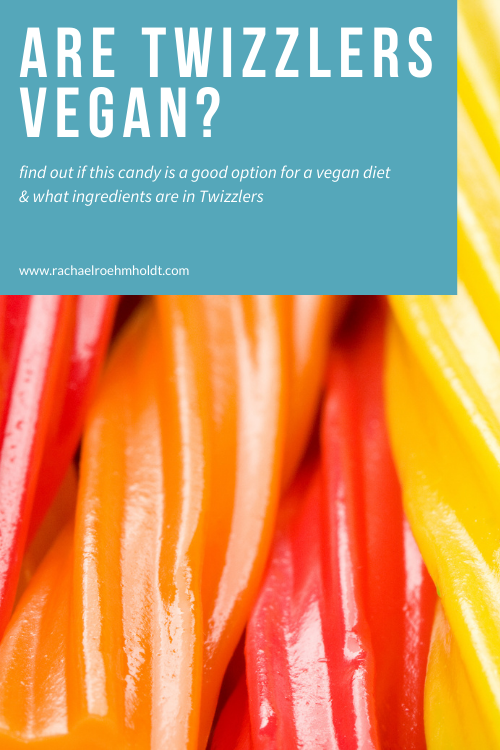 Are Twizzlers dairy-free?
Based on the ingredients list, we can see that Twizzlers contain no dairy products, like milk, cheese, cream, or any other dairy derivatives and are therefore safe to enjoy on a dairy-free diet.
Though being vegan and dairy-free are not one in the same, some folks choose to avoid dairy only instead of all animal products like vegans.
Are Twizzlers gluten-free?
Some folks follow a vegan and gluten-free diet, so I thought it would be useful to include this question here as well. Though being vegan does not mean you need to avoid gluten, some folks choose to keep both animal products and gluten out of their diets.
Twizzlers are not a gluten-free candy, because they contain wheat flour. The Hershey Company specifically states on their website that all flavors of Twizzlers candy is not safe for people who follow a gluten-free diet.
Read on: Are Twizzlers gluten-free?
If you love Twizzlers and have been wondering if you already avoid dairy, eggs, or other animal products if you can enjoy this candy, I hope this information has helped clear up all your questions. Twizzlers are a fine choice of candy for folks who are vegan.
If you loved this post, I hope that you'll share it with your friends on Facebook and pin it for future reference on Pinterest.
If you're looking for more info on your favorite candy brands, find out if they're gluten-free in these posts!