Find out if Twix candy bars are gluten-free, dairy-free, and vegan. Plus find out gluten-free and dairy-free alternatives.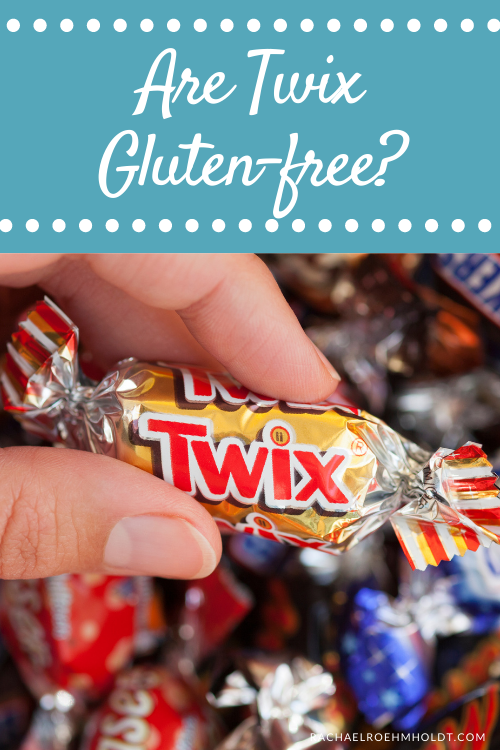 Note: I am a proud Amazon, Chomps, MunkPack, and Thrive Market affiliate and am happy to recommend their service and products to you. Please know that as an affiliate, I may receive a small commission on the products you purchase after clicking through my links. For more info, please see my disclosure policy here.
Twix candy bars are chocolate bars filled with cookies and caramel. This candy usually comes with two bars in each package, hence the "twix," or twin pack. These candy bars are popular year round, and can also be found in mini and fun size versions for Halloween or for sharing sizes for gatherings.
If you love Twix and are trying to stick with a gluten-free diet, you may be wondering if this candy is safe to enjoy.
In this post, we'll talk about the ingredients of Twix candy bars, and if these treats are gluten-free. We'll also go over if they are dairy-free and vegan, to help you make an informed decision about whether or not to add them to your diet.
Ingredients of Twix
Milk chocolate (sugar, cocoa butter, chocolate, skim milk, lactose, milkfat, soy lecithin, pgpr, artificial flavors), sugar, enriched wheat flour (wheat flour, niacin, reduced iron, thiamine mononitrate, riboflavin, folic acid), palm oil, corn syrup, skim milk, dextrose, less than 2% – food starch-modified, salt, cocoa powder, baking soda, soy lecithin, artificial flavor.
Read on: Is corn syrup gluten-free?
Read on: Is soy lecithin gluten-free?
What is gluten?
Gluten is a protein found in most wheat products, and acts as the "glue" that helps to hold wheat, barley, kamut, spelt, farro, durum, bulgur, rye, and semolina together to maintain their shape.
Gluten is naturally occurring, and therefore is impossible to strip away from the grain. If a grain naturally has gluten in it, there's no way to make that food gluten-free.
Gluten can be found in candy as one of the main ingredients, especially in gummy candies, as wheat flour or wheat starch. You can also find it in flavorings, thickeners, or binders.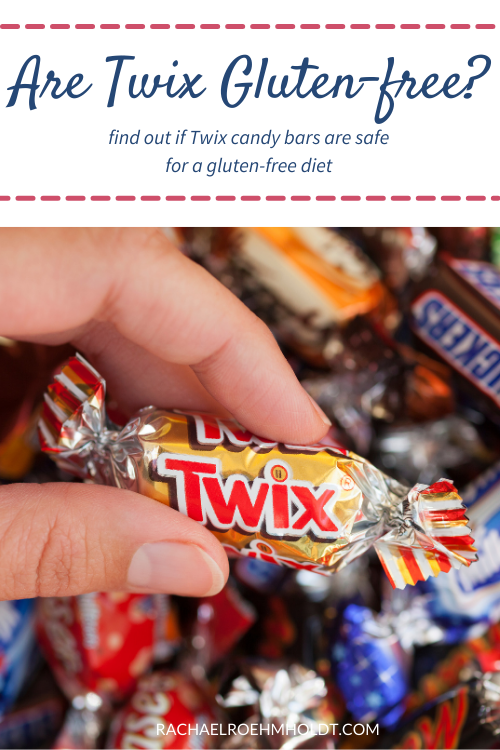 Are Twix gluten-free?
Twix bars contain enriched wheat flour, making this not a good choice for a gluten-free diet. You will want to find another chocolate candy bar that will cure your sweet craving than this brand.
Read on: Is caramel gluten-free?
Are Twix dairy-free?
Twix bars are not dairy-free, as they contain milk in the milk chocolate that's used as a coating around the candy bar. Choose a different candy bar that doesn't have dairy if you're hoping to stick with your dairy-free diet.
Are Twix vegan?
Twix bars are not vegan, as they contain animal products in the milk chocolate. This candy also uses palm oil, which vegans also avoid.
Gluten-free Twix alternatives
If you love Twix candy bars, but are disappointed to learn that these aren't going to work for your gluten-free diet, you might want to consider trying a different brand, like Schar who have a Gluten-free Chocolix bar that's a cookie and caramel bar that's coated in chocolate. It's similar to a Twix, but smaller in size. These contain dairy.
Another option for a dairy-free diet (but that does contain gluten) are the 2fer bars from Go Max Go. These are a cookie and caramel bar coated in chocolate, but made with vegan ingredients. Try this bar if you're vegan or dairy-free, but are still okay to eat gluten.
I hope that if you've been looking for an answer as to whether your favorite Twix candy is gluten-free that you have all the information you need in order to make a choice for you and your diet. This treat isn't gluten-free, but there are other great gluten-free candy bars out there for you to choose from.
If you loved this post, I hope that you'll share it with your friends on Facebook and pin it for future reference on Pinterest.
Love this post? You might also want to check out these!
Find out if your favorite foods and ingredients contain gluten with these posts!