Find out if Milk Duds candy is gluten-free, dairy-free, and vegan and how this candy fits into each of these diets.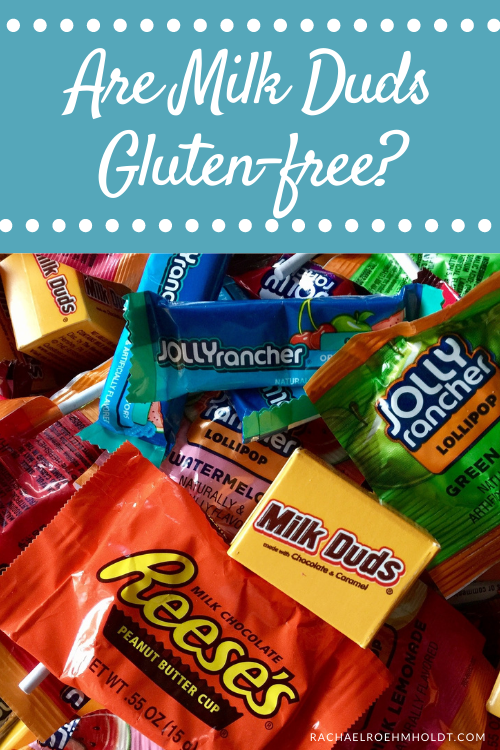 Note: I am a proud Amazon, Chomps, MunkPack, and Thrive Market affiliate and am happy to recommend their service and products to you. Please know that as an affiliate, I may receive a small commission on the products you purchase after clicking through my links. For more info, please see my disclosure policy here.
Milk Duds are caramel bites dipped in milk chocolate. This chewy candy is a popular favorite for movie watching or even just snacking on when you're looking for a sweet treat.
If you love Milk Duds and are trying to stick with a gluten-free diet, you may be wondering if this candy is safe to enjoy. Milk Duds seem like they might be gluten-free, without any crunchy ingredients or obvious cookie ingredients added to them, but are they actually?
In this post, we'll talk about who makes Milk Duds candy, the ingredients, and if these treats are gluten-free. We'll also go over if they are dairy-free and vegan, to help you make an informed decision about whether or not to add them to your diet.
Who makes Milk Duds candy?
Milk Duds are manufactured by the Hershey's company.
Ingredients of Milk Duds
According to the Hershey's website, the maker of Milk Duds, this candy contains the following ingredients:
Corn syrup, sugar, vegetable oil (palm oil, shea oil, sunflower oil, palm kernel oil, safflower oil), dextrose, nonfat milk, reduced protein whey, chocolate, contains less than 2% or less of: brown sugar, mono and diglycerides, whey, baking soda, confectioner's glaze, salt, tapioca dextrin, lecithin, vanillin (artificial flavor)
Read on: Is corn syrup gluten-free?
What is gluten?
Gluten is a protein found in most wheat products, and acts as the "glue" that helps to hold wheat, barley, kamut, spelt, farro, durum, bulgur, rye, and semolina together to maintain their shape.
Gluten is naturally occurring, and therefore is impossible to strip away from the grain. If a grain naturally has gluten in it, there's no way to make that food gluten-free.
Gluten can be found in candy as one of the main ingredients, especially in gummy candies, as wheat flour or wheat starch. You can also find it in flavorings, thickeners, or binders.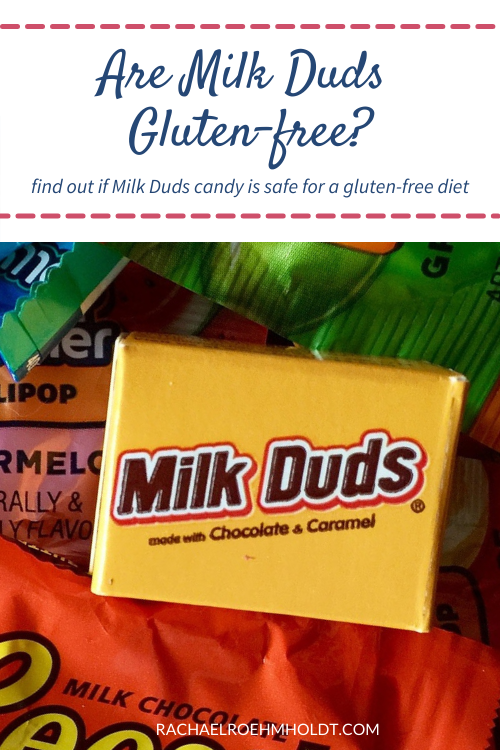 Are Milk Duds gluten-free?
According to the Hershey's website, all varieties of Milk Duds are gluten-free. If you follow a gluten-free diet, this type of candy is safe for you to enjoy.
Read on: Is caramel gluten-free?
Are Milk Duds dairy-free?
Milk Duds contain nonfat milk and reduced protein whey, making this not a good choice of candy for a dairy-free diet. Most caramel candies are made with dairy, so you'll want to look for a coconut milk based caramel candy to get your caramel fix.
Read on: Is whey dairy?
Are Milk Duds vegan?
Milk Duds are not a good candy choice for vegans, as they contain dairy products. You might opt for a plant-based caramel and chocolate treat that's a better choice for your diet.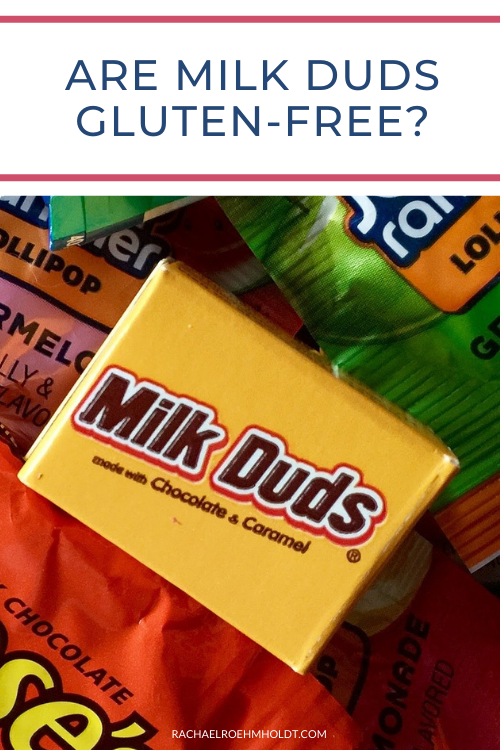 Dairy-free Milk Duds alternatives
Milk Duds candy are gluten-free, but not dairy-free. You might want to try the Cocomels brand, which is a caramel candy made with coconut milk. They have both caramels and "bites," which are caramel bites coated in chocolate, similar to Milk Duds.
Their ingredients are all gluten-free, dairy-free, and vegan. Although their website does state that they use production machinery that is shared with these allergens and they do a thorough cleaning between manufacturing these items.
If you love Milk Duds as a sweet treat, you can feel good that they are gluten-free. If you are also following a dairy-free diet, I'd try out a different type of candy that's made without milk products, like Cocomel Bites. These are equally delicious and also gluten and dairy-free.
If you loved this post, I hope that you'll share it with your friends on Facebook and pin it for future reference on Pinterest.
Love this post? You might also want to check out these!
Find out if your favorite foods and ingredients contain gluten with these posts!