Find out if gummy bears are gluten-free, dairy-free, and vegan. Plus find out a few gluten-free gummy candy brands and varieties to shop for.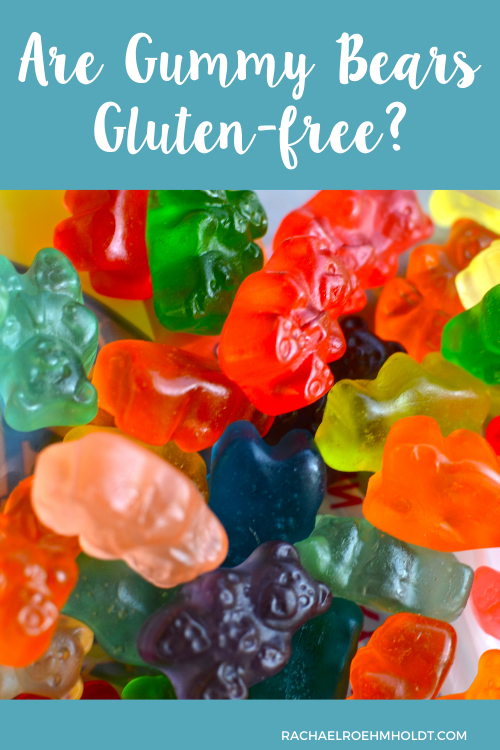 Note: I am a proud Amazon, Chomps, MunkPack, and Thrive Market affiliate and am happy to recommend their service and products to you. Please know that as an affiliate, I may receive a small commission on the products you purchase after clicking through my links. For more info, please see my disclosure policy here.
Do you love gummy bears? Or know a kid in your life who does? Gummy bears are a sweet gummy candy that's made into the shape of bears and enjoyed by both adults and kids.
If you follow a gluten-free diet, you know that gluten can hide just about anywhere – including in candy. Gummy candies are known to have plenty of hidden gluten, which is why we're taking this topic on in today's post.
Find out what most gummy bears are made of and if they're gluten-free. Plus we'll go over if gummy bears are dairy-free and vegan, and even talk about gummy worms and sour gummies. We'll wrap this post up with a list of gummy bear and gummy candy brands that are all gluten-free and safe for a gluten-free diet.
Let's get into it, shall we?
What are gummy bears made of? Ingredients of gummy bears
Though the ingredients of gummy bears will vary by brand, some of the most common ingredients you'll find in this candy are: sugar, gelatin, corn syrup or glucose syrup, starch, flavoring, and citric acid.
Read on: Is corn syrup gluten-free?
What is gluten?
Gluten is a protein found in most wheat products, and acts as the "glue" that helps to hold wheat, barley, kamut, spelt, farro, durum, bulgur, rye, and semolina together to maintain their shape.
Gluten is naturally occurring, and therefore is impossible to strip away from the grain. If a grain naturally has gluten in it, there's no way to make that food gluten-free.
Gluten can be found in candy as one of the main ingredients, especially in gummy candies, as wheat or wheat starch, or glucose syrup which is made from what. You can also find it in flavorings, thickeners, or binders.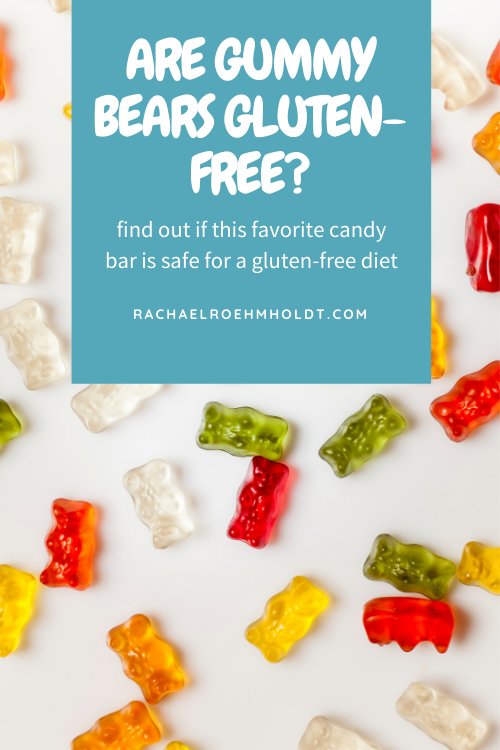 Are gummy bears gluten-free?
Many brands of gummy bears use glucose syrup which is derived from wheat, making this not a safe option for a gluten-free diet.
That said, there are brands that are gluten-free, but you'll need to review the ingredients lists of each brand and package that you find. Some brands may have gluten-free gummy bears, but have entirely different ingredients for another gummy candy they make, so look at every package that you plan to buy before eating.
Another thing to be aware of is cross contamination. Though a package of gummy bears may not contain gluten ingredients, the candy may still have come into contact with gluten during the manufacturing process.
If there are other ingredients with gluten nearby or if they're manufactured on the same machinery as gluten ingredients. Be aware of this while you're trying to stick with your gluten-free diet, and as with any other food, it's a good idea to look for a gluten-free label as this will ensure less than 20ppm of gluten in the product.
Are gummy bears dairy-free?
Most all brands of gummy bears contain no dairy and are considered safe for a dairy-free diet.
Are gummy bears vegan?
Gummy bears, although they don't have any dairy or egg products, are not a good choice for vegans. It's possible to find some brands of gummy bears that are vegan-friendly, but most are made with gelatin, a product derived from animal products.
If you're following a vegan diet, look for a vegan gummy bear and read ingredient lists well before purchasing.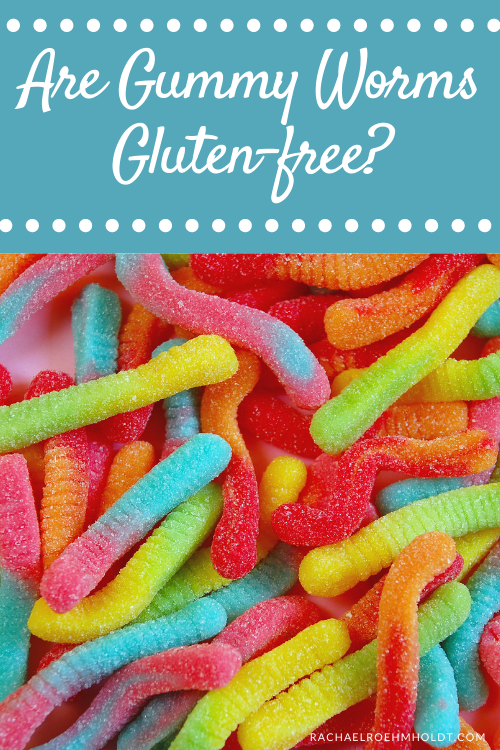 Are gummy worms gluten-free?
Similar to gummy bears, gummy worms may or may not contain gluten in the form of glucose syrup that's been made from wheat. Review ingredients lists before purchasing to be sure that the gummy worms you intend to buy are in fact gluten-free.
Are sour gummy candies gluten-free?
Gummy candy that's marketed as "sour" gets its sour flavor from citric acid or tartaric acid that's been added to the candy. Both of these ingredients are gluten-free and safe for a gluten-free diet.
If you come across a sour gummy candy where the rest of the ingredients are gluten-free, then you will be able to enjoy this product on a gluten-free diet. Again, look for glucose syrup that's been derived from wheat in all gummy products, so you can steer clear of it.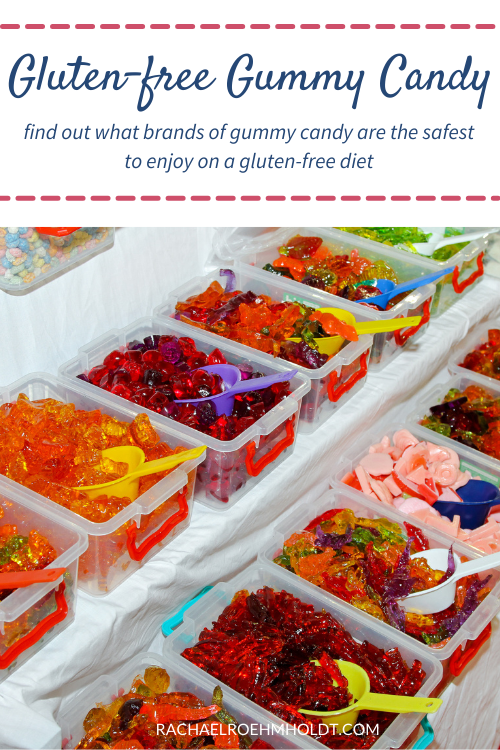 Gluten-free Gummy Bears and Gummy Candy Brands
Look for some of these brands of gummy bears and gummy candies. All of these are gluten-free and have a gluten-free label or have no gluten ingredients listed on their products. I've noted those with a gluten-free label with an asterisk (*).
As with any product, the manufacturer can change their recipe at any time, so check for that gluten-free label and scan the ingredients list every time before buying.
All sizes and flavors of Gummi Bears
All sizes and flavors of Gummi Worms
All flavors of Gummi Rings
Sour Gummi Bears
Sanded Gummi Hearts
Gummi Tic Tac Toe
Gummi Butterflies
Gummi Awesome Blossoms
Gummi Rainforest Frogs
Gummi Rattlesnake
Gummi Army Guys
Gummi Jet Fighters
Gummi Military Heroes
Gummi Poppers
Seasonal Gummi Items
Classic Gummy Bears
Gummy Worms
Swirly Bears
Organic Gummy Worms
Organic Gummy Bears
Organic Forest Critters
Organic Exotic Bears
Juicy Bears
Juicy Bunnies
All flavors in regular size
All flavors in mini size
All sugar-free flavors
Gummy Bears
Spice Drops
Mandarin Orange Slices
Fruit Medley
Superfruits
Tropical
Life Savers 5 Flavors Gummies
Life Savers Collissions Gummies
Life Savers Wild Berries Gummies
Life Savers Neons Gummies
Life Savers Exotics Gummies
Original flavor
Wild Berry
Sour Patch Kids Mystery Soft & Chewy Candy
Sour Patch Kids Just Blue Raspberry
Sour Patch Strawberry Soft & Chewy Candy
Sour Patch Kids Original Soft & Chewy Candy
Sour Patch Watermelon Soft & Chewy Candy
Sour Patch Kids Berries Soft & Chewy Candy
Sour Patch Kids Crush Soda Fruit Mix Flavor
Sour Patch Kids Tropical Soft & Chewy Candy
Sour Patch Kids Heads, 2 Flavors in One
Sour Patch Kids Extreme Sour Soft & Chewy Candy
Sour Patch Kids Big Kids Soft & Chewy Candy
Cinnamon Organic Bears
DelishFish
Gummy Bears
Sour Worms
Gummy Worms
Organic Fruity Bears
Organic Watermelon Rings
Organic Jelly Beans
Classic Bears
Big Bold Bears
Sour Brite Bears
Sour Brite Crawlers Original
Sour Brite Crawlers Very Berry
Sour Brite Crawlers Fruit Punch
Sour Brite Crawlers Watermelon
Sour Brite Mystery Night Crawlers
Crunchy Crawlers
Sour Crunchy Crawlers
Slurpee Sour Brite Crawlers
Slurpee Sour Brite Crawlers Fruit
Sour Brite Crawlers Watermelon
Slurpee Sour Brite Crawlers Squiggles
Slurpee Sour Brite Crawlers Tropical
Plus many other flavors and shapes – check out the packaging for ingredients lists before buying!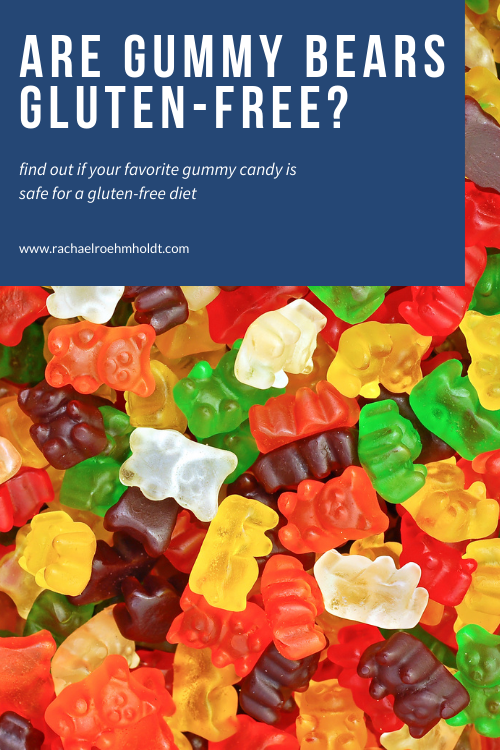 Are my favorite gummy bears and gummy candy gluten-free?
If you already have a favorite gummy bear or gummy candy brand, find out if they are gluten-free. I've included three of the most popular brands I could think of, but if there are others you're curious about, feel free to drop them in the comments and I'd be happy to add to this post!
Are Haribo gummy bears gluten-free?
Here are the ingredients in Haribo gummy bears:
"Glucose syrup (from wheat or corn), sugar, gelatin, dextrose (from wheat or corn), contains less than 2% of: citric acid, artificial and natural flavors, palm oil, palm kernel oil, carnauba wax, white beeswax, yellow beeswax, yellow 5, red 40, blue 1. May contain wheat, traces of milk."
Haribo gummy bears contain glucose syrup as their first ingredient, with a note showing that it is made from either wheat OR corn. They also use dextrose, which could be made from either wheat or corn.
Unfortunately, without knowing whether wheat or corn is used in each bag, it's hard to know for certain if and when this product is ever made to be gluten-free. With that knowledge, it's best to avoid this brand on a gluten-free diet.
Are Black Forest gummies gluten-free?
These are the ingredients in Black Forest gummy bears:
"Corn syrup, sugar, gelatin, modified food starch (corn),citric acid, apple juice from concentrate, sodium citrate, natural and artificial flavors, coconut oil, colors (black carrot juice, beta-carotene, spirulina extract, turmeric), carnauba wax."
According to the Black Forest website, "All of our gummies and fruit flavored snacks are either gluten free or Certified Gluten Free. "
Are Trolli gummies gluten-free?
These are the ingredients in Trolli Original Sour Brite Crawlers:
"Corn syrup, sugar, gelatin, modified food starch (corn), fumaric acid, lactic acid, citric acid, sodium citrate, calcium lactate, sodium lactate, natural and artificial flavors, titanium dioxide [color], yellow 5, red 40, yellow 6, blue 1."
The ingredients in these gummies are gluten-free, however many of them have a note under the ingredients lists that says the following:
"This product was manufactured in a facility where milk, eggs, tree nuts, peanuts, wheat and soy are used in the production of other products."
None of these products have gluten-free labels, which could mean they have the potential for cross contamination or the company simply hasn't tested the levels of gluten in the product. Use your own judgment based on what your body's level of sensitivity is to gluten.
Are Lifesaver Gummies gluten-free?
Lifesaver Gummies 5-Flavors contain the following ingredients:
"Corn syrup, sugar, water, modified corn starch, gelatin, less than 2% of: citric acid, natural and artificial flavors, mineral oil, colors (red 40, yellow 5, blue 1), carnauba wax."
Though Lifesavers does not make any gluten-free claims on their gummy candies, their products do not have any gluten containing ingredients either.
Since this is the case, we can't be sure if there is gluten from cross contamination in this line of Life Savers products. Use your best judgement on whether or not you decide to eat these gummies.
Read on: Are Lifesavers gluten-free?
If you're a gummy bear or gummy candy lover, I hope this post has helped you get the information you need to find a treat that works for you and your diet. Some gummy bears and gummy candy contain gluten while others don't, so look for brands on this list and always review ingredients lists before buying!
If you loved this post, I hope that you'll share it with your friends on Facebook and pin it for future reference on Pinterest.
Love this post? You might also want to check out these!
Find out if your favorite foods and ingredients contain gluten with these posts!