Find out if Fruity Pebbles are gluten-free, what ingredients are in them, and if they are dairy-free. Plus information on Cocoa Pebbles too!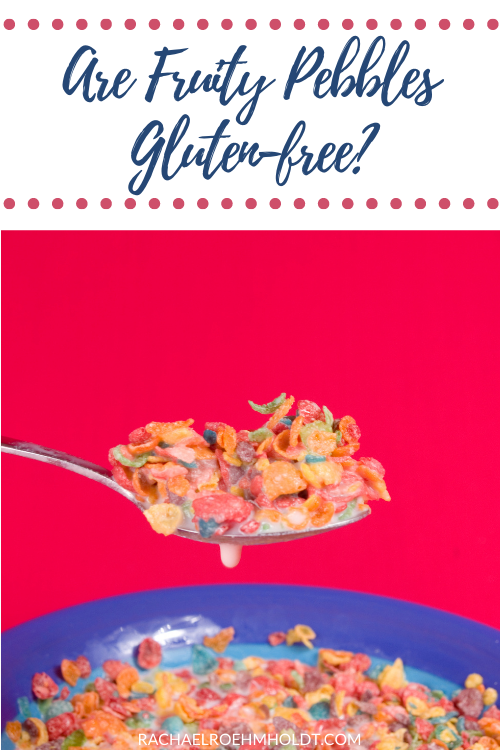 Note: I am a proud Amazon, Chomps, MunkPack, and Thrive Market affiliate and am happy to recommend their service and products to you. Please know that as an affiliate, I may receive a small commission on the products you purchase after clicking through my links. For more info, please see my disclosure policy here.
Did you grow up eating Fruity Pebbles? Or always gaze longingly at the brightly colored box wondering why your mom wouldn't let you get the super sweet multicolored cereal?
If so, you're not alone. Fruity Pebbles have been around for over 50 years and though this cereal is simply rice cereal that's been flavored and colored, it's had a big following for decades.
Whether you love Fruity Pebbles or Cocoa Pebbles or are just curious enough to try them for the first time, you might be wondering whether or not they contain gluten if you follow a gluten-free diet like me.
I'll tell you the truth – I hadn't eaten Fruity Pebbles in at least 20 to 25 years when I started writing this post. I was even surprised to realize this brand of cereal was still being made today.
With the classic Flintstones characters on the front of the box, it took me straight back to childhood to research this post. A place that felt like simpler times and when I could eat a bowl of sugary cereal without getting a headache within the hour. Even just thinking about this cereal, I feel like I can remember the taste completely.
Find out in this post what Fruity Pebbles are, what their ingredients are, and if they are gluten-free in this post. We'll also talk about Fruity Pebbles sibling, Cocoa Pebbles and how they fit into a gluten-free diet, and if these cereals are also dairy-free.
Let's get into a bit of nostalgia, shall we?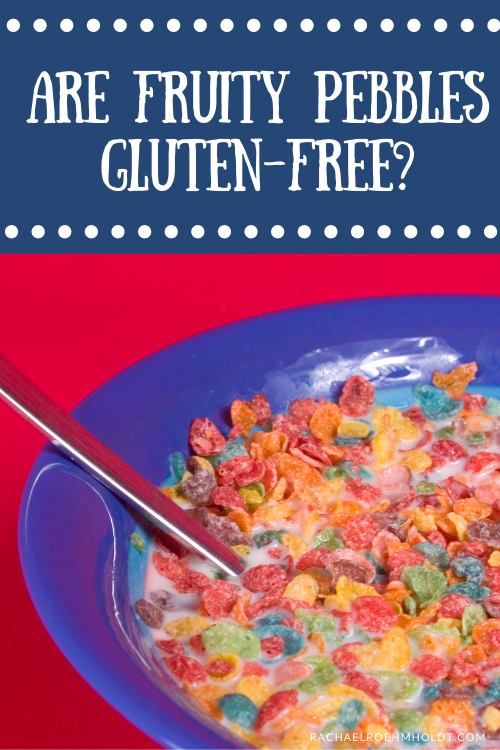 What are Fruity Pebbles?
Fruity Pebbles are a fruit-inspired flavored cereal that has been around since 1971. This cereal was inspired by the show the Flintstones and is made with rice cereal that's been colored and flavored.
Post Consumer Brands is the manufacturer of Fruity Pebbles and Cocoa Pebbles, another Pebbles cereal that comes in chocolate flavor.
While many enjoy this super sweet fruity cereal with milk, others use Fruity Pebbles in baked goods, cereal bars like rice crispy treats, or in other fun treats.
Fruity Pebbles ingredients
The ingredients you'll find in Fruity Pebbles are below according to the Post website, the manufacturer or Fruity Pebbles.
"Ingredients: Rice, sugar, canola oil, salt, natural and artificial flavor, red 40, yellow 6, yellow 5, turmeric oleoresin (color), blue 1, blue 2, BHT and BHA added to preserve freshness.
Vitamins and minerals: sodium ascorbate and ascorbic acid (vitamin C), niacinamide (vitamin B3), reduced iron, zinc oxide, vitamin A palmitate, pyridoxine hydrochloride (vitamin B6), thiamin mononitrate (vitamin B1), riboflavin (vitamin B12), folic acid, vitamin D3, vitamin B12."
What is gluten?
Gluten is a protein found in most wheat products, and acts as the "glue" that helps to hold wheat, barley, kamut, spelt, farro, durum, bulgur, rye, and semolina together to maintain their shape.
Gluten is naturally occurring, and therefore is impossible to strip away from the grain. If a grain naturally has gluten in it, there's no way to make that food gluten-free.
Gluten can be found in obvious ways, like "wheat flour" or in smaller hidden ways, under names like "malt, "malt extract," or "malt flavoring."
Read on: What is gluten in food?
Are Fruity Pebbles gluten-free?
Fruity Pebbles do not contain any gluten ingredients and they are actually labeled as certified gluten-free on their packaging.
This certification means that their cereal has been reviewed and it contains less than 20ppm of gluten in the product.
Read on: Gluten-free cereal brands and varieties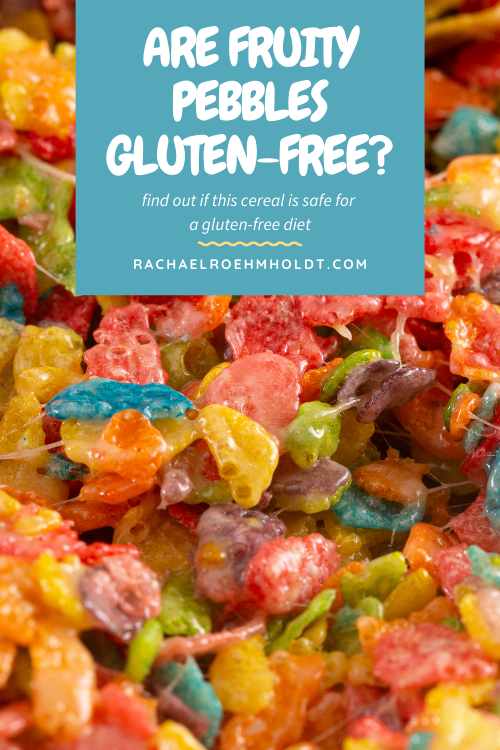 Are Fruity Pebbles dairy-free?
Fruity Pebbles do not contain any dairy ingredients in their ingredients lists. This cereal is considered safe for a dairy-free diet.
Post does make Fruity Pebbles Treats, which are similar to rice crispy treats. These contain whey and are not dairy-free, however all other Pebbles products are safe for a dairy-free diet.
Be sure to choose dairy-free milk if you eat your Fruity Pebbles with milk so your entire cereal breakfast or snack is dairy-free.
Which flavors of Pebbles cereal are gluten-free?
All flavors of Pebbles cereal are gluten-free, including the following:
Fruity Pebbles
Cocoa Pebbles
Marshmallow Fruity Pebbles
Birthday Cake Pebbles
Fruity Pebbles Crisps
Cocoa Pebbles Crisps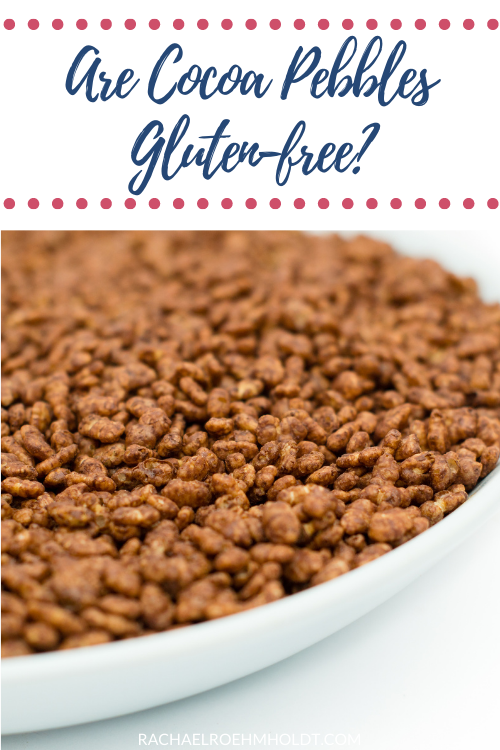 Are Cocoa Pebbles gluten-free?
Yes, Cocoa Pebbles contain no gluten ingredients and are considered safe for a gluten-free diet. This product has a gluten-free label so you can feel confident that this cereal is okay for you to eat if you avoid gluten.
Are Cocoa Pebbles dairy-free?
There are no dairy ingredients in Cocoa Pebbles cereal and can be enjoyed on a dairy-free diet. Be sure to use dairy-free milk in place of cow's milk to ensure your full experience eating this cereal is dairy-free.
If you love Fruity Pebbles and want to know whether or not you can go down memory lane enjoying this cereal on your gluten-free diet, I hope this post has given you some answers you're looking for. Both Fruity Pebbles and Cocoa Pebbles are safe for a gluten-free diet, and are dairy-free too!
f you loved this post, I hope that you'll share it with your friends on Facebook and pin it for future reference on Pinterest.
Love this post? You might also want to check out these!
Find out if your favorite foods and ingredients contain gluten with these posts!