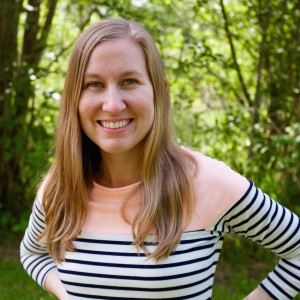 I have dealt with acne my entire life. It was at its worst when I was in my teens and throughout my twenties. I am pretty sure I've had all the types of acne there are. I had cystic acne, back acne (bacne), little white pimply acne, and hormonal acne.
It's a glorious topic, isn't it?
Of course not, but that's why I want to talk about it. Because it's not often talked about out in the open and women are embarrassed to talk about it freely (at least I was). I've had a few conversations over email and Facebook lately regarding clearing up acne, so I wanted to give my few cents on the topic, since I've drastically healed my own in the past few years.
I will say that I have absolutely NO idea if just one of these things helped to heal my acne or if it was a combination of all the good things. OR if I just finally grew up and my skin decided it didn't want to be a teenager anymore. Who knows. Regardless, these are the six things that have helped me clear up my face for good.
Drink more water.
It took me going to nutrition school to figure out I wasn't drinking enough water. Ridiculous, I know. But I just wasn't drinking enough water. I'd have maybe 3 glasses a day and that was on a good day. The rest of the time I was drinking coffee, juice, soda, and wine. Not exactly a healthy balance or a way to keep myself hydrated. I boosted my water intake and hydrated my skin from the inside out.
Eat more fruits and veggies + less processed food.
Only a handful of years ago, my diet was mainly centered around processed food. I taught myself to cook and started eating more fruits and veggies with every meal and snacks. Not only did my acne improve, but my skin became much more vibrant and my digestion was so much better too. Lots of fresh food keeps your skin and colon happy, people!
Cut WAY back on sugar.
This is the one that I still struggle with to this day. Sugar is a potent little drug, isn't it? But sugar has hands-down been one of the biggest things I've noticed flares up my acne. These days, if I get a pimple, I instantly know I've been eating too much sugar. Cut back on all refined sugar for a while – either step down from it (harder to do) or go cold turkey until your palate changes. Believe me, this will improve your life in more ways than just your skin!
Get off the birth control pill.
GASP! I know. People FREAK OUT when I tell them this. Especially one of my very close relatives. No one wants an unplanned pregnancy, amiright? But here's the thing: birth control pills not only screw with your body's natural release of hormones causing your skin to be like "whoa, hey, what's going on here? I guess I need to make her skin a little more shiny, and oily, and hey – how about more acne?!" … but the pill also does a number on your gut. And that's a BIG DEAL when it comes to acquiring food intolerances and not allowing your body to develop new ones.
Cut out the foods that you're intolerant to.
Which brings me to this point. If you're still struggling with acne after doing all these things, check your diet. Double check that there are foods that aren't making you sick – either on your face or in your intestines. For me, dairy almost ALWAYS winds up on my face – so if I eat it, I don't just deal with my bathroom issues. I also have to wear it around in the form of acne for a few days until it's out of my system. Do a full elimination diet to figure out what you may be intolerant to.
Stop washing your face.
Phew – I'm throwing all kinds of curve balls, huh? This has been a biggie for me too. I used to wash my face religiously – morning and night. I tried all the creams, the washes, the methods, the pills from the dermatologist… none of it really worked. After I got off the pill, I decided to cut back on washing my face – and wouldn't you know… the oils in my face stopped going haywire. It was like all the washing told my skin that it needed more oil, so the more oil I made, the more acne that showed up. These days, I only rinse my face in the shower and use baby wipes (hey, I'm a mom of a non-potty-trained kid!) to get my makeup off at night.
So those are my six tips. I hope that if you've been struggling with acne for any amount of time that you'll considertrying out even one of these ideas to improve your skin.
I know how hard it can be living in skin that you aren't proud of. That's why I'm so grateful to share my story with you here. Because I can tell you that from the other side, the grass is much greener and I love going makeup-free now (a total shock even to me!).
Have you struggled with acne? What's one tip in this post that surprised you? Share in the comments below!