Learn if sugar is gluten-free, which types of sugar are gluten-free, and brands you can trust to always be gluten-free.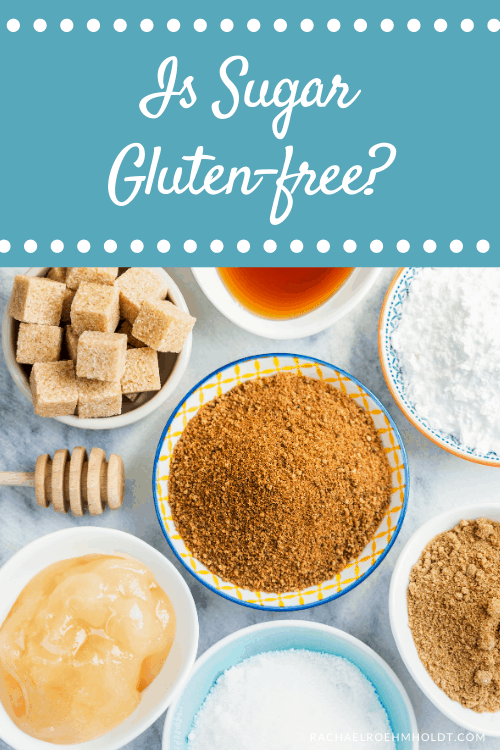 Note: I am a proud Amazon, Chomps, MunkPack, and Thrive Market affiliate and am happy to recommend their service and products to you. Please know that as an affiliate, I may receive a small commission on the products you purchase after clicking through my links. For more info, please see my disclosure policy here.
If you've been following a gluten-free diet for any amount of time, you may have noticed that a lot of gluten-free packaged foods contain added sugar.
In fact, a lot of these foods contain more sugar than the same products that aren't gluten-free.
So should you be concerned about eating sugar on a gluten-free diet? Is it okay to eat?
As I was researching this post I found a LOT of content online simply saying you just shouldn't eat sugar on a gluten-free diet, because it is inflammatory and bad for your gut.
While I agree and know this to be true, I know for sure that's not what you came to this page to read.
Sure, more sugar isn't necessarily great for you and your body overall. But neither is going to a website and finding some blogger or diet "expert" shaming you for wanting to make a batch of chocolate chip cookies.
For this post, we're going to have to just agree that sometimes you just want to know what's "safe" and not get a lecture while finding out the answer. Okay, I'll step off my soapbox now.
Let's dig into the types of sugar and discuss if this ingredient is okay to eat on a gluten-free diet, plus determine if other kinds of baking sugar, like brown sugar or powdered sugar are gluten-free.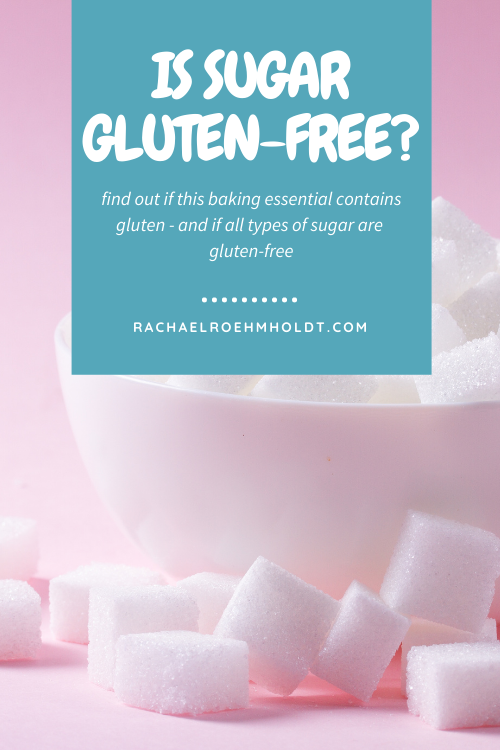 There are two types of sugar: natural sugars and added sugars.
Natural sugars are always gluten-free as they're found naturally in fruit or vegetables. There's no possibility for natural sugars to contain gluten, because you're enjoying the sugar right from the source: in bananas, apples, tomatoes, and beets.
Added sugars are made from beets, sugar cane, or other natural sugars and are then processed. These are taken from their original natural sources and manufactured into a crystalized form so we can add them to recipes at home.
While they are naturally sourced, from beets or sugar cane, they are processed. Any food that's processed deserves a careful eye when following a gluten-free diet.
If you love to bake, sugar is a staple in your pantry. So let's uncover the relationship sugar has with gluten and if this is an ingredient you need to take note of in your gluten-free diet.
What is gluten?
Gluten is a protein found in most wheat products, and acts as the "glue" that helps to hold wheat, barley, kamut, spelt, farro, durum, bulgur, rye, and semolina together to maintain their shape.
Gluten is naturally occurring, and therefore is impossible to strip away from the grain. If a grain naturally has gluten in it, there's no way to make that food gluten-free.
Processed foods are likely to contain gluten in the form of additives or preservatives, and can hide under various names so it's not always obvious what is or isn't gluten.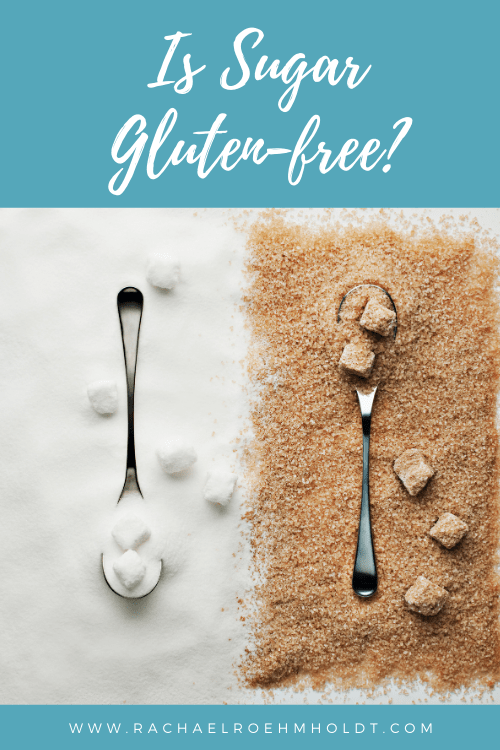 Is sugar gluten-free?
Pure sugar is naturally gluten-free, as it comes from beets or sugar cane, which do not have any gluten proteins in them. If you follow a gluten-free diet, most sugar is safe to enjoy.
Depending on your level of gluten sensitivity, you may be concerned about cross contamination. Although this isn't too common, it can happen.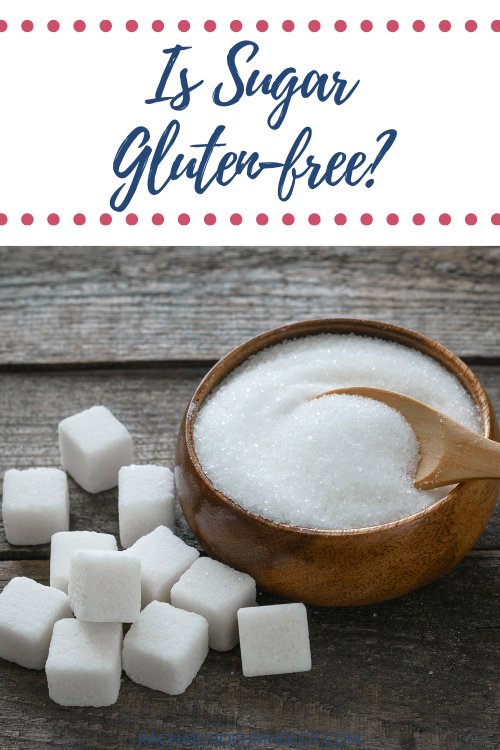 Tips for ensuring your sugar is gluten-free
Here are some tips to consider when looking for sugar that's gluten-free, and avoiding cross contamination whenever possible.
Take note of the location the sugar is in the store
There is a potential (yes, even if it's small) for sugar in the store to become cross contaminated with gluten if the sugar and flour bags are next to one another on a store shelf.
Yes, you'd have to be extremely gluten sensitive for this to become an issue, but I want to be sure to mention any and all possibilities. If a bag of flour breaks open next to a sugar package, gluten may come into contact with the sugar packaging and maybe inside when you open the bag.
This is maybe overkill, but if you are extremely sensitive to gluten, keep an eye out for where you're grabbing the sugar from in the store. See if you can choose a package that isn't directly next to where the flour is located.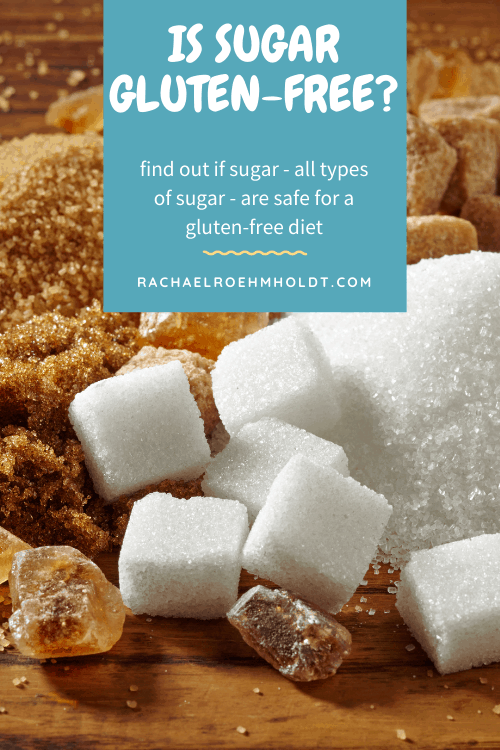 Look for a gluten-free label
Another way to be sure that the sugar you are buying is gluten-free is to look for a gluten-free label.
Yes, sugar is naturally gluten-free, but that label will help ensure that testing has been done to verify this to be true. A gluten-free label ensures that the product has less than 20ppm of gluten in the package, as per the FDA.
A few brands that have gluten-free labels on their sugar products are Domino's Sugar, Florida Crystals, Wholesome Sweeteners, and Sugar in the Raw.
Hain Pure Foods brand can't guarantee that their products are gluten-free due to cross contamination, so this would be a brand to avoid.
Now that you know that most white and plain sugar is gluten-free, let's talk about some other types of sugar you might use for baking.
Is cane sugar gluten-free?
Cane sugar is another name for white sugar, and as we talked about above, cane sugar is naturally gluten-free.
Yes, cane sugar is gluten-free.
Is brown sugar gluten-free?
Brown sugar is made with white sugar and molasses. Just like sugar, molasses is made from either beet sugar or sugar cane, making it also gluten-free.
Yes, brown sugar is gluten-free.
Read on: Is brown sugar gluten-free?
Is powdered sugar gluten-free?
Powdered sugar is a finely ground sugar that is mixed together with a small amount of starch (usually cornstarch or tapioca starch) for use in baking.
In theory, cornstarch should also be gluten-free, so this ingredient would be safe for a gluten-free diet.
However, any time you have starches or grains that are processed, there's a risk of cross contamination in the facilities and on the lines they're manufactured on.
You'll want to be sure that the starch that's added to the powdered sugar is gluten-free and the lines it's processed on are not used for other gluten-containing grains.
Wholesome has a gluten-free powdered sugar option.
Read on: Is powdered sugar gluten-free?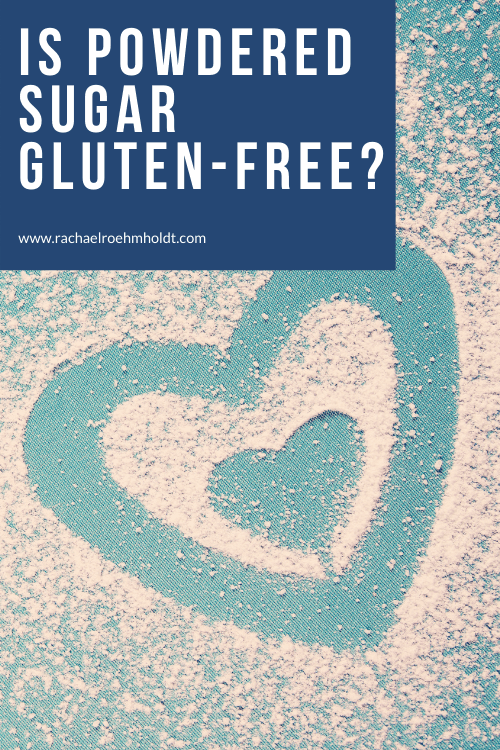 Is confectioner's sugar gluten-free?
Confectioner's sugar is another name for powdered sugar, and is made using a finely ground sugar with starch. Read the question and answer above for brand recommendations.
Is coconut sugar gluten-free?
Coconut sugar is made from nectar from coconut palm tree blossoms. Coconut sugar does not contain gluten, but it doesn't hurt to look for a gluten-free label to ensure the processing of the sugar doesn't have the potential for any cross contamination.
Wholesome Sweeteners, Anthony's, and Nutiva all have gluten-free coconut sugar options.
If you've been looking to find out if you can use plain, brown, or powdered sugar in your gluten-free baking, I hope this post has helped answer some of your questions.
If you are following a gluten-free diet, you can feel confident that most plain sugar is safe for you to buy off the store shelves. You will want to be a little more cautious with powdered sugar options, although there are plenty of gluten-free options available.
If you loved this post, I hope that you'll share it with your friends on Facebook and pin it for future reference on Pinterest.
Love this post? You might also want to check out these!
Find out if your favorite foods and ingredients contain gluten with these posts!