Find out what molasses is made from, what the different types are, and if this ingredient is gluten-free. Plus get a list of gluten-free molasses brands to shop for at the store.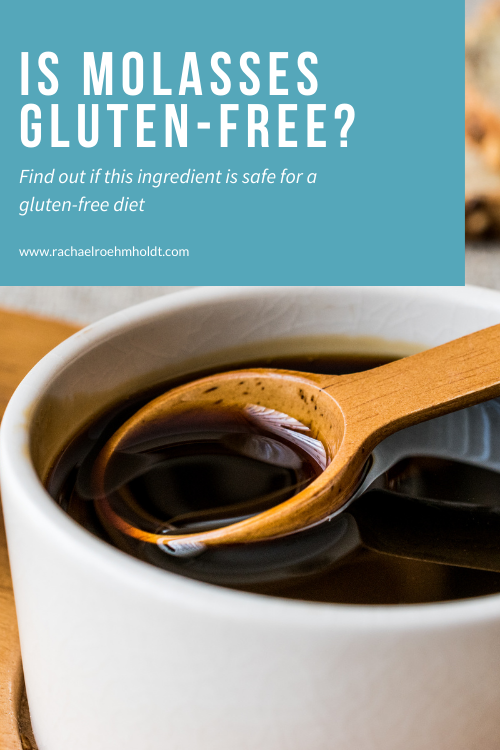 Note: I am a proud Amazon, Chomps, MunkPack, and Thrive Market affiliate and am happy to recommend their service and products to you. Please know that as an affiliate, I may receive a small commission on the products you purchase after clicking through my links. For more info, please see my disclosure policy here.
If you've ever seen molasses as an ingredient on your favorite foods or if you love to bake up a batch of gingerbread cookies around the holidays, you may have wondered about this ingredient. What is it made of? What is it? Is it gluten-free?
Molasses can be found in so many places in our kitchens and is a staple in some holiday treats like gingerbread cookies and cake. This deep, rich syrup provides a richness to whatever it is added to and is even in one of the most common baking ingredients you probably have in your pantry right now. Can you guess what it is? I'll share later on in the post…
This post will help answer some of your questions about how molasses fits into a gluten-free diet. We'll talk about what molasses is, what it's made of, and if it's gluten-free. We'll also go over some gluten-free molasses brands and answer questions about some popular options you're likely to find at the store.
What is molasses?
Molasses is a thick, rich syrup that is made from sugar cane or sugar beets. Molasses is used in many baking recipes to provide a rich and moist ingredient to some of our favorite recipes like ginger snaps, cookies, or other baked goods.
Molasses is added to granulated cane to create what we know of as brown sugar. Molasses gives brown sugar its signature color and moist consistency that's so great in baked goods. Did you know that fun fact?
What is molasses made of?
Molasses is made from the liquid of sugarcane or sugar beets after the sugar has been removed. This liquid is then boiled down into a thick, sweet syrup called molasses.
Depending upon how long you boil this liquid, you can achieve different types of molasses that you'd find on store shelves.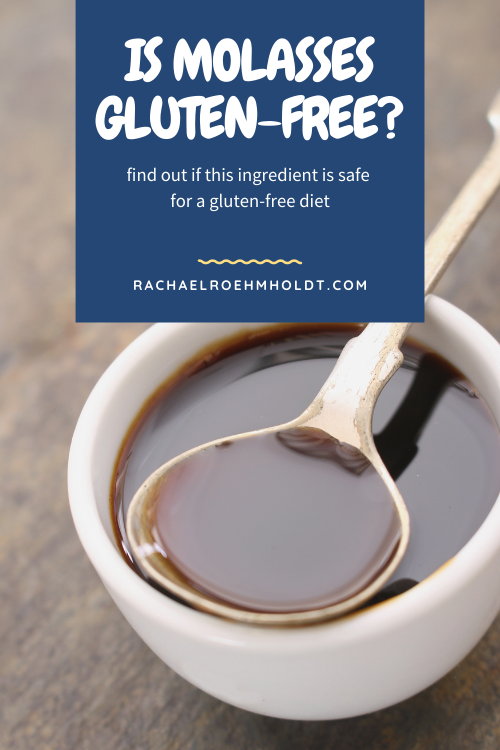 What are the different types of molasses?
Molasses comes in a few varieties and each can be used for different purposes. Let's go over the different options of molasses you're likely to find at the store.
Light molasses
Light molasses is what you get when you boil the liquid from the sugarcane or sugar beets down for the shortest amount of time. This type of molasses is used in baked goods as it's the lightest in color and still has a lot of its sweetness from the sugarcane.
Dark molasses
Dark molasses is what we generally think of in the US when we hear the term molasses. This is darker than light molasses and has a deeper and stronger flavor. It's great in gingerbread cookies or cake, as well as molasses cookies.
Blackstrap molasses
Blackstrap molasses is molasses that has been boiled even longer than dark molasses. It has a bitter flavor and is less common to add to recipes than dark molasses.
This ingredient has become known as somewhat of a health food, because it is loaded with vitamins and minerals that folks really enjoy. That said, this ingredient is far more bitter than light or dark molasses.
Sulphured molasses
You'll see the terms sulphured or unsulphured molasses on the packaging of molasses you buy at the grocery store. Sulphured molasses is made with sugar cane that hasn't matured entirely before it's been cut and turned into molasses.
The term "sulphured" comes from the idea that sulphur dioxide is used to help preserve the sugar cane before manufacturers are ready to process it.
Unsulphured molasses
Unsulphured molasses is made from sugar cane that has matured before it's been cut and processed into molasses. It is considered "unsulphured," because it doesn't have any sulphur dioxide added to it for preservation.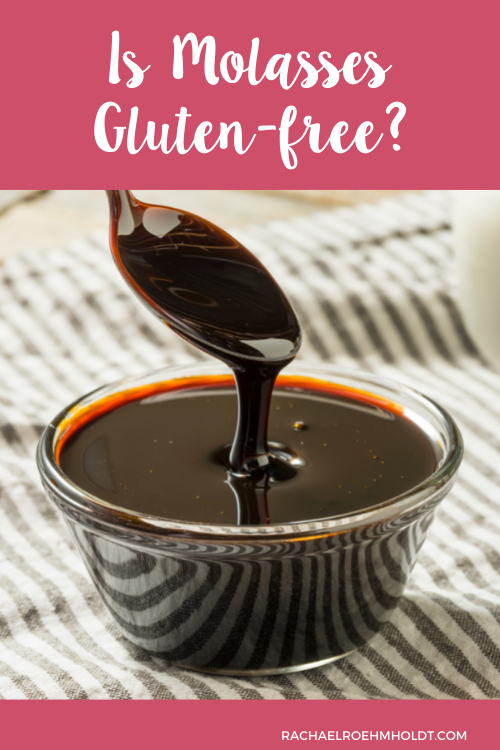 What is gluten?
Gluten is a protein found in most wheat products, and acts as the "glue" that helps to hold wheat, barley, kamut, spelt, farro, durum, bulgur, rye, and semolina together to maintain their shape.
Gluten is naturally occurring, and therefore is impossible to strip away from the grain. If a grain naturally has gluten in it, there's no way to make that food gluten-free.
Gluten can be found in foods in obvious ways, or in more hidden ways, like in binders or fillers.
Is molasses gluten-free?
As long as molasses only contains one ingredient: sugar or molasses, you'll know that this is a gluten-free ingredient and safe for a gluten-free diet.
It's a good idea to review ingredients lists before buying to be sure there is no hidden gluten in the product and look for the term "gluten-free" on the label.
Is blackstrap molasses gluten-free?
Blackstrap molasses is molasses that has been cooked down and concentrated more than regular molasses. This product is more bitter, dark in color, and has a high mineral content compared to regular molasses.
Since these are made from sugarcane as the source of the molasses, we know that molasses is also naturally gluten-free. Be sure to check ingredients lists to ensure that no other ingredients have been added to the product, and especially any gluten ingredients have not been added.
Is molasses dairy-free?
Molasses is naturally dairy-free as there is no milk added to this product while it's being made. You can enjoy molasses on a dairy-free diet in all your favorite recipes.
What is molasses used for?
Molasses can be used in a number of ways, including what we are probably most familiar with: molasses cookies or gingerbread. Try using molasses in one of these other ways to make the most of this ingredient.
Added to gingerbread cake or cookies
As a syrup for pancakes or oatmeal
Added to baked beans
In pie
In bread recipes
In marinades
Read on: Gluten and dairy-free gingerbread cake
Read on: Gluten-free molasses cookies
Read on: Are baked beans gluten-free?
Gluten-free molasses brands
Are my favorite brands of molasses gluten-free?
Is Brer Rabbit molasses gluten-free?
The packaging on Brer Rabbit molasses states that the product is gluten-free. You can feel safe about using this in your favorite gluten-free recipes as the gluten-free label indicates there is less than 20ppm of gluten in the product.
Is Crosby's molasses gluten-free?
Crosby's Fancy molasses is safe for a gluten-free diet as indicated on their website. This is a good option if you're looking for a brand to use in your favorite recipes.
Is Grandma's molasses gluten-free?
According to the Grandma's Molasses website, their molasses is gluten-free and safe for a gluten-free diet. This product also has a gluten-free label on the packaging, so you know it contains less than 20ppm of gluten in the product.
I hope if you've been looking for the answer as to whether or not molasses is gluten-free, that this post has been useful for you.
Most molasses is gluten-free as long as no other gluten ingredients have been added to it or there is minimal or no risk of cross contamination. Look for packages with gluten-free labels to help you make the right choice for you and your diet next time you're at the store.
If you loved this post, I hope that you'll share it with your friends on Facebook and pin it for future reference on Pinterest.
Love this post? You might also want to check out these!
Find out if your favorite foods and ingredients contain gluten with these posts!