Find out what mochi is, what it's made from, and if it's safe for a gluten-free diet. Plus get a list of gluten-free mochi brands to try.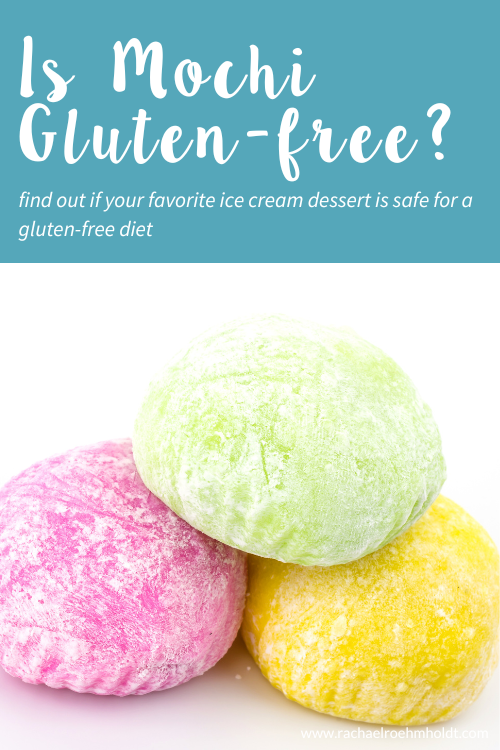 Note: I am a proud Amazon, Chomps, MunkPack, and Thrive Market affiliate and am happy to recommend their service and products to you. Please know that as an affiliate, I may receive a small commission on the products you purchase after clicking through my links. For more info, please see my disclosure policy here.
If you have ever had mochi, you know how delightfully creamy, chewy, and just plain incredible it is. It's like a little puffy cloud of sweetness in the perfect portion.
But if you're new to a gluten-free diet or are simply trying mochi for the very first time, you may be wondering if this food is going to be a safe dessert choice for you moving forward.
Whether you're at the store perusing the frozen food aisles with mochi ice cream or at a restaurant that serves mochi, we're going to answer all the questions you might have here in this post.
Find out what mochi is, what ingredients are used to make it, and answer the big question: Is mochi gluten-free?
With that answered, we'll go through what brands and flavors of mochi are gluten-free that you can look for at the store and something else to keep in mind before ordering this sweet treat at a restaurant.
What is mochi?
Mochi is a type of rice dessert originating in Japan and is traditionally eaten for Japanese New Year. This cake can be found in many different colors and flavors, like chocolate, vanilla, green tea (matcha), mango, strawberry, and mango.
More recently, mochi has become a popular wrap for ice cream. You can find mochi wrapped ice cream at some restaurants or frozen options at the grocery store.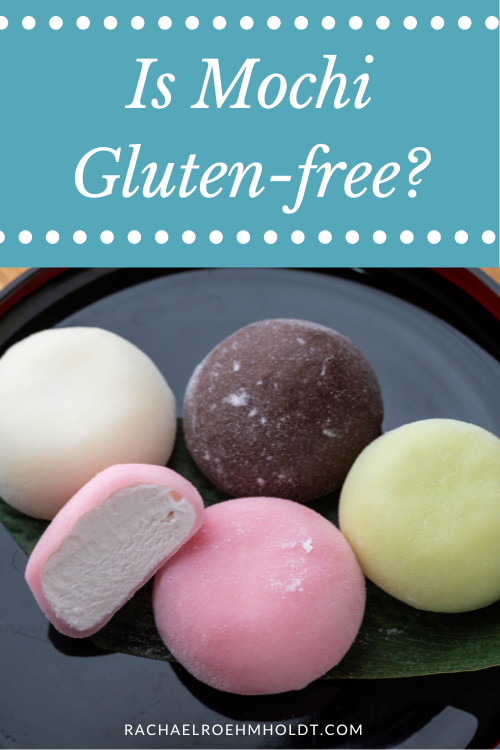 What is mochi made from?
Mochi is made with sweet glutinous rice flour, also known as mochigome. Other ingredients you might find in mochi are water, sugar, and cornstarch.
Mochi dough can be tinted in different colors: green with matcha green tea powder, pink with dehydrated strawberry powder, orange with dehydrated mango powder, among many others.
Traditionally, mochi is wrapped around sweet red bean paste. But these days, most commonly, folks are wrapping mochi around ice cream. You can find this in the freezer section of many grocery stores or at restaurants.
Mochi ice cream will also contain ingredients that are common in ice cream, like milk, sugar, and eggs.
Is mochi gluten-free?
Though mochi uses glutinous rice flour, this type of rice actually contains no gluten. The other ingredients in mochi are generally gluten-free as well.
Mochi is almost always gluten-free, as long as there's no opportunity for cross contamination while it's being made in the kitchens or work surfaces.
If you're making your own mochi at home, be sure to use gluten-free ingredients. If you're buying a premade mochi ice cream from the freezer section of the grocery store, check ingredients lists and look for a gluten-free label.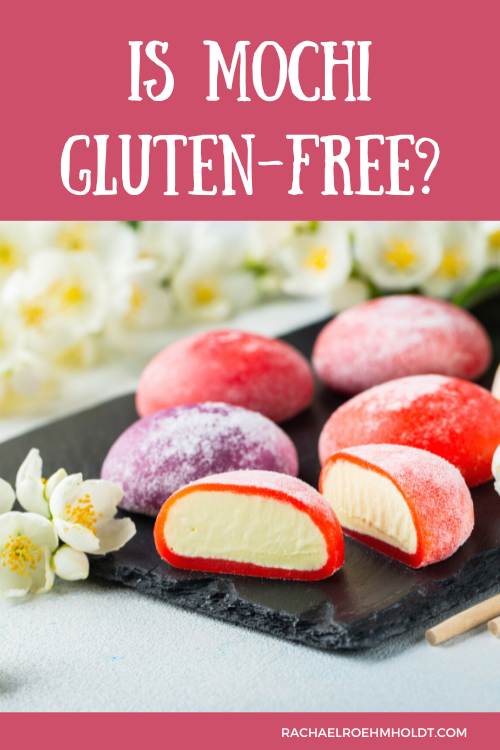 What brands of mochi are gluten-free?
There are plenty of different mochi brands out there that are gluten-free. Let's go over a few of the store-bought options together below.
Gluten-free mochi brands
Look for one of these gluten-free mochi brands next time you're at the store to satisfy your sweet tooth!
Bubbies is known for their soft, chewy mochi wrapped in flavored ice cream in a number of flavors. They offer normal ice cream as well as plant-based ice cream mochi options.
You can find this brand in select stores. Use their store locator to find one closest to you.
Bubbies offers a number of flavors of their mochi ice cream. Check out their current product lineup below:
Alphonso Mango
Blood Orange
Cookies & Cream
Madagascar Vanilla
Matcha Green Tea
Passion Fruit
Pistachio
Red, Ripe Strawberry
Triple Chocolate
Plant-based Alphonso Mango
Plant-based Ripe Strawberry with Oatmilk
Plant-based Rich Chocolate with Oatmilk
Mochidoki has two locations in New York City. They sell mochi ice cream in store, but you can also purchase their mochi to be shipped and delivered to your home.
Using the filters on their website, it looks as though not all of their options are gluten-free. I've narrowed down the options and here is the list of the flavors that the brand considered good gluten-free options.
Jasmine Boba
Acai Cacao Crunch
Earl Grey
Purple Sweet Potato
Cake Batter
Vegan Chocolate Hazelnut
Espresso
Black Sesame
Chocolate
Matcha
Red Bean
Salted Caramel
Strawberry
Vanilla Chip
Vegan Lychee
Vegan Passion Fruit
Vegan Coconut
Vegan Mango
Vegan Matcha
They also have a disclaimer on their website saying this of their locations and manufacturing processes:
"Almost all of our mochi ice cream flavors are indeed gluten-free. Flavors containing gluten will be clearly marked. Disclaimer: We produce our product using equipment that also processes peanuts and tree nuts, sesame, wheat, soy, egg and milk products. While good manufacturing practices are used, we cannot guarantee the complete absence of allergens."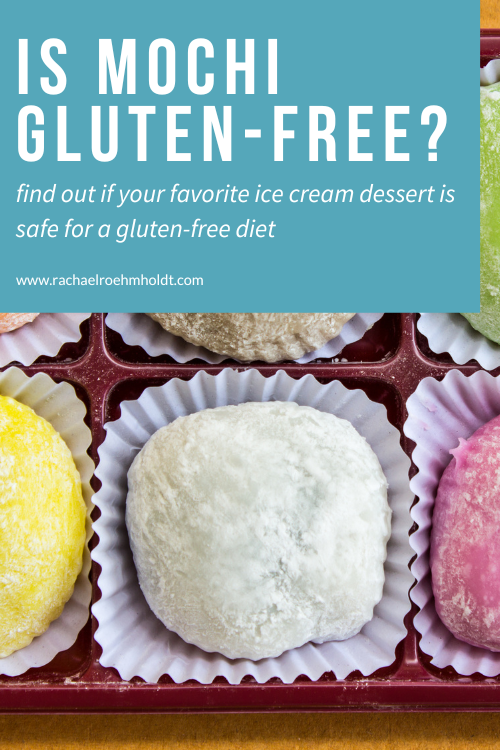 My/Mochi is another brand that offers gluten-free mochi ice cream products. You can find where they are in stores using the store locator under "Where to Buy" on their website.
They have quite a variety of flavors, including lines of mochi ice cream, non-dairy and vegan, and Smoothie Incredibites. Here is a list of their current product lineup:
Mochi Ice Cream
Strawberry
Double Chocolate
Mango
Cookies and Cream
Vanilla Bean
Passion Fruit
Coffee
Mint Chocolate Chip
Horchata
S'mores
Matcha Green Tea
Dulce de Leche
Coconut
Guava
Non-Dairy and Vegan Mochi Ice Cream
Strawberry
Salted Caramel
Neapolitan
Chocolate
Smoothie Incredibites
Mixed Berry
Strawberry Banana
Sweety Ice Cream is a brand of mochi ice cream that can be found in many retailers, including some Walmarts. Their products come in colorful pouches and can be found in the freezer section of the store. Use their store locator to find where they are near you.
Find Sweety Ice Cream under a variety of delicious flavors. This is the current flavor lineup:
Simple Strawberry
Matcha Green Tea
Azuki Red Bean
Vietnamese Coffee
Madagascar Vanilla
Classic Chocolate
Alphonso Mango
Ube Purple Yam
Trader Joe's
Trader Joe's doesn't always have the same product lineup as they like to rotate through items, but this is one that has been available before and may(?) come back in the future in some form.
Their Ube Mochi is a purple yam ice cream surrounded by mochi.
Though it's not currently available, who knows when Trader Joe's might put out a new mochi flavor or bring this one back.
Is mochi dairy-free?
While mochi paste is naturally dairy-free, it's often wrapped around ice cream. The ice cream needs to be made with dairy-free ingredients for this mochi ice cream to work for a dairy-free diet.
Read on: Dairy-free ice cream bars
If you've been looking to find out if mochi is gluten-free, I hope this information has been helpful for you. Mochi itself is gluten-free, and you'll want to take a look at the other ingredients used with mochi, like ice cream, to be sure it's safe for you before you dive in head first with this food.
At restaurants, be sure to ask about a risk of cross contamination with gluten or wheat in the kitchens before ordering.
f you loved this post, I hope that you'll share it with your friends on Facebook and pin it for future reference on Pinterest.
Love this post? You might also want to check out these!
Find out if your favorite foods and ingredients contain gluten with these posts!