Find out what Marshmallow Fluff is, what flavors it comes in, and if this product is safe for a gluten-free diet.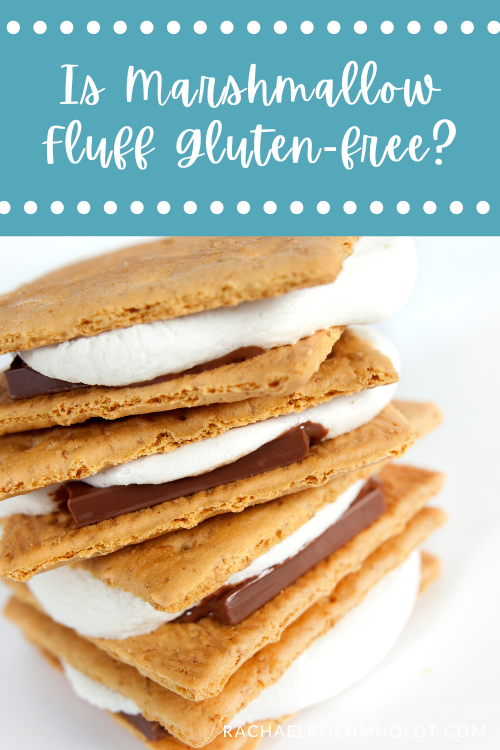 Note: I am a proud Amazon, Chomps, MunkPack, and Thrive Market affiliate and am happy to recommend their service and products to you. Please know that as an affiliate, I may receive a small commission on the products you purchase after clicking through my links. For more info, please see my disclosure policy here.
Have you ever heard of a Fluffernutter? If not, you're missing out the sandwich that has the silliest name. Better yet, a sandwich that half of its filling is marshmallows in spreadable form.
This famous sandwich uses a popular ingredient called Marshmallow Fluff – and that's the topic for today's blog post.
We're talking all about Marshmallow Fluff (and a little about Marshmallow Creme) to find out what exactly this ingredient is, what it's made of, and how it's used.
We're also going to do a deep dive into whether or not Marshmallow Fluff is safe for folks on a gluten-free diet and a dairy-free diet.
Let's talk fluff!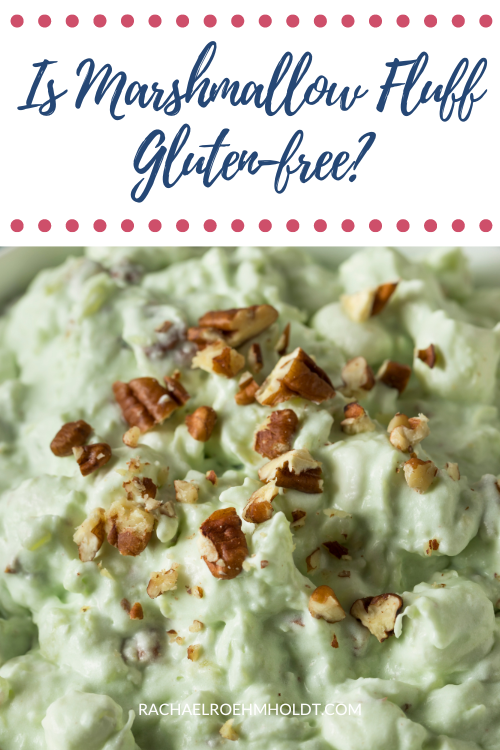 What is Marshmallow Fluff?
Marshmallow Fluff is a spread that tastes like marshmallows. It's a sweet spread that's often used in baking, dips, frostings, or even spread on sandwiches. The famous "Fluffernutter" sandwich is made with Marshmallow Fluff and peanut butter between two slices of bread.
The texture of Marshmallow Fluff is light, fluffy, and smooth. While it tastes like marshmallows, it's not the same in texture as a marshmallow candy. Both are sticky, but Fluff is spreadable whereas a marshmallow you'd find in a bag has more gelatin keeping a firm shape.
Many folks use the term marshmallow fluff to also describe Kraft's Jet-Puffed Marshmallow Creme. Though the two are similar and can often be used interchangeably in recipes, there is one specific difference.
Marshmallow Fluff does not contain cream of tartar, whereas Kraft's Jet-Puffed Marshmallow Creme does. This ingredient is why marshmallow creme is called for in many Never Fail Fudge recipes.
If you use Marshmallow Fluff in place of Marshmallow Creme in this type of recipe, it might actually fail despite the name. You'll need the cream of tartar to make the fudge set, so choose Marshmallow Creme.
Read on: Is fudge gluten-free?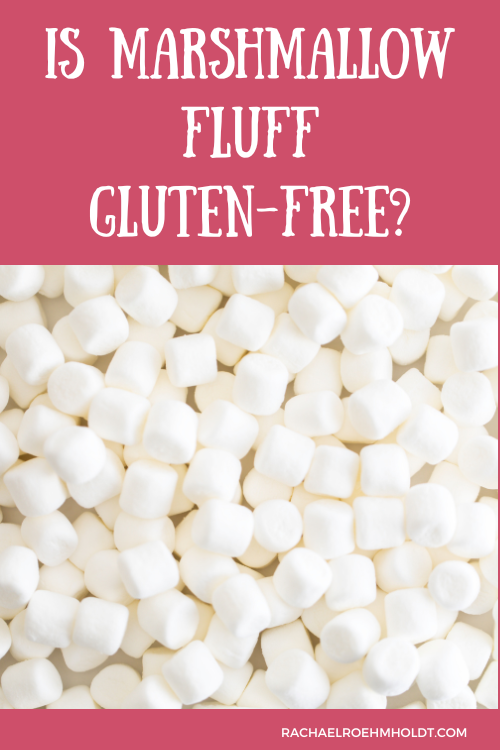 What flavors does Marshmallow Fluff come in?
The brand name of Marshmallow Fluff comes in two flavors: Traditional and Strawberry Fluff.
Jet-Puffed Marshmallow Creme comes only in their traditional flavor.
Ingredients in Marshmallow Fluff
According to the Marshmallow Fluff website, the ingredients you can find in their Traditional Marshmallow Fluff are:
"Corn syrup, sugar, egg white, artificial flavor."
Their Strawberry Fluff contains these ingredients:
"Corn syrup, sugar, egg white, beet juice color, natural & artificial flavor."
Kraft's Jet-Puffed Marshmallow Creme uses these ingredients in their similar marshmallow creme product:
"Corn syrup, sugar, water, contains less than 2% of dried egg whites, cream of tartar, xanthan gum, artificial and natural flavor."
All three of these products have notes that say "Contains: Egg" after their respective ingredients lists.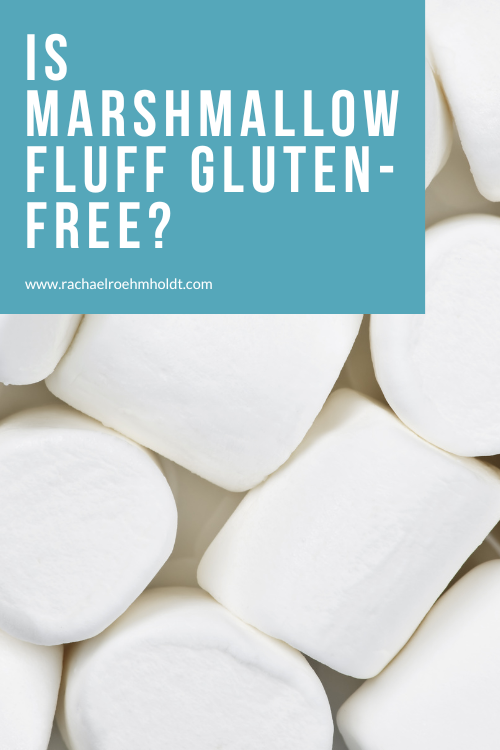 What is gluten?
Gluten is a protein found in most wheat products, and acts as the "glue" that helps to hold wheat, barley, kamut, spelt, farro, durum, bulgur, rye, and semolina together to maintain their shape.
Gluten is naturally occurring, and therefore is impossible to strip away from the grain. If a grain naturally has gluten in it, there's no way to make that food gluten-free.
Gluten or other wheat derivatives are sometimes added to foods as a flavoring or binder.
Are marshmallows gluten-free?
While many marshmallows are gluten-free and don't contain any gluten at all, some marshmallows do contain gluten.
In many ingredient lists for marshmallows, you might find wheat protein, wheat starch, or glucose syrup – all of these are hidden names of gluten, and without the knowledge of which names to look for, you might not know they are gluten-containing ingredients at all!
The easiest way to know if a certain brand of marshmallow is gluten-free is to look for a gluten-free label and read ingredients lists.
Read on: Are marshmallows gluten-free?
Is Marshmallow Fluff gluten-free?
According to the Marshmallow Fluff website, both the traditional marshmallow fluff and strawberry marshmallow fluff are gluten-free and contain no gluten ingredients.
Just like any other packaged food when you have food intolerances or food allergies, you'll want to read ingredient lists and look for labels. Marshmallow Fluff is dairy-free, but not vegan as it contains egg whites.
Read on: Are Jet Puffed marshmallows gluten-free?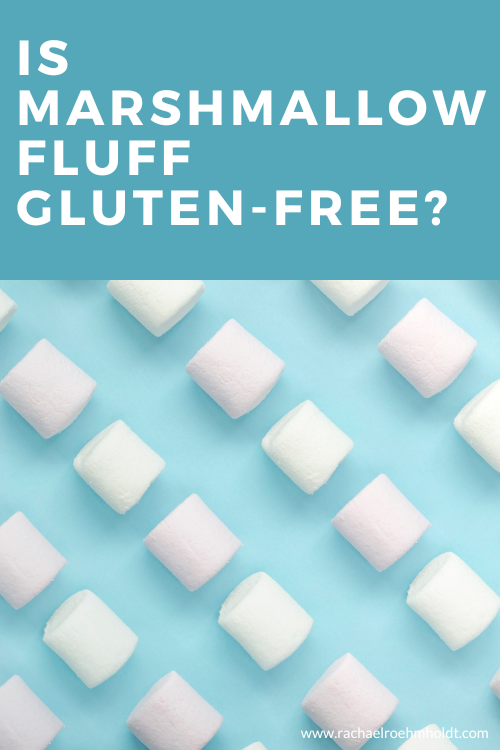 Is Marshmallow Fluff dairy-free?
Marshmallow Fluff is considered safe for a dairy-free diet as there are no dairy ingredients listed in either the traditional or strawberry flavors of the spread.
If you enjoy spreading Marshmallow Fluff on sandwiches, using it in your favorite baking recipes, or simply enjoy eating it by the spoonful, I hope this information has been helpful for you. This ingredient is gluten-free and can safely be enjoyed on a gluten-free diet!
f you loved this post, I hope that you'll share it with your friends on Facebook and pin it for future reference on Pinterest.
Love this post? You might also want to check out these!
Find out if your favorite foods and ingredients contain gluten with these posts!